daily fantasy sports articles
Australian DFS Weekend Results - 16th October 2017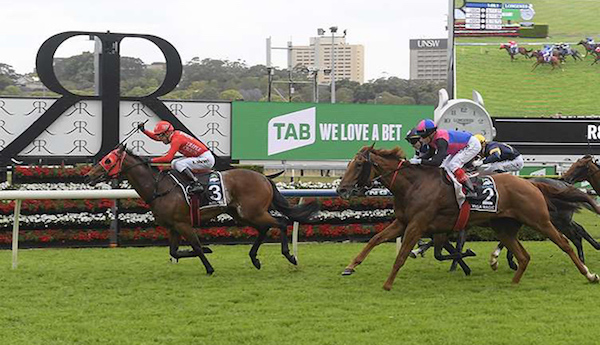 Another huge weekend in daily fantasy sports in Australia and particularly racing tournaments as we saw the Caulfield Guineas Day held in Melbourne as well as the inaugural 'Everest', worth $10 million run at Randwick. We take a look at the weekend that was in DFS and tournament competitions below.
TopBetta
The moajor tournament at TopBetta this weekend only offered a $1k prizepool. That's because it was a precursor to next weekend's massive $20k prize pool week two tournament. The Guineas Day tournament runs over two weeks with player's bankroll carrying over into the second weekend of racing.
TopBetta veteran footy99 finished week one with a handy $50k chip lead and also took home $600 for his efforts. He placed just two bets for the entire day, backing Legend of Condor and In Her Time to win races 2 and 7 at Randwick respectively. Footy99 will be hard to chase down but with 78 contestants already entered in the tournament, next weekend should be a cracking day of betting.

SportChamps
The folks at SportChamps hosted two impressive tournaments this weekend, the first of which was a $1 entry competition for a whopping $2,500. 633 entrants put their hat in the ring and in the end it was DR_GoB who took out the top prize of just over $360 after he turned his $10,000 starting balance into $408,006.
The highlight if the day for DR_GoB was a $117,000 win on a trifecta in Race 4 at Caulfield followed up by a few big wins on Big Duke and Redzel.
For the more experienced SportChamps punters there was the $50 entry racing tournament which offered a prize pool of just over $5,000. Some familiar names in Deatac, Jester7 and foley1 were in the top few players but it was Hurricane_Moose that took out the top prize of over $1,000 after turning his $10k into $71,000.
The major win of the day for Hurricane_Moose was a big bet of $38,000 on Catchy to place in the Caulfield Guineas which collected him just over $70,000.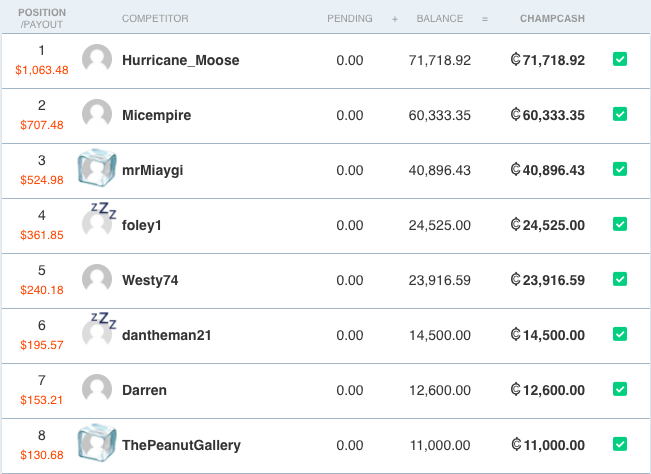 Draftstars
Draftstars is set for a massive week coming up with the start of the NBA season and some massive tournaments on offer. But for the week past it was the NFL Sunday Slate tournament that once again offered the largest prize pool at $25,000.
With $3,750 on the line for first place, it was awisely who collected the major prize with his team that scored 193.5 points, just .02 more than second place. DFR members Tryanhit and ILoveLamp featured prominently with 2 teams each inside the top 12.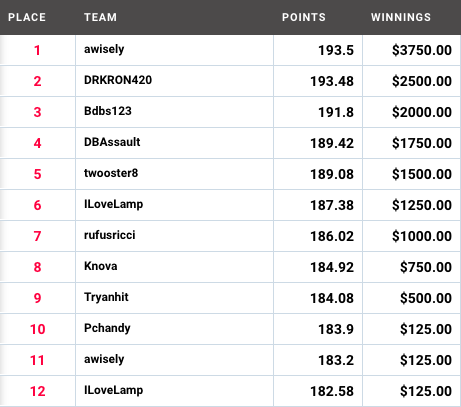 Moneyball
What a day it was for awisely, who not only took out the Draftstars NFL tournament, but also took out the $10k Moneyball tournament with a completely different team! He picked up another $1,300 for his Moneyball win while the likes of laminedor AKA Jayk123 and Tryanhit had to look on with six entries combined in the top 30.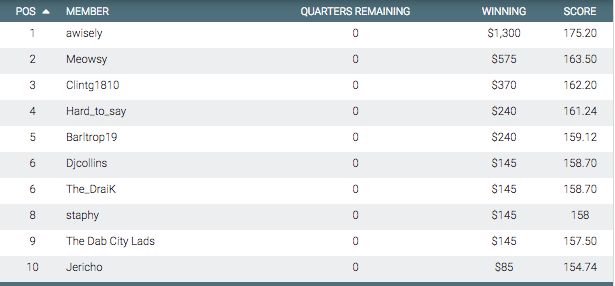 _ _ _
If you were every thinking of getting into tournament style betting, with the beginning of the Spring Carnival on the weekend, now is the perfect time! Over the next few months there will be massive prize pools on offer every weekend so make sure you sign up with TopBetta and SportChamps to give yourself a chance to win big.