daily fantasy sports articles
Australian DFS Weekend Results - 18th July 2020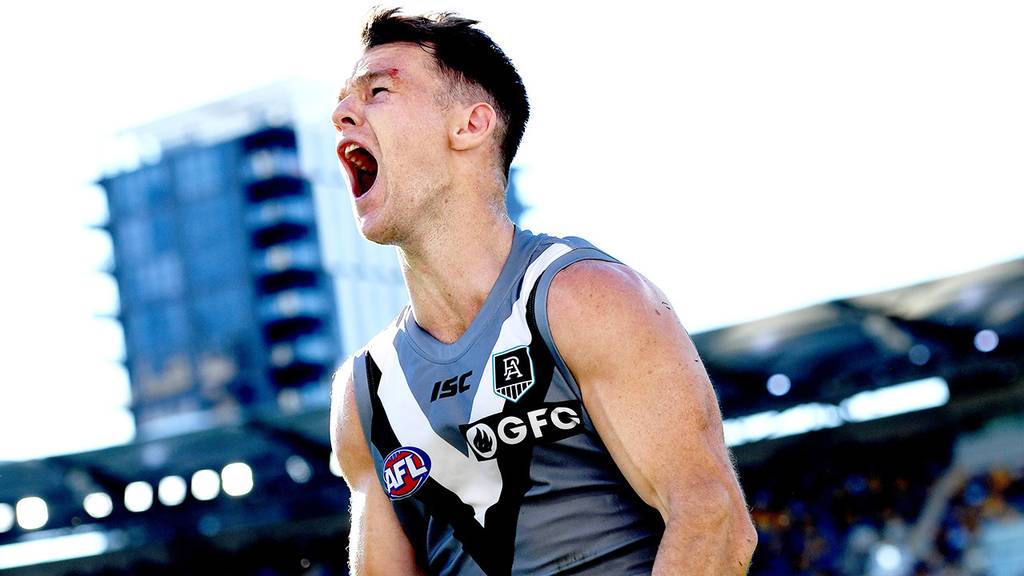 The AFL stretched out to 5 days in Round 7 and what the reports are to be believed, it is only the start! It was a massive weekend for both sites on Draftstars & DraftKings which awarded many winners on the weekend.
Let's have a look at the key players from Round 7.
Stud Watch
Shaun Higgins (121): Saturday's 3-game slate was a tough one to crack but for those who had Higgins rostered in their teams 2% on Draftstars and 4.9% ownership on DraftKings then you were sitting pretty! 36 disposals from Higgins including 22 handballs and 5 tackles in his 121 and keeps the narrative to target the Tigers midfield alive!
Damn it! Missed him
Zac Bailey (96): 2% on Draftstars and 0.46% on DraftKings the Lions forward was everywhere against the Giants with 2 goals, 10 marks and 18 disposals. He had a bit of cheek about him too. Don't worry if you missed him here. Only appeared in the 15th best side on Draftstars.
GPP Winning play
Derek Eggmolesse-Smith (93): 2% on Draftstars and 5% on DraftKings. There were some murmurs about the 'Egg' as a GPP flyer and he had a night out for the Tigers. The 'Egg' just kept rebounding all of the Kangas attack with 23 disposals and 6 marks. Eggmolesse-Smith made into Draftstars winning lineup and into 2nd (jayk123's) on DraftKings on Saturday.
How good is chalk!
Peter Ladhams (85): No Ladhams, no cash on Sunday. Ladhams was a very popular pick with 39% on Draftstars and 49% DraftKings. Huge numbers for a 3-game slate and Ladhams made it a pleasant Sunday for those who plugged him in. Say goodbye to his low salary and you can throw Sam Mayes (45%) into the same boat.
Oh deary me…
Tom Mitchell (68) was OK but that pig status is starting to become more like sheep status. Justin Westoff (20) gets another mention here after running around the Gabba not doing much. Same can be said for Seb Ross (36) and Tim Membrey (22) who had a nice run around the Adelaide Oval not touching the Sherrin.
Injury affected scores included Jack Ziebel (0), Joel Selwood (6), Josh Caddy (19). The Cats injuries continue!
Let's get through 5 days of action by highlighting the big winners from both sites. But we also want to mention that there were many, many winners from all slates (whether it was big or small) especially on Draftstars! Keep up the great work!
On Thursday Draftstars went huge with a $100,000 contest for only a $15 entry with 6917 entries battling it out for the $10,024 prize. There was some late adjustment drama with a 4-way chop turning into a solo win to Top 3 DFR Member 'RWhelan09' who showed his class.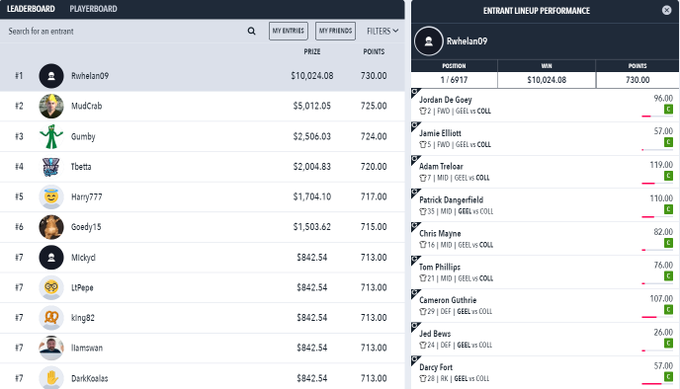 DraftKings posted a $20,000 USD contest with $5,000 USD 1st prize! Over 1,750+ entries were entered (for more overlay) and for number #6 ranked DFR member 'jbarrett16' he ticks off an AFL win to go with his massive LoL win last month.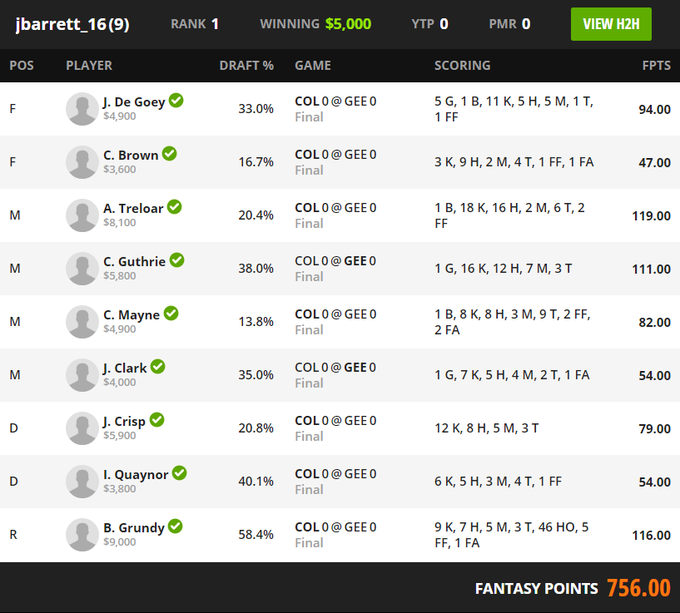 On Friday the Bombers never got going against the Bulldogs up in Sydney and Draftstars went massive with another $100,000 contest! Tim English showed his class and gave the Bombers a Friday night special. At DFR, we love Single Bullet wins and for 'Ryanryno' had a sweet looking lineup for a $10,000 winning performance!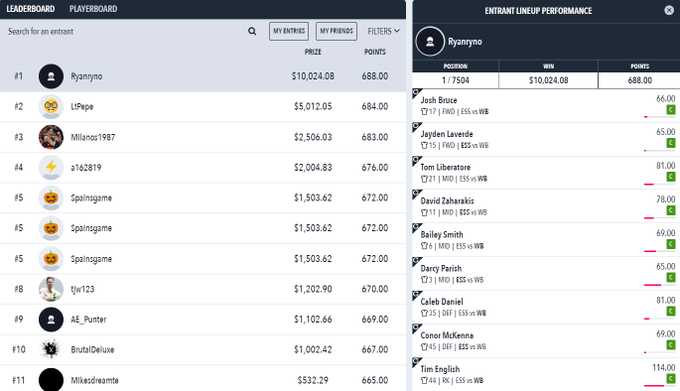 Over at DraftKings it was 'AE_Punter' who announced him/herself on the AFL DFS scene with the win by taking down the $20,000 USD Saw Tooth ($5,000 to 1st). 'AE_Punter' also had a night out on Draftstars as well winning the High Roller.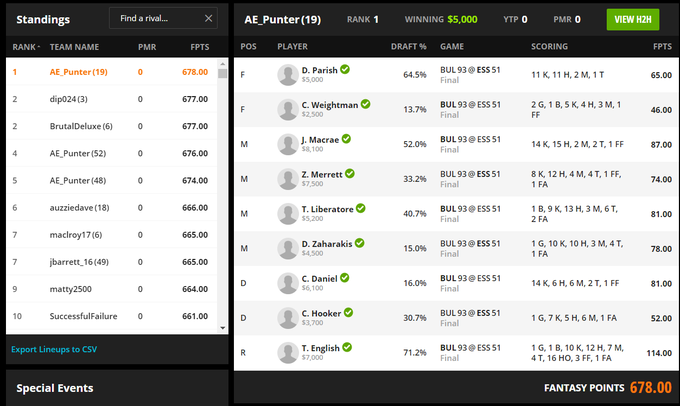 The 3 game slate on Saturday for the AFL was a huge day as the entries piled into DraftKings and Draftstars. On Draftstars taking out the Saturday slate was 'stevku238' who took over $8,800+ winnings.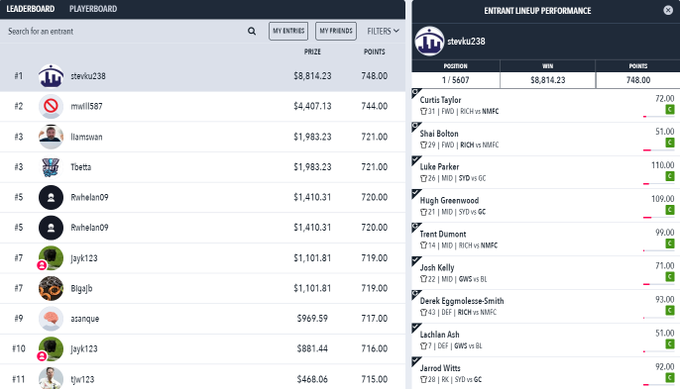 Over at DraftKings there was a $35,000 prize pool up for grabs and for DFR Member 'tbetta9' he took out the $10,000 USD prize for one of his biggest wins in his DFS career. Josh Walker and Will Hayward for the win!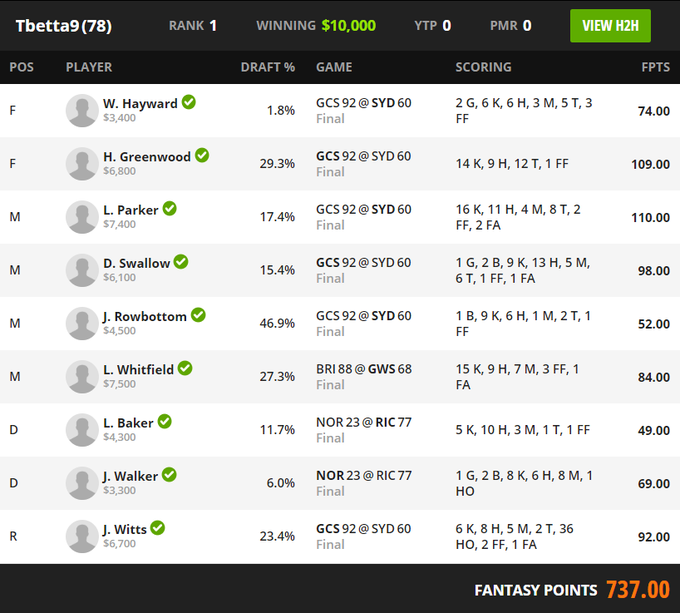 Sunday was another anticipated three game slate with DraftKings providing a variety of contests. It was one for the small guys with 'Nathanh53' 1st place for $5,000+ USD in winnings. Great effort!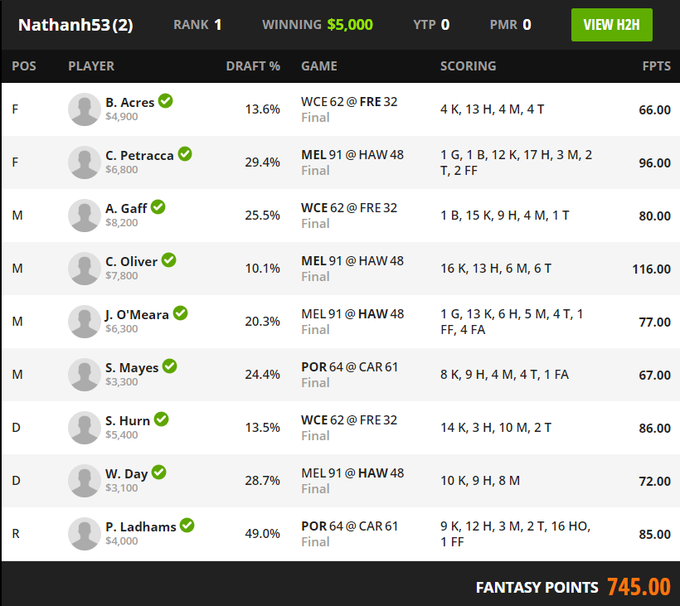 On Draftstars it only required two entries from 'AlexAllStar' to take down the $8,000+ 1st prize after the pools grew to over $66,000+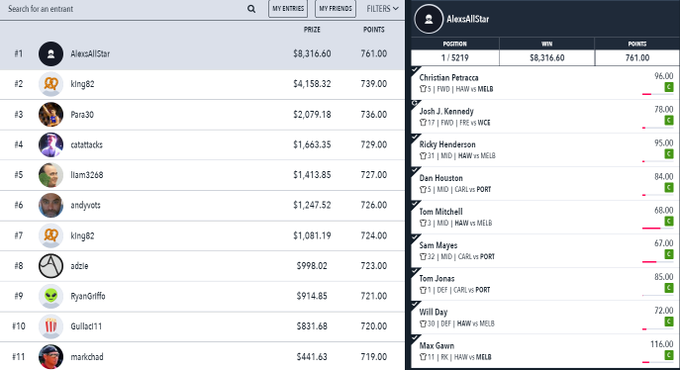 Then finally on Monday the Saints broke their hoodoo and won in Adelaide. The Pools on Draftstars were going nuts with the $60,000 pool growing to over $72,000+! Chalking up another AFL win for 2020 was DFR member 'vnhgghhg' who took out the $8,670 1st prize.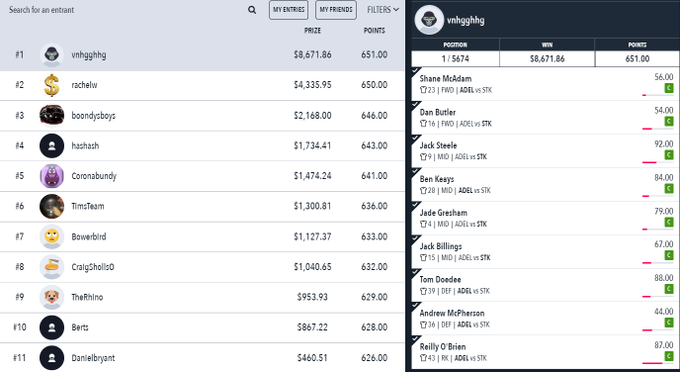 And finally Monday's DraftKings winners were three way chop! 'AE_Punter, 'schillaci' and 'fatebender' all took out the win and another week goes by with a win from the 'bender!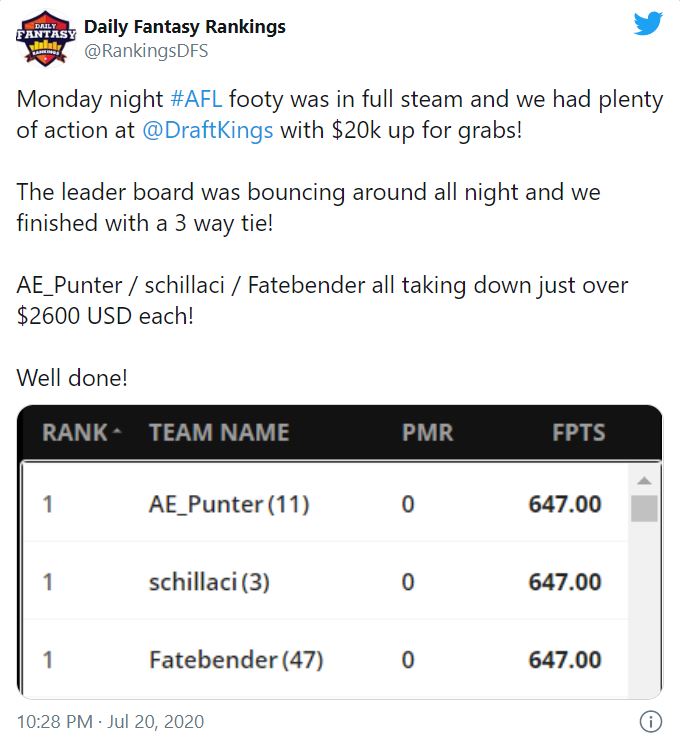 Congratulations to all winners from the weekend and we hope that all members and participants are enjoying the offerings from both Daily Fantasy sites. Keep it locked in on DFR throughout the week as we will provide future previews for all slates and all the news you need for your DFS play.