daily fantasy sports articles
Australian DFS Weekend Results - 18th December 2017
The Australian daily fantasy scene has the feeling of a calm before the storm at the moment as the 2017-18 Big Bash League is about to kick off and with it some massive prize pools on the way. However, there's still plenty happening at the moment with the NBA in full swing and the NFL reaching its crescendo. We recap all of the major DFS and tournament betting action below.
TopBetta
The Saturday Metro Mayhem was once again the biggest tournament of the week at TopBetta, offering a prize pool of $5,100. It attracted 30 contestants as well as another 21 rebuys to clear the guaranteed mark of $5,000.
After a great day of betting, it was relatively new face Nala2015 who topped the leader-board turning the 5,000 BettaBucks into 51,310 by the end of the days play. A $30,000 collect on Uptown Lad to win Race 9 at Randwick was the highlight of the day for Nala2015, who walked away with over $2,000 for the win.

Moneyball
NBA continues to dominate the scene at Moneyball as punters regularly play for over $100,000 a week in the daily basketball tournaments. Thursday's tournament at Moneyball saw another massive $25,000 prize pool and after a big 9 game slate, it was Sixx6sixx who came up with the goods, amassing 389.10 points.
Some unique picks in Jamal Murray, Wayne Ellington and Gary Harris all turned it on for Sixx6sixx, who walked away with $3,250 for the win, and another $850 for coming in third too! Not a bad day at the office.

The Sunday blitz NFL tournament at Moneyball offered a $5,000 prize pool and attracted 351 players. Top prize in the tournament was $650 and after an extremely tight finish, SIR GAMBLOR's score of 183.24 was enough to take out first place by less than a point to familiar name x-parrot.
Todd Gurley was the marquee player in SIR GAMBLOR's winning team, racking up 43.50 points to help him pocket the cash.

DraftStars
DraftStars punters continue to wait with bated breath as the NBA 400 point target competition climbs, and climbs, and climbs. The prize pool now sits at a whopping $74,000 and can be entered for just $1. DFR's very own rankings leader Jayk123 came agonisingly close to scooping the pool on Friday afternoon, when he fell just 7.5 points short of the 400 point benchmark.
As a consolation prize, however, he was able to take home 1st and 2nd in the $15 tournament to add $3,700 to his already glittering daily fantasy record.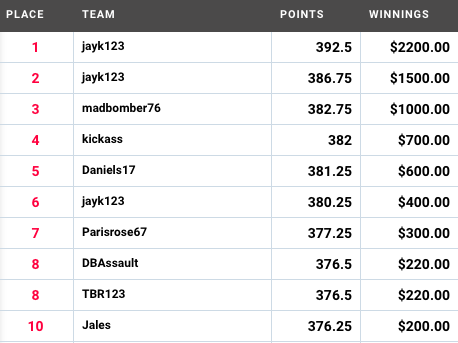 _ _ _
If you were every thinking of getting into tournament style betting, now is the perfect time! Over the next few months there will be massive prize pools on offer every weekend so make sure you sign up with TopBetta and SportChamps to give yourself a chance to win big.