daily fantasy sports articles
Australian DFS Weekend Results - 20th June 2020
It was another dramatic weekend of Sport in Australia with the second week of return to action in the 2020 AFL season. The COVID-19 positive Test to Essendon player Conor McKenna put season-long fantasy competitions into a spin. However, the nature of Daily Fantasy contests meant that the massive prize pools from Draftstars and DraftKings could continue. It was a massive weekend for both sites but for Draftstars it was the largest amount of prize money ever posted on the site! A truly remarkable achievement from the Australian site!
It all kicked off Thursday with the Hawks downing the Tigers in a small upset. With both sites posting huge offerings meant there was over $250,000+ AUD prize money from DraftKings and Draftstars alone!
Draftstars went huge with a $100,000 contest for only a $15 entry and just under 7000 entries battled it out for the $10K+ prize. DFR member 'Delmi31' had a very strong night and led for the majority of the night and cantered over for the 1st place.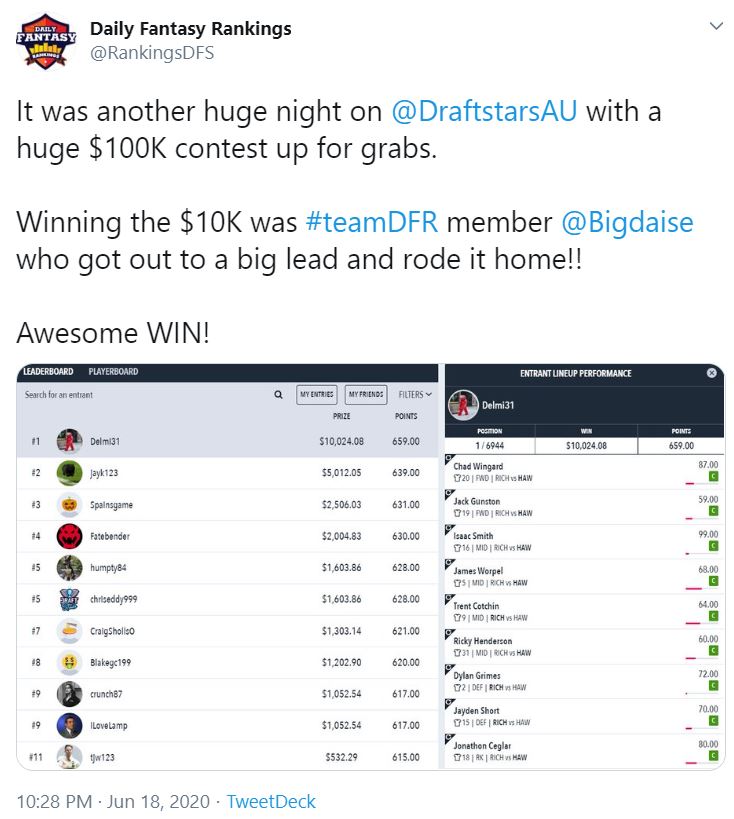 DraftKings posted a $60,000 USD contest with a crazy $20,000 1st prize! Over 5,600 entries were entered (for a nice little overlay) and in a HUGE result, DFR's Head AFL writer Jesse Penfold TheAcc0untant snuck home for the biggest win in his DFS career! Jesse was clearly stoked with his result and we look forward to more expert previews throughout the season.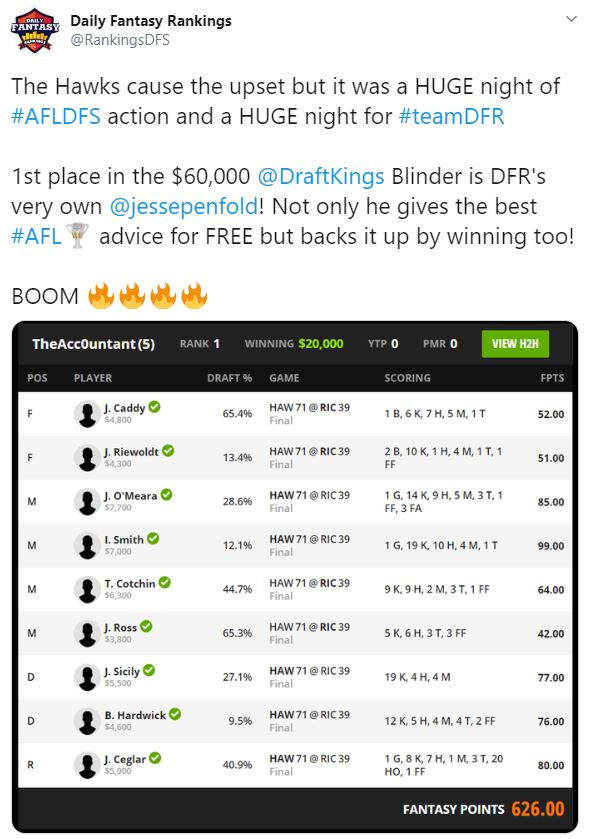 On Friday the Bulldogs downed the Giants in Melbourne and Draftstars went back to back $100,000 contests! First time ever on the site that DS went 6 figures in two nights in a row! In the main $100,000 feature it took a 6% Alex Keath and an under owned Tim English to propel 'JesseWhite' to the $10,000 1st prize!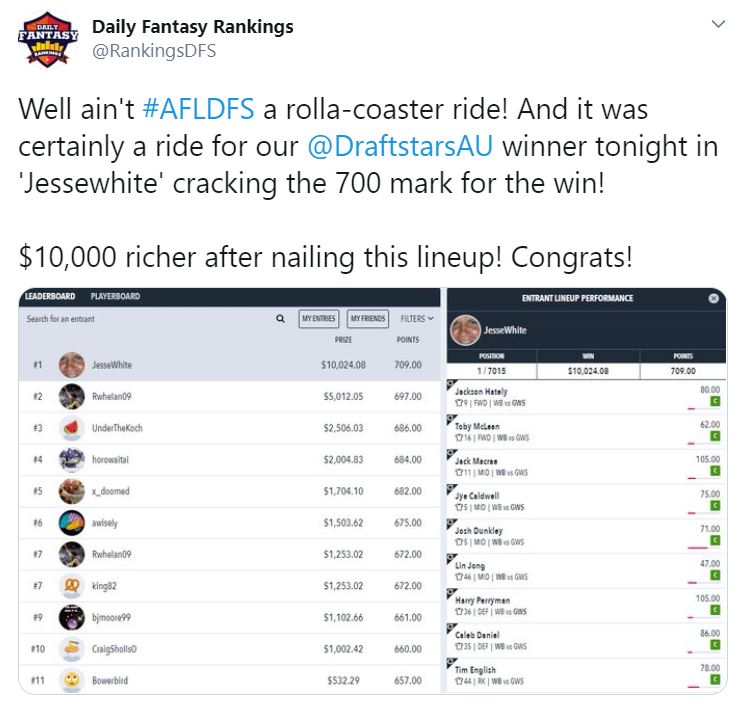 Over at DraftKings it was popular DFR member 'ILoveLamp' with his DK username 'nutsinmypoo' taking out 1st place in the $60,000 USD Blinder ($20,000 to 1st). Once the community knew who the "nuts" was he was certainly a popular winner.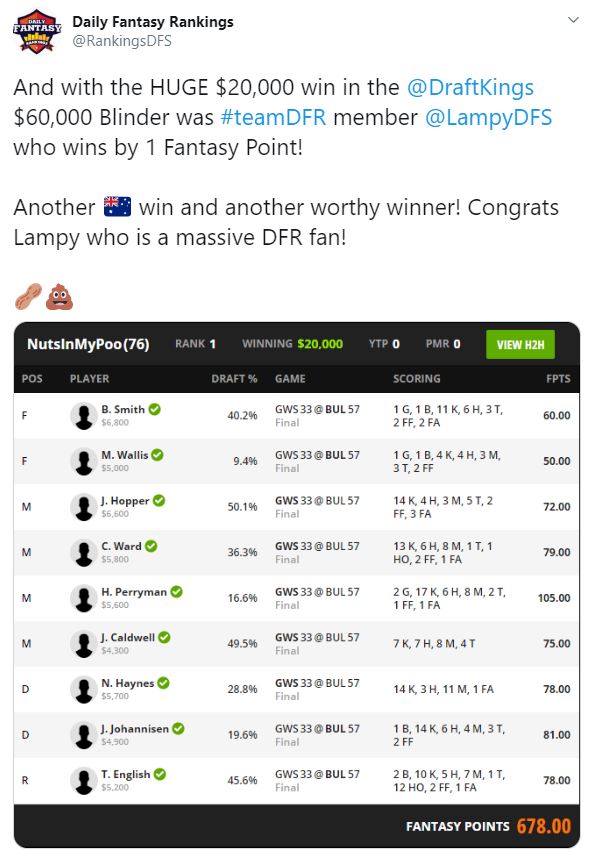 The 4 game slate on Saturday for the AFL was a dramatic day with the news coming out of Essendon but the contests continued on DraftKings and Draftstars. It was a dramatic day for the BEST AFL data tools in the business Fantasy_Boss (BBren on DraftKings). Not only winning the $75,000 feature on Draftstars but also taking out 1st and 2nd place on DraftKings for $14,000 USD collected on DK and $8,800 on DS. A super day for Fantasy Boss and they will continue to provide slate winning tools into the future.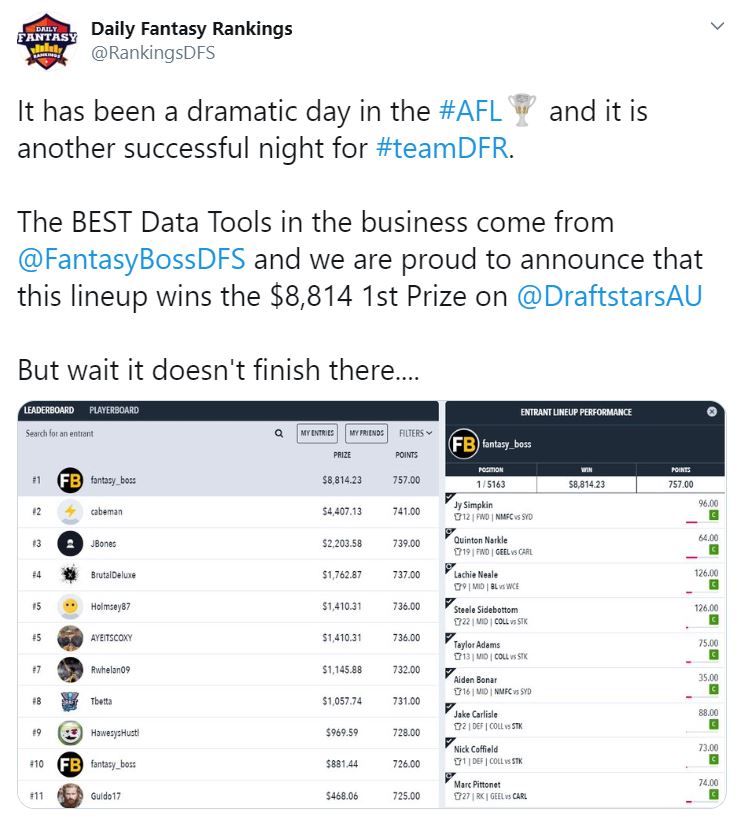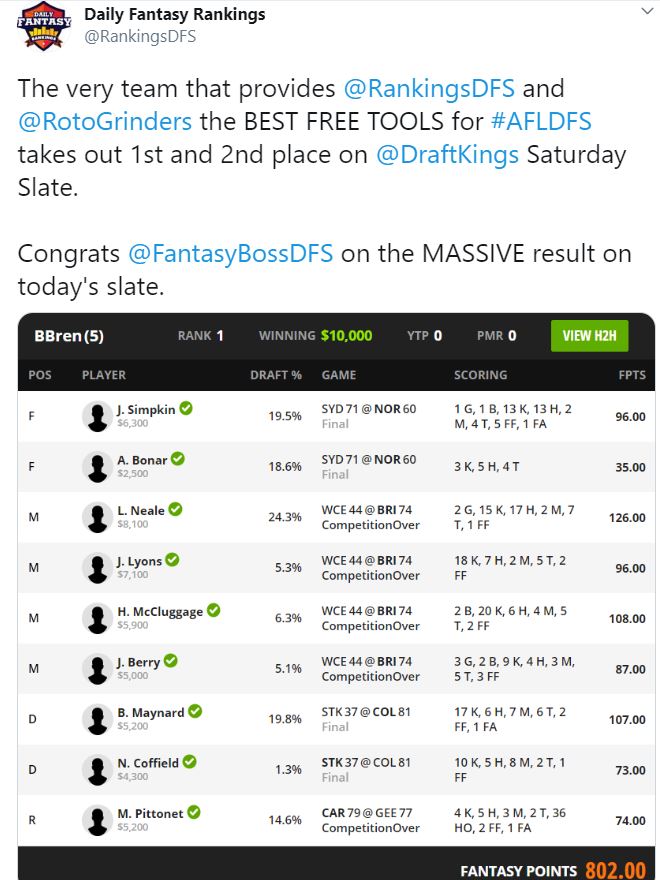 Sunday was just a two game slate but Draftstars was nimble by posting multiple 5 figure contests throughout the day. The main contest was the Dockers and Power game where $50,000 was up for grabs ($56K+ in the end) and was taken out by a single bullet from 'Googs1'. DraftKings also posted a $35,000 USD 2 game slate and we congratulate our 1st US winner in 'miked333'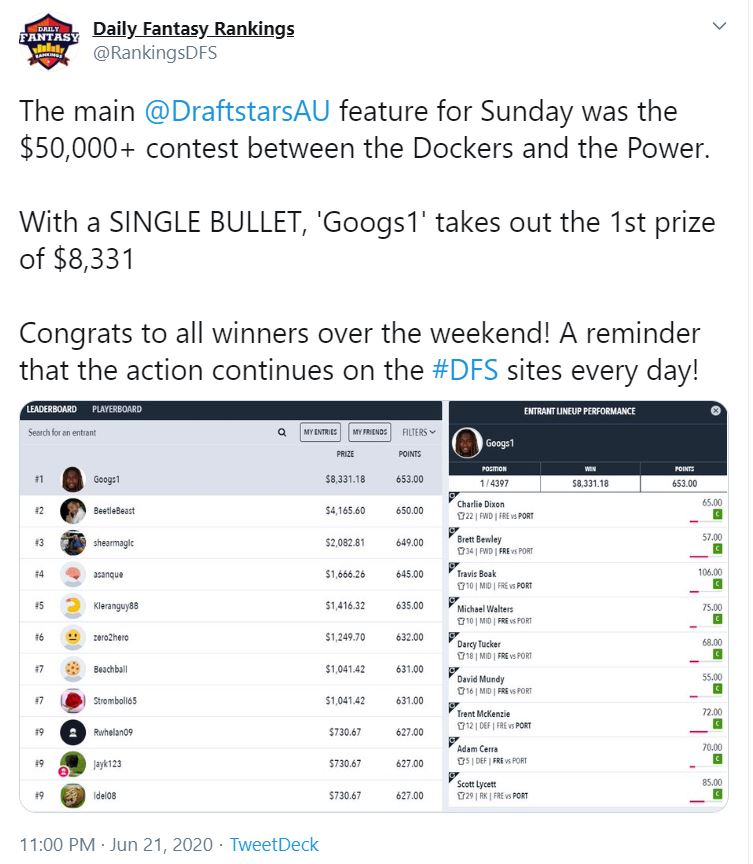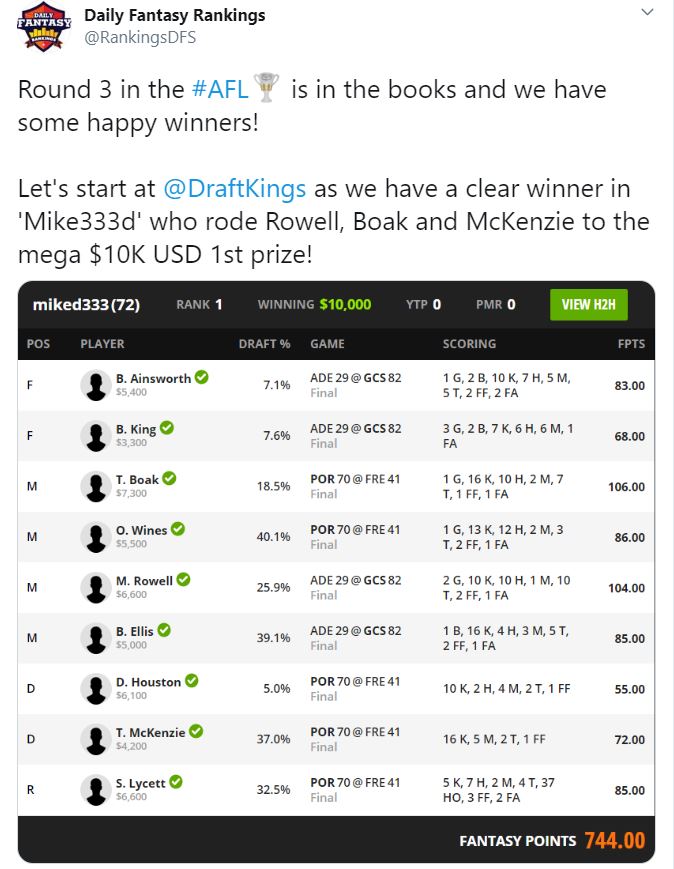 Congratulations to all winners from the weekend and we hope that all members and participants are enjoying the offerings from both Daily Fantasy sites. Keep it locked in on DFR throughout the week as we will provide future previews for all slates and all the news you need for your DFS play.