daily fantasy sports articles
Australian DFS Weekend Results - 20th November 2017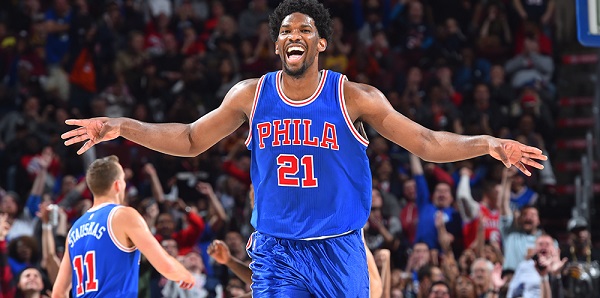 A pretty quiet weekend overall for Australian daily fantasy and tournament betting competitions but that doesn't mean there wasn't still some big cash prizes given out. We take a look at some of the major tournaments across the weekend that was below.
SportChamps
The $100 Saturday racing tournament at SportChamps attracted 19 contestants and offered a prize pool of $2,900 with the winner set to take home just over $1,000. After a great day of betting, the top prize was taken out by SportChamps veteran and No.7 ranked DFR member, Deatac.
Deatac's day was highlighted by a $270,000 win on two boxed exactas in Race 10 at Sandown, which saw him earn enough to take out the top prize. Some other familiar names were in the top places in lewster, and djnewt.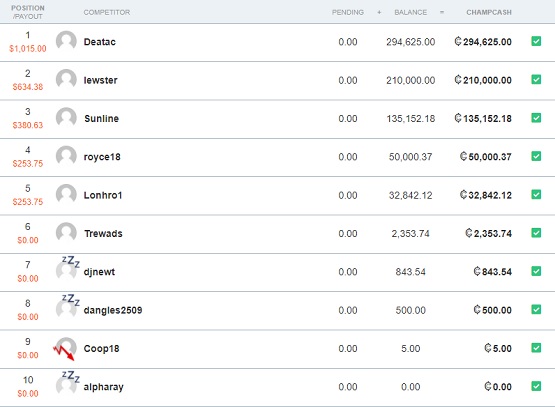 TopBetta
The $100 tournament was the biggest at TopBetta this weekend, attracting 45 contestants plus another 28 total rebuys to make for a whopping $7,300 prize pool. It wasn't a great weekend for the regulars, as some unfamiliar names picked up some of the top prizes.
Flylikeaneagle turned his $5,000 starting cash into a handy $56,100 by the end of the day to take home the $2,700 top prize. His day was highlighted by $24,000 win on Cosmic Charm to win Race 9 at Morphetville which ended up being the difference.

Moneyball
The NFL Sunday Blitz at Moneyball cleared the $5,000 guaranteed mark once again this week, attracting 406 contestants at $15 entry each. After aclose day of action, jabomb took out the top prize of $700 with a score of 171.76.
Tom Brady, Baltimore D/ST and Brandin Cooks were impressive for jabomb in the win but it was the 2.2% owned Keenan Allen who was the difference, top scoring on the day with 34.2 points.

Thursday's NBA tournament at Moneyball offered a monster $30,000 prize pool and attracted just over 2,200 contestants. Not only did Stimpy870 take out the top prize of $3,900 and pick up another six teams inside the top 35, his score of 406.90 was enough to take out the coveted target tournament as well.
An absolutely ridiculous day by 76er Joel Embiid was the catalyst for the 406 score. Embiid scored 93 points on his 46/18/7/7 game to record the highest individual score on the season so far. His teammate Ben Simmons was also massive for Stimpy870.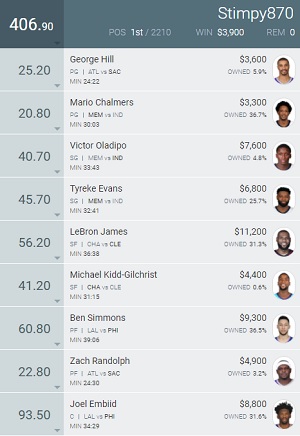 Draftstars
The NBA tournament at Draftstars also offered a $30,000 prize pool and naturally, was also dominated by the likes of Joel Embiid. His 90 point performance on Draftstars saw him lead who else but jayk123 to yet another massive win, taking out $3,900 with a score of 393.25.
And if that wasn't enough for him, not only did jayk123 take out first place in the tournament, he also collected second, third and fifth to cap off one of the more dominant performances in Draftstars history. From those four placings alone, jayk123 scooped over $7,000, justifying his place atop the Daily Fantasy Rankings leader board.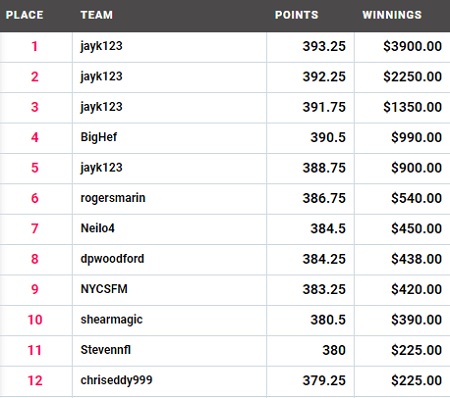 _ _ _
If you were every thinking of getting into tournament style betting, now is the perfect time! Over the next few months there will be massive prize pools on offer every weekend so make sure you sign up with TopBetta and SportChamps to give yourself a chance to win big.