daily fantasy sports articles
Australian DFS Weekend Results - 24th October 2020
It was built up as the best weekend in Australian sports! The AFL and NRL Grand Finals and the running of the Cox Plate at Mooney Valley. I hope you have all recovered from a busy weekend of fantasy sport! Thrown in the qualification of Team Australia into the 2nd week of the DraftKings World Cup, it was a quite satisfying weekend for all players. Let's recap the big money winners from the weekend!
SportChamps
Moonee Valley turned it on at the track but the big story was the fickle weather in Melbourne in the lead up to the Cox plate. This didn't stop the fantasy punters piling into Sportchamps with numerous amounts of tournaments and big money on offer.
The featured Sportchamps tournament was the $50 Entry $20,000 pool attracting 265 entries and with only 1 rebuy it was a great value for money tournament to reach the money. Congrats to 'DRFT15' who went 5 from 5 on selections at very low odds to a 208K Champcash haul! That was good enough to collect the $3,752 first prize.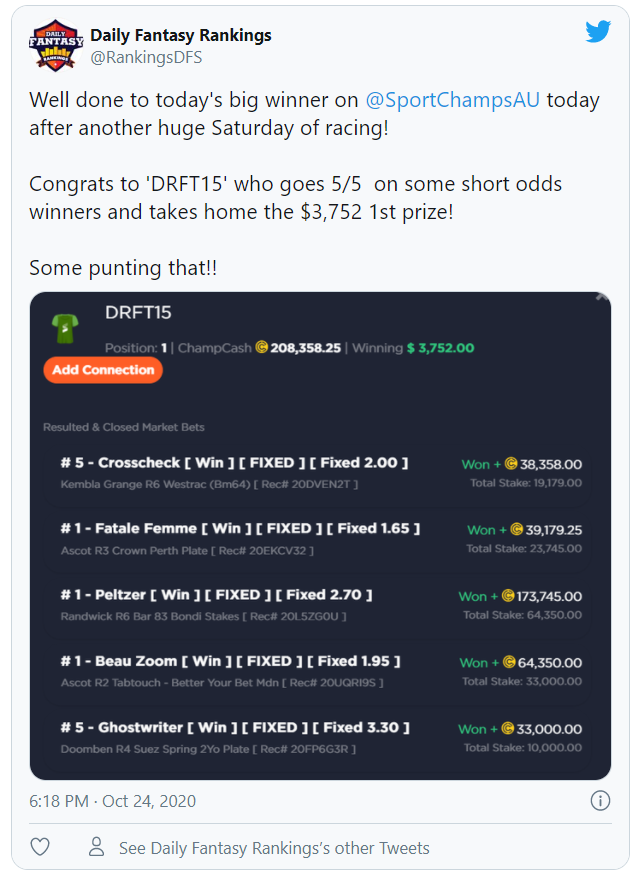 The $5 Entry $7,500 tournament was the place to be with 753 entries extending the prize pool to over $8,000. DFR member 'rexel9' was pipped very late by 'TommyBliss' who unloaded on a 450K ChampCash bet on 'Bautista' to take home the $1,468.55 1st prize.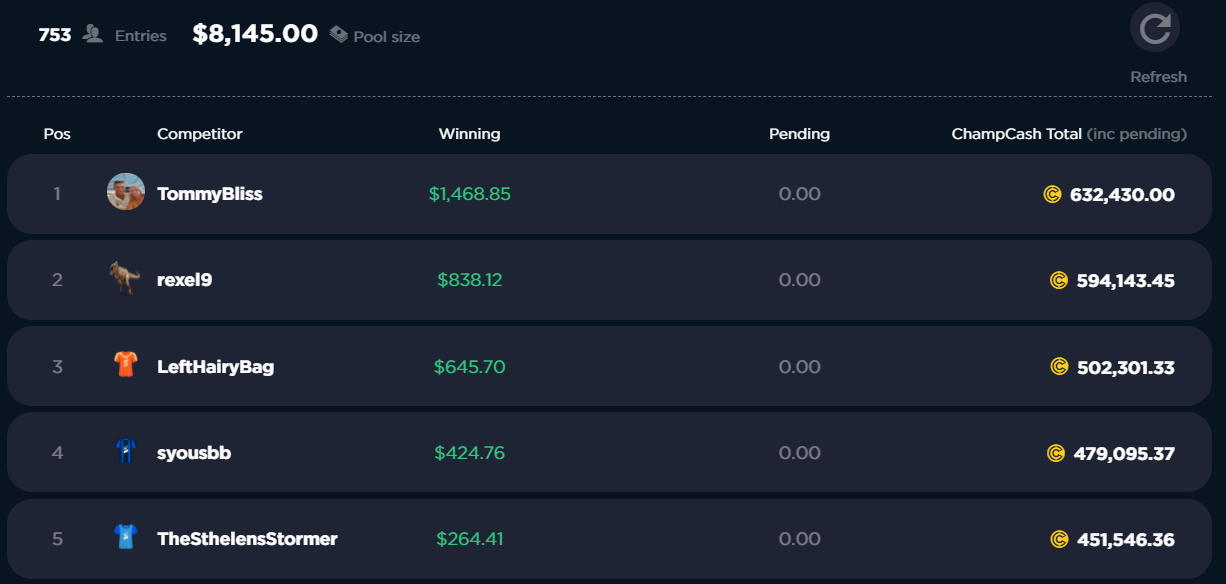 Elsewhere, 'TheGrinch' did steal everyone else's Christmas money by taking out the $20 Entry $10,000 tournament and in the high stakes $250 Entry/$10,000 Tournament check out what the winner of the tournament 'Glawer' did with his/her Champcash… Extraordinary for the $3,237.50 1st prize.



Draftstars
It was built as the largest online prize ever offered by Draftstars and it certainly delivered in spades when the AFL Grand Final overfilled to a whopping $168,607 1st prize. The industry talk was to have Geelong stacks but the overall winners had a Richmond stack that shot them to the top. "JRod78" & "kondog" walk away with the chop of $11,798!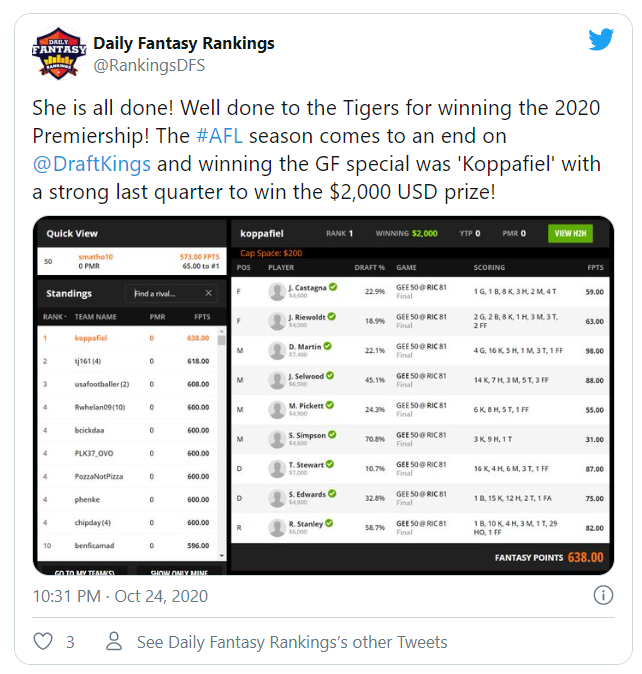 On Sunday night, The Melbourne Storm got out to a huge lead and not even Gus Gould could get the Panthers back into the contest! Draftstars posted a new record for the NRL with a $50,000 contest! It was a three way chop between 'urboytroy' 'giantprawn' and 'taco-tuesday' (all great usernames IMO) to take out the $3,809 1st prize!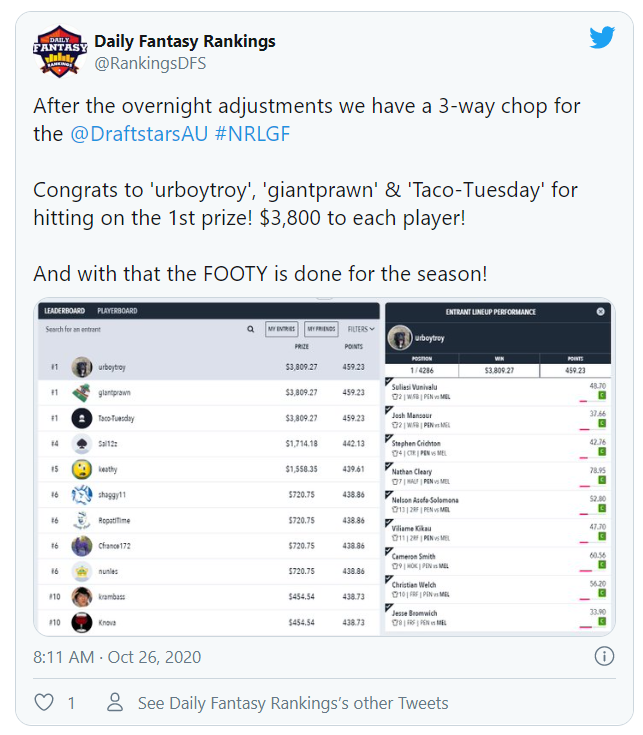 In the NFL Week 7 Sunday slate, DFR member 'offthemap' took out the $30,000 Draftstars contest by holding off fellow DFR member 'shiverm3ginger' after an action packed 11 game slate.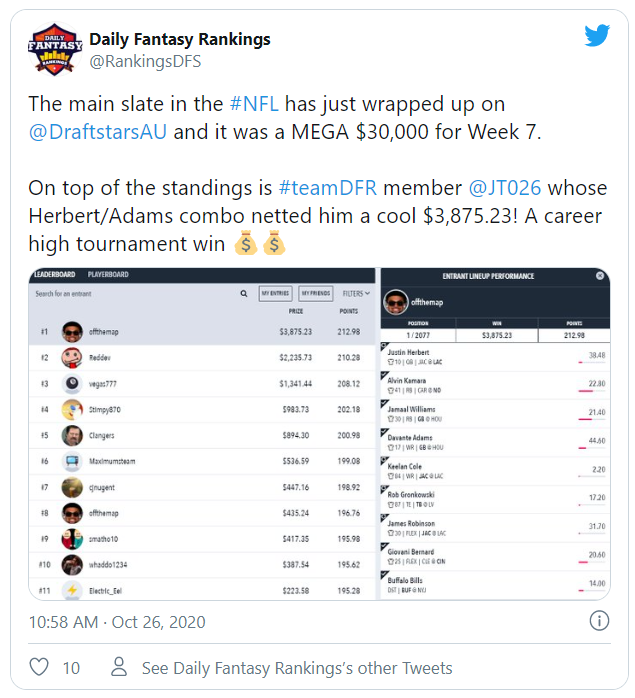 The action now turns to the track for the Flemington carnival. Keep an eye out for fantasy contests both on SportChamps and Draftstars throughout the month of November!