daily fantasy sports articles
Australian DFS Weekend Results - 27th August 2018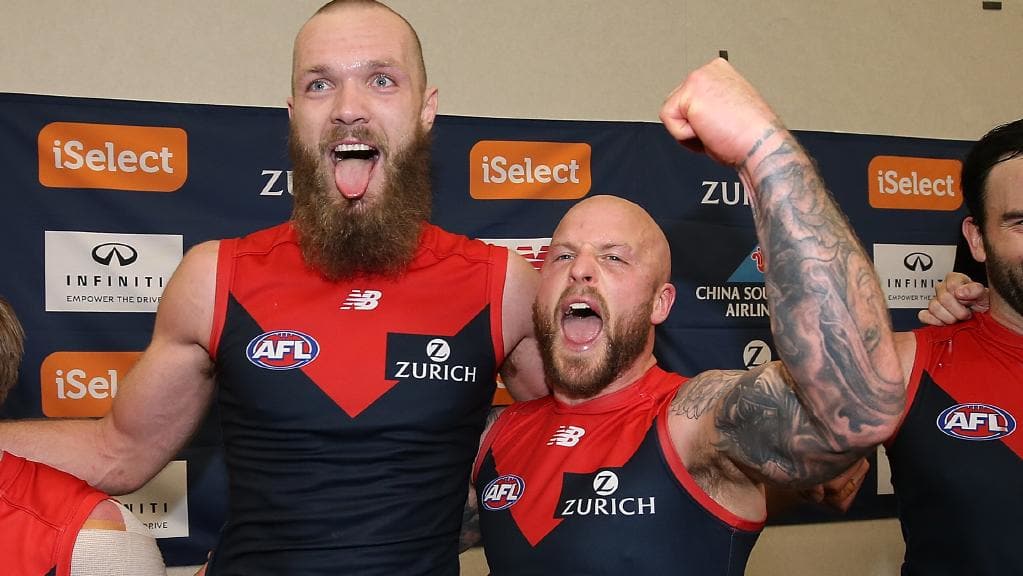 It's a great time of the year to be a DFS fantatic with so many teriffic contests taking place! We've provided a recap of the weekend just gone and highlighted some of the best wins.
PlayON
Just one week after their $100k AFL SuperContest, PlayON hosted their huge $25,000 NRL SuperContest! The contest had 117 entries, with the top 30 entrants all picking up at least $300 and the overall winner collecting a cool $6,000! Not a bad day at the office to say the least... It ended up being a day to remember for one of DFR's most successful members, dpwoodford. Not only did he win the contest, but he also managed to come in 3rd, 5th, 13th, 14th, 26th, 29th, for a grand total winnings of $10,650! Congratulations, mate! Other succesful punters were Seiko, who picked up over $4,000, and rexel9 who collected $3,000.
PlayON continue to host great tournaments with huge cash prizes each week and there's still many more to come. Make sure you get involved!
TopBetta
The Saturday Metro Mayhem was once again the biggest tournament of the week at TopBetta, offering a prize pool of $5,000. It attracted 22 contestants, as well as another 21 rebuys. After making great plays throughout the day, it was eddie55 who topped the leaderboard, turning the 5,000 BettaBucks into 56,170 by the end of the day and earning himself the top prize of $2,000. The other podium finishes were lewster ($1,350) and djnewt ($750).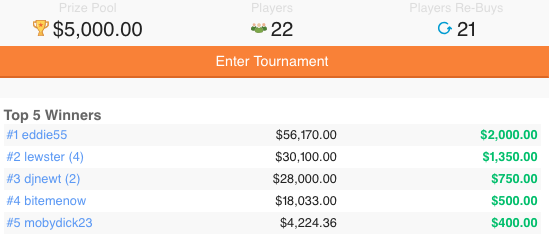 SportChamps
As always, SportChamps held countless tournaments for the racing meets over the weekend, but the most lucrative of the lot was their $50 Racing Sunday tournament. 40 players entered to have a crack at the $4,200 prize pool, but the best of them all was 50miller, who collected the $1,139 first place prize. Blakew23 and Igottrix finished in second and third and picked up winnings of $707 and $496, respectively.
Draftstars
The biggest tournament of the week was once again the Saturday AFL slate at Draftstars. They had another $50,000 prize pool up for grabs, which attracted over 3,000 entries. There were some absolutely massive scores across the board this weekend, with 4 players eclipsing the 1000 points mark and the winner, perrinj scoring a whopping 1064! Congratualtions on the huge score and thw $4,990 winnigs! Four other players earned over a $1,000 for finishing in the top 5, those being Ilovelamp (Second, $3,743), RFC4life (third, $2,246), gv16 (fourth, $1,647), and Broady4_ (fifth, $1,497).
Check out Perrinj's winning formula for Saturday's slate!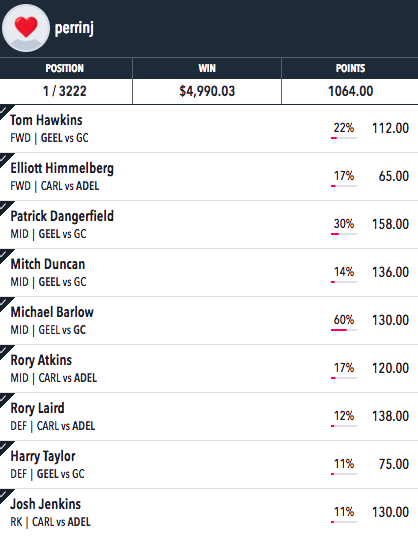 As always, congrats to this weekend's winners and good luck to next weekend's entrants!