daily fantasy sports articles
Australian DFS Weekend Results - 27th May 2019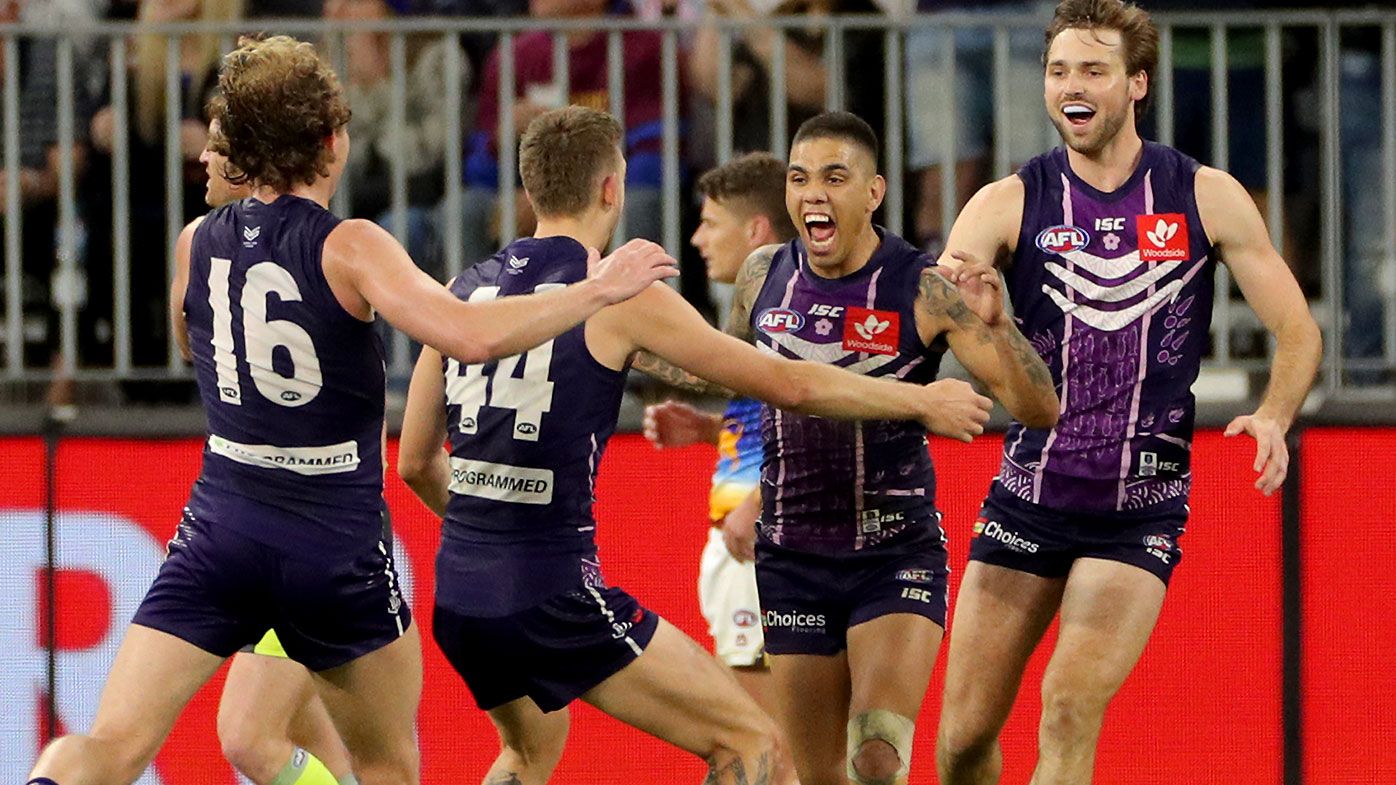 Wowee, what a great weekend it was for DFS fans across the nation! Players were able to sink their teeth into some huge contests from the leading DFS agencies, making it an exciting weekend for all involved. As always, we take a look at some of the big winners here!
Moneyball
Moneyball returned with another big Friday night for AFL Round 10, hosting their AFL $50,000 Sydney vs Collingwood Special. It was a great turnout with over 3,300 entries paying the $15 fee. It wasn't the prettiest of matches at the SCG and it certainly wasn't a high-scoring affair in DFS either. Crystal bros was the only entrant to clear the 800 barrier and landed the big $6,500 first place prize. Second place was a tie between julesrau and Jeppa, which meant they both took home a tidy $2,175 prize, while RohanG11and offie500 both collected $1,000 for finishing in fourth and fifth, respectively.

Moneyball saved their best for the five-game slate on Saturday with their AFL $75,000 Saturday Special. It attracted a whopping 5,000 entries who were willing to pay $15 in hope of the huge $9,750 first place prize. It ended up being a day to remember for Rwhelan09 who finished three points clear at the top with a score of 929, becoming nearly $10,000 richer. Lion4lifeworked their way into second spot by the end of the night and took home $4,000, while number one ranked DFR member laminedor (jayk123) had yet another successful outing, finishing in third, fifth and eighth, for just shy of $5,000.

Moneyball finished off AFL Round 10 with a bang, hosting their AFL $40,000 Sunday Special. It was yet another well supported contest for Moneyball with over 3,000 entries fighting it out for a piece of the pie. A lot of players targeted the Demons vs Giants match in this slate, but none had a better formula than Mwill587 ($5,200 collect) who managed to score 856, which was 18 clear of the next best. Laminedor found himself on the podium again with $2,200 for his second-place effort, while RNGD Barking Ghecko came in third and won $1,300.

Draftstars
Draftstars were also hosting some huge contests of their own on the weekend, headlined by their AFL $75,000+ Swans v Magpies. The contests at Draftstars are usually a little less top-heavy in terms of payouts, which meant that a 10th placed finish in this contest bagged you a nice $543 collect. However, the first placed prize was still huge with $7,400 up for grabs. Ant9981 ended up being the man to beat, finishing on top of the mountain in what was a really close finish. Second place and $3,700 was awarded to Amester5, while third place and $1,850 went to mookie11.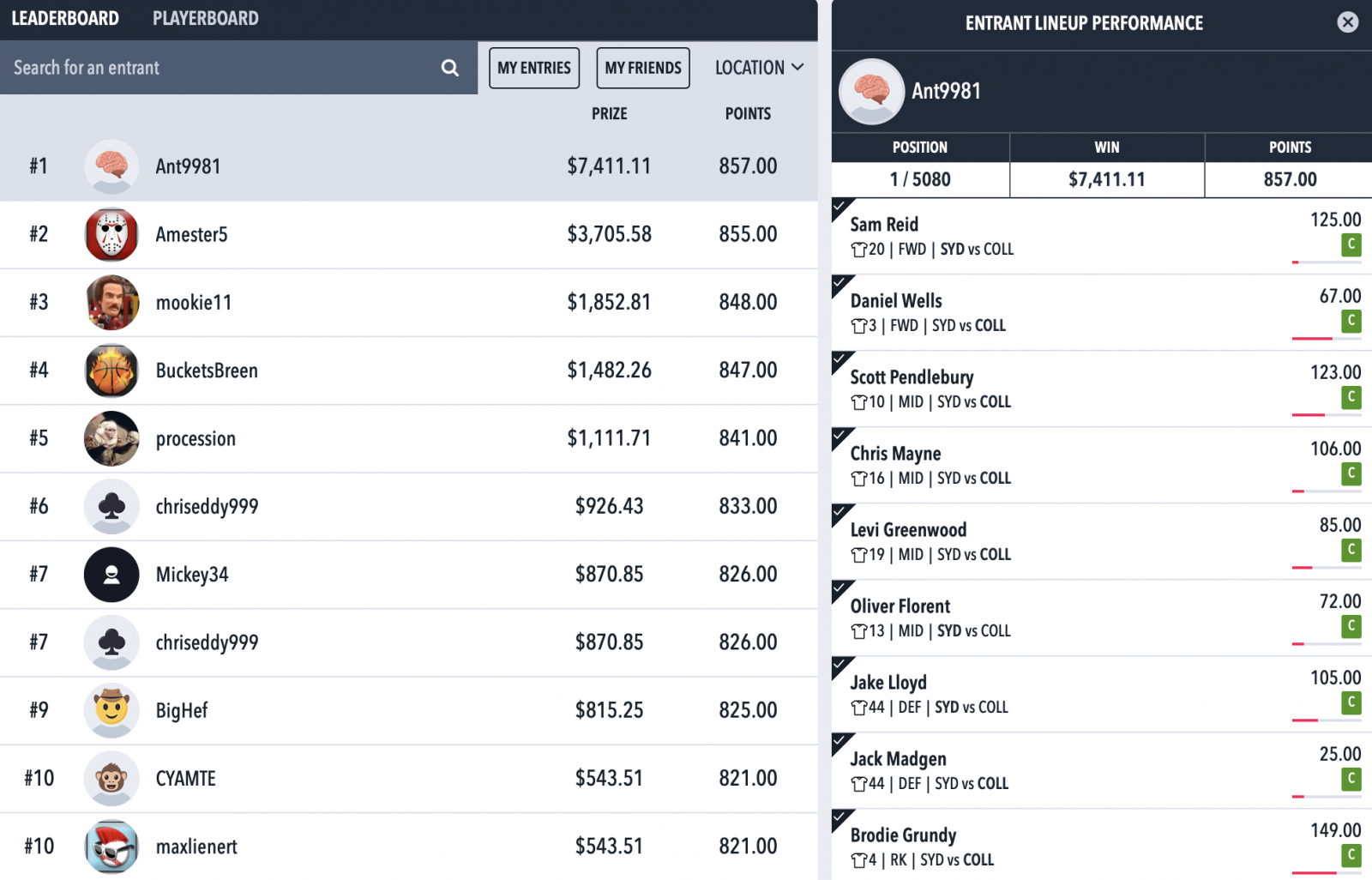 SportChamps
SportChamps continued their offering of huge racing contests on the weekend with plenty of big money up for grabs. The biggest of them all turned out to be their Racing $50 Saturday Metro Horses (NO REBUYS) tournament, which attracted just shy of 100 punters. It ended up being a great day for imdgame, who finished ahead of the pack thanks to some clutch plays and took home the first-place prize of $1,021. DRFT15 also had a solid day and collected $665 for second, while Doggie_style jagged third place and $500.
TopBetta
TopBetta provided their usual racing tournaments over the weekend, highlighted by $2,000 Saturday Metro Gallops and $1,000 Saturday All Gallops. The $2k contest was fought out by 14 players and ended in favour of dominant DFS player Deatac, who took home the $1,200 prize for first. Bourbon ($600) and wally82 ($200) were the other podium finishes there. The $1k contest was won by ascenhx for a $600 win, while Horatio1 ($300) and Deatac ($100) finished in second and third, respectively.
Congrats to all this weekend's winners and remember DFS doesn't rest on week days with contests running across the platforms every day!
Always remember to gamble responsibly. When the fun stops, stop. If gambling is having a negative impact on your life, seek support at Gambling Help Online. 18+ only.