daily fantasy sports articles
Australian DFS Weekend Results - 28th August 2017
It was yet another big weekend for Australian daily fantasy sports and fantasy betting players with the AFL regular season drawing to a close and TopBetta and SportChamps continuing to offer big racing tournaments in the lead up to Spring! Read on for the latest winners, will be sure to head to the DFR Rankings page to find out who has been scoring results and moving up the leader board!
Draftstars
Round 23 of the 2017 AFL season would see Draftstars offer some massive DFS contests including brining back the $50,000 guaranteed event on Sunday. First, however, it was DFS crusher chriseddy999 who claimed victory in the Saturday $30,000 guaranteed. The contest featured 2,208 entrants and chrisseddy999 defeated every single one of them to take home the $4,500 top prize. Top 10 ranked DFR player Penny1cent, meanwhile, had a strong result in 7th place for $1,200.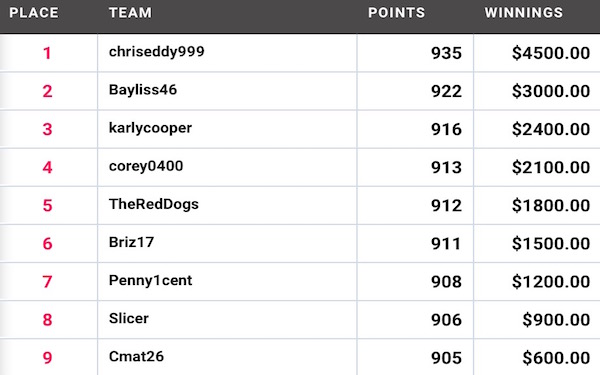 The big AFL DFS event of the weekend was on Sunday when a massive $50,000 was up for grabs. There was a strong turn out of 3,500 entrants and it was willow15 who came out on top for a $7,000 score. The top 10 ranked dtownsend had another solid day, finishing in 3rd and 6th for just over $3,000 combined.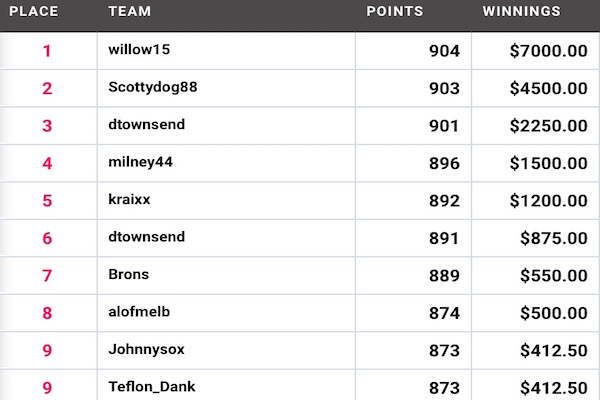 TopBetta
The big Saturday racing tournaments continue at TopBetta and no doubt they are only going to get bigger as we head into the Spring. The Saturday Metro Mayhem on August, 26th featrued a field of 32 fantasy betting players and 20 rebuys the prize pool built to $5,200. In the end it was lewster who built the biggest bankroll with $149,632 in BettaBucks good for the win an $2,080 in cold hard in cash. DFR member Deatac finished in 2nd for a solid $1,404 result.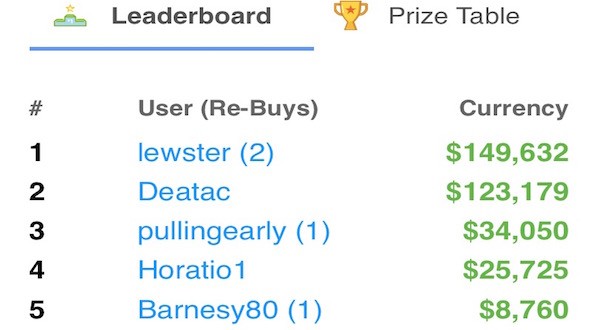 Moneyball
As always, Moneyball's largest AFL DFS tournament of the weekend came on Friday night in the champion-farewelling Hawks vs Western Bulldogs clash. There were 498 entrants for a prize pool of $6,450 and it was Bigdaise who blew the competition away with a score of 872 to win the $850 prize. His nearest competitor, Farouky07, was a fair way off with 827 points, while a regular at the top of leader board in Tbetta finished in 5th.

SportChamps
Over on SportChamps there was a $2,000 guaranteed prize pool Saturday racing event which ended up having 13 entrants and 10 rebuys. The winner of this one for $787.50 was tobrook1 with his fantasy betting bankroll getting up to over 90,000 which was more than four times as much as his nearest competitor in 2nd place - djnewt - who had 21,000 in his bankroll.