daily fantasy sports articles
Australian DFS Weekend Results - 4th December 2017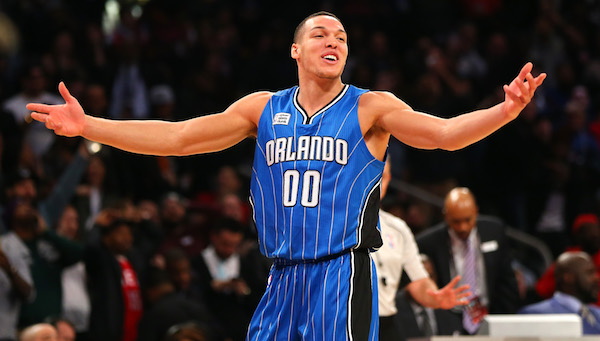 The first week of December saw another great week of daily fantasy and tournament betting competitions throughout the country at the likes of Draftstars, Moneyball, TopBetta and SportChamps. We take a look at some of the major results in which punters took home big money below
TopBetta
The major tournament at TopBetta this weekend was the Saturday Metro Mayhem and it offered a $5k prizepool. It attracted 33 players and a further 17 rebuys at $100 a pop to hit the guaranteed mark.
After an exicing day of betting, samsi69 took out the top prize of $2,000 by, believe it or not, just $2 in Betta Bucks. Samsi69 finished the day with $33,688 in chips while second placed Nala2015 was unlucky to miss out on the top spot, finishing with $33,686. The highlight of the day for samsi69 was a $24,900 win on Memory Bank to win Race 2 at Sandown.
Moneyball
The biggest tournament at Moneyball over the last week was the NBA Thursday Monster, worth a whopping $30,000. It attracted 1822 entries and produced a great finish that saw the winner surpass the coveted 400 point mark.
Cyamte blitzed the competition on the day, combining some unique picks in Aaron Gordon, Brandon Ingram and Courtney Lee to end the day with a whopping score of 412 points, nearly 20 in front of the nearest competitor. Cyamte collected $3,900 for the win while laminedor was the only really familiar name in the top ten, coming second on the day and picking up $1,650.

The NFL Sunday Blitz produced another thrilling result as it offered a $5,000 prize pool and attracted 386 contestants. A great performance by thebigoe saw him take out the top prize of $650 by just 2 points over his nearest competitor.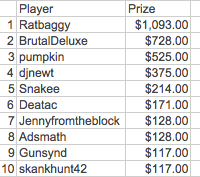 SportChamps
Interestingly, it was the Friday night racing tournament that offered the biggest prize pools for players at SportChamps over the past week. It offered a prize pool of $4,900 for just a $50 buy in.
A great result for SportChamps as the guaranteed pool was just $2000 for this tournament. In the end it was Ratbaggy who took out the top prize of $1,093 after a great night of betting while BrutalDeluxe, pumpkin and djnewt took out the minor placings.
DraftStars
The $30,000 NBA Thursday tournament continues to be thebiggest weekly tournament at Draftstars. The past week saw 2083 players attracted to the tournament and while it was an unfamiliar name who took our the top prize, some Draftstars experts were amongst the top players of the day.
RVinny's score of 413 points was enough to take out the $3,900 first placed prize. Khris Middleton, Greg Monroe and Dwight Horward were the catalysts in the win, while Draftstars regulars in procession, Stevennfl and ILoveLamp were all prominent at the top of the leaderboard.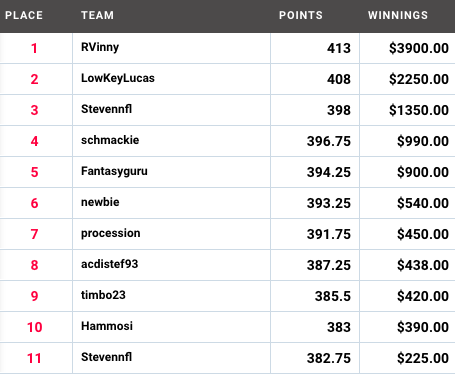 _ _ _
If you were every thinking of getting into tournament style betting, now is the perfect time! Over the next few months there will be massive prize pools on offer every weekend so make sure you sign up with TopBetta and SportChamps to give yourself a chance to win big.