daily fantasy sports articles
Australian DFS Weekend Results - 4th September 2017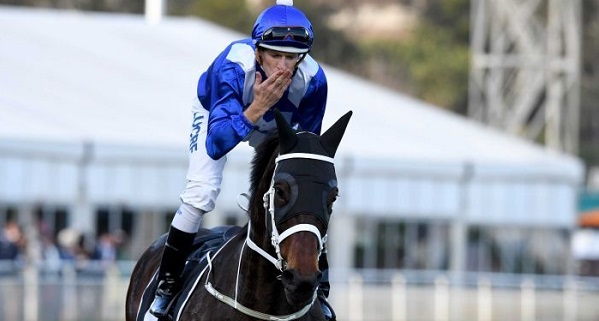 The 2017 Spring Carnival kicked off on the weekend with a big day of racing from Caulfield and Randwick. There were plenty of great tournaments on offer throughout Australia to celebrate the opening weekend and we recap the best of them below.
TopBetta
The folks at TopBetta offered some big prize pools for Day 1 of the Spring Carnival, headlined by their $10k 'Memsie Stakes Day One Gorilla Thrilla'. The tournament attracted 8 contestants with the big $1k entry fee and after a big day of betting it was veteran 'bitemenow' who took out the $6,000 top prize.
The day was made with a $44,000 win on Jamaican Rain to win Race 8 at Morphetville, whick set up a late defence of the number one spot over minor placings nashemmy and lewster.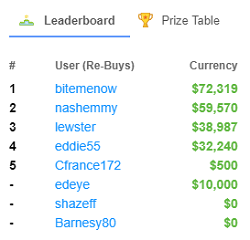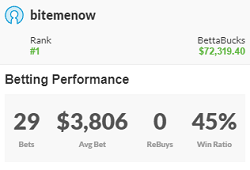 bitemenow backed up his great perfoemance in the $1k tournament by also winning the $100 entry tournament and collecting a top prize of just over $3,000. It was a tight finish in the $100 tourney with footy99 taking it all the way to the last race and eventually going down by just 12,000 BettaBucks.
The tournament attracted a whopping 79 contestants who also pitched in another 33 rebuys to raise the total prize pool to over $11,000.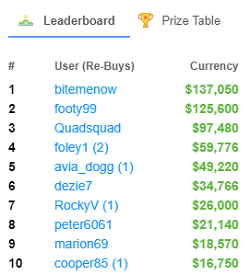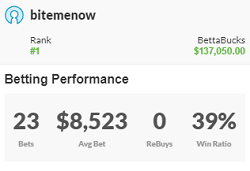 The $50 tournament was another popular one at TopBetta over the weekend. It attracted 19 contestants but added another 32 rebuys to take the total prize pool to $2,550. Daily Fantasy Rankings member 'TheDonkey' collected the top prize of just over $1,500 ahead of minor placings Goateth and loz1946.
Donkey's day was headlined by a $88,000 collect, also on Jamaican Rain in Race 8 at Morphetville.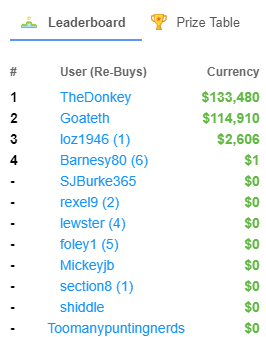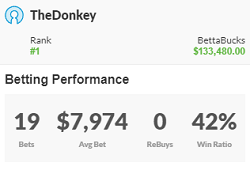 SportChamps
SportChamps also hosted an array of racing tournaments for the opening weekend of Spring Carnival, the most popular of which was their $1 entry, $2,500 tournament. It was a big day for wildman13, who turned his $10,000 starting kitty into a ridiculous $1,957,000.
The highlight of the day was a two leg multi featuring Hell or Highwater and Washington Heights to win their respective races at Caulfield and Randwick. The multi paid over 12/1 and with $100,000 on it, wildman13 collected $1.2 million. Doriemus and asvpxnd2 picked up the minor placings.

The $50 tournament at SportChamps saw 22 contestants vying for the top prize of over $500. After a big day of betting it was mrwmrw who came out on top of DFR veteran rexel9 bu just $20,000 to scoop the top prize. mrwmrw's day was capped off with a monster $280,000 win on Danehill's Daughter in Race 6 at Belmont which ultimately earned him the cash.

The marquee $100 tournament at sportChamps saw 9 entries plus a few extra rebuys to take the total prizepool to $2,000. 'stickman' cruised to a comfortable and largley unchallenged win, ending the day with a tidy $126,000 in chips. Trev10 picked up 2nd place and a smart move by rexel9, leaving $1 in his kitty saw him scoop third place and $175 over six players who busted.

_ _ _
If you were every thinking of getting into tournament style betting, with the beginning of the Spring Carnival on the weekend, now is the perfect time! Over the next few months there will be massive prize pools on offer every weekend so make sure you sign up with TopBetta and SportChamps to give yourself a chance to win big.