daily fantasy sports articles
Australian DFS Weekend Results - 5th March 2018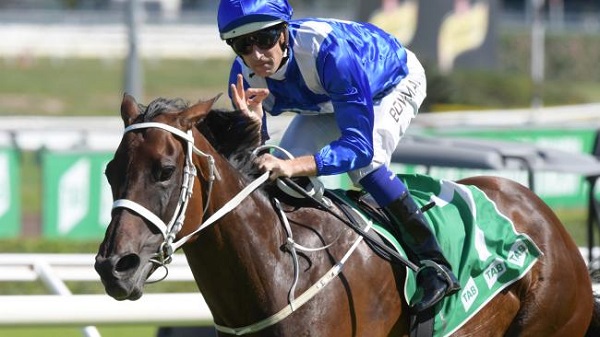 Another great week overall in daily fantasy and betting tournaments around Australia. The weekend's horse racing saw the return of the Mighty Mare, Winx, and the running of a great Australian Guineas. We take a look at the results from all of the major tournaments below.
TopBetta
The Randwick, Flemington, Doomben and Morphettville race meets headlined the action in this weekend's Saturday Metro Mayhem at TopBetta. After a few tough weeks of just missing out on the top prize in the Metro Mayhem, rexel9 came through with the goods this weekend, turning his $5,000 in starting chips into almost $90,000.
After rexel9 just missed out on a win last weekend due to a protest in the last race, a $15,000 bet on Johnny Whitesox to win the last race at Doomben saw him collect $71,000 and a win in the tournament. Rexel picked up almost $3,000 in cash for the win, taking him closer to becoming just the second player to pass the coveted $500,000 lifetime winnings mark.

SportChamps
There were a few massive tournaments at SportChamps over the weekend, the first of which was the Saturday $5 entry tournament that offered a massive prize pool of $3,865 for such a small entry fee. It was a great day of betting all around with the Guineas headlining the day's action. With 595 contestants all vying for the top prize, it was '50miller' who finished the day on top, collecting just over $670 from his $5 buy in!
Saturday's feature tournament was the $100 buy in competition which saw a massive $5,000 prize pool. 28 players threw their hat in the ring for the cash prize and after a stellar day of betting it was 'lokidokie' who took out the top prize, edging out a few SportChamps veterans in Deatac and rexel9. Lokidokie picked up just over $1,530 for the win while Deatac and rexel9 added to their impressive DFR records.
Draftstars
Draftstars biggest event of the week came in the form of the Thursday NBA tournament, which saw 1,006 players throw their hat in the ring for the massive $15,000 prize pool. Russel Westbrook was the top performer of the day, racking up 56 points while Andrew Harrison was an undervalued pick of the day.
Both players contributed to 'ILoveLamp' accumulating 372 points for the day to take out yet another Draftstars competition. ILoveLamp collected $1,250 for the win, and added to his impressive DFR profile, which currently has him ranked fourth overall. He wasn't alone, however, as Jclark16 also finished with two teams on 372 points, to take $2,500.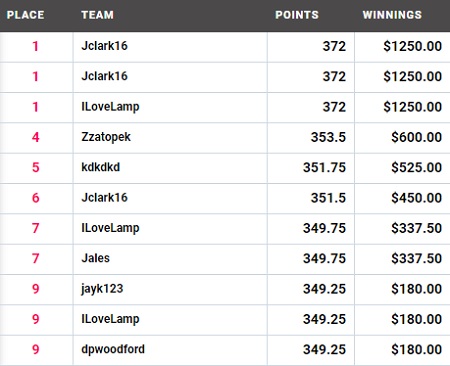 _ _ _
If you were every thinking of getting into tournament style betting, now is the perfect time! Over the next few months there will be massive prize pools on offer every weekend so make sure you sign up with TopBetta and SportChamps to give yourself a chance to win big.