daily fantasy sports articles
What's on this weekend? Australian Daily Fantasy Sports Agenda - 28th April 2017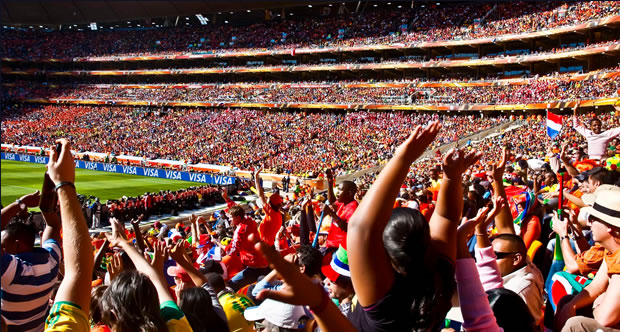 Another huge weekend of Daily Fantasy Sports is coming up in Australia and we are spoilt with options of what to play! Here is our quick guide of what's on and where this weekend!
TopBetta
It's another huge weekend coming up at TopBetta, with the highlight being the "Saturday Metro Mayhem $10,000 Guaranteed". The $110 buy-in tournament will no doubt see the prize pool swell once everyone gets stuck into a few rebuys.
On Sunday there is the "Sunday Funday $2,000 Guaranteed" with a $55 buy-in that kicks off at midday.
There are also a whole range of other betting tournaments that are offered over the weekend. They range from buy-in levels of $1 to $55, so there is something for punters with of all sized bankrolls.
For the punters that don't have all day to watch races, TopBetta also offer "Bet...Forget...Collect" events. These tournaments allow you to place your bets at the start of the day, with no rebuys or additional punting. All you need to do is check at the end of the day to see how much you have won!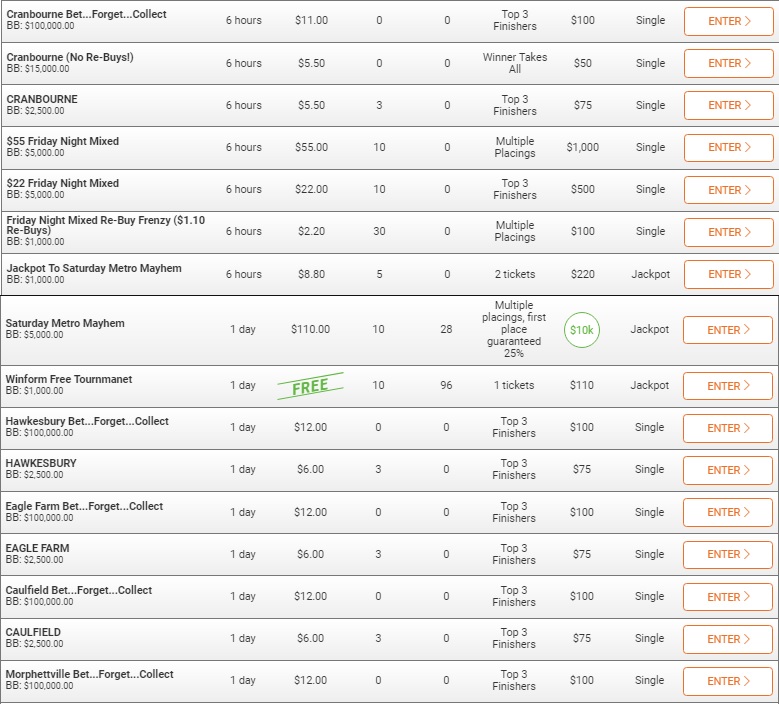 For the sports lovers, there is AFL & NRL betting events, $10 and $55 buy-in levels that will provide some great value if you want to have a nibble at the matches this weekend.
TopBetta will offer well over $20,000 guaranteed this weekend and it is worth a look if you want to get involved in fantasy betting tournaments.
SportChamps
SportChamps are back at it again with a massive schedule this weekend, and a whole suite of Racing and Sport betting tournaments on offer.
Racing tournaments of all levels are offered on the weekend which include $2, $10 & $25 buy-in levels as well as a ripping $50 "Bet 'N Go" event which allows you to place your bets at the start of the day with no other rebuys or punting required throughout the day.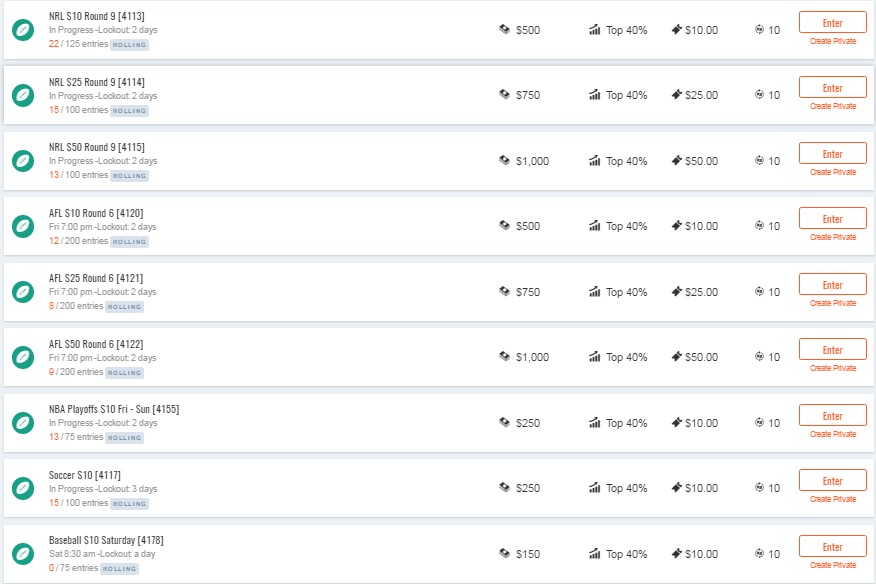 On top of a massive range of racing events, they have sports betting tournaments for AFL & NRL as well as Baseball, NBA & Soccer. There is something for everybody at SportChamps this weekend.
Read our review on SportChamps as well as exclusive deposit bonuses available.
Draftstars
The lads at Draftstars are not messing around once again this weekend with a whole range of awesome tournaments on offer. On top of the usual spread of events, the majors this week are very juicy!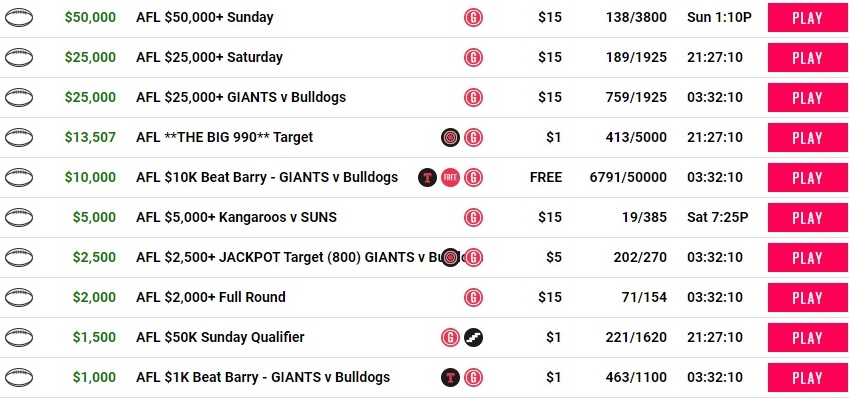 The weekend kicks off with a $25,000 Guaranteed tournament for the Giants vs Bulldogs in the AFL which will no doubt be a ripper, with a big start to the weekend and lots of money and DFR points up for grabs.
On Saturday the fun will continue with another $25,000 Guaranteed up for grabs, with the all day event pencilled in. Along with that will be all the usual single game matches as well as the now infamous "target" events for hitting either 880 points or the BIG 990 point jackpots!
Sunday is the BIG day on Draftstars when everyone comes out to play for the big bucks - a whopping $50,000 Guaranteed tournament is scheduled, and this is where dreams are made!
A full range of NRL & NBA events are also available for this weekend too!
Make sure you find some time to submit an entry or two! If you want to know more about Draftstars check out our review.
Moneyball
Lots of action going on at Moneyball this weekend, with a full suite of AFL tournaments being hosted each day. It all kicks off tonight with a $10,000 Guaranteed contest for the Giants vs Bulldogs with some great cash and DFR points up for grabs.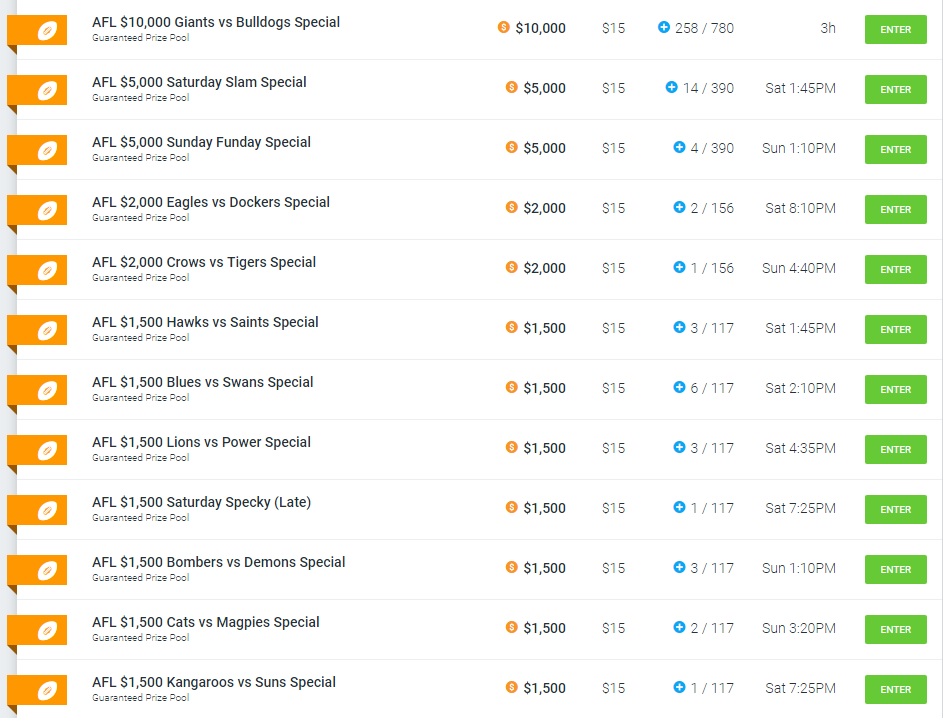 There is no letting up either with single match events and the Saturday Slam Special with $5,000 Guaranteed. Not only does Moneyball offer contests for the AFL, but you can get involved in NRL, NBA, EPL, A-League and even the IPL.
Check out our Moneyball review for more information.
PlayON
PlayON is hosting daily NBA $1,000 Guaranteed events each day and giving overlay in most of these, which is something to check out if you like a bit of extra bang for your buck.
There are also daily contests for the European Tour Golf, EPL and IPL, with major AFL tournaments coming very soon.
Lots of great value around at PlayON so check out our PlayON review and get involved.