daily fantasy sports articles
BBL08 Fantasy Team Profiles: Brisbane Heat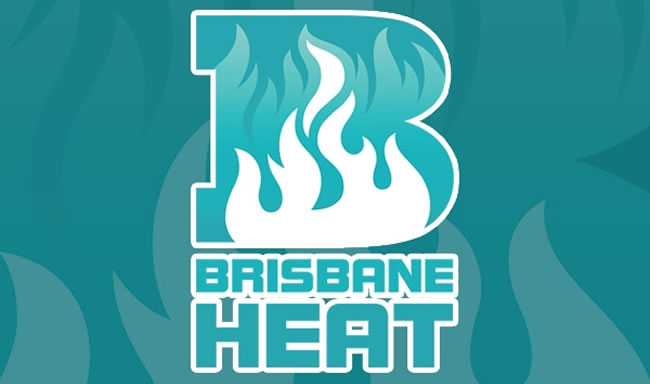 The Brisbane Heat had a poor 2017/18 campaign, where they finished second last. They've gone all out to bolster their bowling stocks for the upcoming BBL08 season in an attempt to get themselves back into the top four and fighting for a title.
Brisbane Heat BBL08 Squad
Squad: Chris Lynn (Captain), Brendon McCullum (International), Mujeeb Ur Rahman (International), Max Bryant, Joe Burns, Ben Cutting, Brendan Doggett, Sam Heazlett, Matt Kuhnemann, Marnus Labuschagne, Josh Lalor, James Pattinson, Jimmy Peirson, Jack Prestwidge, Matt Renshaw, Alex Ross, Mark Steketee, Mitch Swepson
Gains: Matt Kuhnemann, James Pattinson, Jack Prestwidge, Mujeeb Ur Rahman
Losses: Shadab Khan
Brisbane Heat Best XI
Brendon McCullum
Max Bryant
Chris Lynn
Joe Burns
Sam Heazlett
Jimmy Peirson
Ben Cutting
James Pattinson
Mujeeb Ur Rahman
Mark Steketee
Mitchell Swepson
Brisbane Heat Player Profiles
Brendon McCullum (RH Opening Batsman, RH Off-spin Bowler)
BBL Record – 21 Matches – Batting: 30.90 Avg, 148.55 S/R
One of the world's greatest limited overs players, Brendon McCullum is a phenomenal striker of the ball, who always comes out to bat with all guns blazing. His strike rate has the ability to decimate an opposition bowling attack in quick time, making him a favourite in fantasy teams. He's also an accomplished keeper, but has had to relinquish the gloves in recent years due to a back complaint.
Max Bryant (RH Middle order Batsman)
BBL Record – Yet to make his debut
Max Bryant is a powerful young batsman who may be the emerging star of this year's BBL. He has yet to play a BBL game, but has shown tremendous potential in one-day games for Queensland, and may be thrown into the opener spot to form a formidable and aggressive top order. If that's the case, look to pick him up cheaply in your fantasy contests as he could be a steal early in the season.
Chris Lynn (RH Middle order Batsman, LH Slow orthodox)
BBL Record – 49 Matches – Batting: 41.05 Avg, 158.21 S/R, Bowling: 3 Wickets, 6.81 Econ
Lynn is one of the marquee batsmen in limited over cricket in Australia right now. A quarter of his 49 BBL innings have produced scores of 50+. His stunning strike rate further highlights how brilliant he is at the crease. He's almost hit as many 4's (110) as 6's (102). He will be one of the most expensive fantasy players, but also one of the highest scoring.
Joe Burns (RH Top Order Batsman, RH Off-spin Bowler)
BBL Record – 37 Matches – Batting: 30.96 Avg, 128.46 S/R, Bowling: 2 Wickets, 7.28 Economy
Joe Burns is an explosive batsman and a consistent run scorer with proven international experience. Burns has also bowled the occasional over in the BBL which is very handy for fantasy scoring. Is probably going to be batting at four or five in the order, but is a solid choice for your fantasy lineups.
Sam Heazlett (LH Middle-order Batsman)
BBL Record – 14 Matches – Batting: 16.15 Avg, 123.52 S/R
Heazlett is only 23 years of age and has already made his ODI debut for Australia back in 2017. His elegant batting style is matched by his ability to find the boundary. Expect him to take his game to the next level in BBL08, as he looks to become a favourite pick in fantasy teams.
Jimmy Peirson (Wicketkeeper, RH Middle-order Batsman)
BBL Record – 27 Matches – Wicket-keeping: 11 Catches, 8 Stumpings, Batting: 17.37 Avg, 128.14 S/R
Peirson is a very agile keeper who has batted everywhere from opener down to 7, making him a very versatile member for the Heat. He is more than capable with the bat in hand, with the ability to score fast and well. Any keeper who can bat will always be a favourite in fantasy cricket teams.
Ben Cutting (RH Medium-Fast Bowler, RH Middle-order Batsman)
BBL Record – 42 Matches – Bowling: 40 Wickets, 8.77 Econ, Batting: 20.36 Avg, 151.13 S/R
Talented all-rounder Cutting has found his niche in T20 cricket after retiring from the longer forms of the game. One of the biggest hitters in the game, Cutting can destroy any attack and loves batting on the fast-paced Gabba wicket. While his batting is explosive, his bowling has declined over the years. He was once on the fringe of the Australian Test side as a bowler, but now may only be a rare contributor with the ball. While he does leak runs with the ball, he does have a knack of taking wickets with an average of close to one wicket per game over his BBL career.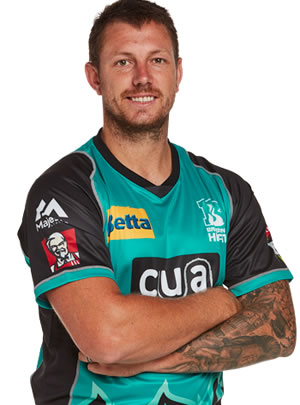 James Pattinson (RH Fast-Medium Bowler, LH Lower-order Batsman)
BBL Record – 14 Matches – Bowling: 19 Wickets, 9.20 Econ, Batting: 3.50 Avg, 77.77 S/R
Australian Test, ODI and T20 pace bowler James Pattinson has been brought to the Heat to help enhance their pace bowling stocks, and if he stays fit, he may be one of the recruits of the season. He is a strike weapon with the ball and will be used opening the bowling to try and make some early inroads into the opposition batting. While he has been injured, he has improved his batting enormously and is now almost considered a genuine all-rounder which makes him an attractive option in fantasy cricket teams.
Mujeeb Ur Rahman (RH Off-spin Bowler, RH Tailend Batsman)
BBL Record – Yet to makes his debut
Mystery spinner Mujeeb Ur Rahman is going to bring a lot of excitement to the BBL this season for the Heat. Even more stunning is the fact that he's only 17 years of age but has already played 31 International matches for Afghanistan. Over his entire T20 career, which is up to 44 games, he's taken 42 wickets with an economy rate of under 7 runs per over. He could well be very competitively priced, making him a near certainty in most fantasy teams.
Mark Steketee (RH Fast Bowler, RH Tailend Batsman)
BBL Record – 32 Matches – Bowling: 37 Wickets, 8.59 Econ, Batting: 5.77 Avg, 110.63 S/R
The 23-year old quick is a mainstay in the Heat side and will be pushing to open the bowling on a regular basis in BBL08. His pace troubles batsmen at the start of their innings and he is a strong wicket-taker, who may not cost a huge amount in fantasy teams.
Mitch Swepson (RH Leg-Spin, RH Tailend Batsman)
BBL Record – 21 Matches – Bowling: 21 Wickets, 7.35 Econ, Batting: 2.00 Avg, 66.66 S/R
Mitch Swepson has become a vitally important member of the Heat side. His leggies have proven to be very reliable at getting wickets while also keeping runs down, which is impressive to do as a slow bowler in this format. Will be a reasonably priced fantasy player.
Matt Renshaw (LH Opening Batsman, RH Off-spin Bowler)
BBL Record – 1 Match – Batting: 22.00 Avg, 115.78 S/R
Matt Renshaw is one of Australia's rising batsmen, and after cracking into the Test side, he'll be looking to shrug the tag of "The Turtle" and show another side to his batting during BBL08. Very strong off the back foot and square of the wicket, Renshaw is a very powerful striker of the ball. He'll be battling with Max Bryant for a spot at the top of the Heat order this season.
Marnus Labuschagne (RH Middle-order Batsman, RH Leg-Spin Bowler)
BBL Record – 6 Matches – Batting: 8.40 Avg, 87.50 S/R, Bowling: 1 Wicket, 11.80 Econ.
Labuschagne has had a tremendous start to his 2018/19 season, earning himself a call up into the Australian Test team. He has a very sound technique when batting, while also being a quality leg spin bowler and brilliant fielder. He'll be looking for opportunities in the middle order for the Heat to make his mark on the BBL this season.
Brendan Doggett (RH Fast-Medium Bowler, RH Tailend Batsman)
BBL Record – 7 Matches – Bowling: 7 Wickets, 9.50 Econ, Batting: 4.00 Avg, 66.66 S/R
Doggett is expected to have a big BBL season after he was picked to tour with the Australian Test team in their short visit to the UAE at the start of this summer. He took a stunning 5/35 last season in the BBL against the Scorchers, providing a glimpse of what's to come this season. He has plenty of pace and can take quick wickets, making him a great fantasy bowler at the death. It will be interesting to see what opportunity he gets this season with Pattinson in the side and if the Heat play the extra spinner.
Alex Ross (RH Middle-order Batsman, RH Off-spin)
BBL Record – 37 Matches – Batting: 24.48 Avg, 123.32 S/R
Ross has only played T20 at state level, which essentially makes him a specialist in this form. Ross is an aggressive batsman, especially against slow bowlers with his lethal sweep shot. He's very agile, fast between the wickets and brilliant in the field. Will be a solid performer in fantasy teams if given the opportunity.
Josh Lalor (LH Fast-Medium Bowler, RH Tailend Batsman)
BBL Record – 26 Matches – Bowling: 22 Wickets, 8.06 Econ, Batting: 9.83 Avg, 89.39 S/R
Lalor was a reliable back-up quick bowler for the Heat last summer. He is a very consistent bowler with good pace and can get good bounce which may surprise some batsmen. He will be on the cheaper side in fantasy contests and will be a handy pick up.
Matt Kuhnemann (LH Orthodox Bowler, LH Tailend Batsman)
BBL Record – Yet to make his debut
Kuhnemann is a young left arm slow bowler who made his debut last season in domestic one day cricket, taking nine wickets in five games and conceding a run a ball in a promising start. He'll have limited opportunities in his debut BBL season, but when he does, he could well prove to be a top budget selection in fantasy teams.
Jack Prestwidge (RH Fast-Medium Bowler, RH Tailend Batsman)
BBL Record – Yet to make his debut
Prestwidge is a talented young quick bowler who has good pace, regularly clocking speeds in the 140 km/h region. He is also an aggressive tailend batsman, who can find the boundary. He's expected to get limited opportunities to play this season, so he will be at a very low price.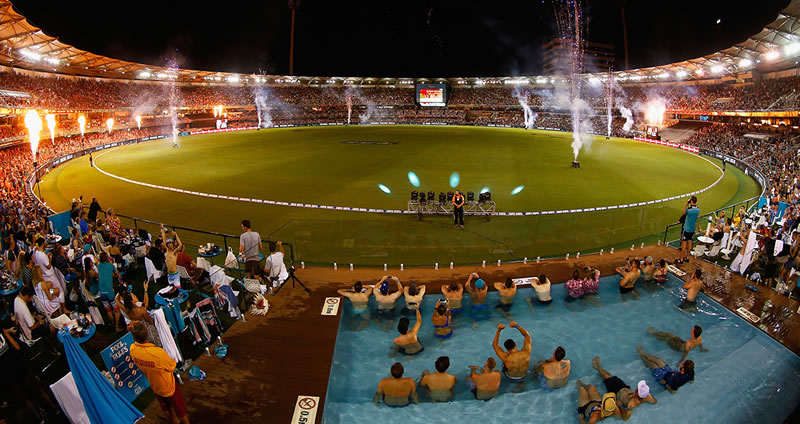 Brisbane Heat BBL08 Schedule
Date - Match - Venue
Dec 19, 2018 - Heat vs Strikers - The Gabba
Dec 22, 2018 - Heat vs Hurricanes - Metricon Stadium
Jan 1, 2019 - Heat vs Sixers - Metricon Stadium
Jan 5, 2019 - Scorchers vs Heat - Optus Stadium
Jan 8, 2019 - Thunder vs Heat - Spotless Stadium
Jan 10, 2019 - Heat vs Renegades - The Gabba
Jan 13, 2019 - Renegades vs Heat - TBC
Jan 17, 2019 - Heat vs Thunder - The Gabba
Jan 20, 2019 - Sixers vs Heat - SCG
Jan 27, 2019 - Stars vs Heat - MCG
Jan 29, 2019 - Hurricanes vs Heat - Blundstone Arena
Feb 1, 2019 - Heat vs Scorchers - The Gabba
Feb 3, 2019 - Strikers vs Heat - Adelaide Oval
Feb 8, 2019 - Heat vs Stars - The Gabba