daily fantasy sports articles
BBL11 Fantasy Tips: Perth Scorchers vs Sydney Sixers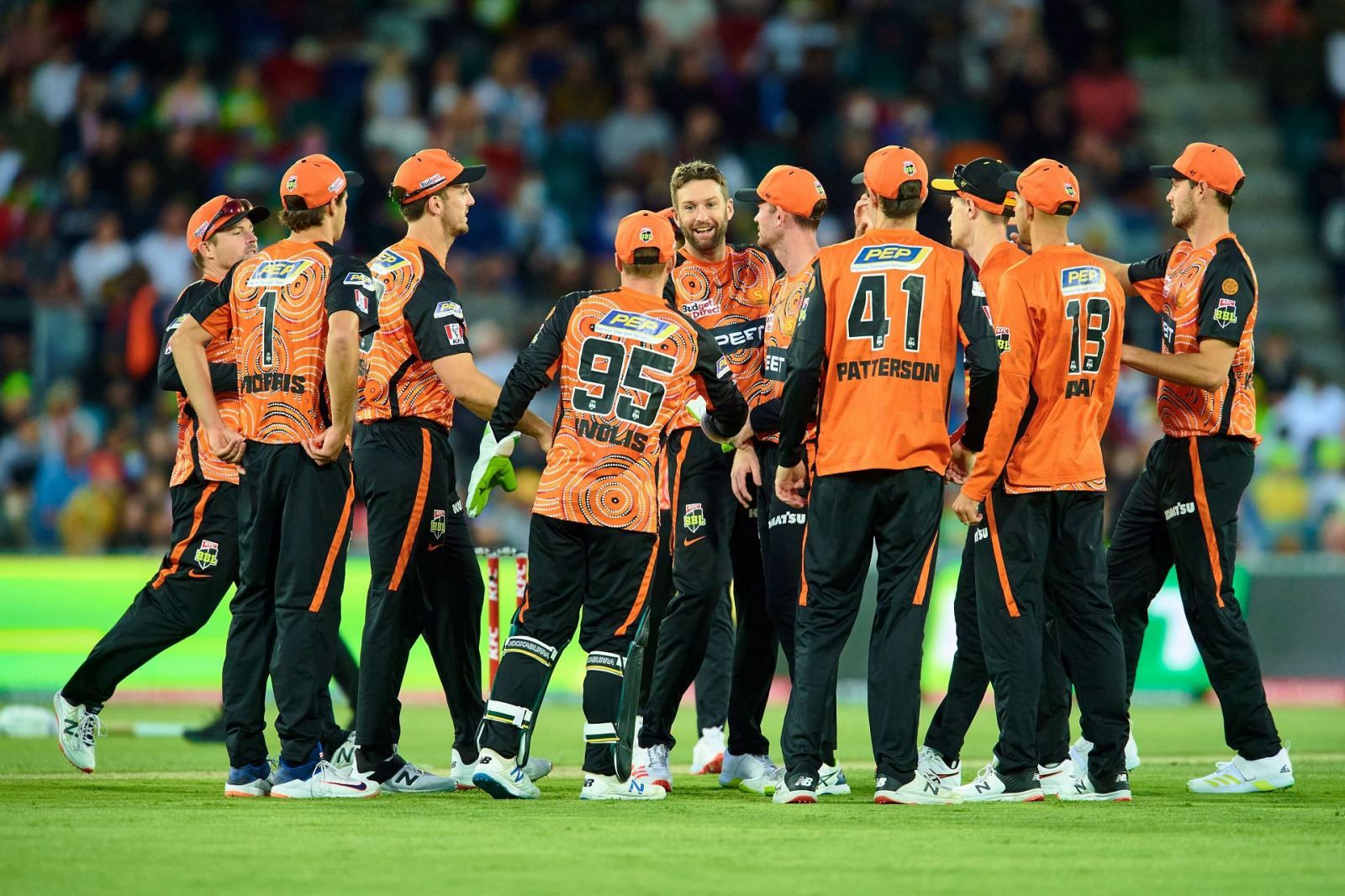 The BBL season concludes tonight with yet another edition of Orange v Pink to decide who the greatest team of the 11 editions of the competition thus far. The Perth Scorchers play "host" at the theoretically neutral Marvel Stadium to the Sydney Sixers. Both teams are shooting for their 4th BBL crown, and it's the 5th time they have met in the final, which is nuts. The Sixers also have the added carrot of shooting for a "threepeat", but after a challenging second half of the season it mostly just seems remarkable that they've even made it to this stage. The teams have met three times this season, with the Scorchers sweeping those contests.
Draftstars has put up a $30,000 contest, with top prize $2,665. There are also other great contests including the High Roller, Mini, Micro and various others.

Expected Scorchers Xl: Patterson, Inglis, Marsh, Munro, Turner, Evans, Agar, Richardson, Tye, Behrendorff, Hatzoglou
Expected Sixers Xl: Kerr, Avendano, Carder, Henriques, Hughes, Christian, Abbott, Dwarshuis, Lenton, Lyon, O'Keefe
The Scorchers are $1.38 favourites, which is almost unheard of in BBL. The team is settled, with this easily looking like their best Xl at the moment (Matthew Kelly could compete for a bowling spot if available, but would still be unlikely to unseat anyone from this line-up). Kurtis Patterson and Josh Inglis have both found top form in the opening roles at the pointy end of the season, and Mitch Marsh, Colin Munro, Ashton Turner and Laurie Evans have all carried strong form throughout. The bowling is elite with 4 internationals in Ashton Agar, Jhye Richardson, Andrew Tye and Jason Behrendorff, while Peter Hatzoglou does a very reliable job of keeping things tight and picking up regular wickets with his awkward style. It's hard to say much other than the Scorchers have once again put together the strongest team in the BBL and deserve to be massive favourites at this point.
The Sixers are still in COVID/injury purgatory, with the only likely change being Jordan Silk going out with his recurring hamstring injury, and possibly Dan Hughes coming back in if he can overcome his ankle issue. The batting is a mess, especially when we consider that Moises Henriques also picked up a familiar calf issue in the last game. If Hayden Kerr can repeat his heroics in the brand new opening role they might have a chance to build an innings, and it's a good thing that the bowlers can do plenty of damage with the bat with Sean Abbott and Ben Dwarshuis contributing to some big wins this season. Their best chance is to restrict the Scorchers with their strong bowling unit and then hope that they can make full use of the depth of their batting, in the absence of the class of Josh Phillipe/James Vince/Jordan Silk.
Looking for Draftstars scores from previous editions from the BBL? Our Free Players Logs + Ground Fantasy breakdowns are now available in our BBL11 Data Tools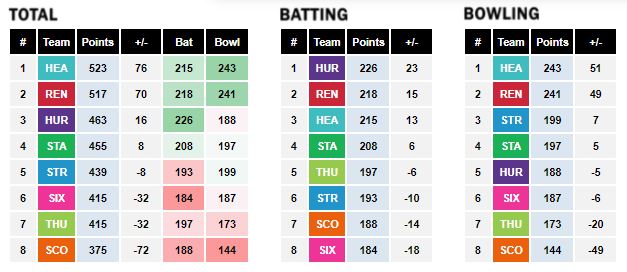 Love It - Josh Inglis $15,400
The pocket rocket keeper for the Scorchers was having a poor season, averaging 18 through 6 games and missing a lot of action due to being on standby for the Test team. Then the first final happened, where he batted beautifully, scored 171 points, and reminded us of the class he's shown while averaging 47 points per game over the last 4 BBL seasons. Although the Sixers bowling is still very dangerous, I'll back Inglis to carry that momentum into the final and put on a show for us once again on the biggest stage.
Love It - Andrew Tye $14,300
A strong season for Tye has cooled off with an average of 20 in the last 5 games. Up until that point he's averaged 63 in 10 games, and goes at about 50 over his BBL career. Given the issues with the Sixers batting and the huge favourites tag, I think it's safe to lean towards the Scorchers bowling attack, and Tye just looks way too cheap for that scenario. Behrendorff is also priced rather generously but is a tad behind Tye when it comes to his historical average (around 42). Both will be popular, and for good reason.
Don't Love It - Moises Henriques $14,000
I've been keen on Henriques plenty this season, but another calf injury has me very nervous about playing him tonight. While we have seen him bat through these issues at times in the past without his performance being diminished, the strength of the opposition and his advancing age are both strong reasons to consider going light on Moises tonight.
Don't Love It - Steve O'Keefe $13,500
If I'm picking on Moises for being old and having a calf injury, I can't help but do the same to SOK. This is almost definitely the last game of cricket we'll ever see him play, and he's looked barely able to walk all season. At 37 and with injuries to both calves that seem to flare up in alternating games, there is plenty of reason for concern. Of course he's still managed to come out and average 60 in 9 games this season, so I'm not suggesting we write him off altogether. If he can hobble to the crease then his brand of accurate bowling can still creat mistakes, but I'm expecting a score on the lower end of the scale.
Who Knows - Dan Christian $15,500
The Scorchers don't have many unknowns, apart from whether Turner/Evans will get much of a chance to bat with the strength of the top-order. I'll use this space to highlight yet another old Sixer (the oldest in fact, at 38), who could potentially also be in his final match, although I kind of doubt that. Still going strong with an average of 47 this season, Christian should get the chance to bowl a couple of overs on top of the extra batting opportunity that comes with issues in the Sixers top order. With other all-rounders like Kerr and Abbott stealing the attention, perhaps Christian sneaks under that radar and presents as a more affordable way to get exposure to the likely point scorers for the underdogs. I could also have mentioned Jake Carder as a talented bat at minimum price who might be written off by the field.
Suggested Draftstars Line-up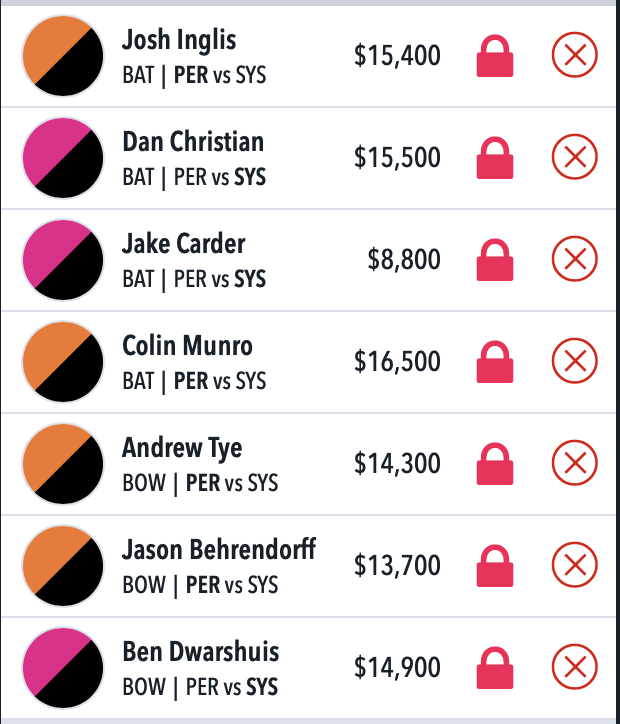 Always remember to gamble responsibly. When the fun stops, stop. If gambling is having a negative impact on your life, seek support at Gambling Help Online. 18+ only.