daily fantasy sports articles
Best Australian DFS Contests for 2017 NBA Playoffs
The NBA Playoffs are in full swing and there is plenty of amazing Daily Fantasy Sports NBA contests for you to sink your teeth into. Every day most of the major Australian DFS sites are running a wide selection of tournaments so let's take a look at the best on offer.
Draftstars
Draftstars loves the NBA Playoffs, with a wide range of events for all buy-in levels. They have daily guaranteed tournaments, highlighted by a big $6,000 Guaranteed Thursday Special, and a range of buy-ins as well as 6-man sit and go's, double up and triple up events. There's also free-to-enter events for new players who want to see how it works.
Read more in our Draftstars review.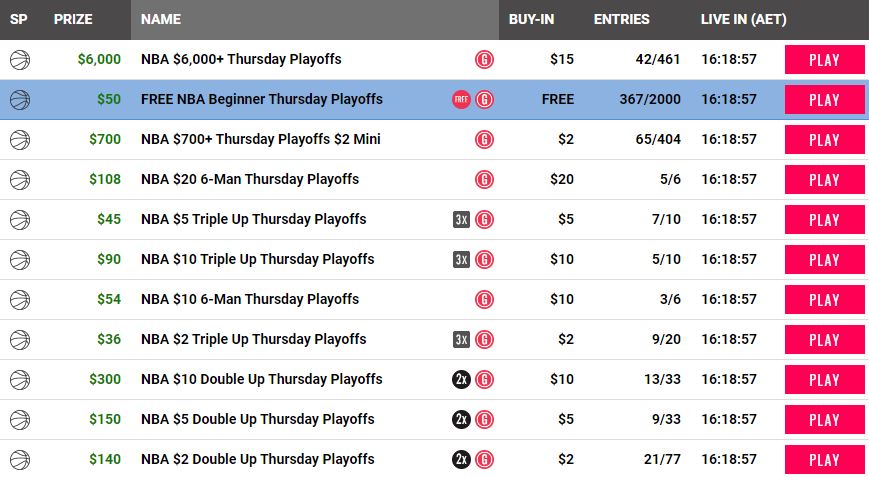 PlayON
PlayON signed a deal to be the official Daily Fantasy Sports partner of the NBA and have been running daily NBA tournaments for the whole Playoff series. Every day they have a $1,000 Guaranteed event, that has an overlay most days, as well as other events to suit players with different bankroll sizes. Single events with 3,4 and 5 players are also available as well as double up and triple up tables. For new players there's also free-to-enter events to play as well.
Make sure you don't miss out on the action and overlays, which means excellent value that PlayON are handing out to players every day during the NBA Playoff series.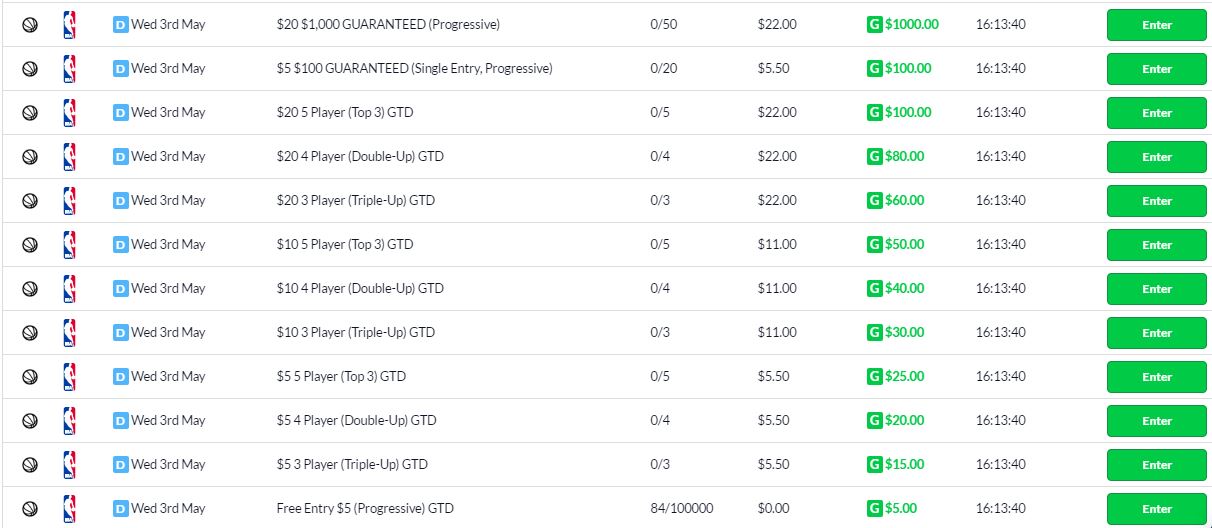 SportChamps
SportChamps have a great range of betting tournaments each day for the NBA Playoffs. These are a little bit different to DFS events as they allow you to place bets on the events with a fantasy bankroll. There are buy-in levels of all sizes that allow you to go into the running to win some great cash. There's also free-to-enter events for new players to have a go with no risk to play!
These events are a must if you just want to have a bit of a punt on the match, but don't want to put a huge amount of time in researching players and stats.
Learn more about SportChamps here in our review and get involved today!
Moneyball
The lads at Moneyball have plenty of action for the NBA Playoffs. They feature big daily tournaments, including a $4,000 Thursday Special, and a wide range of events for bankrolls of all sizes. They also have single entry events that allow you just to enter one team without having to submit a whole range of lineups.
Make sure you get involved as there is plenty of action on Moneyball during the playoffs!
Check out our Moneyball review to find out more about them!