daily fantasy sports articles
"Brento" To Hold Rivals To Account At Draftstars Biggest Bash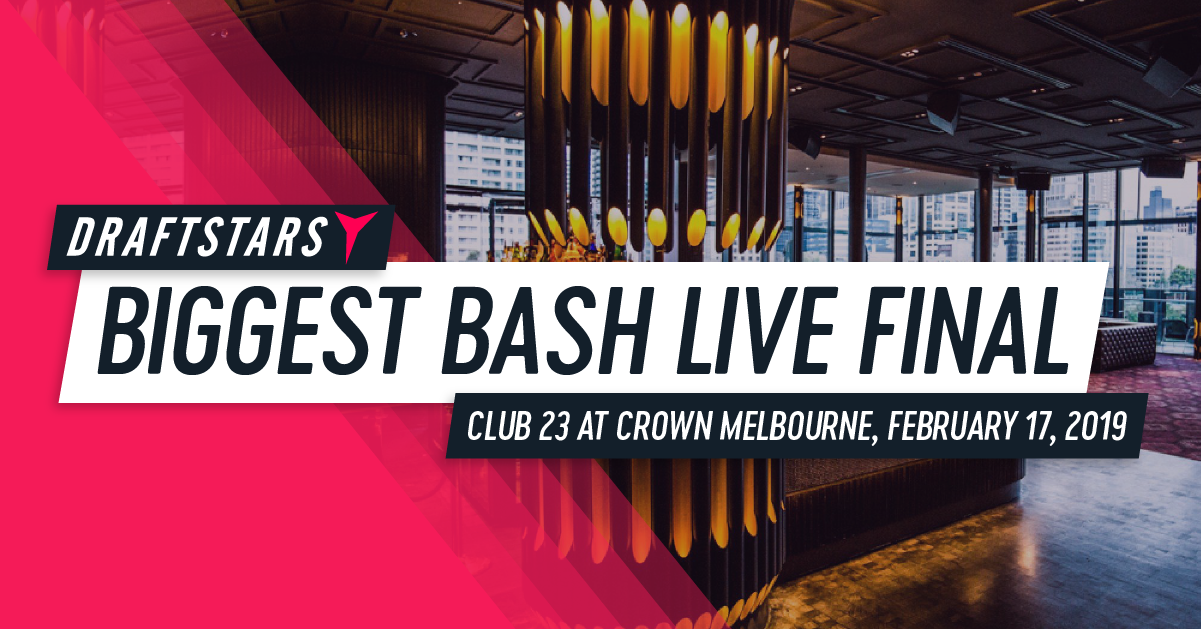 Last week, the next qualifier in the Draftstars "Biggest Bash" qualifiers won his ticket for the Biggest Bash Live Final, where $150,000 will be on the line. Brent Trannore aka "Brento" sweated out the Hurricanes vs Renegades matchup to the very last ball. We had a chat to the Director and co-owner of Next Accounting and massive North Queensland Cowboys fan from Mackay about what that sweat is like.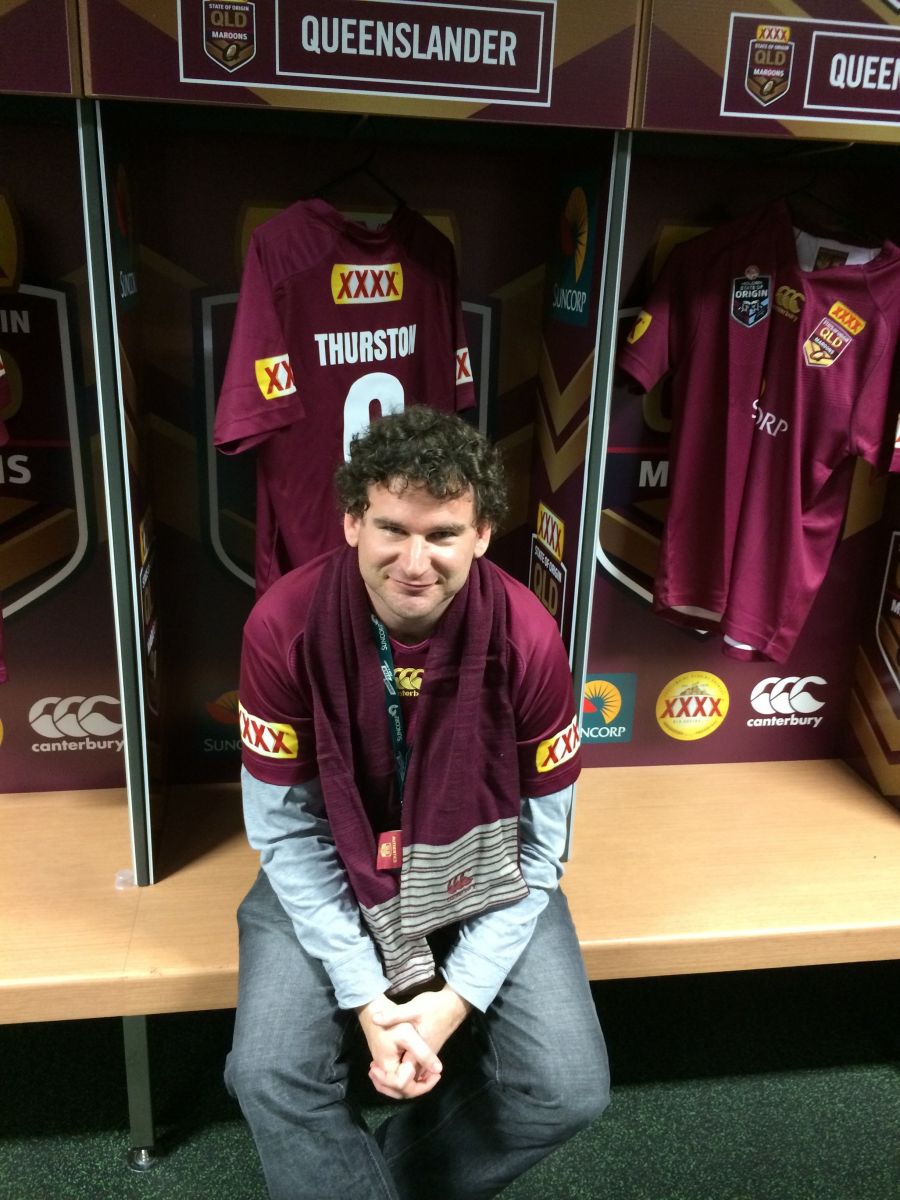 Like most players, Brento has been playing fantasy sports for around 15 years and only started playing DFS 2 years ago. A loyal Draftstars user, Brento has dabbled in the NBA with the mixed results (Brento admits to "stinking") but perks up when NRL rolls around each weekend in the Winter. It will be interesting to see if the Cowboys go better in 2019 that now they have chaperones…
With the Hurricanes undefeated and the Renegades in a big loss in Geelong last game, the script looked like a comfortable win for the team in purple. We asked Brento how he went about his line-ups:
"I've been playing 10 teams most nights and this night was no different. I had George Bailey who saved the innings for Hobart in half my line-ups and I left Darcy Short out of all 10 teams, I figured he was due an off night. I had Kane Richardson in a lot of teams and was lucky enough to have Clive Rose in the team that won."
With the early wickets of popular plays of Wade, Short and Doolan all failing Brento was dialled in, while the wife who also plays "kept popping in and out, her night was done pretty early though". So, the sweat was on.
"I was actually watching the game in my bedroom and the team that ended up 4th had been in the lead early during the second innings but in the 14th over Clive Rose bowled a 1 run over and my team got pushed down the order. A guy was 2 points in front of me and I couldn't catch him, so I thought I was done".
But as in the case with the BBL, every ball counts and Brento vividly recounts when the comfortable run chase reached the end of the Renegades innings:
"In a side that was sitting around 100th, Johan Botha took a wicket with his last ball and that jumped me into the top 5. At this stage I was 3rd and 4th or something like that, one team I knew couldn't win, the other was a chance. Dan Christian came out and my team with a chance had him and the guys in front didn't. I didn't have Mohammad Nabi up the other end. A mate texted telling me I was on, he was following my teams on the ladder. I couldn't sit still.
Christian faced nearly all the remaining balls and hit a 6 off Riley Meredith which I think put me in front and I went up, I yelled so loud the kids bolted and the neighbours must have thought I was losing it! Then Christian cracked another 6 and I went even crazier, I was jumping around hugging the wife, high fiving the kids, it was great, a lot more yelling! I was a bit worried the neighbours would call the cops, but we were pumped. I thought I was home then, until Nabi belted a six off the last ball. The guy who came 2nd had Nabi and I panicked and thought he might get strike rate points, but he was just short, so I hung on and won."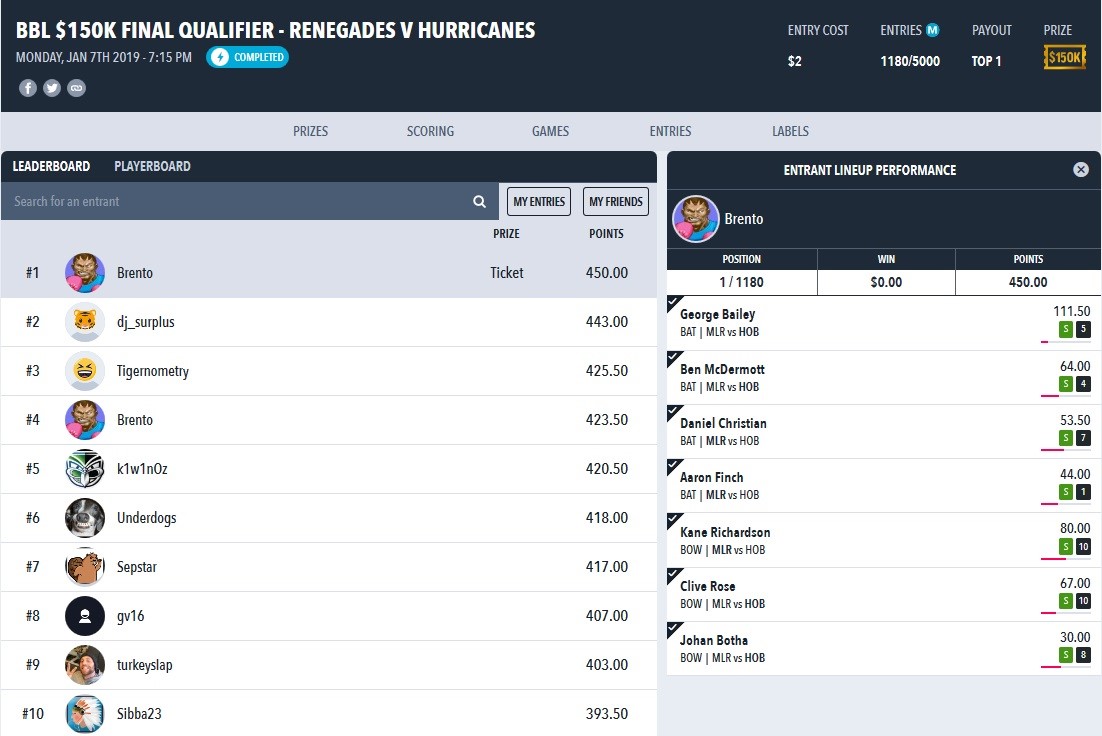 The wildly fluctuating emotions of DFS in a nutshell! Brento will be chaperoned by the good wife as they do not get down to Melbourne that often (look out Chapel Street). In the interim, Brento is hunting for a second spot every night and nearly booked another spot with a 13th place finish the Scorchers vs Stars game. I think we all agree with Brento who left us with these parting words: "the qualifiers are a great return for a relatively small investment. I think the Biggest Bash promotion is amazing, $2 to get a team in and be in the running to win these tickets is brilliant!"
Congratulations Brent from everyone here at Daily Fantasy Rankings and we look forward to seeing you at the Draftstars "Biggest Bash" Live Final on February 17!
Want to join Brent at Club 23, playing for a share of $150,000? Check out our full run down of the "Biggest Bash" contest and start playing the $2 qualifying tournaments running on every home and away match of the BBL08 season on Draftstars!
Have you qualified for the "Biggest Bash" Live Final and want to share your story with the world here on Daily Fantasy Rankings? Contact us or shoot us a message on Twitter and we will get in touch to share your story with the Australian DFS community!

Always remember to gamble responsibly. When the fun stops, stop. If gambling is having a negative impact on your life, seek support at Gambling Help Online. 18+ only.