daily fantasy sports articles
Chalk, Chance or Chump: NFL Week 5 Line-up Tips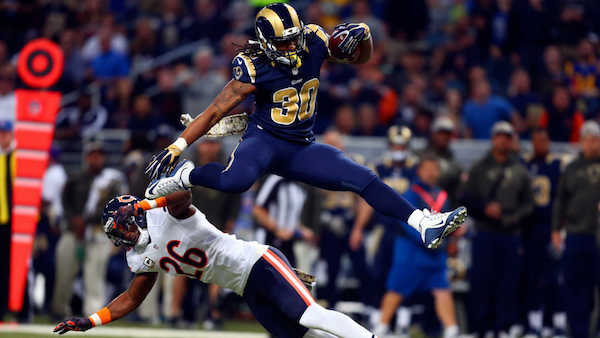 The AFL season might be over but that doesn't mean we'll be putting to bed our 'Chalk, Chance or Chump' series. No, we'll be switching our focus to NFL moving forward with some big prize pools to be won weekly in Draftstars and Moneyball's Sunday (Monday AEST) slate tournament, we thought you need to know who our top picks are for the upcoming week of NFL action.
This weekend Draftstars $15 NFL tournament has a guaranteed prize pool of $25,000 while Moneyball's is nothing to scoff at either at a tidy $10,000.
Chalk: Le'Veon Bell (Pittsburgh Steelers)
The best running back in the league has a great matchup this weekend against the Jaguars who allow the most rushing yards per game of any team in the league. Bell had a quiet opening three weeks, rushing for a combined 180 yards and 1 TD. However, he exploded last weekend for 144 yards and 2 TD against the Ravens and we expect him to have another good week here against Jacksonville who allow 165 rushing yards per game.
Chance: Brian Hoyer (San Francisco)
Scoff at this one if you like but Brian Hoyer has had a combined 566 yards and 2 TDs over the last two games. Is a bargain basement pick at just $11,650 on Draftstars and plays the Colts this weekend, who give up a whopping 396 yards per game in the air. Russel Wilson went off against the Colts last weekend, passing for 2 TD's and rushing for another. Last time Hoyer played the Colts he went 24-31 for 312 yards including 2 TD passes.
Chump: Todd Gurley (LA Rams)
We are writing off the 3rd highest scorer in the league through four games this weekend as Todd Gurley comes up against the strong defence of the Seattle Seahawks. Gurley has had scores of 23, 32 and 27 in his last three weeks, pushing his price up to $18,800 at Draftstars this weekend. He'd need at least 25-30 to justify that price tag and we think he falls short of that this week. Had combined 89 yards and 0 TD's in his 2 games against the Seahawks last year.