daily fantasy sports articles
Crunching Numbers: AFL Round 15 Sunday Slate Fantasy Lineup Tips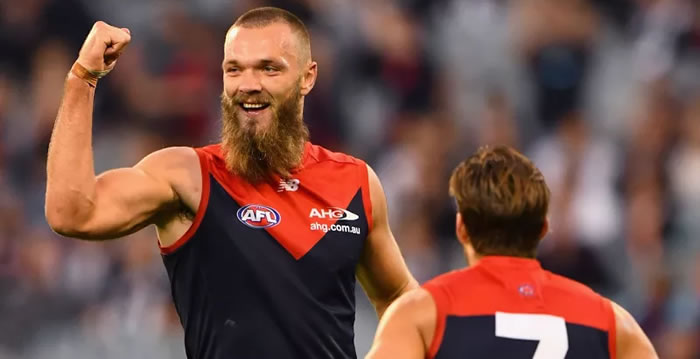 We have three games in the AFL this Sunday and Draftstars are offering a handsome $30,000 Guaranteed contest which should satisfy the appetite of Australian DFS players around the country. Already we've had some great feedback and seen some great results from our players thanks to the number crunching skills of the boys at Fantasy Boss. They are back once again to give you their best fantasy AFL lineup tips for this Sunday.
Backs vs St Kilda
If you discount last round's match-up against Gold Coast, a team largely devoid of fantasy scorers in their backline, then you will have to go right back to Round 7 to find a match where three opposition defenders didn't all score 80+ when coming up against St Kilda.
Round 12 vs Sydney - Lloyd 95, McVeigh 90, Z.Jones 86
Round 11 vs WCE - Hurn 108, McGovern 98, Barrass 82
Round 10 vs Rich - Vlastuin 90, Short 88, Ellis 83
Round 9 vs Collingwood - Howe 132, Crisp 119, Langdon 116
Round 8 vs Fremantle - Blakely 131, Ryan 114, Johnson 83
The Saints come up against Melbourne on Sunday, so let's have a look at the defenders who you might be able to target for a big fantasy score.
Melbourne have dropped Bernie Vince out and brought in Harrison Petty who is offered on Draftstars at a basement price. Petty's numbers don't jump off the page like recent debutants we have outlined this round like Narkle and Sier, so this decision is not as clear cut. However for a salary of $5,000, you don't need too much of an output to get your money's worth.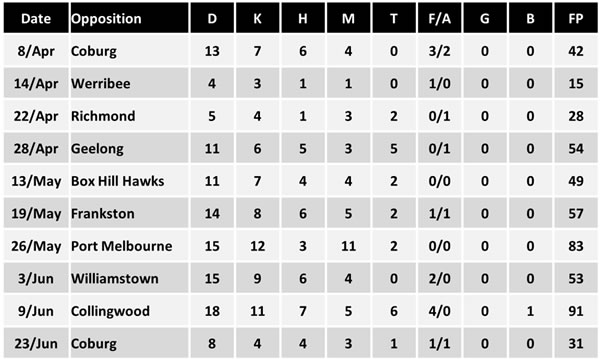 Two other veterans half-backs for Melbourne might benefit from the poor St.Kilda pressure against defenders. Jordan Lewis will no doubt take the sweeping quarterback role with Vince out. An increased average over his last five games, and a recent score of 113 has Lewis in form and primed for this match up.
Michael Hibberd has fallen out of favour with DFS coaches this year but that could change this round. His season average of 70 has dropped to just 64 in his last five games, but it's no surprise that his most recent 100+ game was against who… St Kilda in Round 7.
Backs vs Fremantle
After reading the above you would think that St.Kilda has all of the unenviable points against stats that exist for opposition Defenders. Amazingly and fortunately for the Saints, Fremantle has somehow managed to 'out do' them in a couple of areas.
Across the full season at least one defender has scored 80+ in every single game against Fremantle. And it has been 90+ in all but two games. A defender has been the opposition team's top scorer, an honour usually reserved for midfielders, in 5 of the 13 games against Fremantle which is quite an incredible statistic.
Top points scorers for defenders against Fremantle this season:
Round 4 vs GWS - N.Haynes 122
Round 6 vs WCE – S.Hurn 124
Round 9 vs Syd – J.Lloyd 163
Round 11 vs Coll – B.Maynard 144
Round 13 vs Carl – K.Simpson 111
Freo come up against Brisbane, and one defender you may like to consider is Daniel Rich. With scores of 95, 104, and 99 in his last three matches, Rich back in form. Others to consider include Luke Hodge (140 last round) and Alex Witherden (scores of 123 and 127 this year) who have shown they have the ceiling that can potentially win you big prize money.
Big Max Gawn
The Points Against Rucks chart displayed below shows that St.Kilda have conceded the most points to opposition ruck across the season, and it has actually increased over the last five games to an average of 105 points. The Saints come up against one of the premium ruckmen in the competition in Max Gawn who might have a field day in the middle.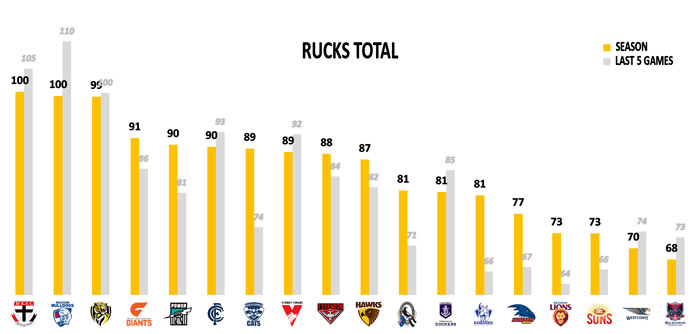 Ben Jacobs back in business
Zach Merrett has found some form again of late with an average 107 over his last five matches. With Ben Jacobs back in the team for North Melbourne after suffering from delayed concussion, you would think he goes straight to Merrett in a shutdown role, which gives you a big decision to make.
If you look at Jacobs' tagging numbers you will notice that some midfield studs such as Kennedy (122), Fyfe (128) and Zorko (128) have managed to escape the clutches of Jacobs who is widely renowned as one of the league's best tagger. But throw in Martin's 48, Ward's 49 and a handful of average scores against Jacobs, and the decision doesn't get any easier.
Merrett's scores when tagged this year:
Round 2 vs Frem - 78
Round 5 vs Collingwood - 109
Round 7 vs Hawthorn - 64
Round 14 vs West Coast - 103
Again, not exactly conclusive.
$5,000 Options
Bargain basement players have always been make or break in slates. If you can get them to achieve value, you are banking money for your premium selections.
Besides Harrison Petty who we mentioned earlier, you might like to look at Jake Barrett and Travis Colyer who are both likely to provide great value to your team. Their 2017 statistics are below:

At their current price, Colyer hit 10x value or more in 17/21 games and Barrett in 15/17.
Colyer Recent VFL numbers

Underpriced Selections
Jed Anderson from North Melbourne is still priced incorrectly at $9,450 due to his Round 11 injury-affected score of 4. Excluding that game has scored 86, 97, 94, 74 and 91 in his last five. All those scores at his current price have returned strong value.
Melbourne's Christian Salem is priced at $10,400 and offers some value to cash in on the +1 game style of the Saints, whether it is from the midfield or off half back. Salem has 3x 100+ scores to his name, and hit value for his price on five other occasions and should to do so again this week.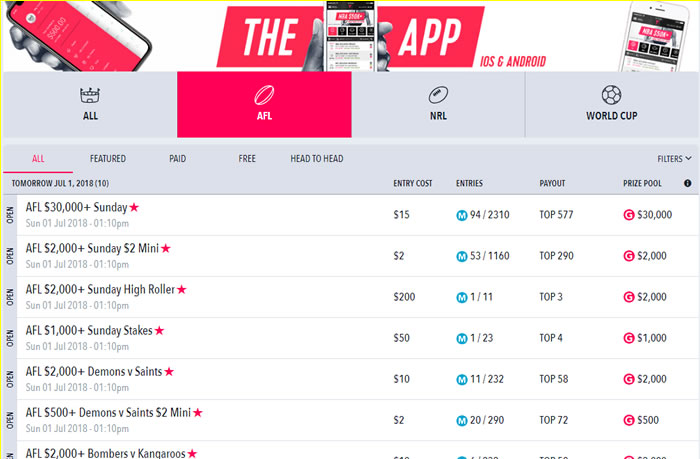 All of the stats and information used in this article has been provided by the team at Fantasy Boss - one of the pioneers for DFS data in Australia. Remember that all projections are merely based off the statisical data provided and we can not guarantee player scores or success in your DFS contests, but we think this information should give you a good head start! Good luck and gamble responsibly!