daily fantasy sports articles
Crunching Numbers: AFL Round 16 Saturday Slate DFS Lineup Tips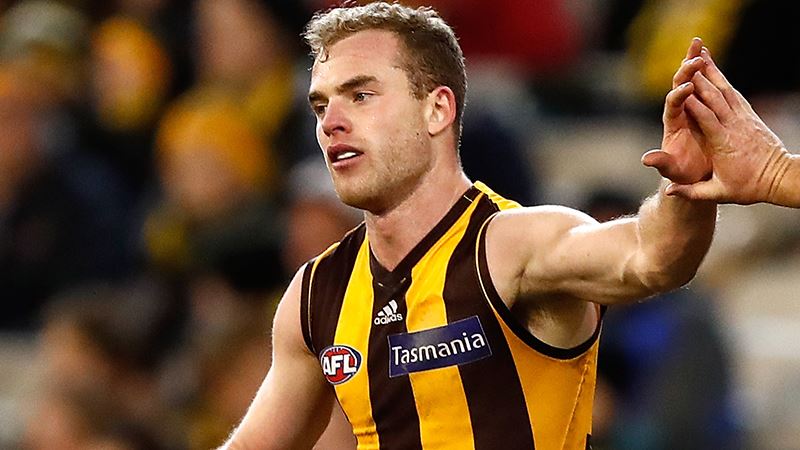 AFL Saturday has another 4-game slate and Draftstars have another $50,000 contest on offer! The Boys at Fantasy Boss have crunched all the numbers to help give us an increased chance of taking home some of that cash, so let's check out the best plays of the day!
Match-up Overview
When it comes to a multi-game slate and sifting through the many players to consider, it's important to target key match-ups within the slate. This match-up overview outlines the difference between what a team concedes for that position and the league average. For example, St Kilda concede 15.7 more points to opposition rucks than the league average and Melbourne allow 20.0 fewer points to their opposite ruck in comparison to the league.
The following table looks at the most significant point differentials over the past five games.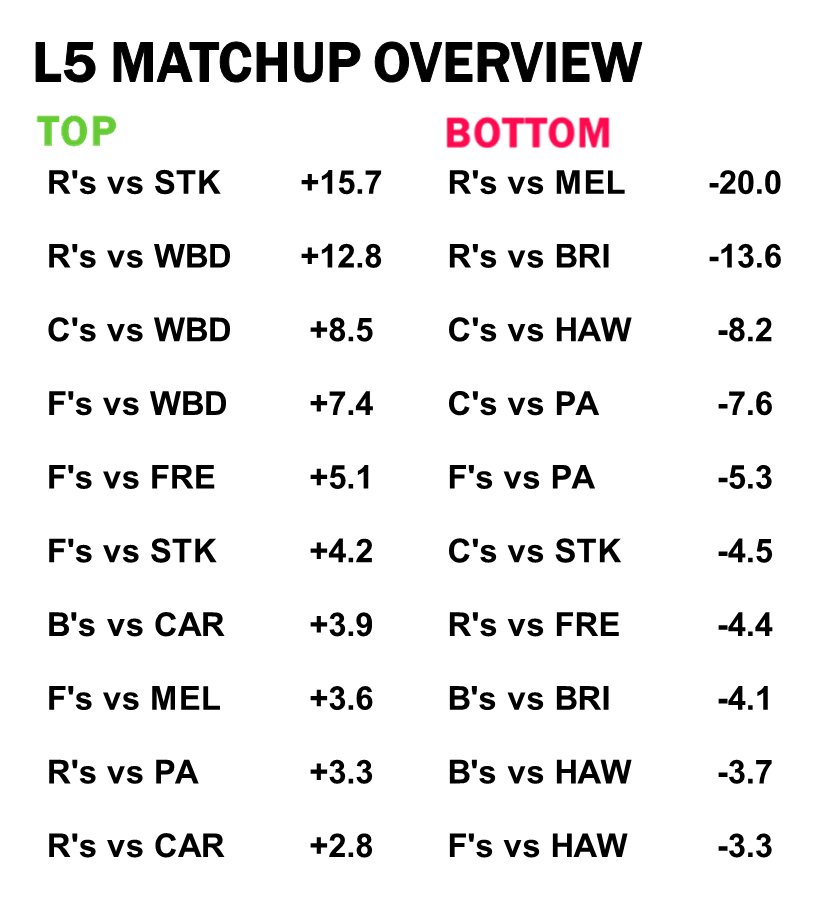 Rucks
When analysing the above match-up overview, rucks are a clear stand out on both sides of the ledger, however, as you will soon read it becomes important to delve a little deeper.
Paddy Ryder
Reigning All-Australian Ruckman Paddy Ryder ($12,410) comes up against the St Kilda match-up that saw Max Gawn go for 135 last week. Prior to that game we outlined that St Kilda had conceded the most points to opposition rucks across the season and with last week's 135 in the books against them it has obviously increased their 'lead' in that statistical category. Their Last 5 has increased to an average of 108 points against.
Ben McEvoy
The Western Bulldogs are doing their best to match St Kilda in the above stats and if their Last 5 average of a whopping 115 points against is anything to go by they might just surpass them soon. Ben McEvoy ($11,880) is nicely priced to cash in on this soft match-up.
Sean Darcy
With the above two suggestions on the board and two of the other ruck match-ups being against Melbourne (-20) and Brisbane (-13.6) you would think it is time to move on. Think again, as we are about to suggest a must have that is coming up against Max Gawn. Sean Darcy will play his first game for the year at the basement price of $5000, a price that would have seen him smash through 10x value in all 8 games replacing Sandi last year. His 2017 average of 84 has him well and truly making value even against this nightmare match-up.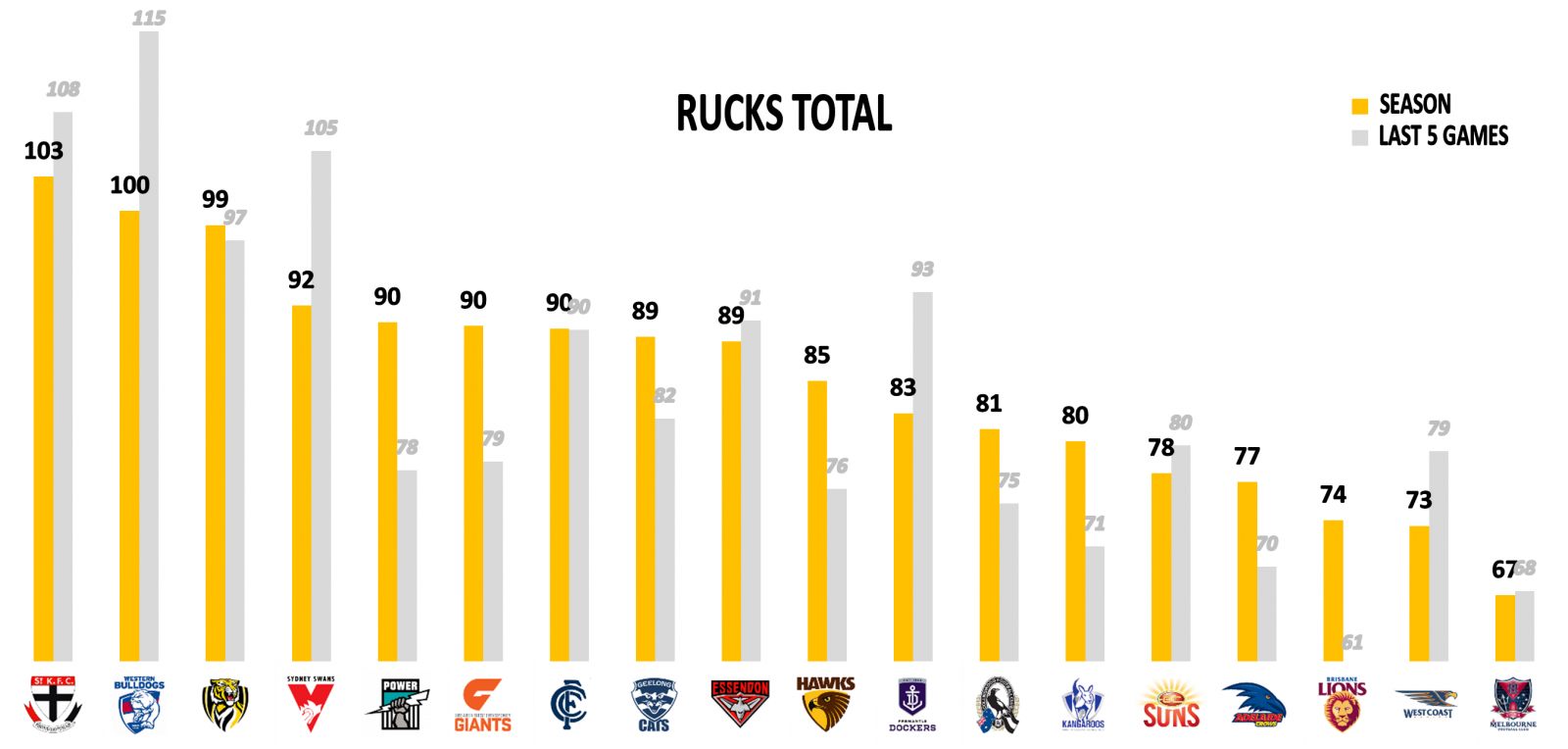 Deja vu for Doggies?
Before their big Friday night fixture against Geelong last week we raised some concerning fantasy scoring issues of late for the doggies. While they were able to come away with victory, they weren't able to curtail the scoring of the opposition's top midfielders, who went on to record the top 5 scores for the cats.
J.Selwood – 120
T.Kelly – 119
G.Ablett – 112
M.Duncan – 111
S.Menegola – 107
Tom Mitchell
There's no respite this week for the Western Bulldogs as they come up against the games number 1 fantasy scorer in Tom Mitchell ($18,160). To get 10x value Mitchell needs to get 180+ points… Last week he helped himself to a lazy 195! He has a truly amazing 6 x 145+ scores this year and is always a great fantasy pick.
Jaeger O'Meara
The Jaeger-bomb ($14,650) has found some continuity and has a last 5 average of 107, with his most recent three scores being 114, 121, 106. He could prove to be a nice POD for your team.
Liam Shiels
Liam Shiels ($13,650) is second only to Mitchell at Hawthorn for season average and has 5 scores of 110+ this year. He's another Hawk midfielder that is definitely worth considering.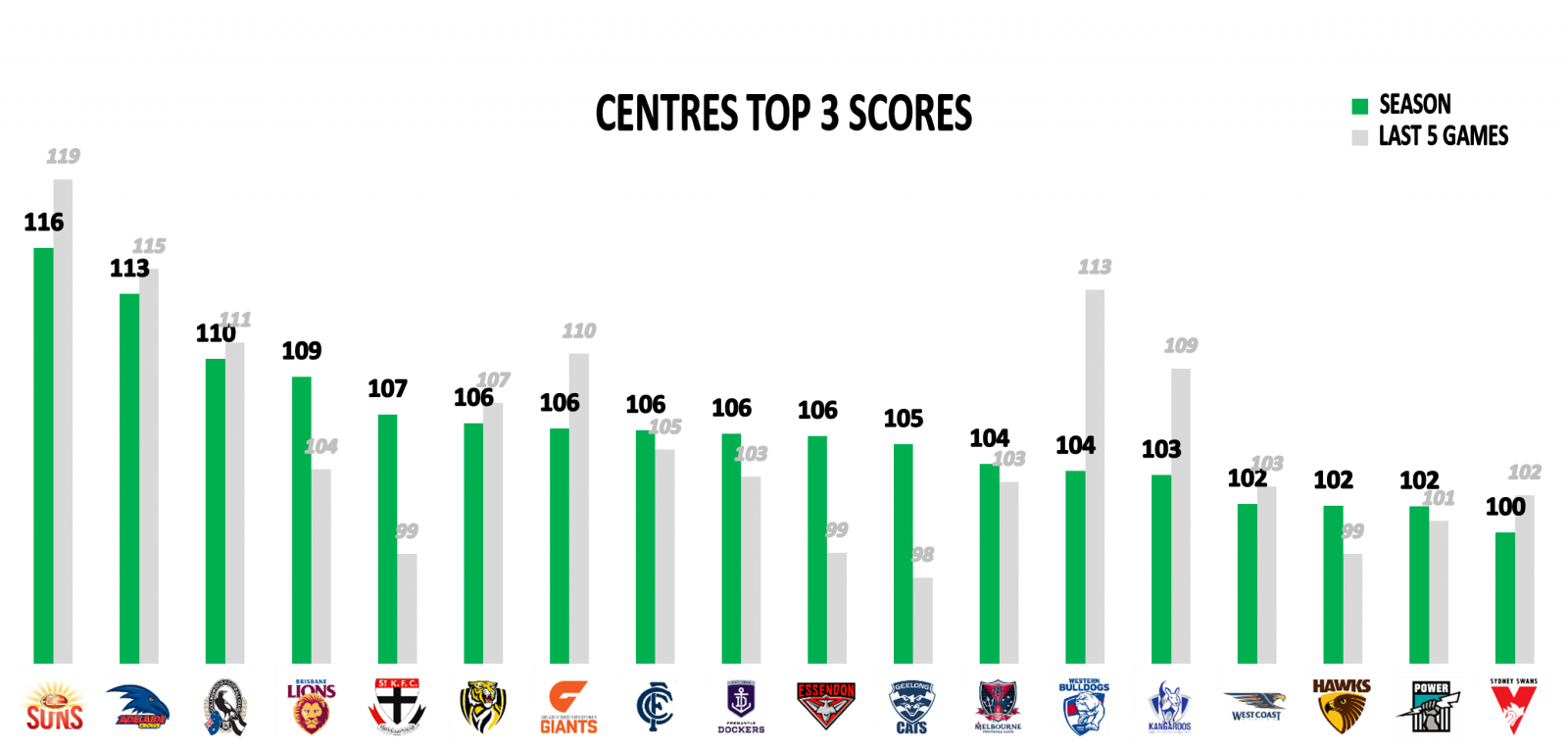 Fremantle travel to the Top End
Could things get any worse for a team that has just suffered a 55-point drubbing at the hands of the second last placed Brisbane, a team that had previously won only one game for the year? Fremantle now find themselves travelling to Darwin with their number 1 ruckman and best player both ruled out. To make matters worse they come up against scoring juggernaut Melbourne, the second highest fantasy scoring team in the league with an average of 1628.8 PPG. With the Dockers finding themselves in second position for total points conceded you can see where we are going with this.
For the following insights we are going to take a close look at the quarter by quarter scoring of some Demons last week to show how they did DFS coaches a huge favour in keeping their price down.
Angus Brayshaw
He's the top value projection for the demons at 9.1x. He's still significantly under-priced thanks to being tagged out of the Queens Birthday clash against the Magpies. Excluding that game, he has a Last 5 average of 124, which includes a massive 166 only 5 weeks ago in Darwin. Last weekend he was on 104 at three quarter time before shutting up shop for just another 12 points, saving himself for his trip to the top end.
Jack Viney
Viney ($13,580) treated himself to a rest in the second quarter last week for a measly 10 points. He scored 88 points in the other three quarters combined.
Nathan Jones
Jones ($12,820) joined Viney in taking it easy in the second quarter when St Kilda got on top. He went for 85 points in the other three quarters combined.
Jordan Lewis
If the above two took it easy, Lewis ($12,940) literally went missing in the second quarter on his way to 2 points. Taking this in to account, his total of 84 demonstrates his scoring ability in the plus one role down back.
Christian Salem
Salem ($9,610) started and finished with a bang, scoring 41 points combined in the first and last quarters. Unfortunately, he scored a total of just 7 points across the rest of the game. Take a punt on Salem, who will have low ownership due to this ugly 48 sitting in front of DFS coaches.
If you need any more convincing, TIO stadium has been a happy hunting ground for the Demons in recent years. All of the above picks have averaged over 100 at the ground in the last 4 years:
Angus Brayshaw 166 (1 game)
Nathan Jones 104 (4 games)
Jack Viney 100 (4 games)
Jordan Lewis 102 (3 games)
Christian Salem 107 (1 game)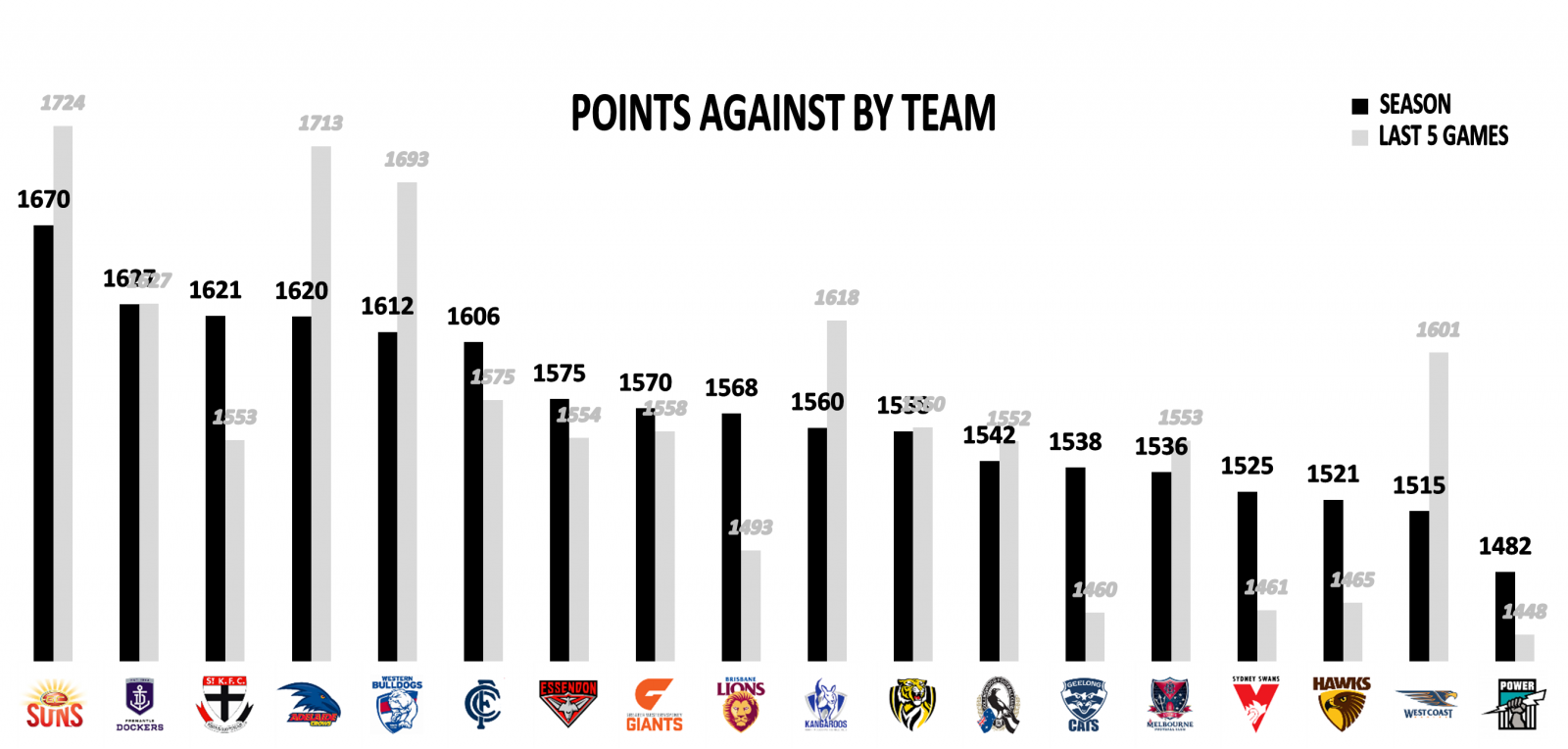 Carlisle less Saints
In the three games that Carlisle has missed this year, opposition forwards have kicked 6, 6 and 4 goals. At $9,660 Charlie Dixon is worth a punt to cash in on this. Keep in mind that that he will also get a points boost with his pinch hitting ruck time against the aforementioned Saints ruck match-up.
Underpriced Players
Jimmy Webster
Webster comes into the round well underpriced based on his season performance. Whilst he doesn't have the best matchup against a strong Port side at Adelaide Oval, with his discounted price tag of $10,380, he has a lot of potential to hit a nice value. If you remove his injury affected 11 against the Suns, Webster is averaging 90 for the year.

Toby Mclean
$13,290 is too cheap for a player averaging 100 and has a huge ceiling (143 & 152 earlier this year). He's discounted due to a shocker of a match in Round 13, where he took a hard hit early in the match that clearly influenced his output. In addition to this he gave away 4 frees against for the match and managed just 73% game time. With a bounce back performance of 114 against Geelong last week, Mclean is every chance to repeat this week, even against a Hawks side that has been stingy to midfielders.

Brad Hill
Brad hill ($11,500) is coming into the side for the injured Nat Fyfe. He'll play his first game since the opening two rounds where he scored 69 and 90, respectively (before succumbing to a knee injury). In 2017, Hill averaged 94 for the season in a then too weak Fremantle side. Last week in the WAFL he put together a solid 98 in his first game since Round 2, which was enough for Ross Lyon to name him on the ball in a reasonable matchup against the Demons at the high scoring TIO Stadium. Outside of the numbers, he'll be highly motivated following his dispel from the leadership group for poor off field behavior and for his brothers 200th game.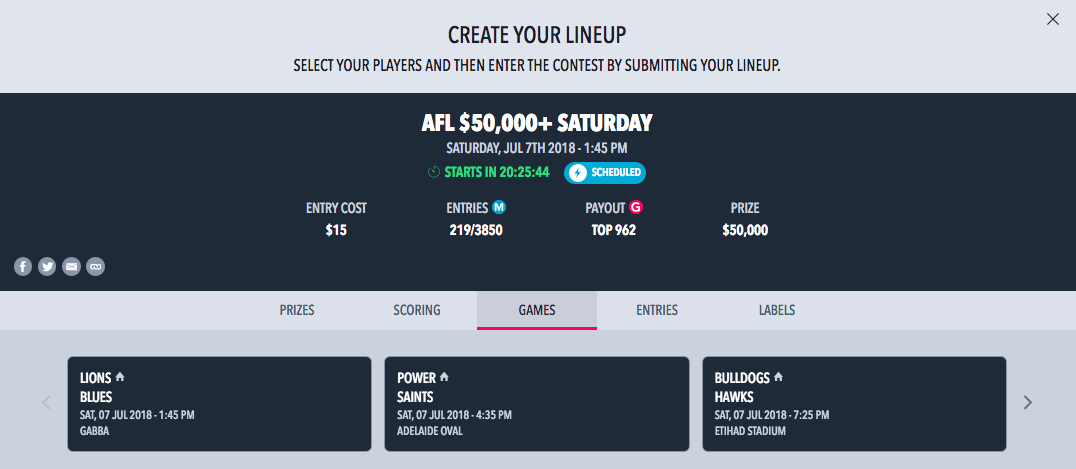 All of the stats and information used in this article has been provided by the team at Fantasy Boss - one of the pioneers for DFS data in Australia. Remember that all projections are merely based off the statistical data provided and we can not guarantee player scores or success in your DFS contests, but we think this information should give you a good head start! Good luck and gamble responsibly!