daily fantasy sports articles
Crunching Numbers: AFL Round 17 Adelaide vs Geelong DFS Lineup Tips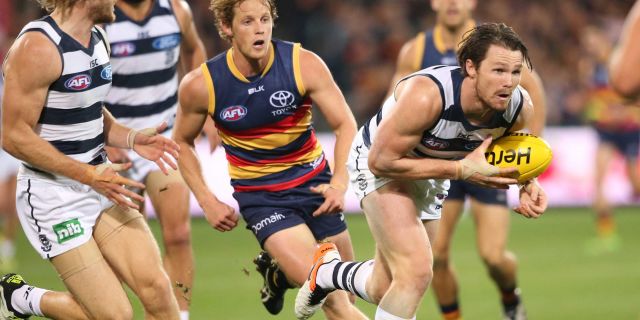 Round 17 of the 2018 AFL Premiership Season kicks off on Thursday Night with a high stakes match between Adelaide and Geelong at Adelaide Oval. The Crows desperately need a win to keep their finals hopes alive, while the Cats are trying to stay in touch with the top 4.
For some added excitement, DFS sites across the country have provided us AFL fantasy enthusiasts with some massive contests to indulge in on Thursday Night. Moneyball have a $5,000 Guaranteed Special, PlayON are running qualifiers to their $100,000 Super Contest, while Draftstars have a massive $30,000 Guaranteed contest.
Once again, Fantasy Boss have given us a headstart with our fantasy teams, providing us with all the relevant data to help give you the edge when selecting your DFS lineups. Here are the best plays for the Adelaide vs Geelong match!
Big Sauce
Sam Jacobs comes in cheaper than Rhys Stanley at $11,830 and should win the hit-out contest quite easily. In the last 6 rounds Stanley has won the hit-out battle just twice, once to the undersized Tom Boyd (even giving up 31 to him) and the other to low hit-out ruckman, Nankervis (29).
It's a high floor / high ceiling scenario for Sauce. He's scored 75+ in 12 games this year and also has the ability on his day to hit a high ceiling. He has 4 x 105+ games this year and a 120 in the bank.
The 5 Year Man - Sloane
Scott Selwood came in to the team last weekend for the Cats and tagged Josh P. Kennedy (kept him to 87) and there's a strong chance he heads to Sloane on Thursday Night. At his price of $11,600 and with a juicy 111 from last week sitting in front of coaches he'll be highly owned. He could prove to be a nice fade, as Sloane's history of being tagged doesn't read great. He's been tagged by the Eagles and Saints this year, where he managed scores of just 68 and 67, respectively.
Looking back to last year when Sloane was in Brownlow medal form gives an insight in to how many teams respect him enough to send someone his way. He was tagged in 13 games (the next highest was J. Selwood in 7 games) for an average of 93.
Midfielders vs Adelaide
For the third week running we look at Midfielders vs Adelaide.
After last week's spiel Richmond midfielders cashed in for:
D. Martin 114
T. Cotchin 103
D. Prestia 98
K. Lambert 104
S. Grigg 106
Selwood, Ablett, Duncan, Dangerfield are the obvious choices that jump to mind.
Selwood ($16,050) is in great form (Last 5 average of 118) but is likely to cop a tag.
Duncan ($14,550) is Mr. Consistent. He has an average of 100 and has scored 90+ in 12 of 13 games this year.
Ablett ($14,550) is also averaging 100 but has been a little more of a rollercoaster for DFS coaches this year. He has the highest of ceilings with 5 x 110+ scores and even 2 x 130+ scores, but is coming off a 54 last week. With this 54 against the stingy Swans in his pricing he could be primed, especially with a free run at it if Selwood gets tagged.
Amongst all the high-priced Cats midfielders (which are all great options, just hard to fit in), Tim Kelly ($12,040) has been in great form of late. He has a last 5 average of 94 which is +12 on his season average of 82. He comes in at a great 9.1x value on our projections.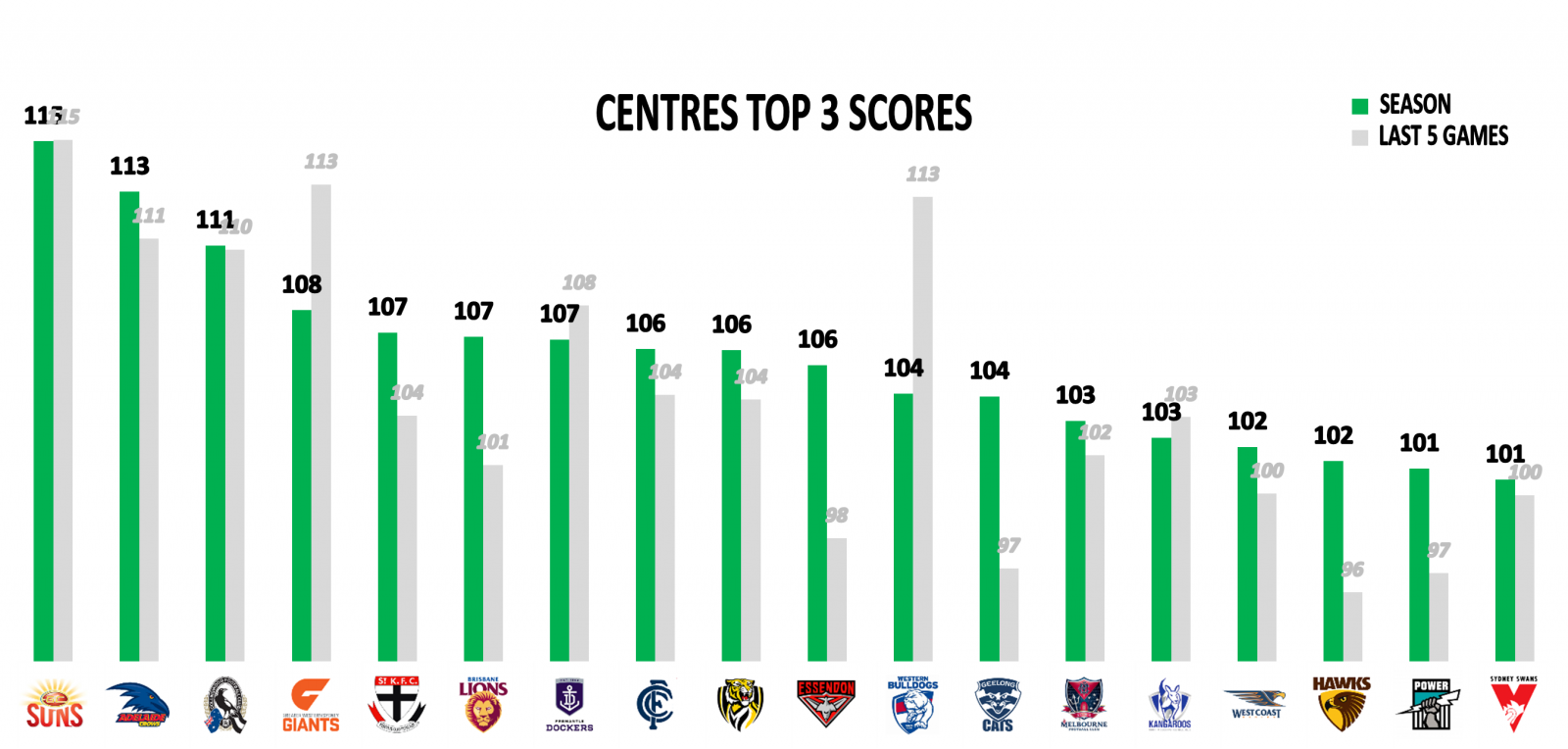 Rory Laird?
Adelaide and Geelong find themselves separated by only one position in the backs points against average. However, Adelaide are trending up, conceding the 2nd most points over the Last 5, while Geelong are trending the opposite way, conceding fewer points over Last 5.
So to Rory Laird, it's not a favorable matchup according to points against and really comes down to whether Geelong will allow Laird to play his free-wheeling role at the opposite end while they try to free up Stewart themselves.
If we go to the history books it might paint a picture of what's to come for Laird.
Season averages vs Geelong.
2017 = 70
2016 = 86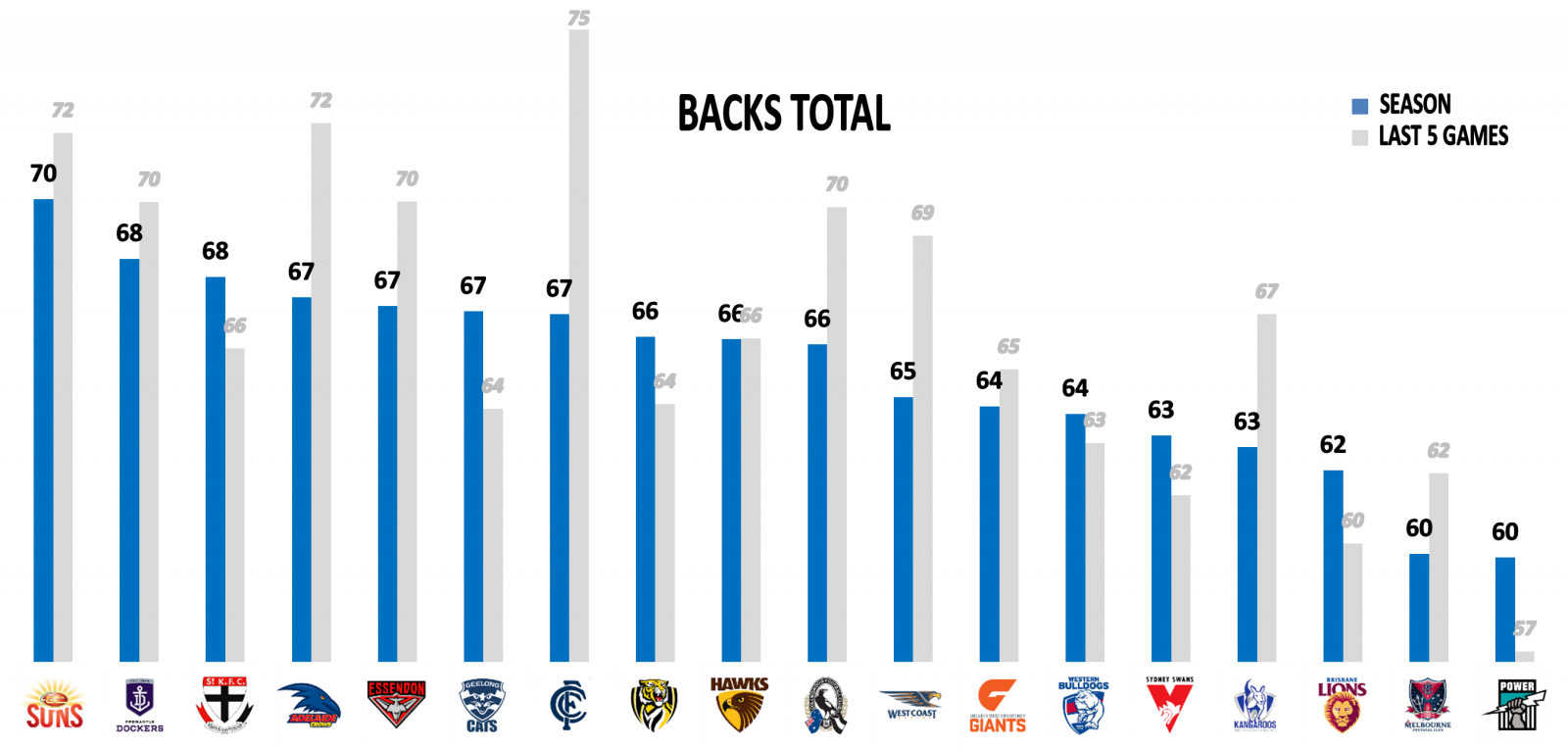 Underpriced
At $7,610 Cameron Guthrie is underprice and comes in above the magic 10x value number that many DFS coaches are chasing. With a favourable match-up off the half back line we have him second on our value projection at 10.1x. Rookie sensation Quinton Narkle finds himself in first with 10.9x at his lowely price of $6,990.
Adelaide vs Geelong Cheat Sheet
The cheat sheet below gives you everything you need to know to help you build your DFS lineups for Adelaide vs Geelong on Thursday Night.
The "Value" figure is especially important for DFS players as it provides an estimate of a player's worth to your team by comparing their projected score with their price. Ultimately, if you can fit more good value picks into your team, you're giving yourself the best chance of success.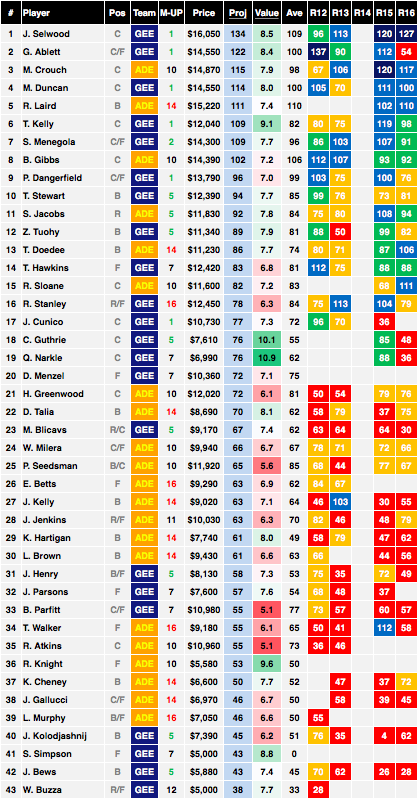 All of the stats and information used in this article has been provided by the team at Fantasy Boss - one of the pioneers for DFS data in Australia. Remember that all projections are merely based off the statistical data provided and we can not guarantee player scores or success in your DFS contests, but we think this information should give you a good head start! Good luck!