daily fantasy sports articles
Crunching Numbers: AFL Round 18 Saturday Slate DFS Lineup Tips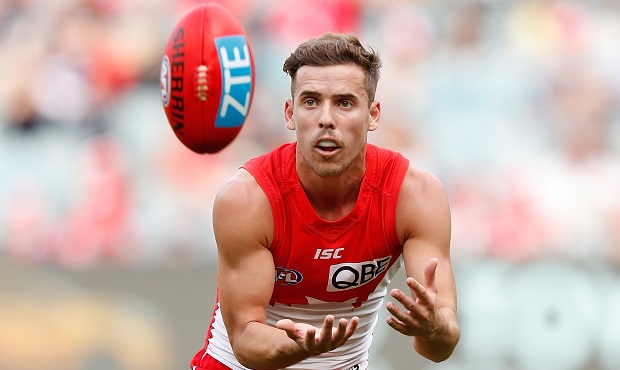 A big Saturday slate of games in the AFL this weekend will see Collingwood face North Melbourne, Sydney host Gold Coast, Essendon battle the Dockers, Brisbane clash with the Crows, and the Cats face the Demons.
Once again, there's plenty of great AFL DFS contests around the country to get stuck into, highlighted by the $50,000 Guaranteed contest at Draftstars and the qualifiers for the $100,000 Super Contest at PlayON.
We've collaborated with Fantasy Boss to bring you all the best selections for your fantasy lineups.
The scoring against the Suns continues
For many weeks now we've been honing in and targeting scores against Gold Coast, and the stats continue to point in their direction. Last week Merrett (138), Heppell (125) and Devon Smith (122) feasted, while McGrath (107), Myers (98), and Guelfi (90) all provided great value. This week it's the Swans who will look to take advantage of the Suns. Here's some of the best options.
Jake Lloyd ($15,680)
This game has a monster Jake Lloyd score written all over it. Lloyd has a great deal of consistency, an L5 average of 107 and a ceiling that extends all the way to 163 earlier this year at the SCG.
Isaac Heeney ($14,280)
Heeney is quietly putting together a nice fantasy year. Bar an injury effected Round 15 score, he has gone 75+ in every single game, 90+ in 11 games, and 100+ in 7 games.
Josh Kennedy ($13,810)
If fit, Kennedy is a steal at his price due to last week's 27 when he went down with back spasms early in the second quarter.
Luke Parker ($13,070)
With such a huge game on the line and his good friend Kennedy injured and watching from the sidelines, you would've thought Parker would be the man to stand up and win it for Sydney against North Melbourne last weekend. Unfortunately, he was absolutely nowhere to be seen on his way to 59 fantasy points. Considering the 59 was proceeded by 106 and 111, he's nicely primed to bully Gold Coast at a reduced price for DFS coaches.
Colin O'Riordan ($8,240)
Debutants normally become one and done, with DFS coaches ready to move on to the next basement priced player the following week. However, after going for huge value in his debut game and importantly passing the eye test that saw him really hunting the footy, there is no reason O'Riordan can't push 10x value again this week.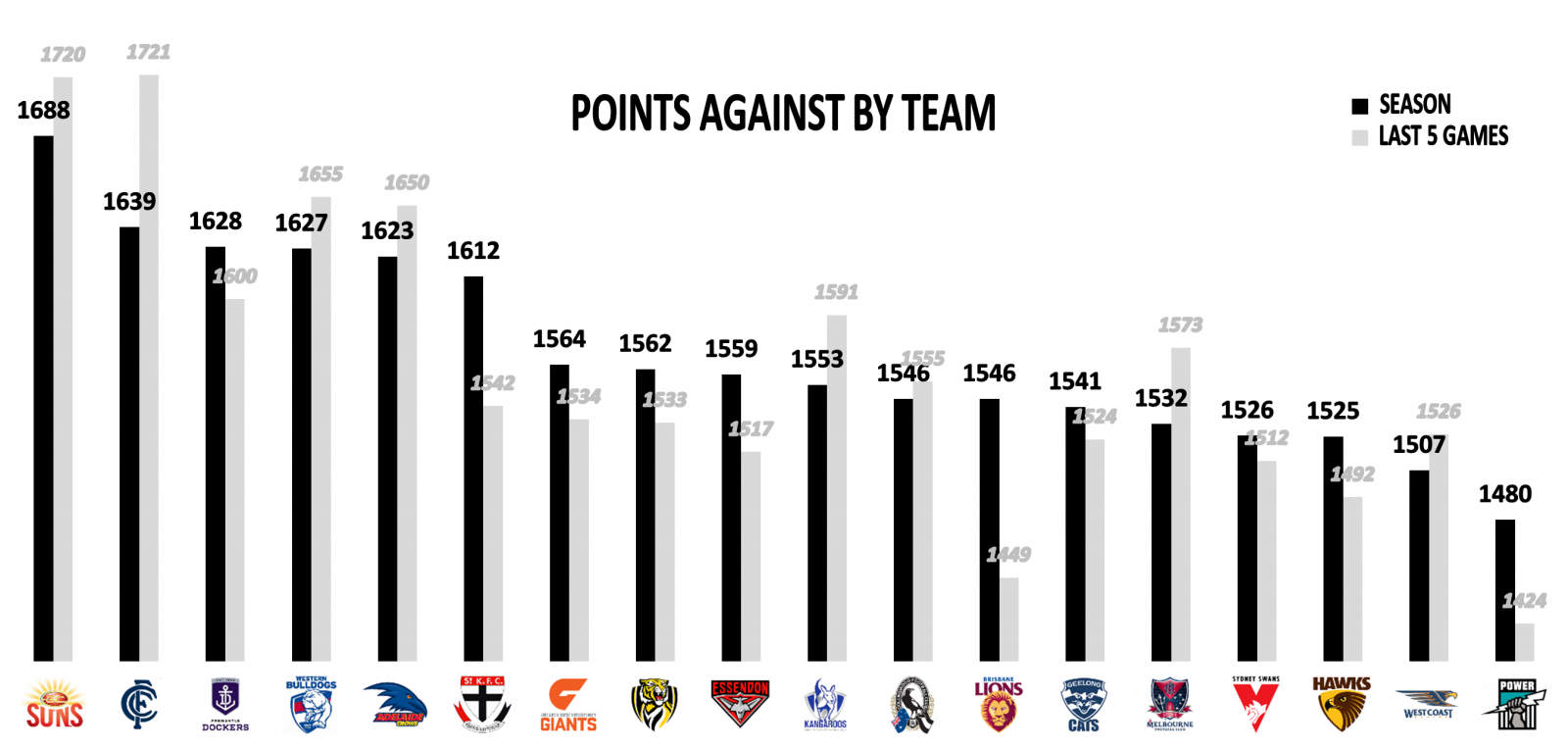 Backs against Collingwood
Last week we explained why Collingwood found themselves ranked number 1 in the DFR Fantasy Boss match-ups for Defenders and so it was no surprise to see both Hurn and McGovern go for 100+. This week it will be North Melbourne's turn to have a crack at them and with the game at the MCG once again, last week should act as a nice dress rehearsal.
Luke McDonald ($11,610) and Jamie Macmillan ($10,710) both fit the bill of Top 3 backs within their team and McDonald in particular has a proven ceiling against soft back match-ups.
Sam Wright ($9,380) is in form with a last 5 average of 77, which is +12 on his season average.
Robbie Tarrant ($9,180) and Scott Thompson ($9,710) will look to sag off and collect intercept marks and gate keeping +6's a la McGovern. Interestingly, Thompson scored a huge 121 and Tarrant an above 10x value 101 against the soft Gold Coast back match-up just 2 rounds ago.
Alex Morgan ($7,750) fits the same bill as O'Riordan above. Last week on debut Morgan went for 15.8x value at $5K and while that is probably out of his reach in his second game, he could still push for 10x at his current price tag.
Fremantle away from home
The difference between points against Fremantle at home and when playing away is significant. In the safety of Optus Stadium Fremantle concede a measly average of 1515 total fantasy points, which would impressively rank them 16th, essentially the 3rd hardest team to score on. However, when playing away it's a whole different story, and quite a scary one. On the road they concede a whopping league leading 1755 fantasy points. That's an extra 10 points per player!
Zach Merrett ($15,710)
Zach is back. 6 x 100's in a row (8 if you give him some leeway for a 98) and a last 5 average of 119. But it is Merrett's previous history of scoring at Etihad that should have you salivating.
2016: 5 x 125+ scores at ES that included scores of 143 and 148.
2017: 4 x 125+ scores at ES that included scores of 151, 144, and 144 (vs Dockers)
Dyson Heppell ($14,470)
Heppell is still nicely priced and coming off a 125 last week. He has a last 5 average of 117 when discounting his injured Round 12 score.
If the above was not enough to convince you, the top scoring midfielder vs Fremantle is averaging a cool 119.
Now one the other way. Be wary of Langford's recent scoring surge that has seen some great value returns. With Zaharakis in the team Langford averaged 72, with Zaharakis out injured over the last 5 games Langford has increased that to 85. Zaharakis is back this week and unfortunately Langford's midfield time and scoring ability will take a dip.
Midfielders vs Adelaide
Another staple in the points against data has been Midfielders scoring against Adelaide. While we thought the return of Sloane may go some way to curbing this, it hasn't, with Gaff pumping out a 148 and Dangerfield a 151 in the last 3 weeks. If you thought Fremantle's average of conceding 119 to the opposition's top midfielder was bad, Adelaide's is next level. They give up a mind blowing 132 points to the opposition's top scoring mid!
Two maximum ceiling guys that are primed for this are Dayne Beams ($16,320) and Dayne Zorko ($15,750). Last year Beams scored 130+ on six occasion and Zorko on five. This year Beams has 9 x 110+ scores and Zorko has a 176 to his name. Enough said.
The Riley Knight factor
Come on down, Riley Knight. Knight was brought in to the team last week to curb the in-form Selwood and he did a great job restricting him to just 73, which is -34 on his season average. Tagging history suggests that coaches go to Zorko, with the little man followed around 7 times this year compared to Beams' zero.
Hugh McCluggage
Hugh has a new role and DFS coaches should like it. McCluggage has broken away from the half forward line he was assigned to while building in to AFL footy and now finds himself up around the ball for significant portions of the game. He has a last 5 average of 94, which is +17 on his season average.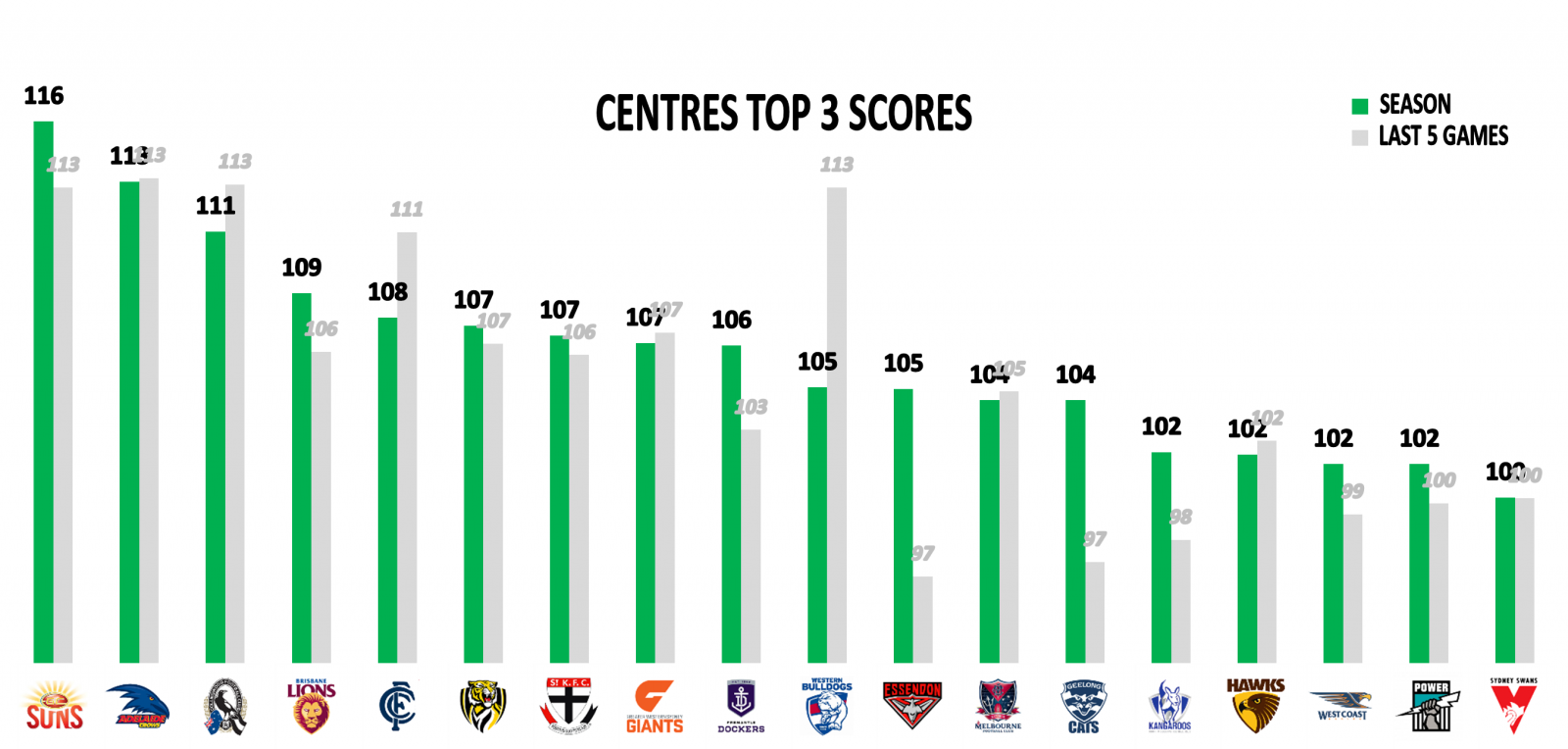 Bargain Basement
Darcy Cameron ($5,000)
Cameron comes in for his long awaited debut. He's been going beast mode in the NEAFL for years and is averaging 19 disposals, 34 Hit outs and a juicy 132 fantasy points this year. We do need to curb our enthusiasm slightly because the NEAFL does historically produce big numbers and Cameron will come in and play second fiddle to Sinclair, spending majority of his time as a forward. But with 19 goals to his name this year, there is no reason Cameron won't smash through 10x value playing against Gold Coast.
Lachie Henderson ($5,000)
Geelong's forgotten man comes in for his first game of the year. His averages of 61, 69 and 70 in the last three years see him making good value.

All of the stats and information used in this article has been provided by the team at Fantasy Boss - one of the pioneers for DFS data in Australia. Remember that all projections are merely based off the statistical data provided and we can not guarantee player scores or success in your DFS contests, but we think this information should give you a good head start! Good luck!