daily fantasy sports articles
Crunching Numbers: AFL Round 18 Sunday Slate DFS Lineup Tips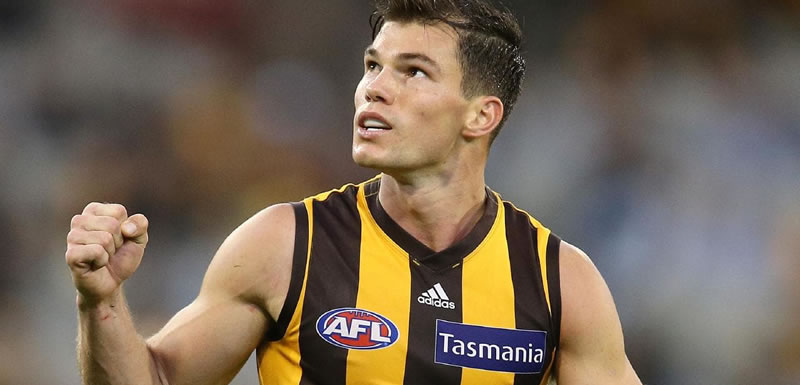 A big Sunday slate greets DFS players this weekend with the Blues taking on the Hawks, the Eagles hosting the Bulldogs and the Power battling with the Giants in one of the matches of the round. There are some big DFS contests on offer this Sunday with Draftstars offering a $30,000 guaranteed contest and PlayOn offering multiple qualifiers to their $100,000 Super Contest at the end of the season.
Rucks
Vardy & Lycett?
There was an interesting outcome the last time Vardy played two weeks ago. Naitanui finished the game with 41 hitouts, Vardy 17 and Lycett 0. With Nic Nat now out and Vardy in, will Lycett's role really change that much? The Dogs rank number 1 for points against to both rucks and forwards but wet weather predicted for Sunday would mean a full game in the ruck is most likely required to score well.
Jonathan Ceglar
With another opportunity as a solo ruck, Ceglar is primed to hit value at the low price of $7,090. His first outing in this new role resulted in an underwhelming 62, however that was up against Stefan Martin who concedes a stingy 75 points per game to number 1 rucks. Up against a 3rd and 4th string Carlton ruck division in Matthew Lobbe and Harry McKay (and a struggling Carlton side in general), expect Ceglar to push that 80 mark producing over 10x value.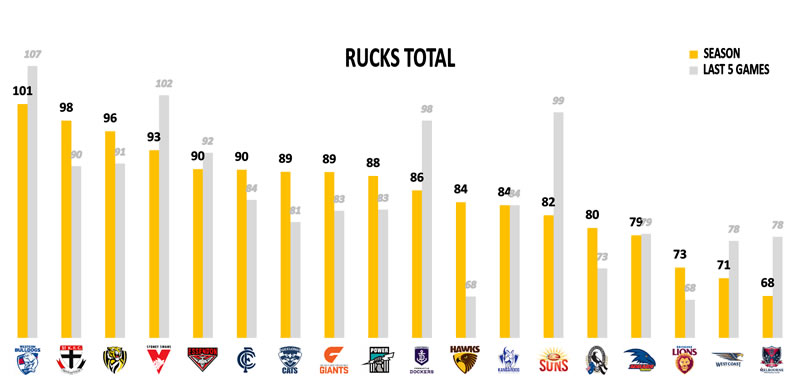 Wet Weather in the West
With a poor weather forecast expected in Perth over the weekend, current points against numbers lose some relevance and the juicy +10.8 matchup to forwards vs the Western Bulldogs probably needs to be tempered. The likes of Kennedy, Darling and LeCras would normally be primed for this match-up, however keep an eye on the weather conditions as lockout approaches.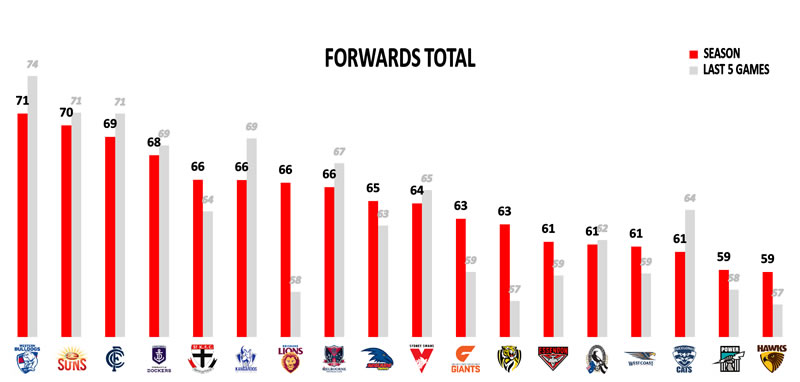 Hawthorn vs Carlton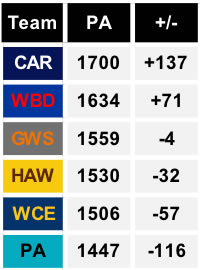 Based on all of the teams in this slate, over the last 5 games Carton are +137 for points against. As a result of this, you should be looking to maximize the four Hawthorn players you are allowed on Draftstars.
Jaeger O'Meara
O'Meara has been delivering on a consistent basis and has increased his ceiling to the mid 120's. Has been in great form of late with a last five average of 112.
Ryan Burton
With Sicily now out as the key playmaker across half back, you would expect the ball winning requirements of Burton to increase. Showed last year what he can do in this role, averaging 84. At $9,880, he has the opportunity to hit nice value.
Jack Gunston
Two weeks ago Tom Cutler played with his own footy against the Blues. He was dominating in the forward 50 and also roamed up the ground at will enjoying a number of +6's out of position. If we can compare this to a player in the Hawks lineup it would have to be Gunston. At $12,020, he has the potential to cash in on this soft matchup and hit decent value when he goes well past a 100.
Brendan Whitecross
Has always been able to produce scores throughout his career at either end of the ground. At the price of $8,790 you should be chasing 70+ and you would have to think the soft Carlton matchup will assist with this.
Teia Miles
Another cheap option to consider from the Hawks is Teia Miles. With both back and forward eligibility, at $7,400, Miles can find his way into a lot of lineups as a team builder. Has back-to-back scores of 67 and 65 so anything in excess of recent form is value.
Underpriced Port Mids
Once again the underpriced midfielders from Port feature. On his home deck with a favourable T3 mid matchup vs GWS and at a discounted price is a strong play. He has been tagged in consecutive weeks, however you have to date back to round 6 for the Giants last and only tag for the season.
Chad Wingard continues to play the majority of minutes in the midfield, has a last five average of 100 and remains great value at $12,570.
All of the stats and information used in this article has been provided by the team at Fantasy Boss - one of the pioneers for DFS data in Australia. Remember that all projections are merely based off the statistical data provided and we can not guarantee player scores or success in your DFS contests, but we think this information should give you a good head start! Good luck!