daily fantasy sports articles
Crunching Numbers: AFL Round 21 Sunday Slate DFS Lineup Tips

North Melbourne vs Western Bulldogs
Coming into this week, the most favorable matchup over the last five weeks is forwards against the Bulldogs. They concede a massive +14.2 on the league average. Some recent form can be a bit skewed at times due to fixturing, this however is not one of those instances as this high scoring pattern has been occurring all season long. Their top 3 numbers to forwards over the last 5 weeks are even more reason to target this matchup with a +20 differential to the league average and +10 on the 2nd ranked Suns.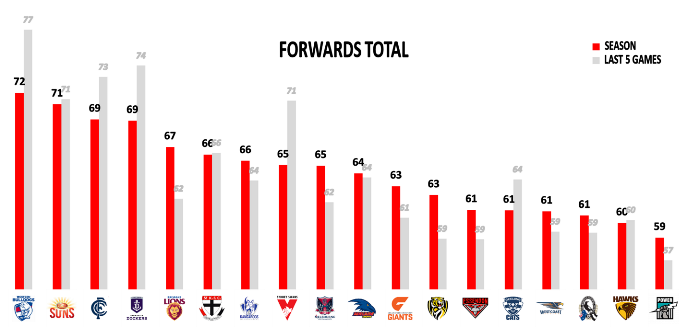 Jack Ziebell
In a must win game for the Roos and against a team that is no pushover, they will need a huge game out of Ziebell up forward (with stints in the midfield). At $12,300 and with a pair of 120 scores in his last 4 games, he has potential to hit 9-10 times his value.
Ben Brown
Has been well checked the last 3 weeks however this matchup has 4 to 5 goals written all over it. I do have concerns over his ceiling however at $9,920, chasing one of his top 2-3 scores of the year isn't unreasonable.
Jarrad Waite
As one of the oldest players in the league and coming back from an extended stint on the sidelines, Waite's 38 last week can be forgiven. Has the potential to go big at $11,500 and at low ownership.
Josh Dunkley
Dunkley will be a great pick coming from the Western Bulldogs in this one. With 5 scores over 100 from his last 6 games (the other was a 99), Dunkley is relishing his move to the midfield. Averaging 111 over these last 6 games and up against a neutral midfield of North Melbourne, Dunkley can provide a nice 110+ score for your side at $14,300.
Carlton vs Fremantle
This game has the most favorable mid matchup of the round (+11.1) with Carlton being an absolute walkover in the past few weeks. They are also +10 to Forwards. Despite being a reasonably average side themselves, I expect Fremantle to still cash in here, especially given that this is their third week in a row at Optus Stadium (meaning very little flying).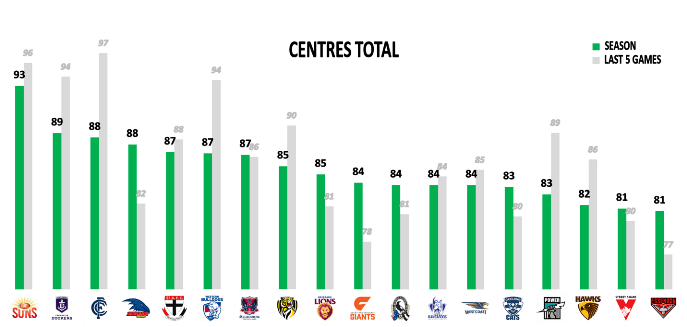 Ed Langdon
Langdon is an Optus Oval specialist. It is actually quite laughable his fluctuation in scoring between road and home games; 100 at Optus (10 Games) 70 on the road (8 Games). With favourable matchups to both midfielders and forwards, Langdon should set himself for a 100+ score at a price tag of $12,540 that reflects the 19 he scored at Etihad Stadium against Essendon.
David Mundy
Mundy is another who benefits greatly from the home ground advantage. In his last 5 games he has 3 scores over 100 (2 of which were above 120) where all were scored at home games. Available as a midfielder and a forward, Mundy is a well-priced premium option in this soft matchup.
Ed Curnow
Curnow did not tag last week despite a stacked Giants midfield of Josh Kelly, Callan Ward and Stephen Coniglio. With this in mind, you would have to think Lachie Neale will have the chance to do the same this week.
Michael Walters
Priced at $11,690, Walters is great value in a matchup highly favorable to both midfielders and forwards alike. Expect Walters to be one of the highest owned players across the slate though.
Sydney vs Melbourne
With Carlton and the Western Bulldogs to target in the slate, I wouldn't be going too hard at either team in this one. Early in the week the prospect of Max Gawn at $15,330 vs Callum Sinclair outweighed all other value ruck options that help with team build. With serious concerns now over his availability, this is certainly one you will have to keep a close eye on. In the event that we do have knowledge of Gawn missing, both Callum Sinclair and Cam Pederson are great plays.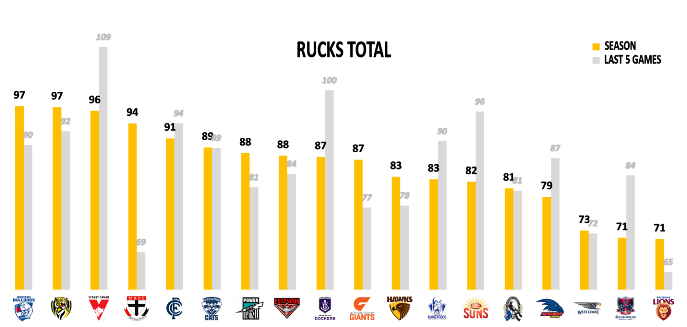 All of the stats and information used in this article has been provided by the team at Fantasy Boss - one of the pioneers for DFS data in Australia. Remember that all projections are merely based off the statistical data provided and we can not guarantee player scores or success in your DFS contests, but we think this information should give you a good head start! Good luck!