daily fantasy sports articles
Crunching Numbers: AFL Round 22 Sunday Slate DFS Lineup Tips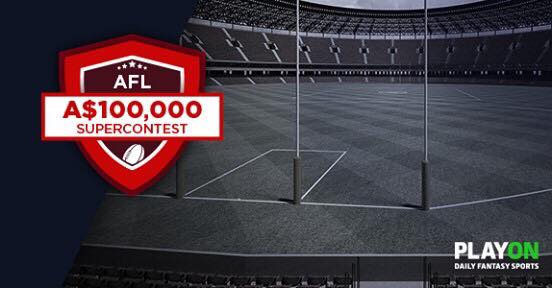 Sunday, August 19 is a special day for AFL Daily Fantasy Sport enthusiasts. We've waited the entire season for it, but it's finally here... PlayON's huge $100,000 AFL Super Contest!

PlayON have been running qualifiers for the Super Contest all season long, which has filled in the majority of the entries. However, at the time of writing this there is still a few tickets left, so hurry up and book your place in the contest! There's a massive $25,000 first place prize and the top 10 teams will all collect at least $1,000+ each.
To help you get your teams sorted for the Super Contest, Fantasy Boss and DFR have teamed up to bring you the best plays of the day. Good luck to all entering!
Sunday's 3 game slate includes: Carlton vs Western Bulldogs, West Coast vs Melbourne, Adelaide vs North Melbourne.
Battle of the forward match-ups
Within the Carlton vs Western Bulldogs game we have two of the more favourable match-ups available across the entire weekend and hence there will be plenty of choices in play, which is great to spread out the player ownership. If you can hit your picks you could be well on your way to a unique team that takes out the big prizemoney up for grabs.
Many of the Bulldogs players play a mid/fwd mix, which actually becomes even more juicy knowing that Carlton also offer up the most favourable match up to midfielders (+7.1) at the moment. Additionally, the Dogs have just come off a perfect dress rehearsal against the favourable North Melbourne last week, so look at the scores from that game as an idea of what they can produce here.
Josh Dunkley is on an absolute tear at the moment. He has a Last 5 average of 108, which is +16 on his season average.
Marcus Bontempelli seems to be back with scores of 103 and 120 in his past two games and will spend time forward after scoring 6 goals in those 2 games.
Toby McLean is the perfect Mid/Fwd combo. He was scoring big in the first half of the year averaging 107 up until Round 11, but a few lean weeks since has his price primed for the taking.
Caleb Daniel roams the ground at will. He hasn't had an opponent go anywhere near him for the past 2 weeks as he moved between the midfield and forward line for scores of 105 and 125.
Value wise we can look to last week's game against North Melbourne. Josh Schache, Patrick Lipinski and Tory Dickson all scored 65+ and could offer you a sneaky 10x score this week at next to no ownership.
Last week Jarrad Waite (103) and Mason Wood (100) continued the onslaught of forwards scoring against the Bulldogs, backing up what Jack Billings (122), Jack Lonie (99) and Jade Gresham (98) had done the week prior. Carlton forwards are a little more clear cut in their positioning than the Bulldogs, but are unfortunately few and far between with their consistency and potential value.
Charlie Curnow will get right up the ground on his searching leads, similar to Waite. While Harry Mckay comes in at 10.5x value on our projections.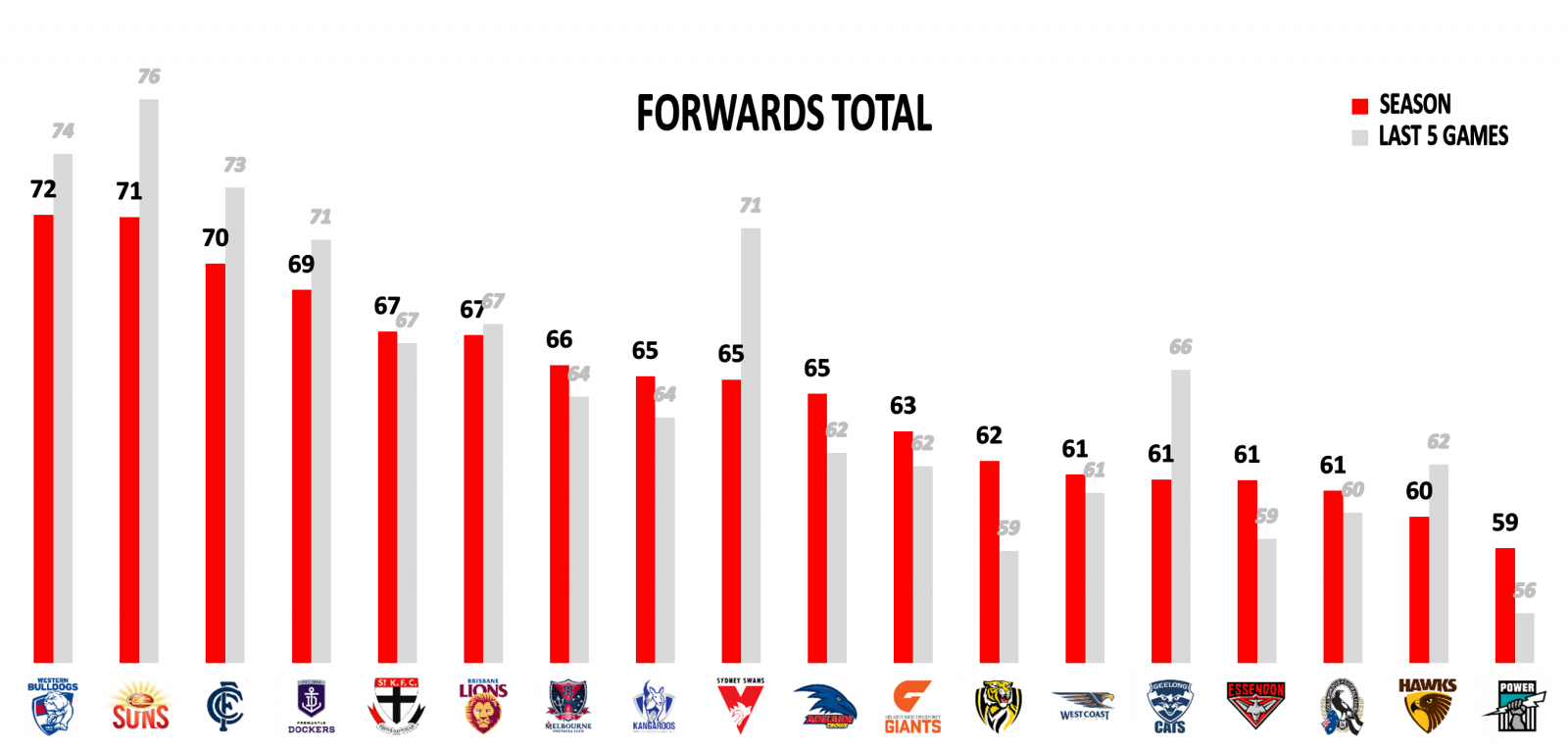 Midfielders vs Carlton
As eluded to above, Midfielders vs Carlton deserve their time in the spotlight this week. You are paying top dollar for both Jack Macrae and Lachie Hunter, but you know exactly what you are going to get. Macrae is averaging 119 for the year and has a last 5 of 114, while Hunter also has an last 5 of 114 and is coming off 142 last week! To make it easier for DFS coaches, Carlton are conceding a league leading 120 points to Top 3 midfielders over the last 5 weeks. Ed Curnow will be sniffing around looking for someone to go with, but at this stage of the year we really can't see it being a huge part of Carlton's game plan.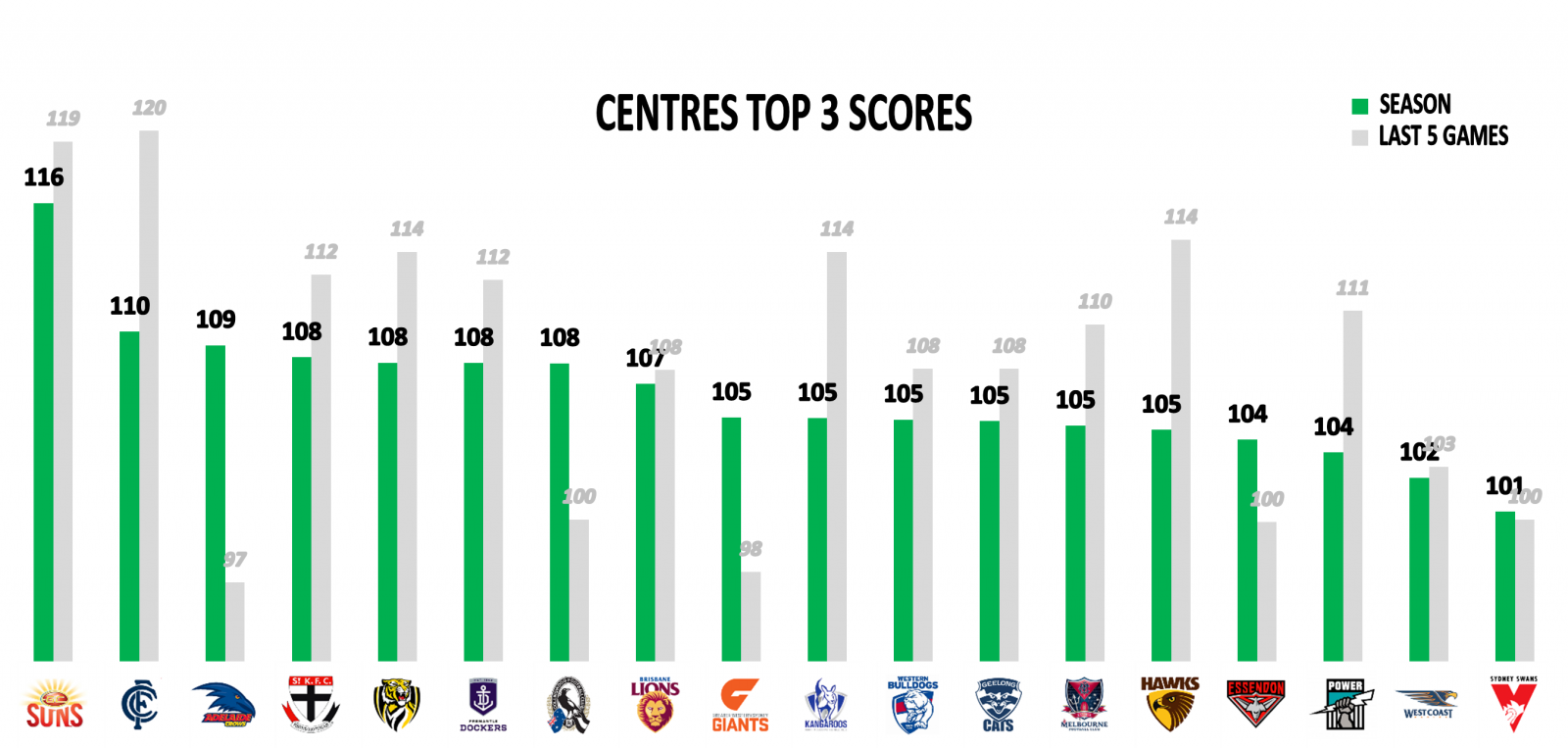 Big Lobbe
To round out the Carlton vs Western Bulldogs fest we have a juicy +10.7 vs Bulldogs rucks up for grabs. With Kreuzer going down, Lobbe is thriving in the number 1 ruck role and his PlayON price hasn't caught up yet. With an average of 86 across 4 games and coming off 103 last week, his $7.8m price tag has him at the top of our value projections for this game at a juicy 11.8x.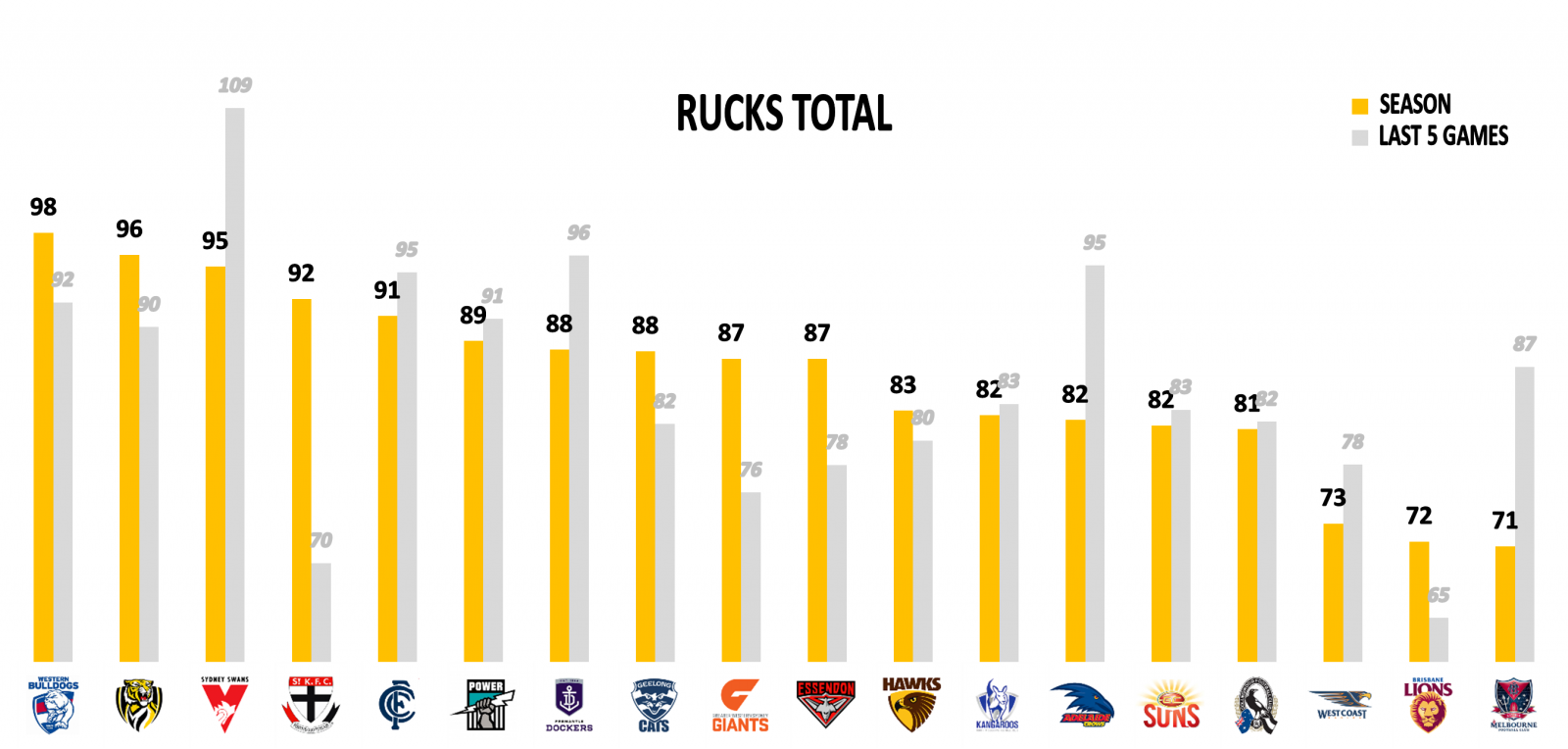 Next man up for the Eagles
We have outlined previously the importance of the NFL/NBA style next man up when a significant player goes down. With Gaff's 111 point average up for grabs, there is value out there somewhere amongst the Eagles players. Add to this the fact that Melbourne are sneaking up there in points against to midfielders, conceding the 3rd most in the last 5 games, and we will certainly be delving a little deeper. Eliot Yeo ($17.6m) and Jack Redden ($15.6m) have been super all year and hence their price tag. But a look a little lower and you will find Luke Shuey, who is well and truly on these two players level and at the reduced price of $12.1m, which gets him in to the top 5 value projections for this game. Dom Sheed was publicly announced as the man to fill the Gaff void and with 78 on the board last week he could be on the way up. Brendon Ah Chee was brought in to town over the summer to provide depth to the midfield and his inclusion last week points to the fact that he's a part of the next man up program. At just $5.9m his 61 last week goes above the magical 10x value.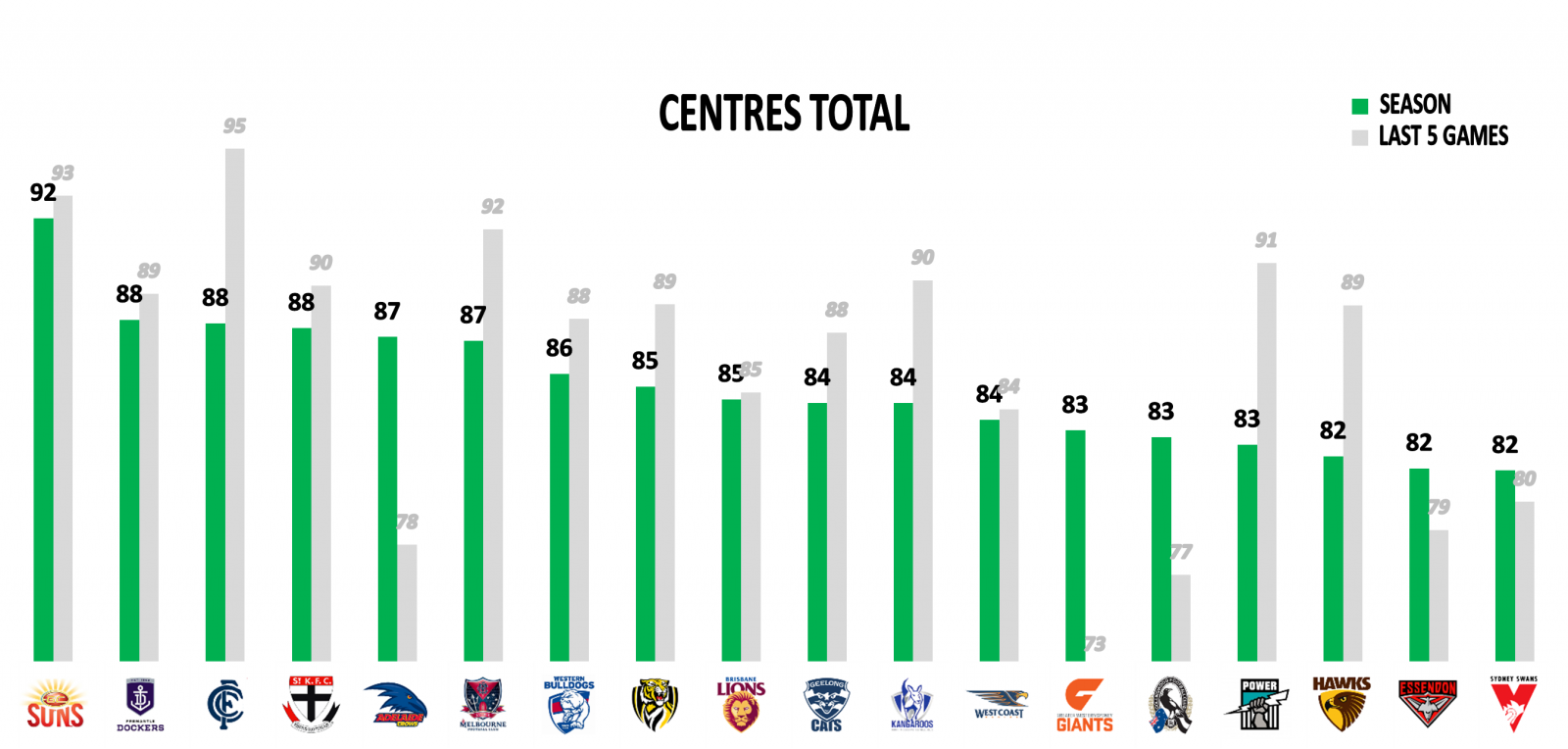 Underpriced at Adelaide Oval
Jarrad Waite returned to form last week with a 103. He has a season average of 84 and at just $7.3m he offers significant value.
Brodie Smith had the same form building game on his way to 101 last round. His projected value of 12.4x is the highest across the whole day.
PlayON $100,000 AFL Super Contest Cheat Sheet
Get player projections, recent form and value ratings for Sunday's massive $100,000 Super Contest at PlayON with the Fantasy Boss Cheat Sheet. Everything you need to know to build your lineup and grab the cash! Just click on the link below to download the Cheat Sheet PDF.

All of the stats and information used in this article has been provided by the team at Fantasy Boss - one of the pioneers for DFS data in Australia. Remember that all projections are merely based off the statistical data provided and we can not guarantee player scores or success in your DFS contests, but we think this information should give you a good head start! Good luck!