daily fantasy sports articles
Crunching Numbers: AFL Round 23 Saturday Slate DFS Lineup Tips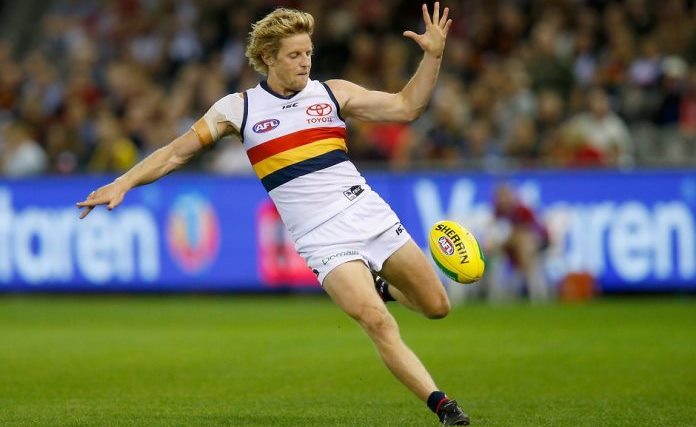 Plenty of great action in the AFL this Saturday with 5 matches, one of which will be between finalists. Geelong will host the lowly Suns, League leaders Richmond will take on the Bulldogs, The Pies are away to Freo, cellar dwellers Carlton host the Crows and the match of the day will see the 5th placed Swans host the 4th placed Hawks.
Over at DraftStars they have a $50,000 tournament taking place on Saturday for these games, so get on over and get your seat for a chance to win!
The team at PlayON have qualifiers to enter their $5k AFL Grand Final Contest. Don't miss out on this great opportunity either!
Forward Gold Mine
Within this slate, DFS coaches are presented with the top 3 forward match-ups across the entire competition and 4 of the top 5:
1st: Forwards vs Gold Coast +10.1
2nd: Forwards vs Fremantle +10.1
3rd: Forwards vs Carlton +5.6
5th: Forwards vs Western Bulldogs +4.0
Knowing the discrepancies between Fremantle's fantasy conceding form at home compared to away I would be leaving the Pies out of this one, but never mind there are plenty more to choose from:
Tom Hawkins and Jack Riewoldt both have extremely favourable match-ups to bring them home in the Coleman race. Come the last quarter, both teams will look to find their spearheads for cheap goals to boost their medal winning chances and this means easy points for DFS coaches.
Josh Caddy has a last 3 games average of 95, 14 points better than his season average, and he will be looking to continue this against the Bulldogs. He is nicely priced at $10,590 which has him pushing a 10x value projection.
Josh Jenkins and Tom Lynch are similarly priced and both are in solid form as they come up against the favourable Carlton match-up. Jenkins as averaged 95 in his last 3 games, an impressive 20 points better than his season average and Lynch has averaged 88 in his last 3, 8 up on his season average.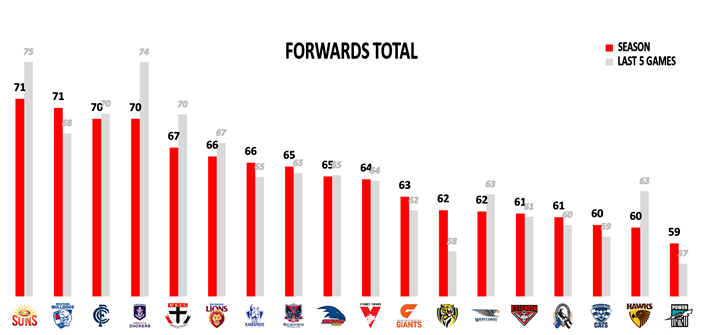 Crazy Cats
Five Geelong players find themselves in the top 10 of our scoring projections and for good reason, as they face Gold Coast on their home deck. The Suns have conceded the most points against this season (an average of 1687 points per game) and have given up the most 100+ scores (average of 4.3 per game). They lead the points against for Forwards, Midfielders and Backs, but our focus for now is on five Geelong players that all find themselves in great form running through the midfield.
Dangerfield: Last 5 average of 109, 5 up on season average. Has 3 scores over 115 in a row.
Menegola: Last 5 games average of 110, up by 12 on his season average.
Ablett: Last 5 average of 113, which is 9 better than his season average.
Duncan: Last 5 games has averaged 103, 3 up on his season average.
Kelly: Last 5 games average of 94, a solid 8 points per game better than his season average.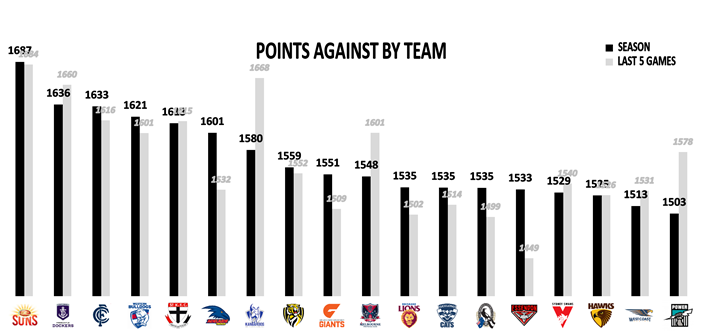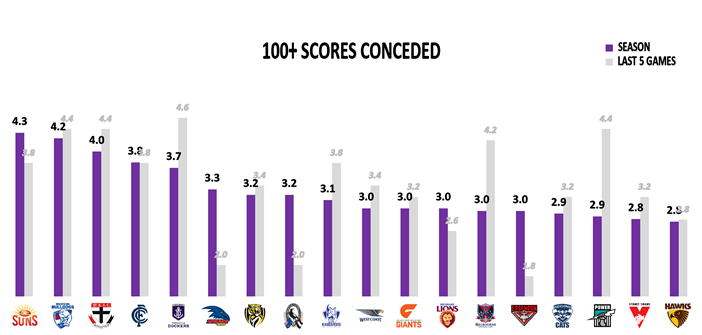 More pain for Gold Coast
Unfortunately it isn't just the midfielders that look set to cash in against the Suns. Two Geelong backs are primed for the picking this week:
Zac Tuohy is carrying a 41 shocker in his recent games and his price reflects it. Take out that game and he is averaging 86 across five games at a nice price of just $11,370.
Lachie Henderson is back to his best playing +1 across the backline. Has scores of 81 and 78 in his last two games which more closely reflect his recent season averages. At just $8,750 and against the number 1 back match-up he could be looking to push 10x value.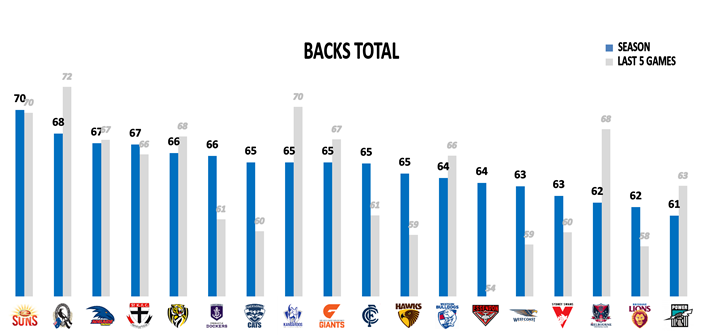 Ruck Dilemma
DFS coaches are also treated with a plethora of ruck options this week.
Grundy tops our projections across all positions facing the fourth ranked ruck match-up. In recent weeks, unsung ruckmen Abbott (109) and Lobbe (103) have got on top of Fremantle so imagine what the great Grundy can do this week. Has a last 5 games average of 127 to go with his season average of 120. Amazingly, Grundy has only failed to 100 points or more in just 3 of his 22 games this year. Adding to that, he has scored an incredible 10 scores of 125+.
Jacobs faces the 2nd ranked Carlton who have conceded scores of 97, 114, 93, and 100 since Lobbe has taken over the ruck duties. Add to this, the fact that the big sauce has scored 98 and 91 in his last two games.
McEvoy, in his second game back from injury, comes up against the 5th ranked ruck match-up in Sydney. Considering Sinclair and the Swans have conceded big scores to Nankervis (131), Goldstein (125), Witts (132) and Grundy (150) in their run home, big McEvoy could be in for a day out.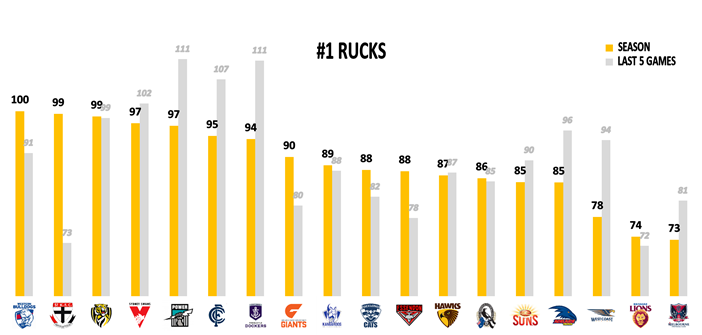 Value Hunting
Himmelberg – Comes in for the Crows and as a forward, is faced with the perfect match-up of Carlton to get himself on the board. Tops the value projections at 12.5x.
Oxley – His score of 77 last week saw the Collingwood backman bring his average up to 59. Value projection of 11.2x.
Barlow – Many DFS coaches loaded up on Barlow last week and he didn't completely repay the faith posting a score of 66. However, at just $8,120 he doesn't need many more points to bring up the 10x value that coaches are chasing and his history of high scores should be enough to give him a second chance.
All of the stats and information used in this article has been provided by the team at Fantasy Boss - one of the pioneers for DFS data in Australia. Remember that all projections are merely based off the statistical data provided and we can not guarantee player scores or success in your DFS contests, but we think this information should give you a good head start! Good luck!