daily fantasy sports articles
Crunching Numbers: Round 17 St Kilda vs Carlton AFL DFS Lineup Tips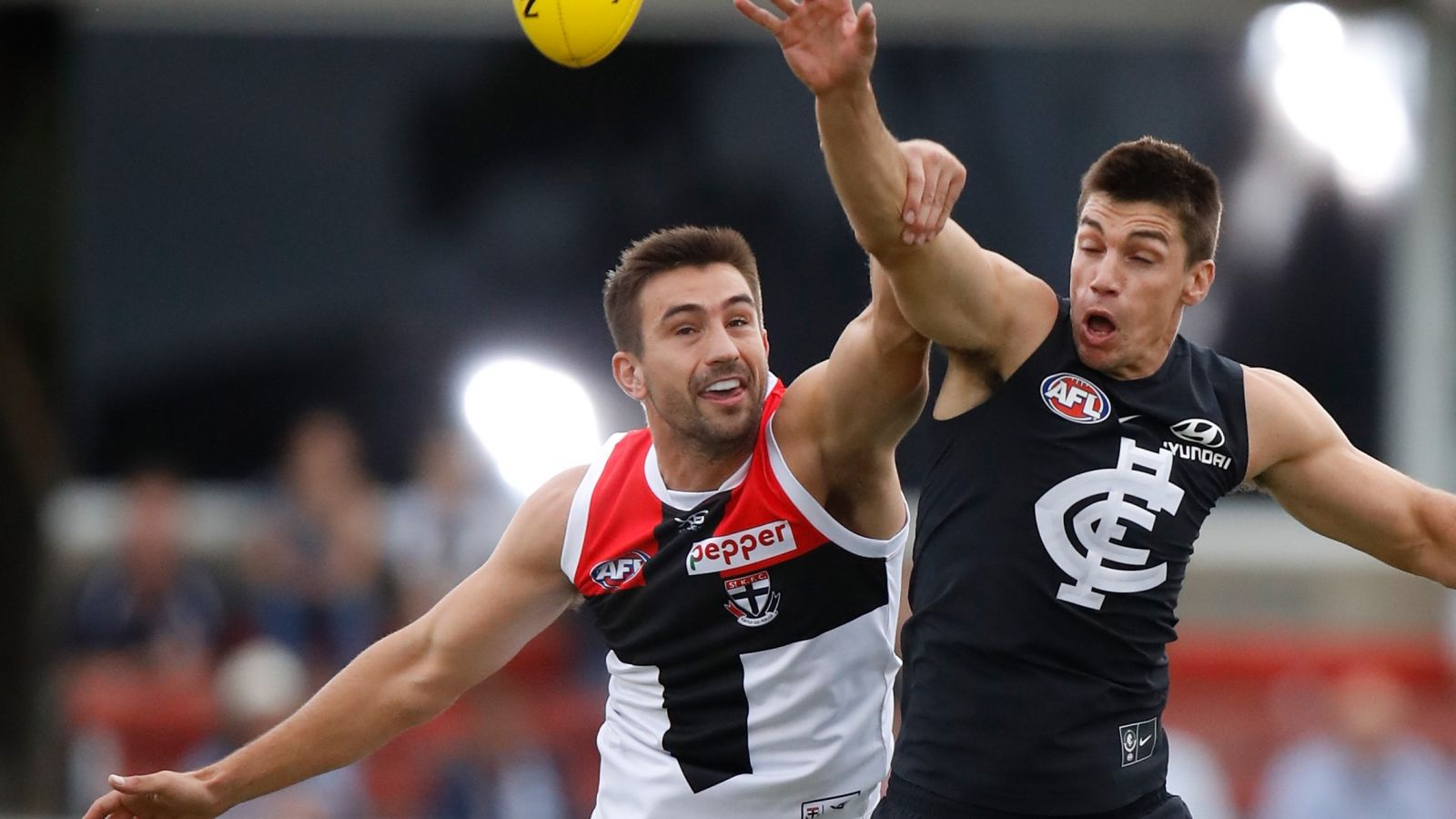 Round 17 of the 2018 AFL season continues on Friday Night with the Saints taking on the Blues at Etihad Stadium. With just 4 wins between them for the year it'll be an interesting game to watch, but also one that may require a fantasy team or two for some added excitement!
As usual, DFS sites across the country have provided us AFL fantasy enthusiasts with some massive contests to indulge in for Friday Night's Tigers vs Crows blockbuster. Moneyball have a $4,000 Guaranteed Special, PlayON are running qualifiers to their $100,000 Super Contest, while Draftstars have a massive $30,000 Guaranteed contest.
Once again the boys at Fantasy Boss have crunched the numbers to help give you the edge when selecting your DFS lineups. Check out the best plays for you this Friday!
Brisbane last week vs Carlton
Carlton conceded 8 x 100+ scores in their big loss to Brisbane last week and the total fantasy points were 1206 vs 1899.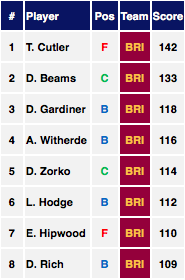 If you see a similar result coming for the blues you know which side you need to be loading up on.
Backs vs Carlton
The scores that Carlton have been conceding to backs in their last 5 has been off the charts. Last week's game speaks volumes.
Darcy Gardiner scored 118 which was +58 on his season average.
Alex Witherden 116, +29
Luke Hodge 112, +36
Daniel Rich 109, +34
Jimmy Webster $12,630 and Shane Savage $11,070 are the Saints go to for setting up plays from the back line and they will look to cash in in the same sense that Witherden, Hodge and Rich did.
Jake Carlisle $11,480 returns this week and has shown in the past that he loves picking off intercept marks against struggling teams such as Carlton, and if Darcy Gardiner can rack up those gate keeping +6's then Carlisle certainly can too. He's also in scoring form with his last three games wielding an average of 100.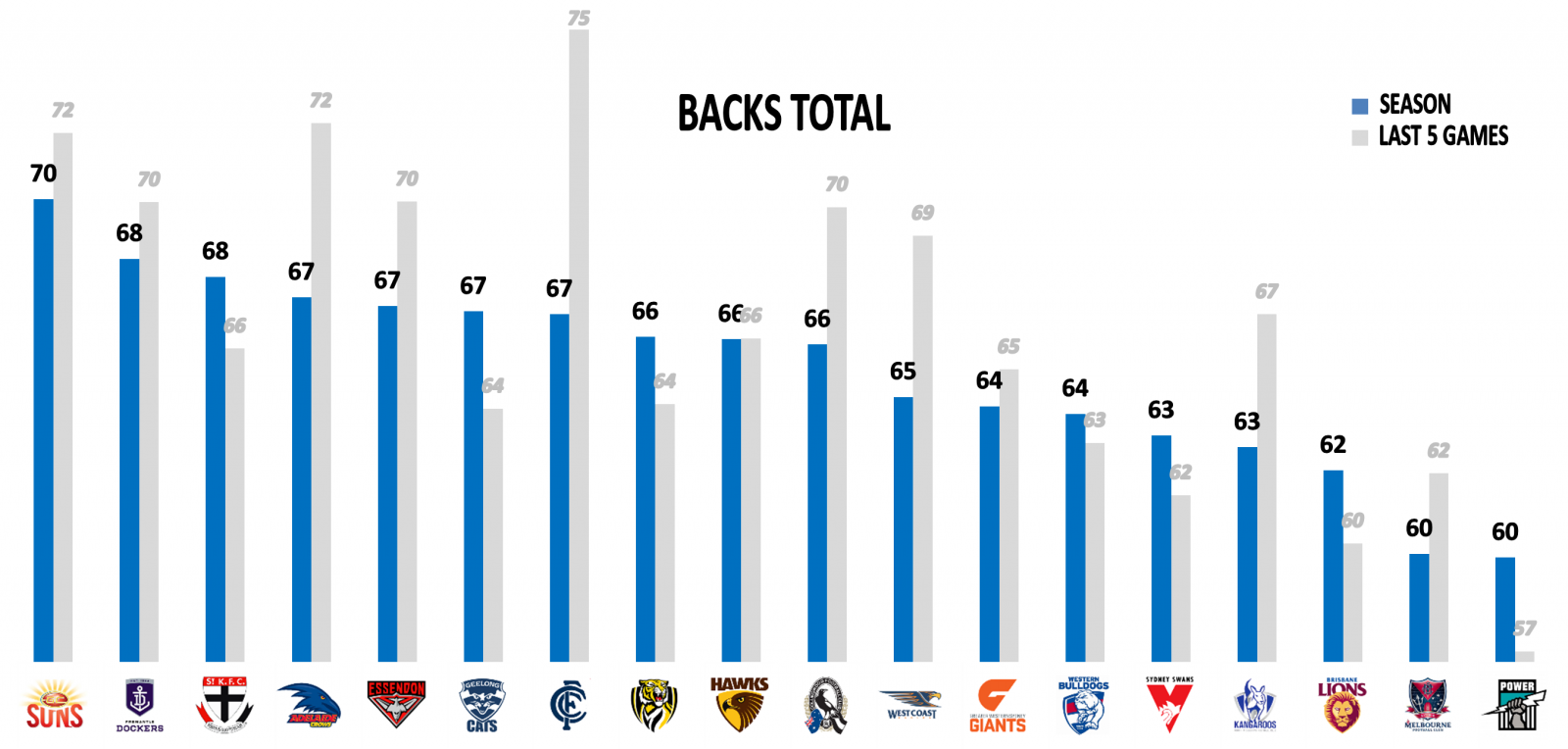 Kade the reliable?
Can a bloke who was a late out last week be called reliable just one week later?
With all this talk of the St Kilda backs it would be remiss to not look at what will happen at the opposite end of the ground. St Kilda have actually conceded more points against to backs than Carlton over the season and this is where the 'ever reliable' Simpson comes in to the picture. With a last 5 average of 111 you should feel confident in banking a premium score from Simpson, a score that becomes even more valuable with tags and uncertainties looming amongst other premium priced selections in this game.
Jack Steele's Clamps
Jack Steele has been used in recent weeks to run with the oppositions best midfielder and we see no reason why this doesn't continue this week against Cripps.
Steele has kept Ollie Wines to 69 and Clayton Oliver to 82 in the past 2 weeks.
Patrick Cripps has been tagged five times this year for an average of 87. As the top priced player in the contest at $15,770 there is too much doubt to be loading up on him as your premium.
Speaking of doubt, Seb Ross has found himself in a bizarre role down back the last two week's that has greatly reduced his scoring output to just 67 and 77 in those two games. At $14,320 you would want him back up around the ball where he can get closer to his team leading season average of 100.
Bank on Billings
Since his stint in the VFL, Billings has average 94 in a new role that sees him higher up the ground. Could he be on his way back to his 2017 form that saw him average 95 for the season while picking up 11 x 100's? One thing that does resonate from last year was this exact match-up of Carlton at Etihad Stadium when Billings amassed a whopping 151 fantasy points. At $11,400 his projected value is a safety net that sees you able to chase this big ceiling.
Armitage vs Dunstan
Jack Dunstan has seen his season average of 84 drop to 62 in the last three games, the same three game stretch that has seen David Armitage increase his season average from 76 to scores of 96, 110, and 105. A coincidence? No. Armitage has replaced Dunstan for significant minutes in the midfield rotations and this has greatly affected their scoring. The best thing for DFS coaches and a lesson in the importance of delving in to players stats and form, Dunstan will cost you exactly $1000 more in salary this week, money not well spent.
Rucks vs Hickey
Don't be fooled in to thinking Hickey, replacing Longer, can solve all of St Kilda's problems in the points against department. The saints sit second for the season in points conceded to opposition ruckmen and Hickey has well and truly been a part of this. In the 9 games that he played before being replaced by Longer, opposition ruckmen averaged 103 points against him.
At $12,660 Matthew Kreuzer looks primed to take advantage of this. He's currently underpriced with an injury affected score of 42 in his line-up.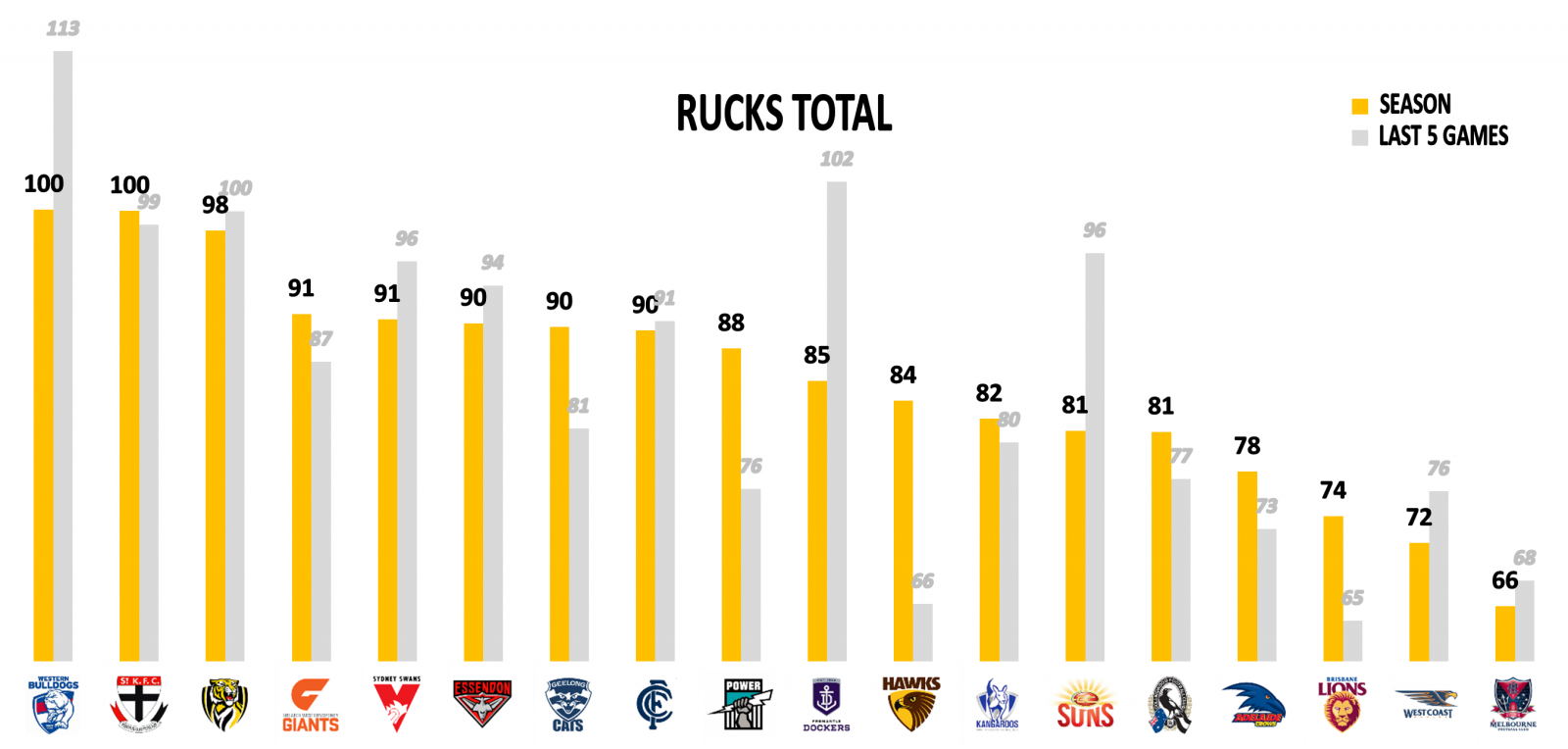 Matt Shaw
Ex Gold Coast Sun Matt Shaw will play his first game for the Blues on Friday night and this means he comes in at the basement price of $5000. A look in to his fantasy scoring whilst at the Suns and his recent VFL form bodes well for him hitting value.
Season averages:
2017 = 55 (2 games)
2016 = 70 (13 games)
2015 = 62 (15 games)
Recent VFL form: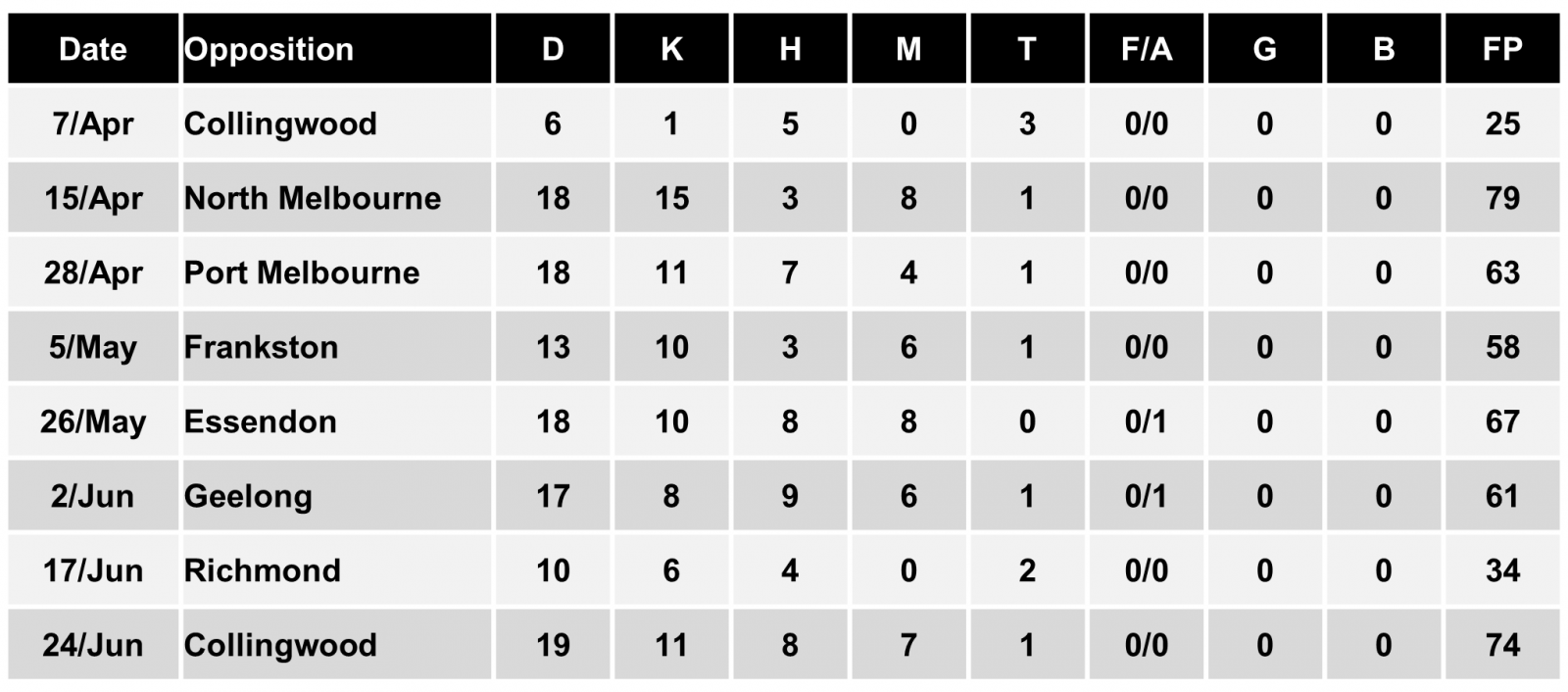 Note Shaw's ability to score much higher when picking up marks across half back, something he should be able to achieve against the Saints.
St Kilda vs Carlton Cheat Sheet
The cheat sheet below gives you everything you need to know to help you build your DFS lineups for St Kilda vs Carlton on Friday Night.
The "Value" figure is especially important for DFS players as it provides an estimate of a player's worth to your team by comparing their projected score with their price. Ultimately, if you can fit more good value picks into your team, you're giving yourself the best chance of success.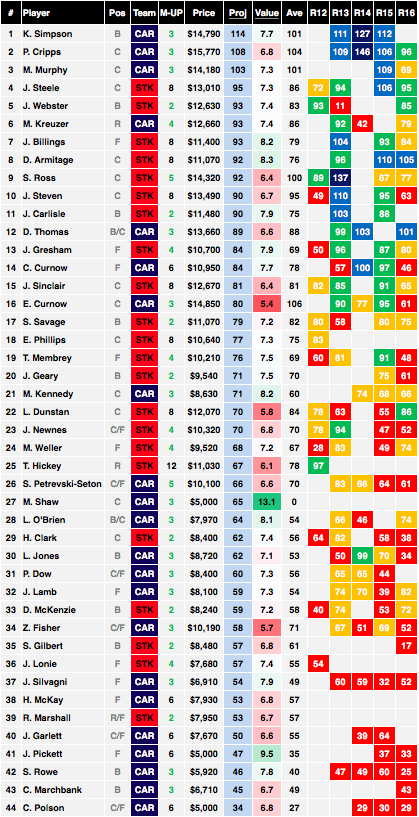 All of the stats and information used in this article has been provided by the team at Fantasy Boss - one of the pioneers for DFS data in Australia. Remember that all projections are merely based off the statistical data provided and we can not guarantee player scores or success in your DFS contests, but we think this information should give you a good head start! Good luck!