daily fantasy sports articles
Crunching Numbers: Round 18 St Kilda vs Richmond AFL DFS Lineup Tips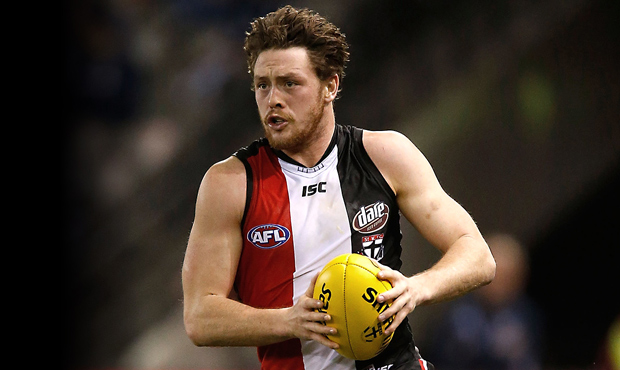 Round 18 of the 2018 AFL Premiership Season kicks off on Friday Night with the Saints taking on the Tigers at Etihad Stadium. The current ladder positions make this one look like a one-sided match on paper, but if we've learned anything this season it's that anything can happen!
DFS sites across the country have provided us with some massive contests to indulge in for the match. Moneyball have a $5,000 Guaranteed Special, PlayON are running qualifiers to their $100,000 Super Contest, while Draftstars have a massive $30,000 Guaranteed contest.
As always, Fantasy Boss have crunched all the numbers to give you the edge when selecting your DFS lineups. Check out the best plays for the Friday Night Saints vs Tigers clash!
Midfielders vs Saints
Despite the poor scoring Tigers midfield that has season averages of 90, 83 and 82 from their top 3 mids, coming up against the 3rd ranked DFR Fantasy Boss St Kilda midfield we can expect scores that return decent value. At $11,650 Dion Prestia is one that comes to mind. His best footy is still ahead of him this year and since returning from injury he has logged scores of 92, 98 and 87. With strong midfield security, Prestia comes into this matchup with a high floor.
Despite scoring just 49 last week, Jack Higgins still received a lot of midfield time. As a first year player, in a tight game on the road at Spotless Stadium; Higgins poor score can be somewhat justified if you are looking to go again. At the reasonable price of $9,120 we are expecting Higgins to bounce back and return around the 8x value mark which will help team builds significantly. Interestingly it is amongst the bottom three scoring mids that St Kilda average 71 points against, ranking them equal 1st in the competition.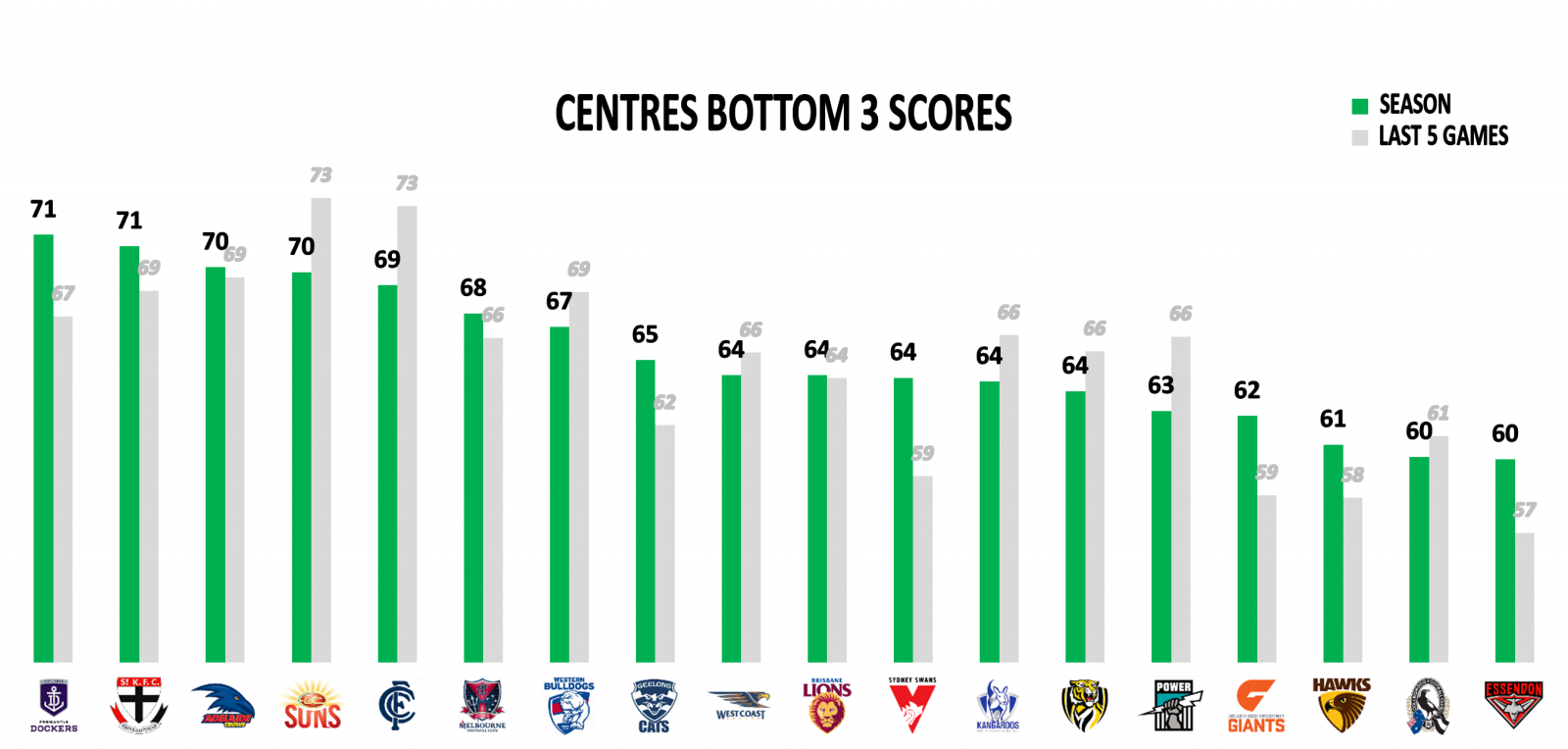 Trent Cotchin ($11,870)
had an absolute howler of a fantasy game last week. It was significantly out of the blue highlighted by it being -17 on his next worst score for the year and watching the game the ball just kept avoiding him. With his price now down at $11,780 and any opposition attention most likely directed towards Dusty, Cotchin is one of many in the $11,000 - $12,000 price range you can expect to score well.
David Armitage ($11,600)
We get pretty confused at times with the Draftstars pricing model. It must have strong ties to the season average of a player as Armitage has been on fire of late with 96, 110, 105 and 110 coming from his last 4 games, his average over this time is +26 on his season average, and yet he remains underpriced at $11,600. There is always the worry he plays a full game forward in the near future catching DFS coaches off guard, however with his run of form over these 4 games coinciding with 3 wins for the Saints, he should be set for another decent run on the ball.
Luke Dunstan ($11,840)
In addition to Armitage and potential role uncertainty, it had looked as if Dunstan had been pushed out of mid time by Armitage but we certainly feel the need to mention Dunstan's ability to score. When played on the ball for a full game, across both teams he is one of the best scorers available. Whilst his most recent score of 103 came against a leaking Carlton side, it was from just 53% TOG (because of a head knock) which is hard to ignore. He's another mid-priced player to consider.
Jack Steven ($14,550)
Richmond are still yet to tag a player this season and I can't really see that changing this week. With that in mind, Steven looks set to be given rare freedom. So far this season he has been tagged a total of 6 times, which is roughly 40% of games. Back when these two teams last met in Round 10, Steven took advantage of this for a huge score of 134.
Jayden Short ($12,100)
Short is having a serious breakout year and the numbers suggest that Bachar Houli has been a huge factor in allowing this to happen. From rounds 10 to 16 when Houli was either out of the game early or not playing, Short has averaged 95. In all the other games they have both played, Short averages 69. Against a St Kilda outfit that ranks 4th for points against to backs this season, and with Houli amongst the omissions, Short is a strong play in one of your backline slots.

St Kilda vs Richmond Cheat Sheet
The cheat sheet below gives you everything you need to know to help you build your DFS lineups for St Kilda vs Richmond on Friday Night.
The "Value" figure is especially important for DFS players as it provides an estimate of a player's worth to your team by comparing their projected score with their price. Ultimately, if you can fit more good value picks into your team, you're giving yourself the best chance of success.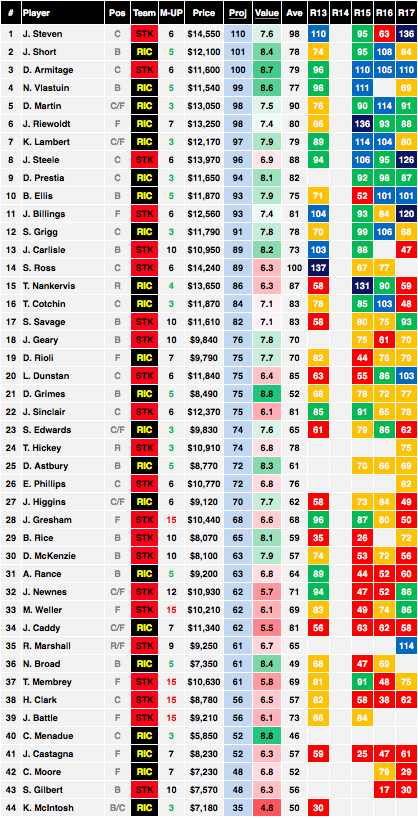 All of the stats and information used in this article has been provided by the team at Fantasy Boss - one of the pioneers for DFS data in Australia. Remember that all projections are merely based off the statistical data provided and we can not guarantee player scores or success in your DFS contests, but we think this information should give you a good head start! Good luck!