daily fantasy sports articles
Crunching Numbers: Round 19 Essendon vs Sydney AFL DFS Lineup Tips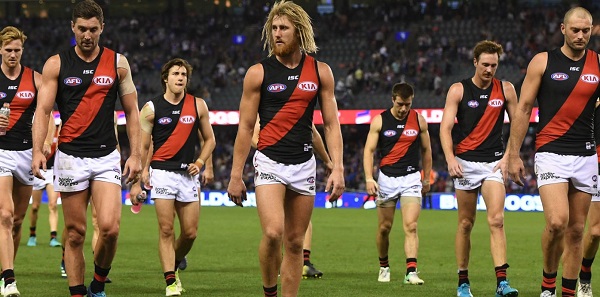 It's a huge game between Essendon and Sydney which kicks off Round 19 at Etihad Stadium on Friday night. The Bombers can't afford to drop another game if they have any aspirations of playing finals while it's an important bounce back game for the Swans after their horrendous performance against the Suns last weekend.
DFS sites across the country have provided us with some massive contests to this Friday night, including the massive $30k tournament at Draftstars, the 5k at Moneyball and the 1k at PlayON!
As always, the folks at Fantasy Boss have you covered with all of the best data and statistics for the Friday night feature clash, which we've wrapped up into a nice little package below.
Ruck Battle
With Swan Darcy Cameron coming straight back out of the side this weekend after his one game outing, the ruck stocks are extremely limited. Just two to choose from at most DFS sites in big Tom Bellchambers and arguably the most improved ruckman of the year in Cam Sinclair.
Tom Bellchambers has been well up on his season average over the past five weeks, piling on 86 points per game in those matches and has a favourable matchup this Friday night against the Swans. The Swans have allowed the most points to ruckman of any team in the competition over the last five weeks at an average of 109 points including monster scores of 132 to Jarrod Witts, 125 to Todd Goldstein and 131 to Toby Nankervis.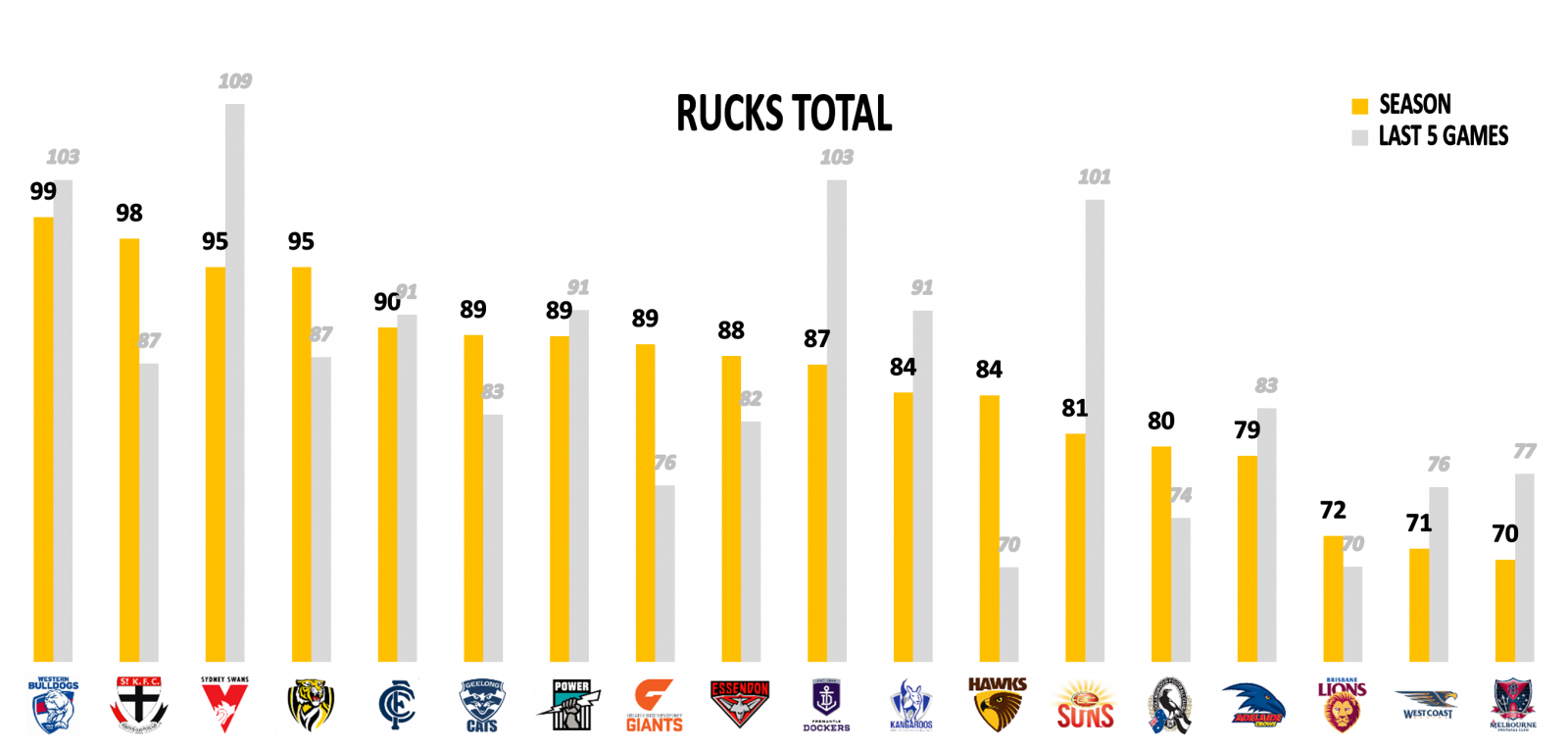 Midfield
Sydney and Essendon have proved to be the two stingiest teams in the league when it comes to allowing midfield production. They both allow just 81 points per game to midfielders in 2018 and both have trended even further down over the last five games.
It means that a stack will probably be off the cards here and you'll most likely want to be looking for either your absolute premium midfielders on either side or some of the under-priced players that may gain an edge due to team selection, particularly in Sydney's case.
Isaac Heeney
Isaac Heeney might be the only Sydney midfielder that you can rely on at the moment. With the likes of Hannebery, Jack and Kennedy in and out of the team and form, Heeney looks to be your best bet and is still relatively under-priced. When you eliminate the ugly score of 65 in the Swans terrible loss to the Suns last weekend and take out the score of 18 when injured against Richmond, Heeney's game log reads 105, 105, 98, 100, 118, 101 and 103 since Round 8.
He has come up against the Bombers once per year since 2015 and returned scores of 92, 119 and 122. With an undermanned Sydney midfield team in this week he'll be asked to spend more time in the middle and should be value.
Devon Smith
The leading tackler in the competition in 2018 with a whopping average of 8.5 per game is another standout this Friday night. It doesn't matter whether he lines up in the midfield or in the forward line, Smith knows how to rack up points through the art of the tackle and is on the back of three monster scores of 150, 122 and 121.
The fact that Sydney are the stingiest midfield in the league might actually play into Smiths hands on Friday night, as he accumulates most of his points in a tight contest where the ball needs to be won.
Zach Merrett
After a bit of a slow start to the season, Merrett seems to be back on track in 2018 and back to be one of the best fantasy scorers in the league that we have come to expect over the past few years. He did, however, struggle with the tag a little bit earlier in the year and will have a tough job on designated Swans stopper George Hewett this Friday night.
However, Merrett has racked up seven consecutive 100+ scores heading into this weekend's game and seems to be coping better with the tag in the second half of the season.
Colin O'Riordan
No McVeigh, no Rohan and no Melican means there is plenty of ball to be used off half back for the Swans, and teammates are more than happy to hand that ball to the hard running and slick using Irishman, O'Riordan. Seems to be fitting in well in the AFL and looks to have a bit of Tadhg Kennelly run off half back about him.
Has scores of 84 and 72 in his first two games and should continue to be a good value pick, especially in a game where the midfield could be hampered to score points.
Jordan Dawson
One of the more impressive stat lines in footy history was brought up by Dawson last weekend in the NEAFL as the big bodied midfielder racked up 29 disposals, 3 goals and a ridiculous 23 tackles to score 216 fantasy points. The performance earned him immediate selection in the team this Friday night, where he should be able to use his big frame to play a role similar to that of Josh Kennedy.
Should play a bit forward as well and has a great price tag of just $6,800.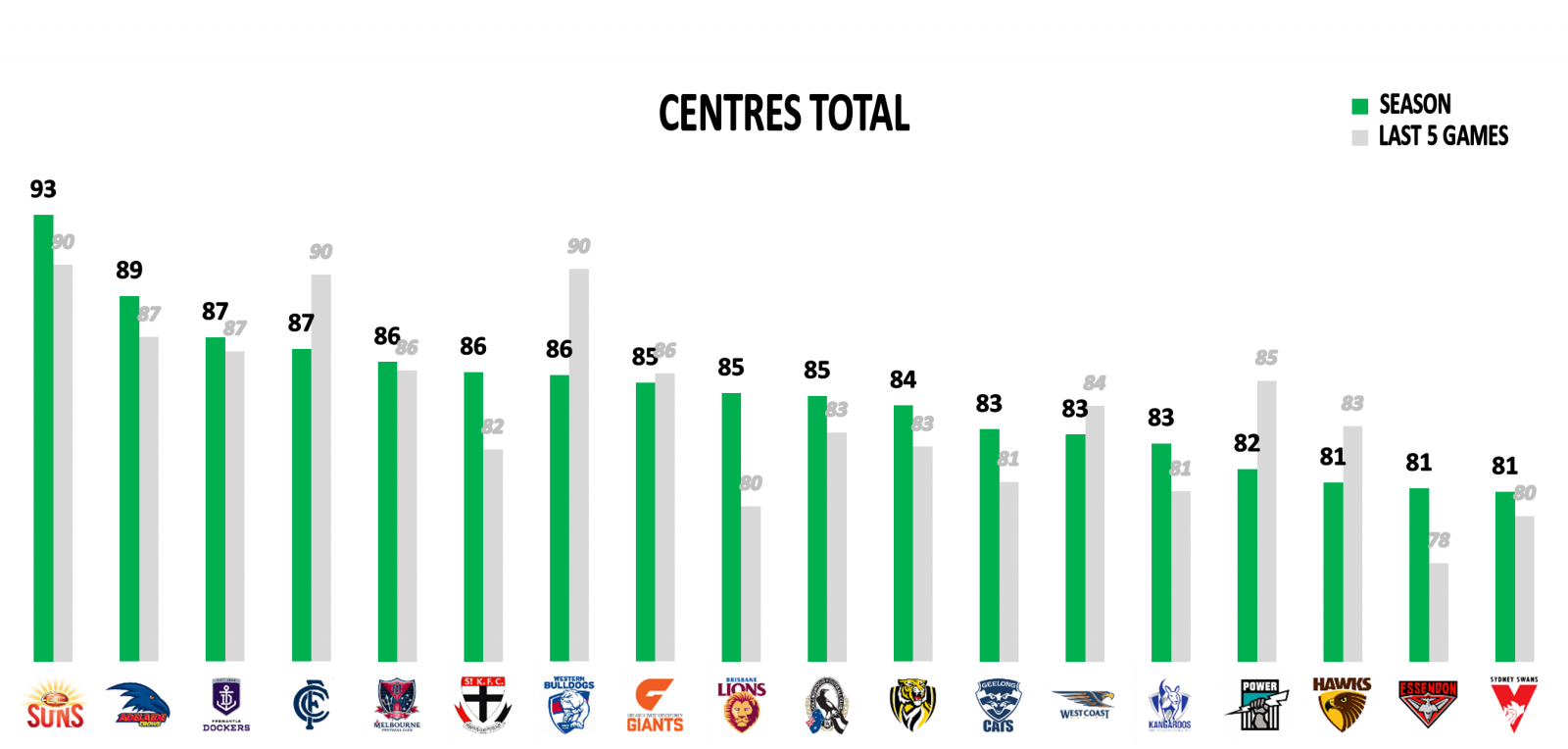 Essendon vs Sydney Cheat Sheet
The cheat sheet below gives you everything you need to know to help you build your DFS line-ups for Essendon vs Sydney on Friday Night.
The "Value" figure is especially important for DFS players as it provides an estimate of a player's worth to your team by comparing their projected score with their price. Ultimately, if you can fit more good value picks into your team, you're giving yourself the best chance of success.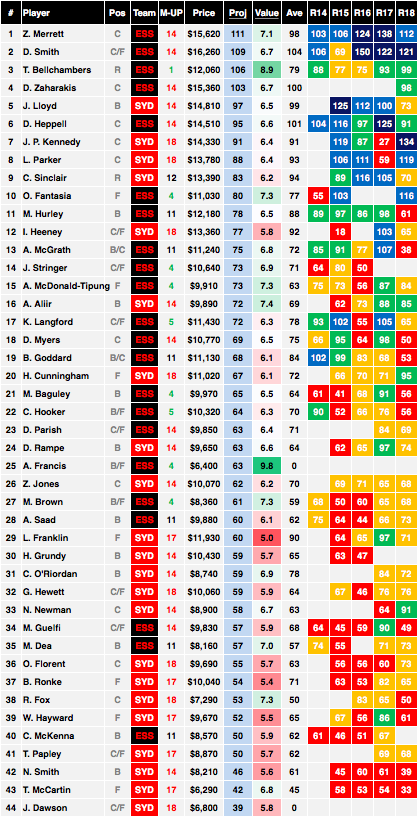 All of the stats and information used in this article has been provided by the team at Fantasy Boss - one of the pioneers for DFS data in Australia. Remember that all projections are merely based off the statistical data provided and we can not guarantee player scores or success in your DFS contests, but we think this information should give you a good head start! Good luck!