daily fantasy sports articles
Crunching Numbers: Round 20 Richmond vs Geelong AFL DFS Lineup Tips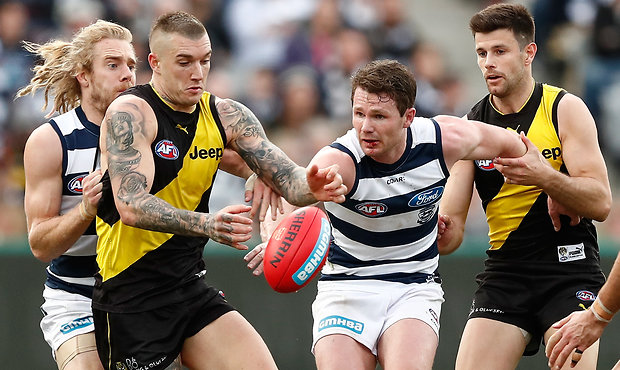 We're set for another instalment of one of footy's great modern day rivalries on Friday night with the Tigers hosting the Cats at their fortress that is the MCG. The Cats need to continue their winning ways to stay in the finals mix, while the Tigers are looking retain top spot and keep their home winning streak alive.
DFS sites across the country have provided us with some massive contests for Friday night. Draftstars have a huge $30,000 contest on, Moneyball have their own $5k tournament, while PlayON are running qualifiers for their $100k end of season Supercontest.
As always, Fantasy Boss have crunched the numbers to provide you with some great tips for your fantasy teams, so check out all the best plays for Friday night's match below.
Richmond - Last week vs Collingwood and last time vs Geelong
There were some interesting statistical anomalies in last week's game between Collingwood and Richmond. Despite the score line heavily favouring Richmond, four Magpies gathered 30+ possessions compared to Richmond's zero, with Grigg and Edwards each gathering a team high of just 22 possessions. And it was not too dissimilar Fantasy scoring wise, five magpies scored 100+ points compared to Richmond's zero. Overall Collingwood outscored Richmond in total fantasy points 1629 to 1476. This is not an anomaly with Richmond's game style in play. Go back just one week further and St Kilda outscored Richmond 1551 to 1497 despite a 54 point drubbing.
Interestingly, Richmond played Geelong at the MCG just 6 weeks ago in Round 13. In that game, Geelong had 3 x 100+ scorers compared to Richmond's zero!
What does all of this mean? Even if you think Richmond romps to an impressive 19th straight win at the MCG, Geelong players are well and truly still in the frame to perform well in DFS.
Ruck battle
Both main ruckmen are priced exactly the same, so we've gone a little deeper to see where the value lies. The recent form suggests that Stanley may be the go-to big man in your DFS lineups. Richmond have been leaking points to rucks all season and are currently equal 2nd in the points conceded to rucks category. It doesn't look like changing anytime soon either, with Grundy going huge for 147 against the Tigers last weekend. Meanwhile, recent scores against Stanley have been quite the opposite:
Round 19: S.Martin 77
Round 18: M.Gawn 91
Round 17: S.Jacobs 77
Last time they met (Round 13):
Stanley top scored for Geelong with 113, while Nankervis struggled on his way to 58. Stanley won the hit-out battle 34 to 29.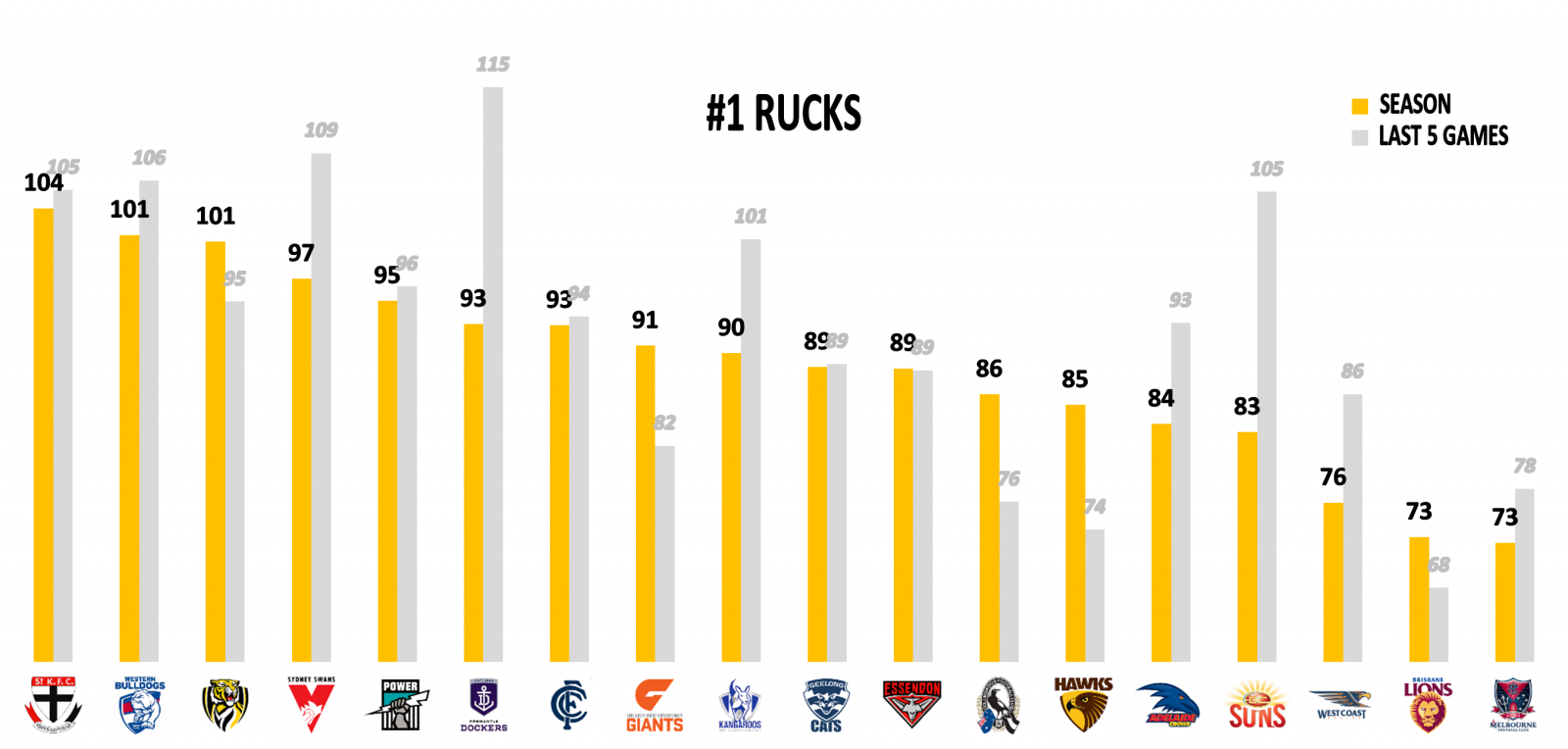 Backs vs Geelong
Jayden Short shot himself in the foot kicking two goals in two minutes in the first quarter last week. Nathan Buckley, rightly so, blew a gasket and the Collingwood forward line were put on notice to limit the Tigers potent half backer. This week Short comes up against the DFR FB 5th ranked team to score on for defenders. Similarly damaging backs such as Jake Lloyd (120), Jack Crisp (147), Kade Simpson (124) and Rory Laird (122) have loved this match-up and unless Houli is named, Short should be primed to cash in.
Last time they met (Round 13):
Top 3 Richmond scorers were defenders:
Valstuin 98
Conca 92
Rance 89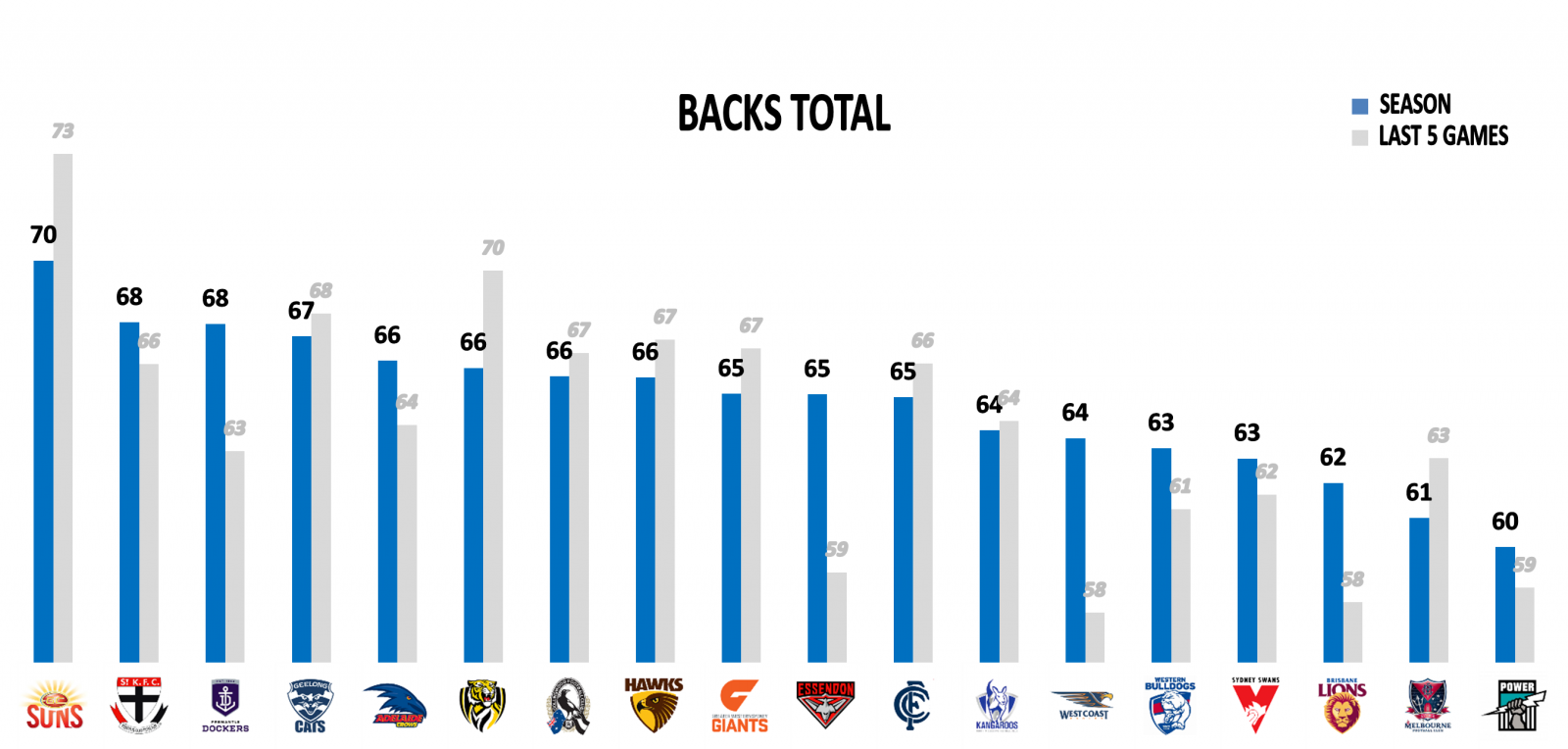 Joel Selwood
At the conclusion of Round 16, Joel Selwood was averaging 109 for the year and his last three games had produced scores of 113, 120, and 127. Ultimately, his form was too good for opposition coaches to ignore. Since then he has been tagged in Round 17 for 73 and Round 18 for 70. So much was the attention that he was receiving, Selwood was moved to the backline to avoid it last round. Not an ideal move for a premium scoring midfielder and hence the 64 points he dished up. But will things change this week? Keep an eye on selection looking for true defenders named to cover the loss of Tom Stewart. If this eventuates and team balance has Selwood back to playing midfield, load up! Richmond do not tag, Selwood has a reduced price on the back of his Last 3 games and as outlined above, opposition players have the ability to go big no matter what happens with the score.
Last time they met (Round 13):
J.Selwood 113.
Zac Tuohy and Lachie Henderson
When there is an injury to a significant role player such as Tom Stewart you should always be looking for the next man up. Who will fill his role and hence receive a scoring bump. Touhy and Henderson are at opposite ends of the pricing model but both can offer value here. Tuohy is in great form, averaging 92 over his last 5 games, which is +9 on his season average and will see an increased usage with the loss of his fellow defender. Henderson hit back with a 64 last week to go at 12.8x value and still remains nicely priced at $5,930. With two games under his belt, he should continue to creep closer to his respectable season averages of 70 for 2017 and 69 in 2016. Again, keep an eye out on team selection for other value plays replacing Stewart.
Prestia replacement
With Prestia ruled out due to a rib injury, your next port of call is deciding who receives his midfield minutes. Jack Higgins has enjoyed his time further up the ground in recent weeks with 4 of his top 5 fantasy scores coming in the last 5 weeks. Extended time in the middle could see him well on the way to a value score.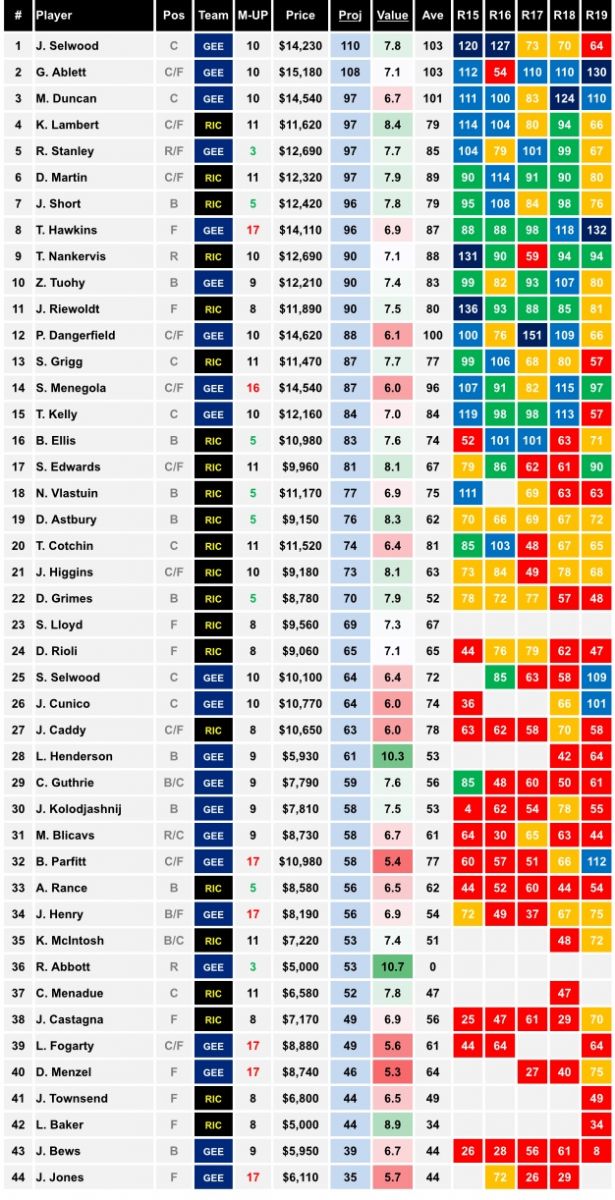 All of the stats and information used in this article has been provided by the team at Fantasy Boss - one of the pioneers for DFS data in Australia. Remember that all projections are merely based off the statistical data provided and we can not guarantee player scores or success in your DFS contests, but we think this information should give you a good head start! Good luck!