daily fantasy sports articles
Crunching Numbers: Round 22 Richmond vs Essendon AFL DFS Lineup Tips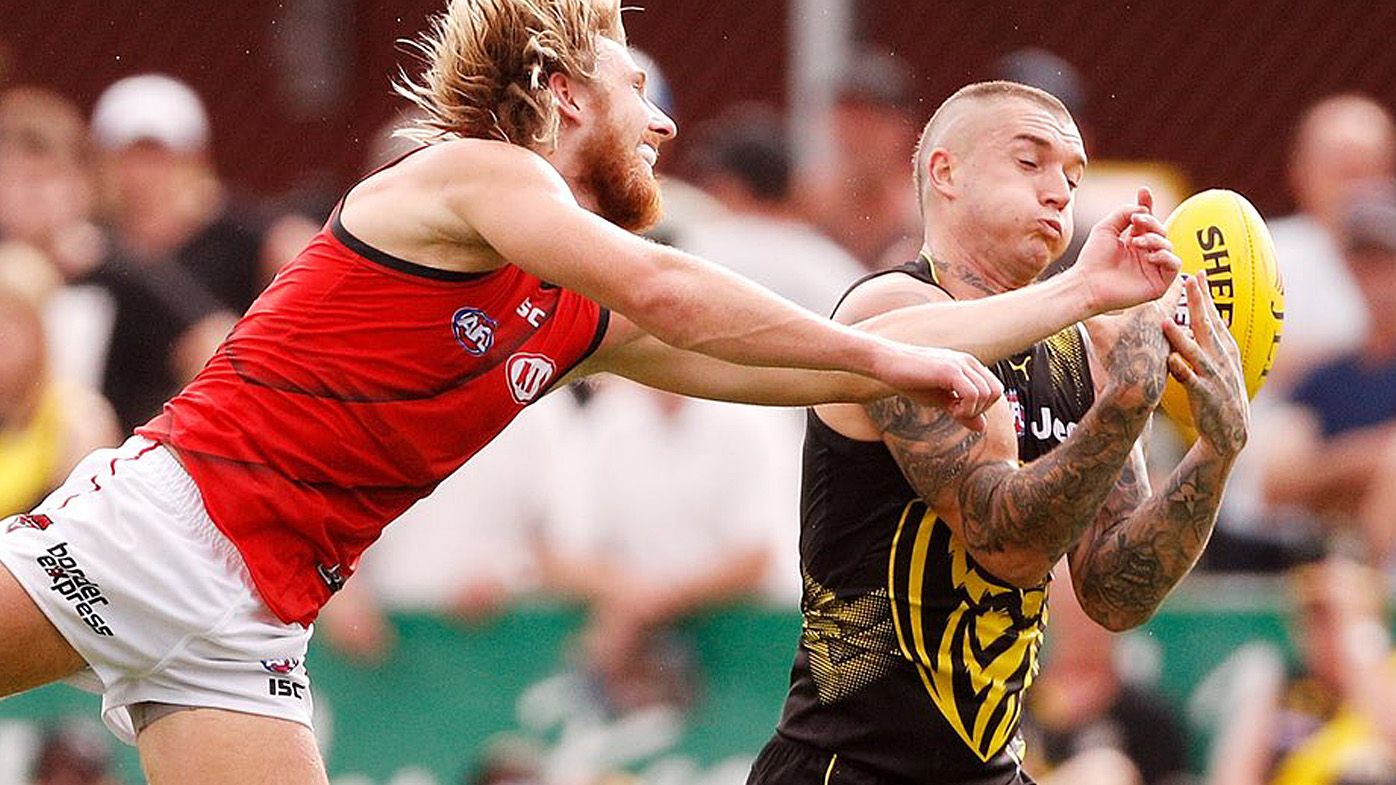 Round 22 of the 2018 AFL season begins on Friday night with an absolute blockbuster between Richmond and Essendon at the MCG. The Tigers are looking to finish off the season strongly and can solidify their position on top of the ladder with a win on Friday, whilst the Bombers need to win to hang on to the slimmest of finals hopes.
For what should be a Friday night thriller we are presented with some tough Daily Fantasy AFL match-ups. There are two key things you will need to keep in mind because of this. Firstly, often match-ups can go out the window in these types of games, however I would still lean towards backing the numbers rather than going completely mystery. Secondly, with the evenness across many areas and the unfavourableness of quite a few positions, you should be hunting value and looking for under-priced players.
If you haven't already, make sure you check out our article about the huge AFL $100,000 Super Contest this weekend at PlayON! Friday Night's match is one of the last chances to earn yourself a spot into the event through their big 10 Seat Guaranteed Qualifier so make sure you get involved!
As always, we give a big thanks to Fantasy Boss, who have crunched all the numbers to help you prepare your Friday night PlayON fantasy team. Check out all the best plays at PlayON below.
Ruck Battle
Assuming Nankervis comes straight back in after a one week rest, you have the big Tiger at $14.8m vs Bellchambers at $13.0m. Soldo, last week's stand in, is a decent tap ruckman and offered a lot of resistance in keeping Witts (who was on a last 5 tear of 108) to just 80 points. Unfortunately, it's not the same story for the Nank, and although his ferocious style went a long way to winning a premiership, his fantasy defence is not great. The perfect example of this is last time they met in Round 11 this year. Bellchambers had 39 hitouts on his way to 109 compared to Nankervis' 17 hitouts and 85 points. And this was in a 71 point Richmond win.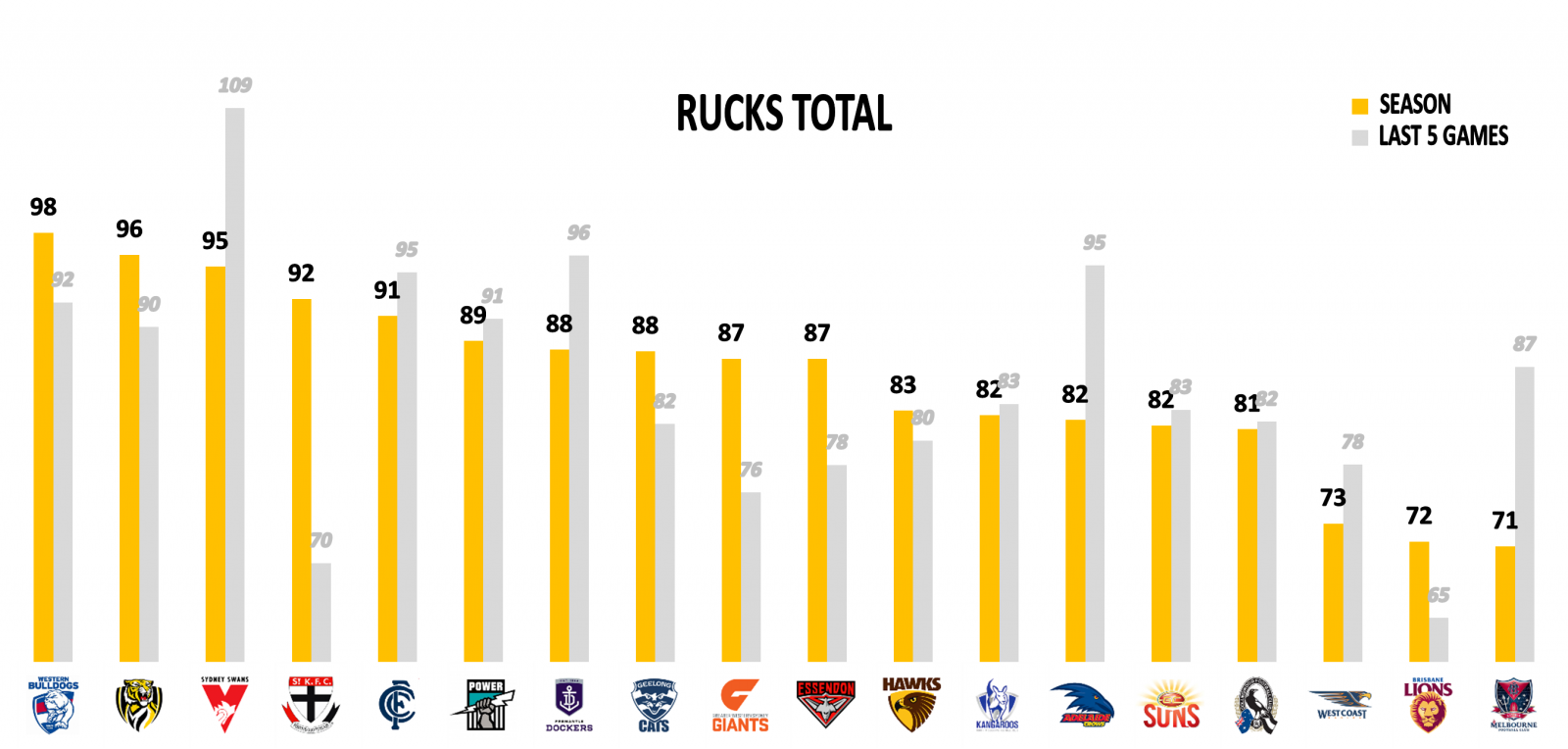 Backs vs Richmond
Backs playing against the Tigers is starting to sneak on to our radar and it is the only other highly favourable match-up by the data, with the other being the Ruck difference outlined above. The top scoring defender against Richmond is averaging a juicy 106 points and some recent +100 scores really show the ceiling we could be dealing with here.
R21: Jack Bowes - 116
R19: Tom Landgon - 103
R18: Seb Ross (playing half back) - 121
R17: Lachie Whitfield - 150
R16: Rory Laird - 110
R15: Jake Lloyd - 125
Last week against St Kilda was a great insight into Essendon defenders versus a nice back match-up, so it was no surprise to see McGrath (+40), Hurley (+14), Francis (+14) and McKenna (+12) score well above their season averages. Goddard and Saad were both injured early. Look for these same players to cash in, with our only concern being Hurley's price tag of $13.8m at PlayON offering fairly poor value.
Tough Match-Ups
By the numbers we are now left with the following match-ups for Points Against:
Forwards: Richmond 17th vs Essendon 16th
Midfielders: Richmond 11th vs Essendon 15th
Slim pickings, so let's turn to some other areas of analysis.
Travis Colyer ($6.8m) – With a 105 on the board two weeks ago you may have to take Colyer for his potential. He comes in at 8.2x on our value projections, which would be bang on with his average of 57.
Bachar Houli ($10.2m) – With his return from injury, Houli still sits at a very nice price. He's significantly cheaper than other defenders such as Vlastuin ($12.4m), Short ($12.2) and Ellis ($11.3) and arguably has the potential to outscore all of them. With Rance, Astbury and Grimes, who all average below 62, priced not too far behind Houli, value wise, he's easily the best pick of them all.
David Zaharakis ($11.4m) – Zaharakis is well and truly underpiced in comparison to his midfield counterparts of Merrett ($17.5m) and Heppell ($15.8m). On his day can offer just as much as both of these players and with this price cut he's looking ripe for the picking. He now has 4 games under his belt after returning from injury.
David Myers ($12.9m) – Myers is enjoying his increased midfield time. The Bombers want the ball in his hands and on his racking left boot, which bodes well for his fantasy scoring. He has a last 5 average of 92, which is +11 on his season average and is coming off a 135 last week.
Friday Night Cheat Sheet
The cheat sheet below gives you everything you need to know to help you build your DFS line-ups for Richmond vs Essendon on Friday Night.
The "Value" figure is especially important for DFS players as it provides an estimate of a player's worth to your team by comparing their projected score with their price. Ultimately, if you can fit more good value picks into your team, you're giving yourself the best chance of success.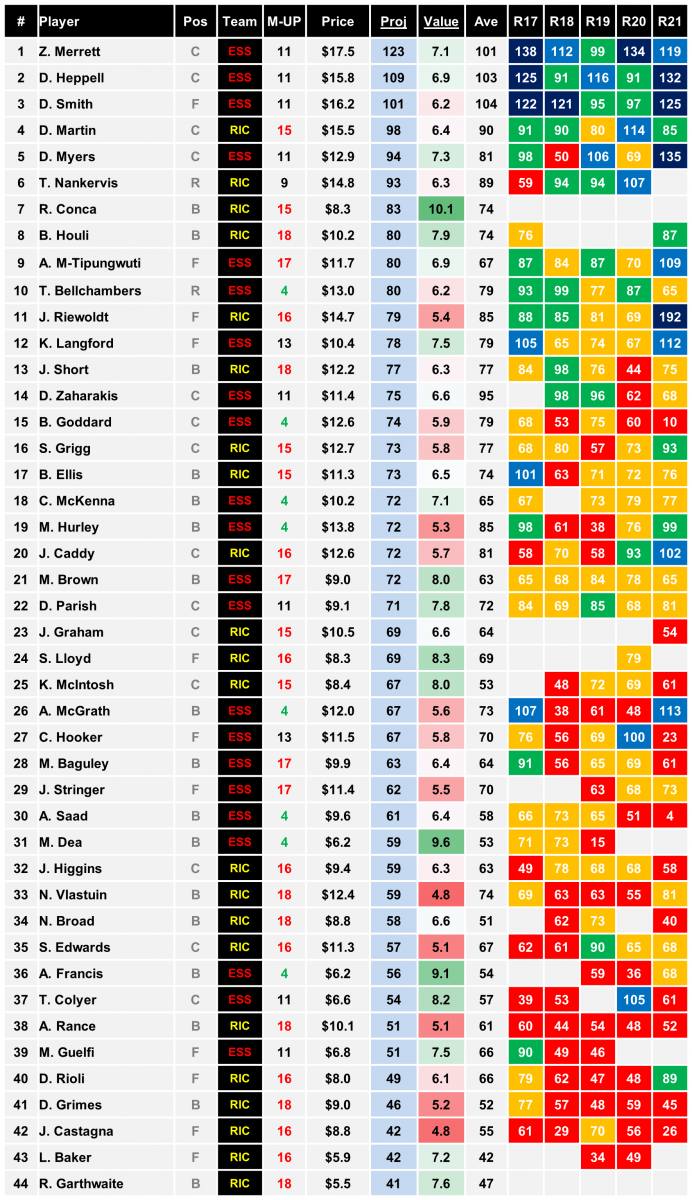 All of the stats and information used in this article has been provided by the team at Fantasy Boss - one of the pioneers for DFS data in Australia. Remember that all projections are merely based off the statistical data provided and we can not guarantee player scores or success in your DFS contests, but we think this information should give you a good head start! Good luck!