daily fantasy sports articles
Daily Fantasy Rankings acquires Fantasy Boss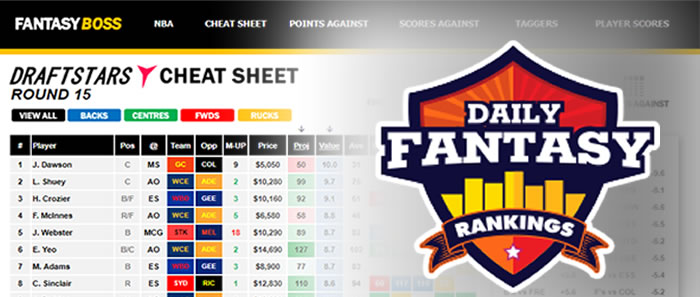 Daily Fantasy Rankings has today announced the acquisition of leading daily fantasy sports data and statistics website Fantasy Boss. The partnership will see Fantasy Boss continue to deliver their popular statistical analysis through the Daily Fantasy Rankings platform.
Fantasy Boss has been an innovator in DFS data in Australia since 2016 and the team at Daily Fantasy Rankings are delighted to have them on board.
"We're thrilled to be able to partner with the guys at Fantasy Boss and bring their statistical expertise to the DFR community," said Daily Fantasy Rankings co-founder Andrew Jeffreys.
"The addition of their stats-driven analysis will add another layer to the daily content that we provide our followers, and help continue the growth that we have enjoyed over the last 12 months as a market leader in the Australian DFS space. We believe this partnership will truly make DFR a one-stop shop for daily fantasy sports in Australia."
The team at Fantasy Boss are also looking forward to the opportunity to bring their information to a new audience.
"Fantasy Boss is very excited to partner with Australia's leading hub for daily fantasy sports, Daily Fantasy Rankings," said Fantasy Boss co-founder Darren Mumford.
"This partnership will allow us to continue to provide our revolutionary data-driven statistics and content to an audience that is competing day-to-day to move up the DFR rankings leaderboard."
"We look forward to working with DFR and hope to see our loyal and passionate Fantasy Boss followers move up the rankings!"
Fantasy Boss will be providing daily statistical insights for the remainder of the AFL season, kicking off this week with the top of the table clash between Richmond and Sydney. Readers will be able to take advantage of "cheat sheets", graphs, charts and supporting analysis to help them construct their fantasy AFL lineups and maximise their chance of success across all of the leading DFS platforms in Australia.