daily fantasy sports articles
Daily Fantasy Rankings Podcast #003 - Interview with Draftstars Jackpot Winner robmannus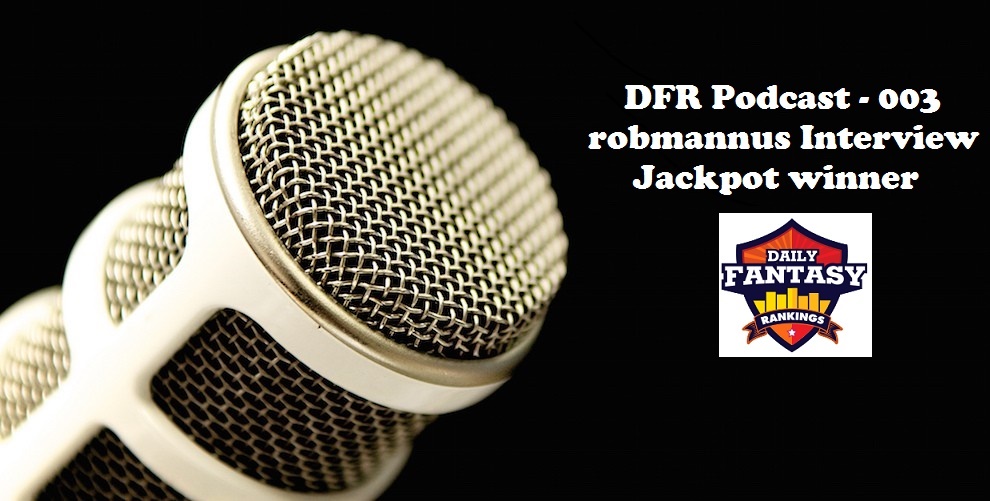 The Daily Fantasy Rankings Podcast is back for the much-anticipated Episode 3 where we have a chat with newly anointed Draftstars legend 'robmannus'.
In Episode 3, host Adgee returns to have a chat with Matt 'robmannus' robertson, who was the lucky winner of the huge AFL 990 Jackpot Target at Draftstars in Round 15.
The Jackpot had been rising since DFR member and current 2nd-place holder on the leader board Tryanhit scooped it in Round 7 and had maxed out at just over a whopping $34,000 before robmannus swooped in.
Adgee discusses all things Daily Fantasy with Matt including how he started out playing AFL fantasy like most of us do by playing in a Dreamteam or Supercoach league with our mates, and his journey to eventually being a weekly player at Draftstars.
"Those are probably what started the fantasy addiction I guess, I was all over Dreamteam," Matt said. "Which I think is pretty common for most fantasy players"
They go on to discuss some of Matt's strategy when it comes to entering his teams on the weekend and many would be surprised that he doesn't enter the max amount of teams every tournament and rarely has more than five teams entered on any day.
"Typically for the three main slates over the weekend on Draftstars I'll enter between 1 and 5 teams depending on how much I'm going to watch the games. I'm more of a casual player in that regard"
And of course, Adgee discusses the massive Saturday for robmannus, which saw him win not only the $34,000 in the jackpot 990 tournament but also take out the $4,500 from the Saturday $15 tourney.
Matt is quick to point out how lucky he was and reassures that although he does do some research before entering his teams, you never know what can happen on the day and you have to be in it to win it.
The guys recap the team that scored 1001 points, going through every position and some of the reasons why Matt decided to go with the player.
"There's some random names there unless you're a real follower of footy. I think Gary Rohan is probably the outlier, he wouldn't have scored close to that in his career!"
The boys wrap up the chat by discussing robmannus' plans for Daily Fantasy moving forward now he has accumulated a handy bankroll and leaves us with a few parting words of advice for aspiring AFL Daily Fantasy players.
You can listen to the podcast in full on Soundcloud using the media player below or you can find the Podcast on iTunes here!
Please feel free to head to our Australian daily fantasy forum to discuss episode three of the DFR podcast, while you can also click here to suggest future DFR guests who you would like to hear from.

Want a shot at winning big money like robmannus?
If you don't have a Draftstars account, but turning $1 into over $30,000 for playing fantasy AFL sounds like your kind of thing, click here to create an account and have a crack! And if you already have an account, make sure to get ranked here at DFR and find out how you shape up against the best Daily Fantasy players in Australia!

Follow Daily Fantasy Rankings on Twitter @RankingsDFS