daily fantasy sports articles
Daily Fantasy Rankings Podcast Launches with Jayk123 Interview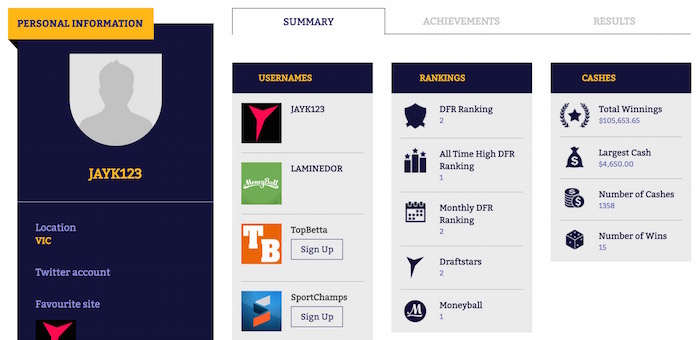 We are proud to announce the inaugural Daily Fantasy Rankings Podcast - Australia's first podcast dedicated to the Daily Fantasy Sports industry in this country!
Episode one of the DFR Podcast features the first of a two-part interview with Australian Daily Fantasy regular - and the current 'King of the Mountain' on the Daily Fantasy Rankings leader board - "Jayk123".
Over the course of a two part hour-long chat, Jayk123 discusses how he got started playing DFS in Australia, why he loves DFS, a little bit of strategy, issues such as multi entries and how he sees the Australian DFS scene evolving over the next few years.
Hosted by DFS enthusiast and broadcaster Adgee, the DFR Podcast is set to be the go-to place for discussions around the burgeoning DFS industry in Australia. Adgee will conduct interviews with key industry personal, as well as the most important aspect in the continued growth of Australian DFS - you, the players.
"Having been involved in poker broadcasting during the massive boom in that industry, I am excited to be part of another passion of mine which is Daily Fantasy Sports" Adgee said.
Like in the first episode with Jayk123, the focus of the DFR Podcast will be extensive one-on-one chats with people involved in the DFS industry, while Adgee will also bring a personal insight into the world of DFS and update listeners on what is happening at Daily Fantasy Rankings.
"DFS is blossoming in Australia, but it's still so new which means at the moment there is a lack of information out there," Adgee added. "With the DFR Podcast we are hoping to bring the Daily Fantasy community together by getting to know key people within the industry."
"What better person to start our interview series with than Jayk123 who since launching Daily Fantasy Rankings has dominated at the top of the leader board and who has an interesting insight into DFS in Australia from the perspective of a high-volume player"
You can listen to DFR Podcast Episode 1: Part One of Jayk123 Interview below and always find episodes here at Daily Fantasy Rankings, while the DFR Podcast is also available on iTunes - link on the button below.
Please feel free to head to our Australian daily fantasy forum to discuss episode one of the DFR podcast, while you can also click here to suggest future DFR guests who you would like to hear from.

Follow Daily Fantasy Rankings on Twitter @RankingsDFS