daily fantasy sports articles
DFS Strategy: Dynamic Lineups with Horse Racing on Draftstars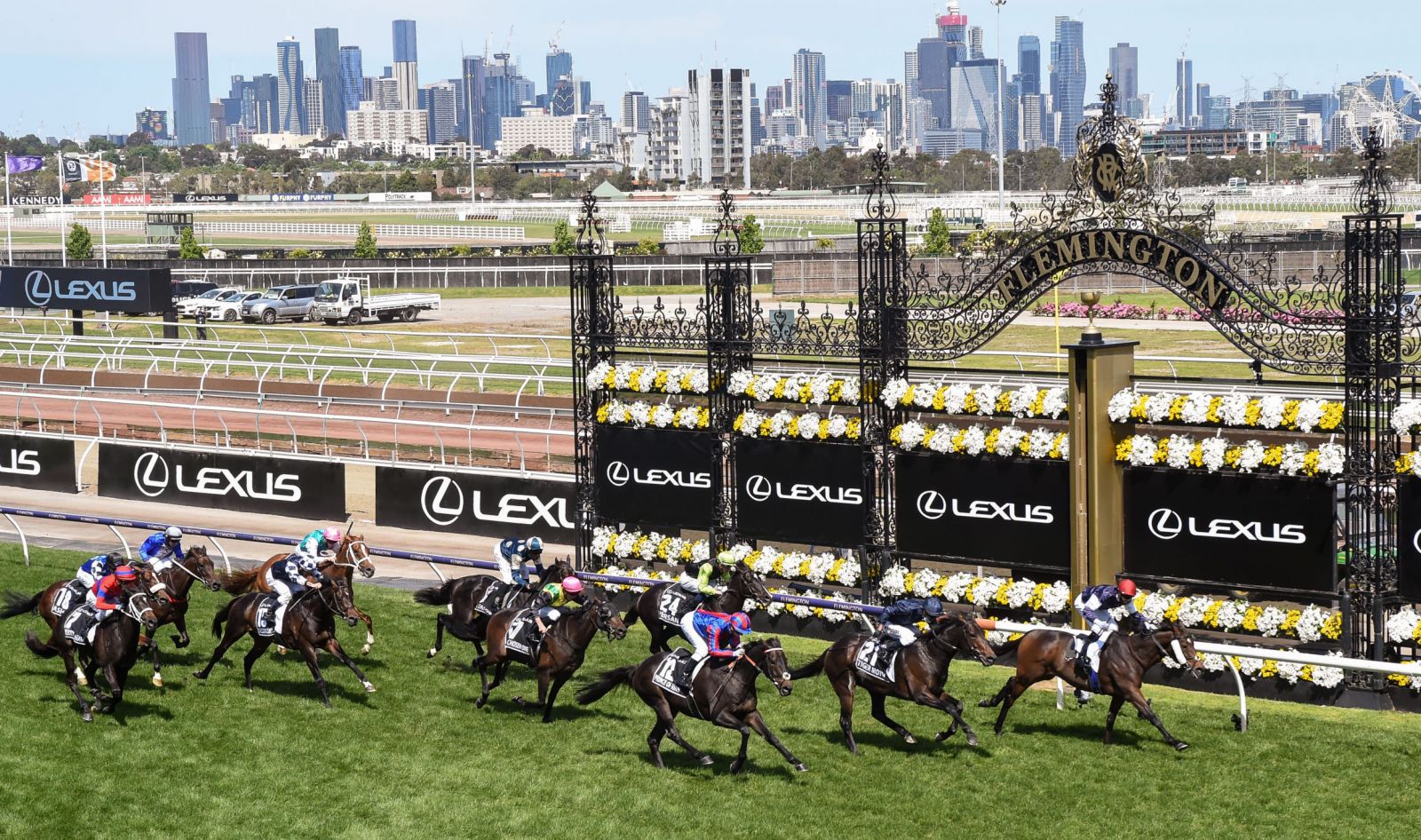 Horse racing is the "Sport of Kings" but it's also one of the most difficult for sports betting punters to show a profit over the long term. It's the sort of sport that anyone can throw a bet on for some fun, but if you want to win consistently, it requires a lot of study, knowledge and dedication.
The good news is that Draftstars has levelled the playing field somewhat with their Horse Racing contests. You don't have to study for hours to be a winner on Draftstars as there's a couple of key strategies that can be employed to help recreational horse racing fans become profitable.
Here's a few tips to help you manage your lineups and win cash on Horse Racing at Draftstars.
Set & Forget vs Dynamic Lineups
It may not be obvious at first, but there is great flexibility on Draftstars with how you approach a Horse Racing contest.
The easiest and most straight-forward way to play is the "Set & Forget" approach. That is, you select who you think will win each race when you enter the contest and then don't look at the lobby for the rest of the day. It's the easiest way to play, and for casual racing players, it's the most common approach.
However it's not the most optimal strategy.
What if one of your horses is scratched? What if it starts to rain? What if there's a track bias? What if you're a long way away from the tournament leaders?
If you want to elevate your DFS game with Horse Racing, then a better approach is to be dynamic with your selections throughout the day to allow you to pivot when different scenarios arise.
If your selections in early races haven't won, you'll probably find yourself a fair way behind the leaders in the Draftstars contest lobby. So in order to catch them, you'll need to look wider in each race, that is, horses with bigger odds. Yes, it's less likely they'll win the race, but if they do, you catapult yourself into the big prize money. If you stick with the favourites, your horse might win the race, but you might not even gain enough points to reach a min-cash, so sticking with the favourites in that spot is a complete no-win situation!
Conversely, if you find yourself sitting pretty on top of the leaderboard then you might like to put in a defensive blocking selection. Rather than taking something at bigger odds, you might want to just back the favourite to ensure those close behind can't jump ahead of you if it wins. You're then likely to be in a strong position to win the contest.
Having flexibility with your selections based on the contest leaderboard is a skill that all Horse Racing tournament players should try to develop.
Swap Feature
So how do you change your lineups during the contest? By using the Swap tool on Draftstars.
Some Draftstars players will already be familiar with the Swap tool if there was a late out in your AFL, NRL or NBA lineups. The tool is even easier to use for Horse Racing as you don't have salary considerations at all.
The Swap tool can be found on the My Teams page. You simply select the race and then the horse that you want out, and choose which new horse you want to bring in. It's as simple as that!
The Swap tool makes it easy to chop and change your selections throughout the day. So if track conditions change, or there's a horse scratched, or you need to select more of a roughie to jump up the leaderboard, then this is how you do it!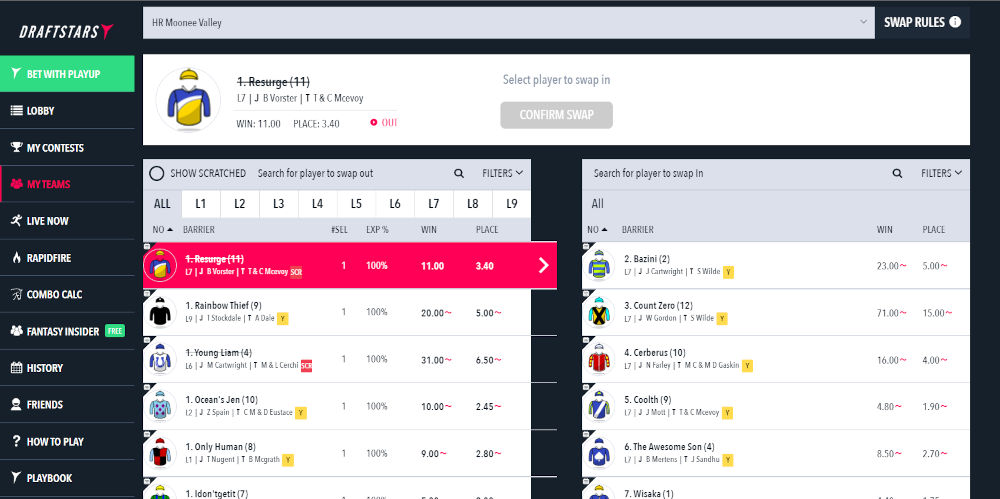 Single Entry vs Multiple Entries
The next step to elevate your game is to go from a single entry into multiple entries, and there is some merit to this strategy in Horse Racing contests in order to cover more of the rarer outcomes. Finding those rare roughies is a quick-fire way to the top of the leaderboard.
However managing multiple entries with the Swap tool does take some thought and planning.
If you put in 10 entries all with the same lineups, then you're going to find it impossible to be flexible. You're not going to be able to select different horses for different situations as you can only swap one horse for another across all of your lineups.
So the key to flexible lineups is to make sure that you select unique horses in all races (where possible) with your entries at the start of the day. Obviously if you're entering 10 times and there's only 8 horses in a race, you're not going to be totally unique, but you want to get as close as possible for maximum flexibility. Think of the selections purely as placeholders. It doesn't matter who you pick, or even if they are scratched, just make unique selections when you enter.
Then when each race rolls around, you'll be able to swap and change your selections through your lineups to something optimal. Perhaps your leading teams will stick with the favourites, perhaps your struggling teams might swing for the fences with roughies, or maybe you'll go all in with all your lineups on a moral who can't lose!
Whatever your approach, in order to improve your Horse Racing tournament play, you want to have the most control over your own destiny as possible. To do this, you want to be watching the races and be flexible and dynamic with your lineups to refine your strategy throughout the day and win the big bucks!
Always remember to gamble responsibly. When the fun stops, stop. If gambling is having a negative impact on your life, seek support at
Gambling Help Online
. 18+ only.