daily fantasy sports articles
DFS Strategy: Late Outs, Push Notifications and Player Swap Strategy at Draftstars

Playing daily fantasy sports is a lot of fun and can lead to some great highs when your fantasy teams are going well. However undoubtedly the worst situation in DFS occurs when you have a late out that completely ruins your team. Having a big fat donut in your lineup spells certain doom for your team which is just no fun at all.
Often it's hard to keep track of the latest news for team changes. Twitter is a great resource for the latest updates, but sometimes life gets busy and we're unable to always sit there and refresh Twitter feeds.
Well now Draftstars have solved the problem for you with the launch of Push Notifications for late outs through the Draftstars app!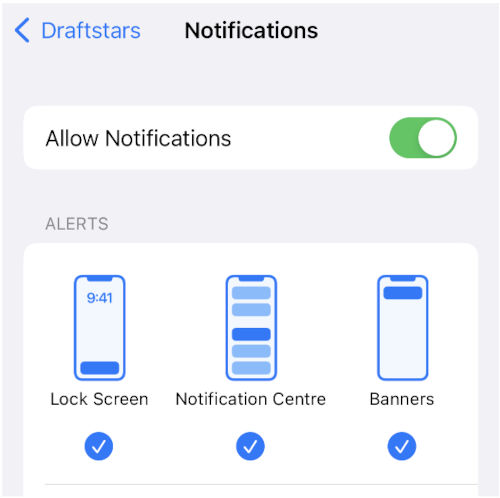 To receive the notifications, you'll need to enable them for the Draftstars app in your phone settings for either Android or iPhone.
When a player is labelled as "OUT", a push notification will be sent to your phone before the contest starts and you can act accordingly.
These labels are provided by the Draftstars third party data providers, so they may not always be 100% accurate, and they may not be able to cover instances where a player is a very late out just moments before the start of a match.
So what should you do if you receive a notification that there's a late out in your team?
If the contest hasn't yet started, you have the option to completely edit up your lineup. An easy fix is to just swap for a similarly-priced player but that might not be the optimal choice. If the injured player is significant, either in price or in the structure of your lineup, you may prefer to move multiple puzzle pieces around to account for the change to help build a better lineup.
If the late out is in the middle of a multi-game slate, then you're a bit more limited in what you can do. You can't edit other players in your team, but you can do a straight swap using the Player Swap tool on Draftstars. You can choose to swap your injured player for another player in that position of the same, or cheaper, price. You will lose any leftover budget, which is not ideal, but using this tool to make a late change is MUCH better than a donut in your score!
While you are limited, there's some strategies you can still consider with the Player Swap feature.
Firstly, if the late out is significant then think a little about what everyone else might be doing with the same decision. If there's an obvious swap, then the ownership of that new player is going to be higher than normal. You may like to go a little contrarian to the field and pay down a couple of spots to a new player who is cheaper, but likely to be less owned.
Also if it's a player who you have in a large number of lineups, you might prefer to spread that selection over a number of different players. Unfortunately, you don't have that flexibility to choose individual lineups, it's just a bulk swap tool. However the software will prevent you from swapping to a certain player if it breaches any of the other usual lineup rules.
For example, you might already have the maximum number of players from a certain team in some lineups, so Draftstars won't allow you to add another. You may also have the injured player in different positions in some lineups which prevent a swap to some new players. The Draftstars software will tell you how many lineups are swapped when you use the Player Swap tool. By keeping these restrictions in mind, you may be able to spread your lineups with a couple of different players which may be useful for you.
You can always swap a player if there's another available option. However you'll find things trickier on the last game of the slate, for players in more niche positions, and for the cheaper players, as there will be less alternative players to choose from if there's a late out. Always be wary if there's an injury cloud over a budget player in a late game, because if they are a late out, then you may have no one at all to swap to which would be curtains for your team!
Whether we like it or not, late outs do sometimes happen, but if you use the new push notifications feature from the Draftstars app, and get comfortable with the Player Swap tool and its nuisances, then you'll never have to eat donuts in your lineup again!