daily fantasy sports articles
DraftKings 2018 FIFA World Cup Guide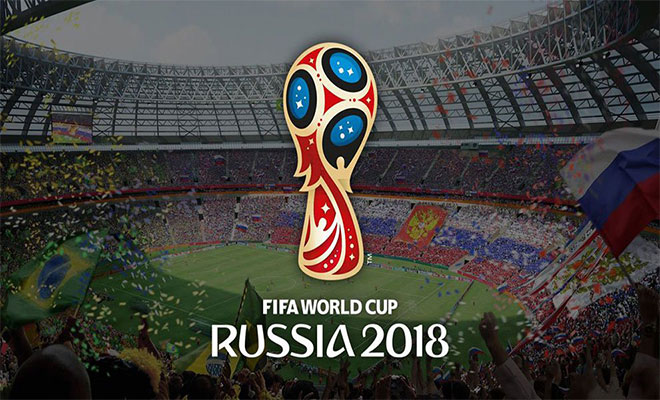 Unless you've been living under a rock, you'd be aware that the 2018 FIFA World Cup is about to get underway in Russia. You may also be aware that DraftKings, which is one of the world's most popular DFS sites, are now live in Australia and have some great contests with HUGE cash prizes on offer for the World Cup. Here, we'll try and bring you up to speed with all things DraftKings, by offering a bit of a 'How to' guide on their World Cup contests and scoring systems, as well as what you should be thinking about when making your team and the sort of competitions you can get involved in if you're a beginner.
Contests
As you can see below, DraftKings have a range of contests on offer, so you'll be sure to find one you're interested in.
For $20 entry, you could buy your way into the $150K WORLD CUP KICKOFF tournament. This will get underway on Friday, 15th June and will feature the first triple header of World Cup action, with the top 1900 collecting cash prizes and a huge $30k prize to the winner!
If you're more interested in forming a team for one specific game, then there's always contests running for that too. For example, the WC Showdown $40K tournament is running for the opening match between Russia and Saudi Arabia. This is a $10 entry competition with the top 1040 collecting cash prizes and a big $10k prize to the winner!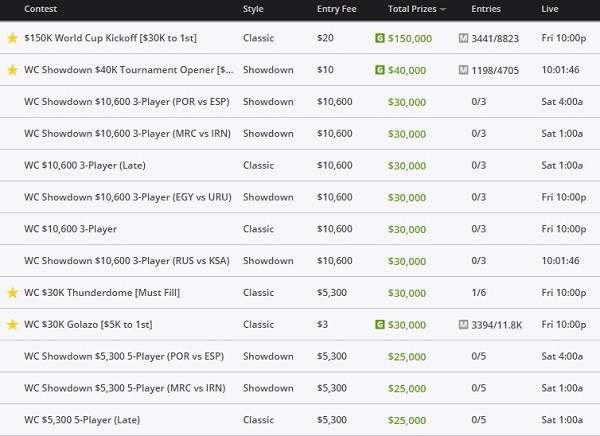 Scoring System
The scoring system for the World Cup contests at Draftkings will differ between the 'Classic' tournaments and the 'Showdown' tournaments. The Classic mode is generally the most popular contest among fantasy players, so we've added the scoring system for the Classic format below. If you're going to tackle a Showdown contest, then make sure you check out how players generate scores by clicking on the 'Full Contest Details' button in the tournament lobby.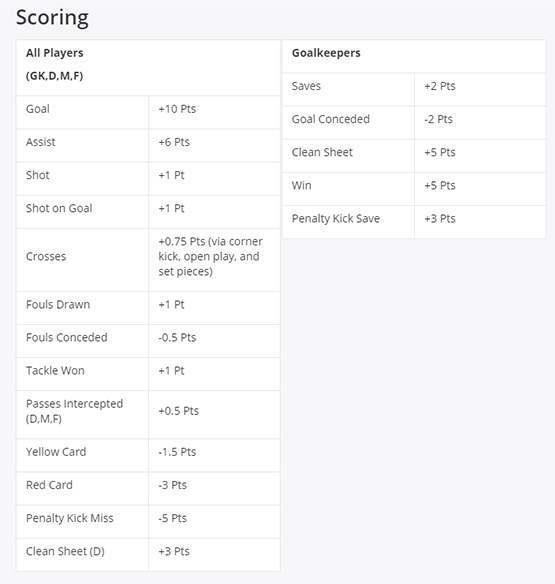 Picking Your Team
Most of you would be familiar with how to pick your fantasy team and the sort of things to think about when tossing up between certain players. However, with the huge movement in DFS lately there's a lot of new or less-experienced players in the community, and for those people we've come up with a few tips to consider while picking your team for World Cup contests at DraftKings.
- Make sure your players are in the starting 11. It's a pretty straight forward one, but team sheets will usually be released less than 90 minutes prior to kick off, so make sure you stay on top of it.
- Have a strategy. Make sure you have some thinking behind what sort of team you want to build. Are you going to load up on premiums and then have basement priced players? Maybe you want to build a mid-priced team? Is there a match that you think will be one-sided, therefore you might want to have more players from that team? Have a reason behind each player selection.
- Don't rush into it. If you're a beginner to DraftKings or DFS in general, we recommend dipping your toes in to some of the free or cheaper entry tournament until you get the hang of it.
Below is a photo of the lineup requirements for the $150K WORLD CUP KICKOFF tournament at DraftKings.