daily fantasy sports articles
Draftstars Biggest Bash The Right Concept For "Clangers"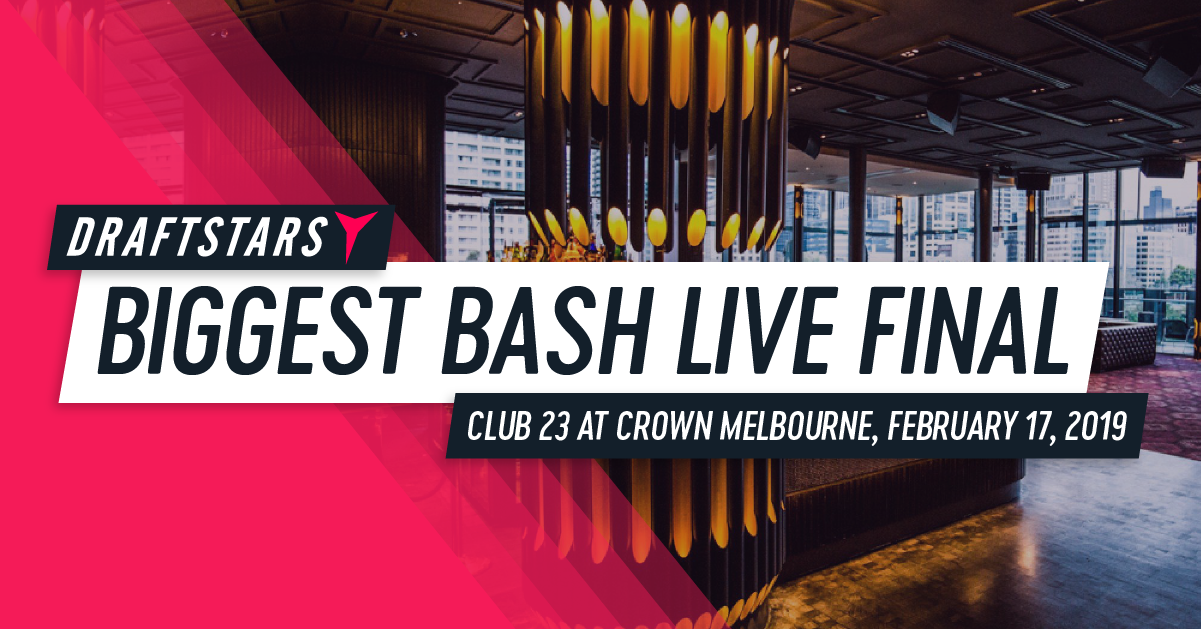 One of the most popular and successful Australian DFS players has joined the impressive line-up of qualifiers for Draftstars Biggest Bash. Andrew Cottman aka "Clangers" booked his ticket by taking out the win in the very exciting match between the all-conquering Hobart Hurricanes and the Perth Scorchers. Andrew has an impressive ranking within the top 20 on the Daily Fantasy Rankings with over $200,000 in winnings on both the Draftstars and Moneyball sites. A couple of tweets from Andrew also unearths some great success on DraftKings as well.
Been grinding NBA and NFL dfs on DK since it opened for us, so im pretty pleased to get a nice win today. Great to see other Aussies doing well also! pic.twitter.com/hGyABZR6tb

— Clangers (@Cottmaa) October 28, 2018
We caught up with Andrew after his win to learn more about the man behind the account and his qualifying experience.
Andrew told us that AFL is still king for his DFS play but he also enjoys NFL and Cricket, with NBA a work in progress.
"I am learning more and more each year… After becoming disillusioned with the corporate world, I resigned in mid 2018 and am spending more time at home with my kids (3,11 & 12). With the support of my wonderful wife I'm giving DFS a red hot go… let's call it a 'Proof of Concept'".
We asked the father of from 3 from Brisbane the keys to success in booking his ticket:
"I've played 10 teams in each BBL qualifier so far as this event was something I had targeted as being a bit special. My strategy revolved around the seamers having a good day, particularly as a picture of the wicket went onto twitter and it looked particularly green. I was keen to fade Darcy Short (well I played him in a few teams), as I thought he would be well owned. Short was a chance to fail given that I favoured the bowlers. I played Ashton Turner as I believed he may bowl a couple of overs (he didn't!). I played Sam Whiteman as a point of difference, but mainly because I thought he correlated nicely with the quicks getting some nicks behind. He didn't even keep as he injured himself batting! So, to be perfectly honest, the strategy didn't really play out like I thought, but I got a bit of luck with a nice innings from Whiteman. I always play some George Bailey and he made sense given that I was fading Darcy Short. Faulkner is always in the game and had a good one also."
Terrific insight there from Andrew, and his thought process highlights why he loves DFS and is giving it a real crack.
"I mainly love thinking through potential game scripts, and how they might influence the make up of your team. Cricket is a good sport for that."
With the game over in Perth in a late time slot following the Australian ODI, we asked Andrew if the late night sweat of his teams was worth staying up for:
"It was pretty late in Brissie when the match was winding up, and I was flicking channels with the Tennis. I watched Verdasco double fault on his match point attempt, thus changing the course of his match and going down to Cilic. It killed my tennis punt. I jumped on to Draftstars chat toward the middle part of the Hobart chase, looking for some words of comfort about the prospects of George Bailey and found them in the form of one "Parks12". He was pretty sure I had it locked up!"
With Sam Whiteman saving the Scorchers innings and Short failing, Clangers was in the box seat on the leader board. George Bailey and James (The Phat Fish Finisher) Faulkner then guided the Hurricanes to the impressive win in Perth, and in doing so guided Andrew to an impressive trip to Melbourne. With his ticket for the live final now in hand, who is going to be his "Plus 1"?
"I asked the wife if she wants to come with me, but she has selflessly offered to look after the kids that evening and take them to school on the Monday morning. I also mentioned that the event is likely to be a 'sausage fest', but as she reminded me she is a vegetarian. I'll bring a mate along."
On behalf of the team at DFR congratulations to you Andrew (and a tip o' the hat to you Mrs Cottman) and we look forward to your participation at the Draftstars Biggest Bash!
Want to join Andrew at Club 23, playing for a share of $150,000? Check out our full run down of the "Biggest Bash" contest and start playing the $2 qualifying tournaments running on every home and away match of the BBL08 season on Draftstars!
Have you qualified for the "Biggest Bash" Live Final and want to share your story with the world here on Daily Fantasy Rankings? Contact us or shoot us a message on Twitter and we will get in touch to share your story with the Australian DFS community!
Always remember to gamble responsibly. When the fun stops, stop. If gambling is having a negative impact on your life, seek support at Gambling Help Online. 18+ only.