daily fantasy sports articles
Draftstars Kayo $200,000 Live Final ticket winners from AFL Round 14

Eight more 'golden tickets' have been won by our qualifiers for the Draftstars $200K Kayo Sports Live Final brought to you by Colonial Brewery Company. This week's winners included: Mattylee, Chubs78, jbarrett16, JesseWhite, pidgey & lion4life. For 'Mattylee' and 'lion4life', this is their second and final ticket for the event. For seventh ranked DFR member 'jbarett16', the high finishes are now a distant memory after nailing his qualifier over the weekend. But for this week's edition of "Little Dogs" I focused on two DFS players in 'Warhead3', a school teacher from Brisbane, and 'Tbetta', an undergraduate in mechanical engineering from Perth.
Warhead's win is quite a remarkable one as he only played a single bullet. The problem though was he inadvertently played the $50 qualifier and not the $2 one which he wanted to play! Warhead has been playing Draftstars for the past 12 months as he is a massive A-League fan and was swayed to play Draftstars as the site is the only one in Australia to offer DFS for the A-League. Warhead describes the A-League as "my favourite league of any sport in the world. I therefore back myself to pick how games / players might perform and frequently cash / win with single lineups".
So armed with a single entry in the AFL contest between Collingwood and the Western Bulldogs, Warhead was already sweating the wrong comp. He kept things simple as he always plays just 1 team, "Any more and I lose track of who I should be kicking home. Treloar was my big point of difference and Taylor Duyrea was outstanding at his price. Grundy and Macrae were both must haves."

So with the Magpies and the Bulldogs in a fantasy point scoring shootout, Warhead's sweat was starting to take on some epic proportions:
"It was panic attack 101! So nervous. Didn't know whether to laugh or cry; particularly as my key competition come the 4th qtr had Dunkley and Lipinski who were getting plenty of it. There was a passage with about 20 seconds left where Treloar got tackled by Duyrea (it actually looked high to be honest) but they gave the +4. It turned out to be crucial. Then, with about 3 seconds left Lipinski went to kick at goal but had an air swing and got nothing. Absolute luck, but brilliant! I then had the torture of waiting 20 minutes to see if there were any late changes."
What are your feelings now that you have a ticket to the final?
"Just looking forward to having some beers and putting some faces to some of the names I see regularly at the top of every leaderboard. I'd love $50k but will be just as happy with $200. Remember a few years ago when Michelle Payne won the Melbourne Cup on that donkey that no-one had ever heard of?! That'll be me on August 11. Lookout for my mate Togers09. He's a fellow '1 lineup into each match' guy. I actually never, ever play the $50 game. I did it by mistake thinking I was joining the $2 league. Thank God it did as I would've come 4th in the comp!"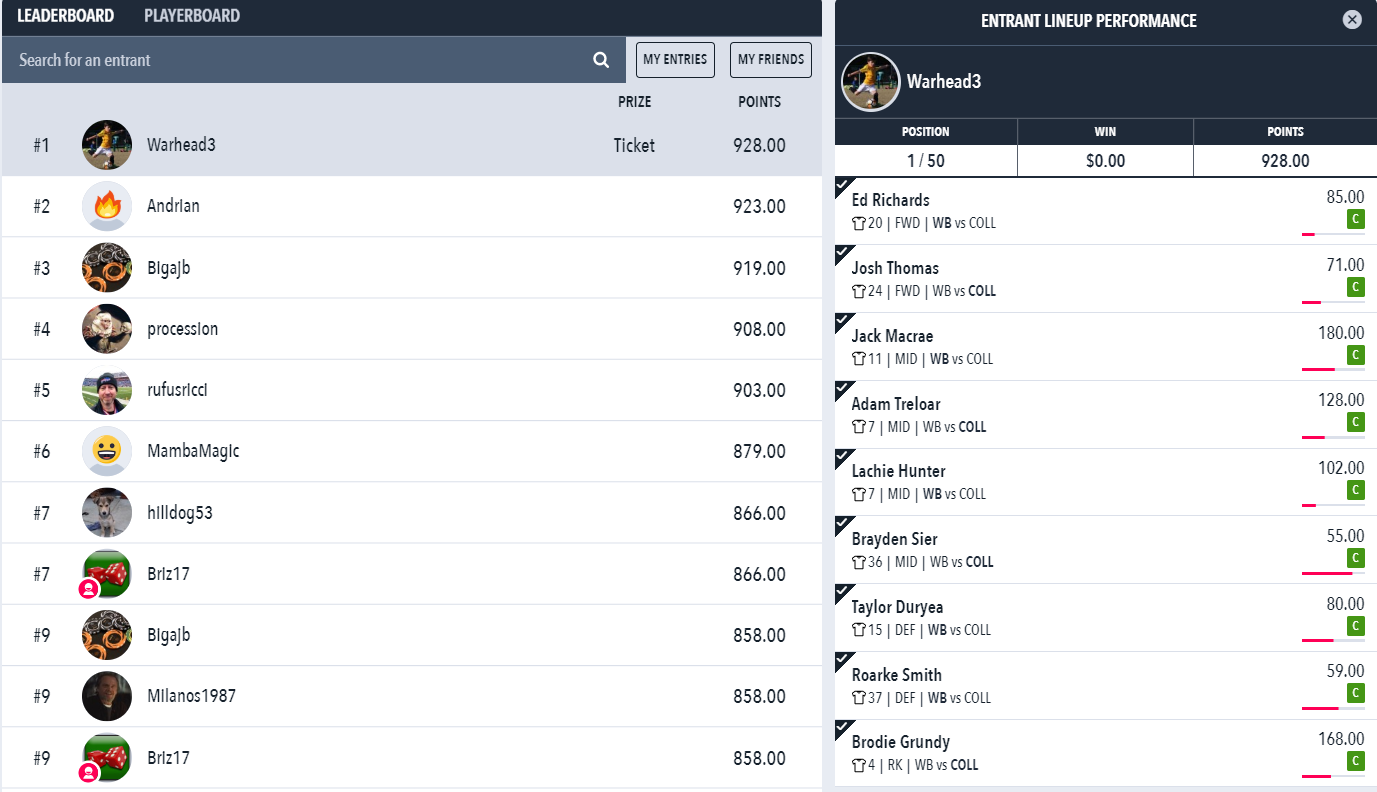 For 'Tbetta', most would know his previous body of work for the popular AFL fantasy site DTtalk.com with season long fantasy contributors Warnie, Roy and Calvin. When the lads came across DFS in its inception, it was 'Tbetta' who took on the challenge of putting his knowledge into DFS. Whilst the AFL is his strong point, NBA and some League of Legends on Draftkings is his cup of tea.
It what was turning into a massive weekend in AFL DFS for 'Tbetta', the big goal was to obtain that Golden Ticket to Melbourne. I asked how'd he went about Sunday's Pies and Bulldogs game:
"I had 15 teams I'd spent a fair bit of time manicuring for the $2 Mini (before realising it was 10 max… oops) and just threw them in the main and the Golden Ticket qualifier at the same time without any extra effort.
The team that won was a real perfect storm kind of scenario. I wanted to have some skin in the game on the odd chance that the Bulldogs were competitive, so I went full Guns and Rookies with a Bulldogs stack. I paid up for Macrae, Bont and Dunkley, and obviously I had to sacrifice elsewhere to afford them. Lipinski was a lock, Duryea was simply value either way at his price and Richards, Dickson and Roarke Smith were cheap guys that would receive a bump in scoring if the Bulldogs performed, which ended up eventuating.
But it was the Ruck Pig who made my team unique in my opinion. I expected most teams with Bulldogs stacks would opt for English as the ruckman and Sier as the sole Pie, and those two being relatively quiet gave me an edge. Grundy scoring 168 exploited it!".

And that Sunday Sweat, how did that go for you?
"Sunday was… unbearable. A lot of your readers will know the daunting feeling of having a team high on the leaderboard but needing an unlikely game result for your line-up to win. I needed the Bulldogs to play out of their minds in the last quarter, just when it looked like the Pies were going to run over the top of them in predictable fashion at the end of the third.
I'll be honest, I didn't watch the last quarter. I was a mess! With a Golden Ticket on the line, and Procession right up my freckle with 2 solid line-ups, I couldn't handle the heartbreak of potentially seeing a ticket to the Live Final slowly dwindle away. Eventually I grew the aggots required to take my phone off airplane mode and log back into Draftstars, and I was extremely relieved to see my final results".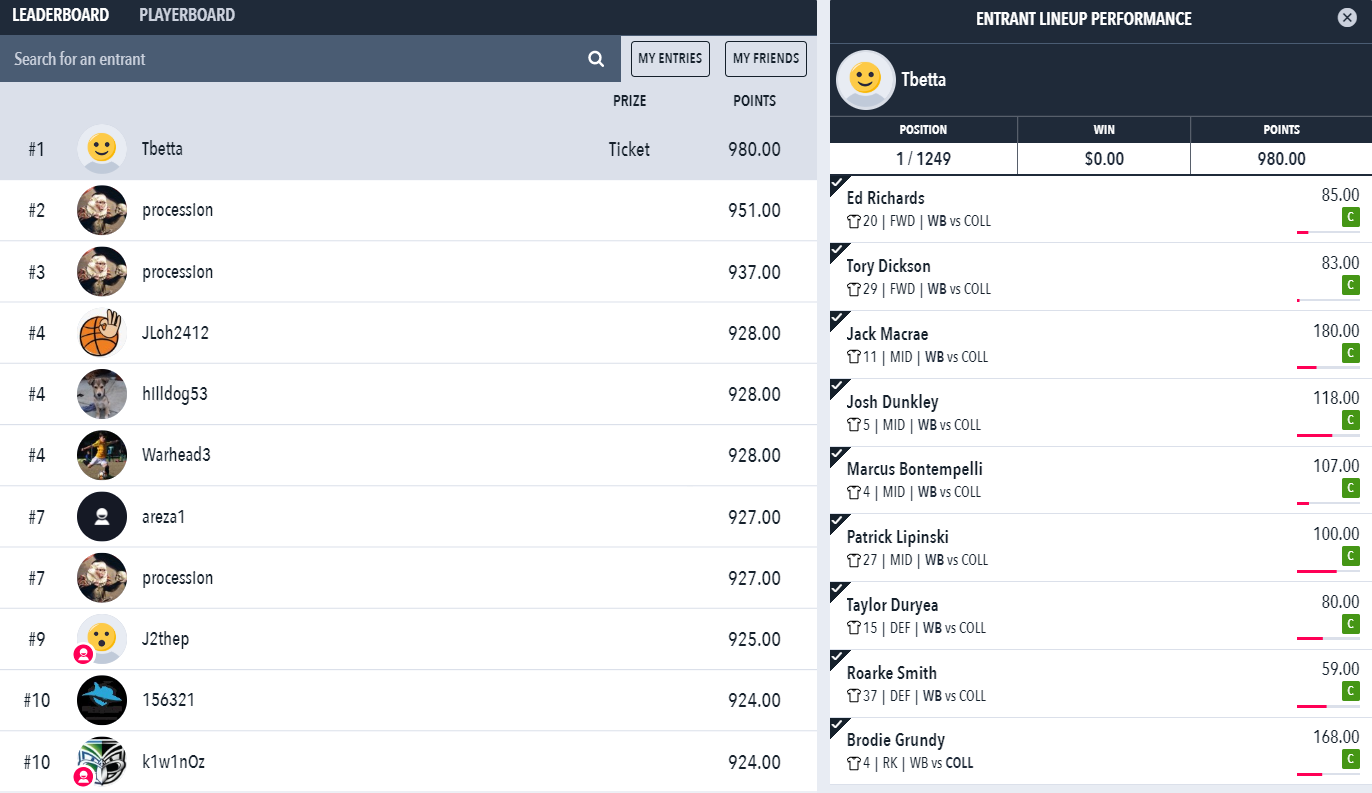 So with the golden ticket in his hand 'Tbetta' is certainly very excited for the event as he went on to say,"I tweeted about "being a kid of Christmas morning" when it was announced earlier this year and I can confirm I am seriously pumped! I've always been so jealous of the satellites and live finals they had in the US and I just knew I had to get myself a Golden Ticket for the experience.
The potential to walk away with $50k is something I haven't even entertained yet. With the quality of the names already on the attendance list, I fully expect to walk out of there full of delicious ale, the $200 for last place and a smile on my face. Anything more than that will be a bonus for me, I'm just hyped to be there for the experience."
Want to join these guys and play for a share of $200,000? There are $50 and $2 qualifiers running daily during the AFL season with one ticket guaranteed in each qualifier. There's no better time to jump on board! Make sure you also check out our free Resources on the Daily Fantasy Rankings website which provides you with all the tools, data and stats to help you construct a winning lineup on Draftstars.
Have you qualified for the AFL Kayo $200,000 live final and want to share your story with the world here on Daily Fantasy Rankings? Contact us or shoot us a message on Twitter and we will get in touch to share your story with the Australian DFS community!