daily fantasy sports articles
Draftstars Kayo $200,000 Live Final ticket winners from AFL Round 15

Eight more 'golden tickets' have been won by our qualifiers for the Draftstars $200K Kayo Sports Live Final brought to you by Colonial Brewery Company. This week's winners included: Inaugural 2017 Draftstars '990' Target winner 'asanque', along with 'Hilldog53', 'Bigajb', 'Kevstevefj', 'Jackobaker', 'Rohant15' (the brother of golden ticket winner 'Tbetta'), a second ticket for the number #1 ranked player on the DFR site in 'jayk123' and this week's featured DFS player, 'BeastinoFC'.
For this week's edition of "small dogs" I caught up with 'BeastinoFC', a custom estimator for an award winning builder in Geelong, about his win in the Geelong vs Adelaide clash on Friday night in Round 15.
"I've been playing Draftstars for approx 18 months after playing AFL Supercoach for many years, [I] like to test my sports knowledge against others." 'BeastinoFC' favourite DFS sport is PGA (good man!) but he also plays the NBA, AFL and Cricket to a lesser extent. So how did he take the Golden Ticket in this particular contest?
"Only had 2 entries in the qualifier, I usually only throw in a couple per contest. Thought Joel Selwood would be low owned so happy he came through with the goods.
I'd had a long and busy week of work, actually fell asleep at the start of the last quarter, doesn't sound very sweaty but was in shock, thought 'WTF' when I viewed my contests and saw 1/1254."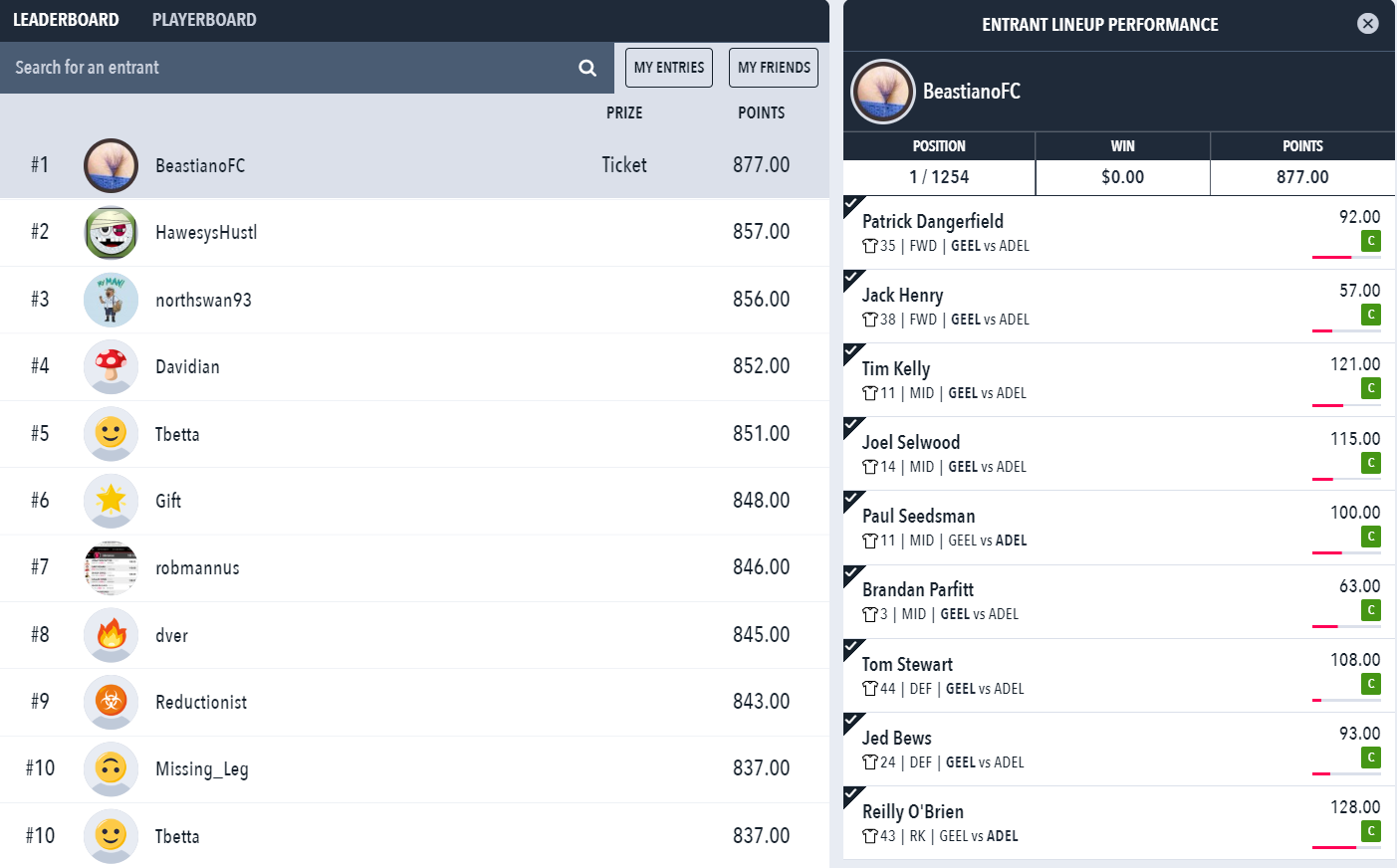 The side that 'BeastianoFC' put together was well crafted, with Jed Bews having his ceiling game 1st up for the cats and extracting just enough from Brandan Parfitt (who did nothing for the majority of the game) and Jack Henry for the win.
With the ticket in his possession, what are your thoughts on the final itself?
"I feel lucky and privileged to take part in a huge day for DFS in Australia, really looking forward to it. I lost my dad to cancer in 2011 so taking my father-in-law, who loves a beer and always good for a laugh". Well there is plenty of beer in a Brewery, so that may be up his alley!
Want to join these guys and play for a share of $200,000? There are $50 and $2 qualifiers running daily during the AFL season with one ticket guaranteed in each qualifier. There's no better time to jump on board! Make sure you also check out our free Data Tools on the Daily Fantasy Rankings website which provides you with all the tools, data and stats to help you construct a winning lineup on Draftstars.
Have you qualified for the AFL Kayo $200,000 Live Final and want to share your story with the world here on Daily Fantasy Rankings? Contact us or shoot us a message on Twitter and we will get in touch to share your story with the Australian DFS community!