daily fantasy sports articles
Draftstars Kayo $200,000 Live Final ticket winners from AFL Round 16

The next six 'golden tickets' have been won by our qualifiers for the Draftstars $200K Kayo Sports Live Final brought to you by Colonial Brewery Company. This week's winners include: 'Lehuray88' and 'sacc98', along with Daily Fantasy Ranking members 'Procession', 'Peekay89', 'Quadsquad', and 'gatsid'.
In this week's edition of Small Dogs I caught up with 'gatsid', an IT business analyst based in Melbourne. I'll have to say this at the top - it's one of the best avatar's on the Draftstars site in a cheeky ode to Jayk123's own avatar.
Almost like it was meant to be ... pic.twitter.com/w7hXu12ZDx

— Gatsid DFS (@DfsGatsid) May 2, 2019
I caught up with 'gatsid' about his qualifier win, which occured when Collingwood took on the Hawks in Round 16. I started by asking how he got into daily fantasy sports:
"I've been following some of the US DFS guys like Bales, Zeidenfeld, Levitan, etc for years playing Draftkings. (I) didn't hop on Moneyball when it first came out but eventually got sucked into Draftstars thanks to the "Beat Barry" promotions, then one thing led to the next. I have been playing Draftstars for toughly 2 years, but more seriously over the past year."
'gatsid' dabbles in most sports on the site including NFL, Golf, and AFL, but can't go past the NBA for his favourite sport. "I love the daily grind, nothing like having another slate to look at after a bad day's result! MLB is starting to fill the void of the NBA offseason".
In a game that was pretty uninspiring for three quarters, the contest came to life in the last quarter when the Hawks crawled back and grinded out a four point win. The most popular play was the debutant in Isaac Quaynor at over 70% owned, while a few line-ups were sunk when Brayden Sier only scored 38 fantasy points at just under 40% ownership. I asked 'Gatsid' how he went about this match-up and that sweat he needed to endure:
"I had three sides in the qualifier, I knew Quaynor was going to be really chalky as the obvious best play on the slate but I really liked the picks of Crisp and Sicily. I figured because almost all sides would have Quaynor that if I faded him in 1 of my three sides and went with both Crisp and Sicily I should be getting two guys with lower ownership than maybe they deserve and then I kind of just built from there. I was just watching at home and half way through the game all three sides were sitting ok, but Worpel was holding me back a little. He really got going in the second half and then having Sicily and Crisp be the top two scorers on the slate I kind of just lucked out I guess. When the game went into review I was actually in second place, but I'd seen Sicily get a mark/kick that I was hoping would get me over the line. So it was a little sweaty, Hanrahan and Worpel put in big last quarters so I was pretty happy with those two!"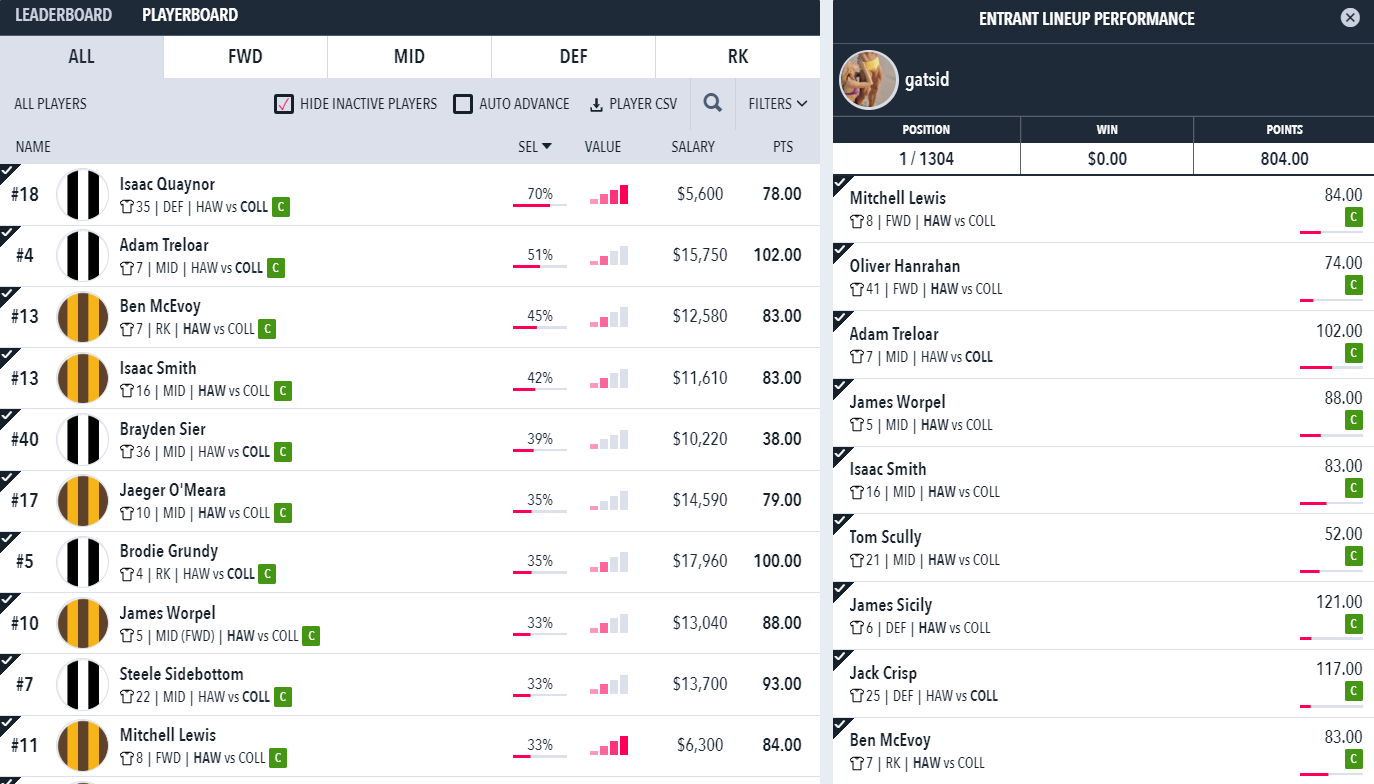 Now armed with a golden ticket, what are the expectations for the big day at the Colonial?
"I am just really excited to be able to come along and compete against some of the bigger names like 'Jayk123', Chriseddy999' and 'Ilovelamp'. I'm used to seeing those guys always at the top of the leaderboard and when I first started out I'd always look at their lineups to try and learn, so it'll be good fun potentially meeting a few of them."
Who will you be taking as your plus one to the live final?
"I've got a couple of mates at work who I always talk about sport and DFS with so we had a pact if I qualified I'd bring one along and pay door entry for the other"
Want to join these guys and play for a share of $200,000? There are $50 and $2 qualifiers running daily during the AFL season with one ticket guaranteed in each qualifier. There's no better time to jump on board! Make sure you also check out our free Data Tools on the Daily Fantasy Rankings website which provides you with all the tools, data and stats to help you construct a winning lineup on Draftstars.
Have you qualified for the AFL Kayo $200,000 live final and want to share your story with the world here on Daily Fantasy Rankings? Contact us or shoot us a message on Twitter and we will get in touch to share your story with the Australian DFS community!