daily fantasy sports articles
Draftstars Kayo $200,000 Live Final ticket winners from AFL Round 17

The next six 'golden tickets' have been won by our qualifiers for the Draftstars $200K Kayo Sports Live Final brought to you by Colonial Brewery Company. This week's winners include: 'gahroo', 'Diesel', 'Briz17' along with second ticket recipients in 'asanque' and 'bigajb'.
This week's Small Dogs feature is DFR member 'Delmi31', who also goes by 'Bigdaise' on other DFS sites. The primary school relief teacher from Frankston was inspired by Draftstars own "Muggsy" and "Dipper" in their recent video for the Live Final event. Check it out if you haven't seen this little nugget.
I caught up with 'Delmi31' about his Friday night qualifying win which was the Eagles and Magpies matchup in Round 17.
"I had a nice result the night before at the World Cup so I decided to have a proper crack at winning a ticket. I hadn't really played any qualifiers at all to that point but saw the promo video for the event that day and it got me motivated to take the risk."
'Delmi31' has been playing DFS for around 3 years and is torn between AFL and NBA as his favourite sports on Draftstars, but also dabbles in a bit of cricket as well.
In a match in which the Magpies got up by a single point in one of the matches of the year, one of the stars of the game was Brodie Mihocek who took an incredible 10 marks and kicked four goals in a Best on Ground performance. 120 fantasy points for the night and he took only a small amount of teams to glory with a very low ownership.
I asked 'Delmi31' about his Friday night watching this epic contest:
"I was at home with the Mrs, she was watching repeats of 'Veronica Mars' so I was relegated to the bedroom. I had Mihocek at 5% and Steele at 14% so I kept a close eye on those two early on and they started well. I was in front at 3qtr time and that's when the nerves really started to fly, Mihocek dobbed one early and I knew I was a huge chance to hold on and fortunately I did!"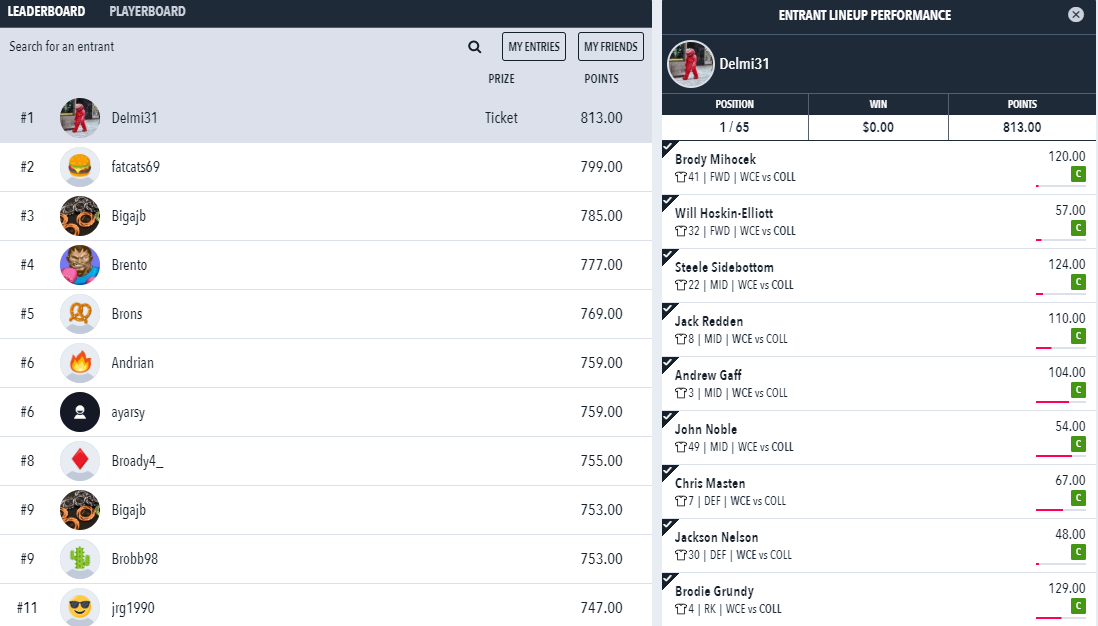 What are your feelings now that you have a ticket to the final?
"Reading online about how great the last live BBL contest was and how massive the live events have become in the states I am really excited to experience the atmosphere of the day, but still gotta be in it to win it!! I will have my brother tag along!"
Want to join these guys and play for a share of $200,000? There are $50 and $2 qualifiers running daily during the AFL season with one ticket guaranteed in each qualifier. There's no better time to jump on board! Make sure you also check out our free Data Tools on the Daily Fantasy Rankings website which provides you with all the tools, data and stats to help you construct a winning lineup on Draftstars.
Have you qualified for the AFL Kayo $200,000 live final and want to share your story with the world here on Daily Fantasy Rankings? Contact us or shoot us a message on Twitter and we will get in touch to share your story with the Australian DFS community!