daily fantasy sports articles
Draftstars Kayo $200,000 Live Final ticket winners from AFL Round 18

Just over two weeks remain until the Draftstars $200K Live Final brought to you by Kayo Sports and the Colonial Brewing Company. The event is now down to its final 14 qualifying tickets! Over the weekend we had seven more tickets given away with a bonus ticket for the British Open golf event. This weeks qualifiers include 'cjnugent', 'sacc98', 'Kziedaitis', 'KangaRubes', 'jbarrett16', 'liamswan', and 'theundertaker'.
For 'jbarrett16' and 'sacc98', this is there second and final ticket for the event. Exciting news last week with the announcement that a lucky door prize winner will win a year's supply of Colonial Brewing Company beer! This will be given away to a lucky ticket holder or guest for the event. I wouldn't mind an endless supply, so we'll see how that goes!
For this week's Small Dogs I caught up with 'liamswan' who is new to the DFS scene on Draftstars. He is, however, good mates of DFR's own 'BigHef' (Tristan Hefferenan) and 'J2theP' (Jesse Penfold), who must have slipped him a couple of plays to win his qualifier and come over to Melbourne!
Based in Hobart, Liam is the 'Strategic Development Manager' for Tasracing. He's responsible for all three codes of racing in Tasmania along with oversight on other programs including Animal Welfare, Breeding (Magic Millions etc), and our broadcasting partnership with Sky Channel. Whilst the AFL is his favourite sport, he did dabble in some World Cup Cricket and I'm sure when BBL comes round he will dabble some more.
When I asked what's his favourite element of playing DFS, it was a classic punters response:
"Unsure if it is my favourite thing, but I feel like I've ruined any ability I once had to just watch a game of football and not have something on the line."
I asked Liam how he went about winning a ticket in the Crows and Bombers Friday night clash in Round 18.
"I was pretty keen to have a crack at winning a ticket, so the weekend gone I upped the ante and played 20 teams for the first time. I got lucky and won my ticket on the Friday night game. The Essendon junk in the final few minutes won me the ticket. Merrett, Zaharakis and Redman carried me home."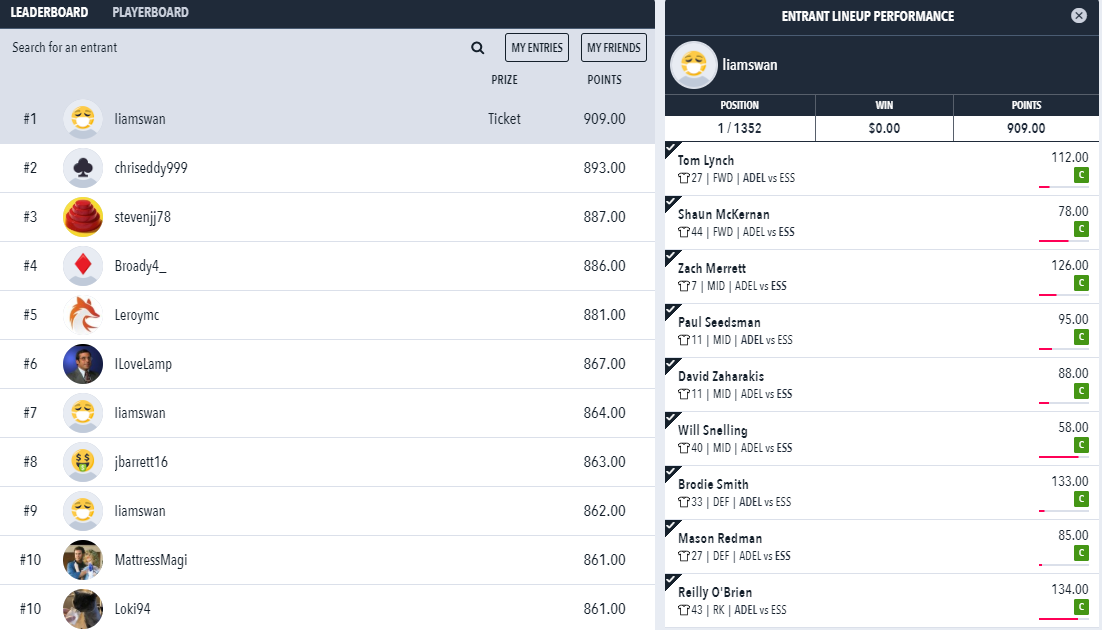 "I just watched the game at home. Being a bombers man it was a great watch and given I ran a few Essendon stacked sides I enjoyed their comeback win, which also brought a few of my teams right into the picture. Ended up having three teams finish in the top 10, so it was nice one of them at least finished on top. What hurt however, was the fact my winning side scored 909 and would have won the $100k comp that same night if I had've entered it!!
I only had three teams in the $100k comp as I tend to only really play somewhere between 2-5 teams in the big stuff each slate.
A few mates were quick to inform me i would have won the $10k.....Your own Daily Fantasy Rankings Guru Jesse Penfold was very quick to highlight my poor fortune. I'll be sure to give him a call on Aug 12 when im having a quiet beer in Melbourne and he is home with the family!"
Classic move that I sometimes know too well! What are your feelings now that you have a ticket to the final?
"I haven't been to any of these events prior and am new to the whole money on the line for fantasy footy. Will be sure to have a good day and looking forward to having a bit of fun and hoping for some luck along the way."
Who will you be taking as your plus one to the live final?
"No idea yet. Have put the call out to a couple of mates but i think their leave requests are still pending with their better halves."
Congratulations on the win Liam and we look forward to seeing you at the Colonial Brewery on the 11th of August!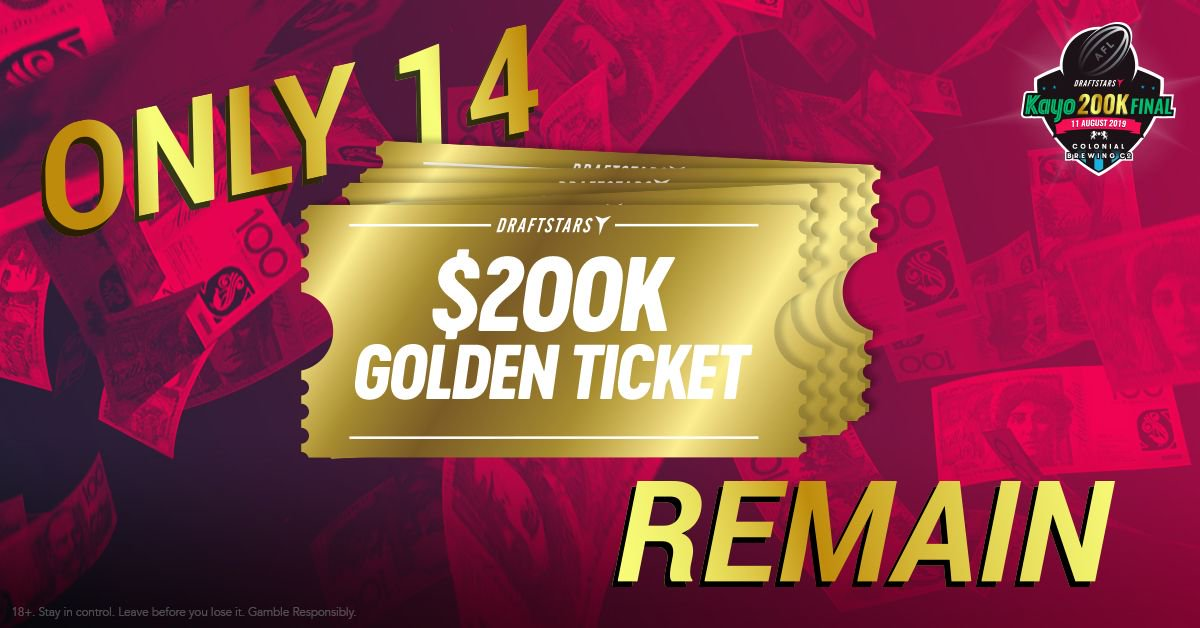 Want to join these guys and play for a share of $200,000? There are $50 and $2 qualifiers running daily during the AFL season with one ticket guaranteed in each qualifier.
There's no better time to jump on board! Make sure you also check out our free Data Tools on the Daily Fantasy Rankings website which provides you with all the tools, data and stats to help you construct a winning lineup on Draftstars.