daily fantasy sports articles
Draftstars Kayo $200,000 Live Final ticket winners from AFL Round 19

We are at the penultimate week of qualifiers before the Draftstars $200k Live final presented by Kayo Sports and Colonial Brewery Co takes place on August 11. Only six tickets now remain with another eight tickets won by the DFS community over AFL round 19. This week's winners include 'Monkey21', 'king82', 'Djking_', 'Richozzz', 'Freoblood', 'hilldog53', 'BrownlowFyfe' and 'ILoveLamp'
For top 10 DFR ranked 'ILoveLamp', this is his second ticket along with 'hilldog53' who also picked up his second ticket. The current BBL Big Bash belt holder in 'Richozzz' won his ticket in this round with the only question that has to be asked, will he bring his current belt along to the Colonial?
This week's Small Dogs profile article was pretty quick to put their hand up for a chat about her win. 'Monkey21' entered just the one team in the very popular $10 Sunday slate (which filled very quickly) and was straight onto me when the adjustments were final on Sunday evening. So much so, the partner of fellow qualifier in 'Beetlebeast' had the questions all ready to go! So without further ado, let's find out about 'Monkey21's' ticket win.
'Monkey21' is a mother of two teenagers and resides in Geelong, Victoria. Monkey got into Draftstars after meeting her boyfriend 'BeetleBeast' who according to Monkey "is a complete addict". Monkey is currently only playing AFL for the moment but has insisted that Draftstars should give Tennis a go. I asked Monkey apart from 'BeetleBeast' what makes her play on the site?
"I love Draftstars because I get to watch my favourite players (Cripps, Danger, Selwood, Gawn, Grundy, Bont) all weekend and I get to enjoy the games even more for a small outlay to potentially win four figures. It just makes the footy more enjoyable and beating my boyfriend every week now is good too!"
Draftstars put out a special Sunday Slate contest for $10 and for Monkey she only put in one team. I asked Monkey what were here key players for the slate.
"My key players for the win were Jarrod Witts, who I thought would dominate Zac Clarke - the worst ruckman in the league. Tom Hawkins was also great value at 10K on the small SCG in good conditions and was due for a big game. Dylan Shiel was too cheap at 13k up against the leakiest midfield in the league in the Suns. Mason Redman scored me 85 after a great first half of 55. I knew he would be low owned and with Michael Hurley and Conor Mckenna out I thought he should have gotten a nice 15-20 point bump on his average. My best player was Marcus Bontempelli, who was massive against Fremantle all over the ground. He is a sneaky chance for the Brownlow and along with Patrick Cripps, is the future of the competition!".
This team was well put together Monkey, so where were you on Sunday sweating this lineup out?
"I watched the footy in bed all of Sunday with my partner and we were screaming at the tv for Shiel and Redman in the last half of the final game. Shiels mid-air volley goal got me 7 points and I won by less than that, so it was best goal of the match and got me the win luckily!"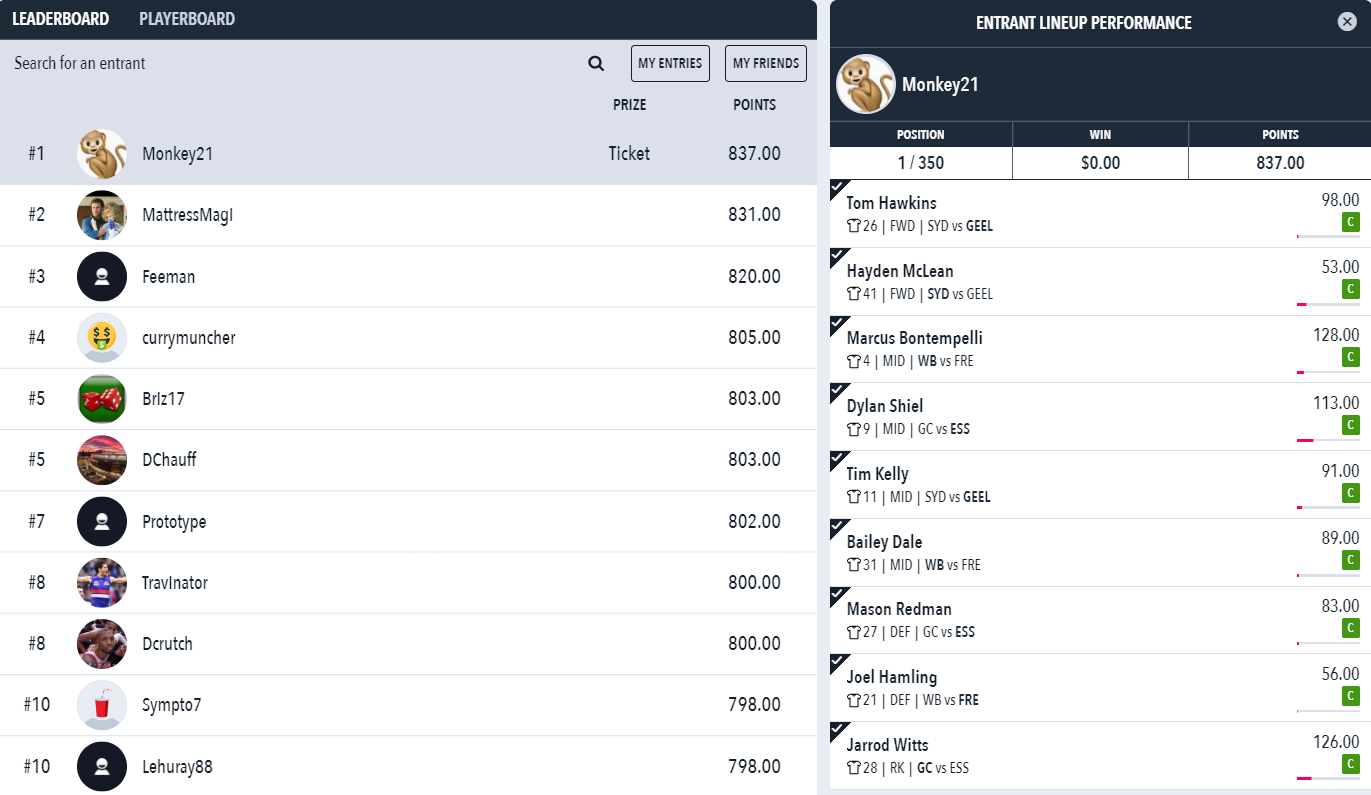 So with a ticket ready to go you must be excited to be in a shot for the $50,000 first prize next week. What are you thoughts on this potential outcome?
I will be heading to the live final with 'Beetlebeast' who also won a ticket a month ago. He has two second place finishes and a 6th in the last three weeks for his second ticket, so he's a little dumbfounded I won mine off a single entry. I'm happy I won the ticket but not confident I'll do any good in the Live Final. I'm 39 and have only been watching the footy for a couple years and still struggle to put some players names to faces. So apart from the top level players and my favourites I pick my teams based on the stats and matchups and your advice on the DFS show.
Oh so you have caught the DFS Down Under Show! What do you think of the show?
"We watch your DFS show every week and Smatho you are a legend. Big Hef is good too. I take your tips on board and it helps me a lot. I take notes of what you both say on my phone and save them for the weekend and use them as a guide to building some of my teams."
Thanks 'Monkey21' we appreciate that yourself and 'Beetlebeast' watch the show. Good to see that Hef has some improvement left in him! Congratulations on your win and will see you at the Colonial on the 11th of August.
Want to join these guys and play for a share of $200,000? There are $50 and $2 qualifiers running daily during the AFL season with one ticket guaranteed in each qualifier.
ONLY 6 TICKETS REMAIN!
There's no better time to jump on board! Make sure you also check out our free Data Tools on the Daily Fantasy Rankings website which provides you with all the tools, data and stats to help you construct a winning lineup on Draftstars.