daily fantasy sports articles
Exciting DFS Contests Launch For 2018 NRL Season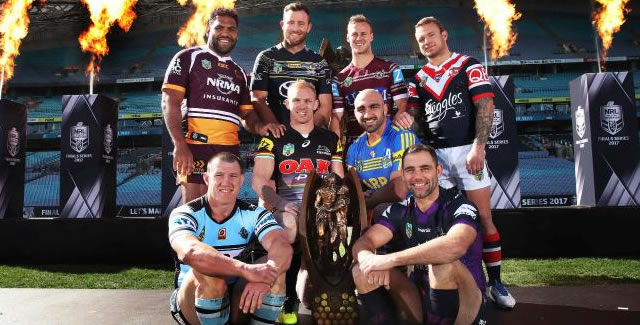 We're just a few short days away from the kickoff to the 2018 NRL season and the Daily Fantasy Sports sites around Australia are throwing their support behind the new season with some excellent fantasy betting tournaments and DFS contests. Let's take a look around each site to see what you can dig your teeth into this weekend:
SportChamps have a couple of great fantasy betting tournaments for the start of the 2018 NRL season. For the rookies, there's a $1,000 freeroll to allow you to get a sample of how fantasy betting on SportChamps works. Just click here to create a SportChamps account, head to the lobby and under the NRL tab, you'll see the $1,000 freeroll for the Dragons vs Broncos game on Thursday night. The top 40% of players will receive a payout, so you have a great chance to pick up some free cash to get your bankroll started.
For the more experienced players, SportChamps have you covered with a $2,500 guaranteed tournament for the Friday night slate. The buy-in is just $5 and once again the top 40% of the field will be paid. There's likely to be an overlay in this one, so we suggest jumping in for just $5 and giving it a shot.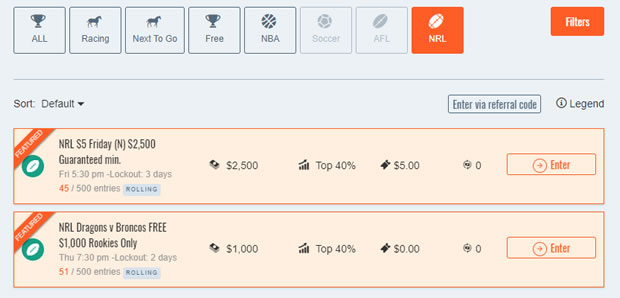 TopBetta have a solid range of NRL betting tournaments, covering both single round and full season across a range of buy-ins. For Round 1 of the NRL you can jump in at $2.20, $5.50 or $22 buy-in levels, while full season tournaments are running at $2.20, $11 and $55 buy-ins. Of course, in all of these tournaments, you can go all-in at anytime and if you bust, you can rebuy back into the tournament. The $55 buy-in season tournament allows up to 50 rebuys, so if punters get busy, they might even push past the $2,500 guarantee.
PlayON have gone bang for the footy seasons this year with some huge Super Contests announced for the 2018 season for both NRL and AFL.
The highlight of the NRL season will be the $25,000 Guaranteed Super Contest to be held on August 25th. You can win your way into this contest through qualifiers running throughout the season, starting with this weekend. There's a range of qualifiers available, with the $5.50 qualifier on Thursday night offering excellent value with 5 tickets guaranteed.

PlayON will also have regular contests running for every match this NRL season. Thursday night's Dragons vs Broncos match will bring a $1,000 guaranteed contest for just a $22 entry. These feature contests will qualify for ranking points on DFR. PlayON also have a nice range of head-to-head, 3-player and 4-player contests available.
In addition, exclusive to DFR followers, we'll be running our own private NRL contests throughout the season, starting with this Thursday night. The Daily Fantasy Rankings Dragons vs Broncos (Double Pot) Contest will be a $5 entry and offers a $100 guarantee, however entry is limited to just 10 entrants. This means we're guaranteeing double the prize pool! As we said, entry is limited to just the first ten entrants so click here to jump into the contest to avoid missing out!
It gets even better as PlayON are running a special promotion for the opening night of the season. Just buy-in to any $5 entry contest (including the DFR private contest) and you'll receive an extra $5 in your account after the contest has run. So you're basically getting a free entry for this week!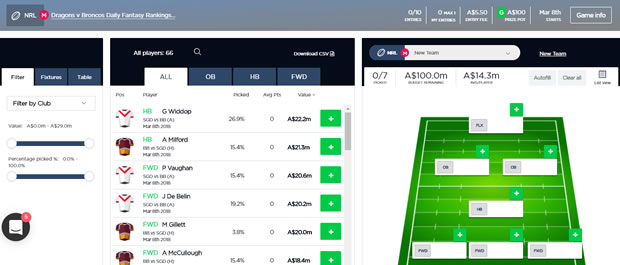 Moneyball have a nice offering of DFS contests for Round 1 of the NRL, kicking off with a $6,000 guaranteed contest for the Dragons vs Broncos on Thursday night. The Saturday Special covers the main Saturday slate of games and has a $5,000 guarantee. Buy-in for all of the main contests is the usual $15.
Moneyball also have a range of smaller buy-ins, full found contests, 6-man and head-to-head contests that you can jump into!
DraftStars have gone hard for the opening round of the 2018 NRL season, hopefully in a strong sign of what's to come ahead for the season. On Thursday night, DraftStars are offering a huge $20,000 guaranteed contest for Dragons vs Broncos game with a $15 buy-in. If that's too rich, they also have a Mini which has a $1,000 guarantee for just a $2 entry fee.
DraftStars also have a number of 6-man, Double Up and head-to-head contests for Thursday night in the lobby, but are yet to list their offerings for the rest of the weekend.
DraftKings are still yet to announce their intention to come to Australia, but there is a belief that their launch in Australia is imminent. It looks like it won't be in time for the launch of the 2018 NRL season, but if and when they do launch, it is expected that they will offer NRL contests which could have enormous prize pools that dwarf what is already being offered in Australia. Watch this space!