daily fantasy sports articles
Fantasy Fighting Tips - UFC 229 – "Fight of the year"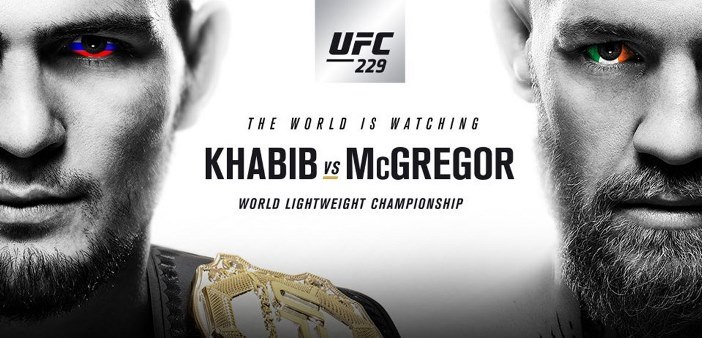 This weekend UFC fans will get to witness what is being dubbed as the "fight of the year" when the undefeated Khabib Nurmagomedov takes on former champion Conor McGregor for the Lightweight Championship.
For Australians, the card will get underway at 1pm on Sunday and for those who play daily fantasy sports, DraftKings will run a huge $300,000 contest, which costs just $10 to enter.
The pricing of fighters for this card really does make things complicated here, as you could select 5 of the fighters who have the highest fantasy points average and still have a good amount of cap space left to buy a very good remaining fighter. Therefore the skill here will be to find the point of difference over everyone else.
It's also worth noting too that the Sean O'Malley vs Jose Alberto Quinonez bout has been cancelled so definitely don't pick either of these two.
Main Event
Nurmagomedov is a hard one to ignore, even when considering his opponent. His last 8 fights, dating back to 2013 has seen him score at least 94 points. 6 of his 8 scores have been over 100, giving him a brilliant average of 121.75. With a price of $8,400 he's quite cheap, especially given his points average and form, making him too good to ignore.
McGregor will be in his first fight in nearly 2 years, however since 2013 he too has had just two scores under 100, one of which was his second round loss to Alvarez by submission, which produced a score of just 36, while the other was his 3 round victory by points decision against Holloway in 2013, where he scored 95. He has an average of 104.1 and costs a very affordable $7,800. He is deemed somewhat of a risk, given his opponent and lengthy stint on the sideline, but he might also be a risk worth taking given his ability.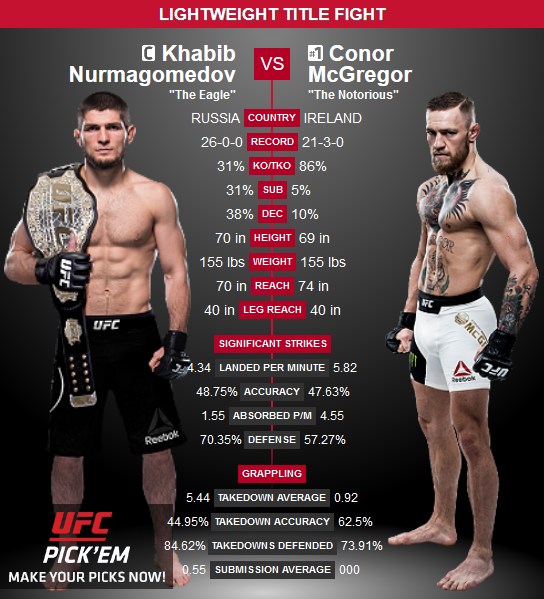 Other Bouts
Reyes is the only other fighter on the card who has an average over 100. His last 3 fights have all been wins in the first round and his scores have been very consistent; 107, 109 and 110. His average of 108.5 and price of $8,900 will make him a common pick, especially given his opponent is the clear underdog for this fight.
Holtzman looks to be a good budget pickup. He costs just $7,100, however he comes into this fight having scored back-to-back 100's in 2017. His opponent Alan Patrick is the favourite to win the match, however the tale of the tape suggests it could be a bit closer than the betting market suggests.
It's a similar story in the Lentz v Maynard clash. Lentz is the favourite and is priced at $9,000 despite having a steady average of 69.1 and coming off a loss in June. His opponent here, Maynard, won his last match which was 14 months ago. On that occasion he racked up a fantasy score of 111, scoring an impressive 11 take downs and had 6 advances. It was the best performance of his career.
Jalin Turner looks to be one to avoid, even given the low price of $6,800. His opponent is Vicente Luque who has scored 111 and 107 in his last two bouts, which he won convincingly. Luque is the most expensive fighter at DraftKings while Turner is the cheapest in his debut fight.