daily fantasy sports articles
Fantasy Formula 1: Azerbaijan Grand Prix Team Lineup Tips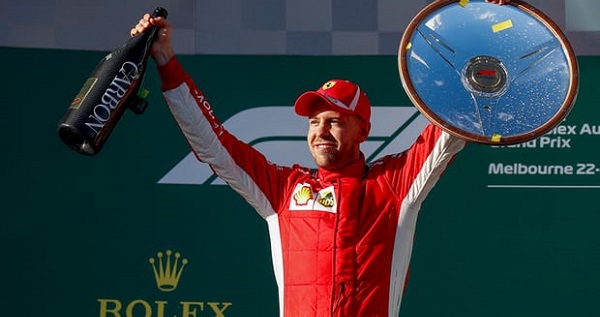 Fresh off the announcement that PlayON have partnered with Formula1, we are pleased to bring you our first fantasy Formula1 preview for the upcoming Azerbaijan Grand Prix this weekend. We've roped in resident F1 expert "ale180" to give you his fantasy F1 team lineup tips and advice for this exciting event.
Fantasy Formula1 at PlayON involves drafting a team of five Drivers and one Constructor, working within the usual salary cap restrictions that come with daily fantasy sports. Your team will accrue points during qualification and the race itself, based on criteria such as qualifying position, performance against team mates, and of course, where they finish in the race.
PlayON have a great range of contests for this weekend, for both qualification and the race, including a $2,000 guaranteed contest and qualifiers into the end-of-season $20,000 Formula1 Super Contest.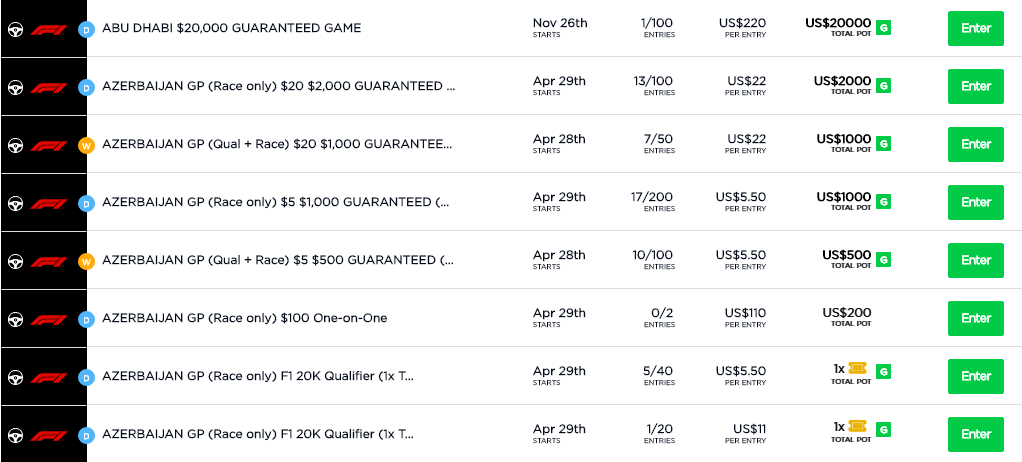 Any fantasy team needs a sure bet top pick. For a 'money is no object' selection, the most sensible choice would have to be Sebastian Vettel. At $28.0m at PlayON he is second in price only to Lewis Hamilton ($29.8m) but so far this year he has considerably outperformed Hamilton at every race. Vettel has two pole positions and a third, two race wins, and has beaten his teammate twice in qualification and races so far this season. He's also driving for a team that is not shy of showing favouritism towards him, which means Vettel should be one of the most popular fantasy picks.
Not only is Vettel a better pick than Hamilton, but so is Hamilton's teammate, Valtteri Bottas ($25.3m). Bottas has beaten Hamilton in qualifying and races twice already this season. Given the price difference between the two, if you are trying to decide which Mercedes driver to select, then the man from Finland would be a wiser and better value choice.
A very good, low cost pick is Fernando Alonso ($11.5m). He has not made it through to the top ten in qualification at any of the events so far, but he has out qualified his teammate each time. Further, he has scored points in every event and beaten his teammate in all three races. Given the points awarded in Formula1 fantasy on PlayON for finishing the race above your qualification spot, he is a very good, low cost choice in a team that seems to be on the improve.
Nico Hulkenberg ($12m) is another good value pick as he has scored in every race and also beaten his teammate every time this season.
Looking towards a Constructors pick and ideally you'd want to have Ferrari or Mercedes.
Mercedes are priced at $30.0m at PlayON and the most expensive option. They have two high-level drivers, and consistently performing at the pointy end of the grid on qualifying and races. Ferrari are a bit cheaper at $27.5m, but tend to focus more on Vettel. Also, Kimi Raikkonen can sometimes suffer in races, partially due to this limited focus, so you will need to take that into consideration as Contructor points include scoring from both drivers.
If you've spent ask your money on Drivers and are just looking for a low cost team that can pull a few points then Haas is worth a look ($5.5m).
As for a Constructor to avoid, then we would be cautious about selecting Toro Rosso. They had a fourth place for Gasly in Bahrain, however they have had the most DNFs of any team, and, apart from the fourth-place result, have finished near the back of the field every other race this season. Given the stiff penalty on PlayON for DNFs (-15 points) this is reason enough alone to steer away from selecting the team. Given the results so far this year, Williams and Sauber are also outside of consideration for now.