daily fantasy sports articles
Fantasy Formula 1: Great Britain Grand Prix DFS Tips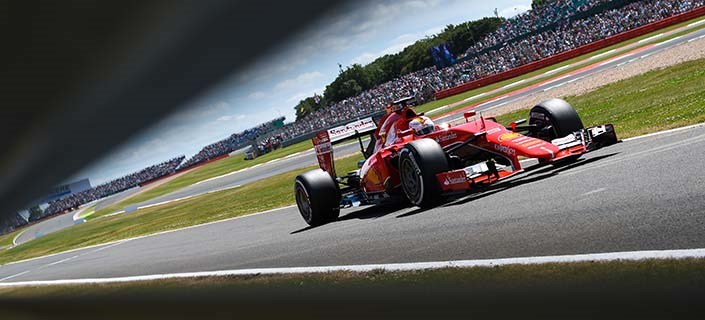 The riveting Austrian Grand Prix saw one of the rarest sights in modern Formula 1 racing - a double Mercedes DNF. This was especially disappointing for the team after their dominant performance in qualifying where Valtteri Bottas took pole position in a new lap record, and teammate Lewis Hamilton also qualified on the front row. The race itself saw Max Verstappen collect the win for Red Bull, but his teammate Daniel Ricciardo was forced to retire early with exhaust problems. While Red Bull grabbed the victory, it was Ferrari who took over the championship lead with Kimi Raikkonen finishing runner-up and Sebastian Vettel in third place.
However, for the second race in a row, the most stunning performance came from the Haas-Ferrari team. Romain Grosjean resurrected his horrendous season by finishing an amazing 4th (qualifying 6th) with teammate Kevin Magnussen behind 5th place (qualifying 8th).
This week, we head to the Great Britain Grand Prix at Silverstone. In the race last year, Hamilton qualified and finished in first place, and was followed in the race by Bottas, Raikkonen, Verstappen and Ricciardo. With the Austrian race result, Verstappen has continued to reinforce his credentials since crashing out in qualifying in Monaco. A further strong result is expected from him, so he is certainly worth selecting on PlayON at a reasonable $20.8m salary.
Given their recent remarkable qualifying results and their strength in the races, Haas are also a worthwhile consideration for a mid-team constructor at a cheap price of $6.9m. For the record, at Silverstone in 2017, Grosjean qualified 10th and finished 13th and Magnussen qualified 17th and finished 12th. However they have been a much stronger team for the majority of this season.
In Austria, the Renaults were unexpectedly off the pace, but Silverstone should suit them more so a return to form is expected. Nico Hulkenberg was sixth last year in qualifying and the race.
Williams, again, finished at the back of the field in Austria and there is nothing to suggest that their horrendous season will improve so steer clear of them.
Brandon Hartley in the Toro Rosso had another weekend to forget but at least the DNF in the race was due to car failure and not him.
If you are trying to decide a top level team between Ferrari and Mercedes, Ferrari would be a better bet for race day at $29.5m. Prior to retiring from he race, Hamilton was already out of the hunt for race victory due to a strategic error from his pit wall. For perhaps the third time this season the Mercedes pit crew made a seriously compromising strategic error during the race in failing to pit Hamilton under the virtual safety car for new tyres. Again, they failed to react correctly, in a timely manner, when something unexpected occurred during the race which required a quick strategic reaction.
Of the rest, as usual, Fernando Alonso is a wise lower cost choice at $10.6m. In Austria he out-qualified his teammate (making it 9 out of 9 times this season), beat him in the race, and improved his position from qualifying (14th to 8th).
Put your fantasy Formula 1 team together and enter one of their qualifiers to win your way to their end-of-season $20,000 Formula 1 Super Contest.