daily fantasy sports articles
Fantasy Formula 1: Spanish Grand Prix Team Lineup Tips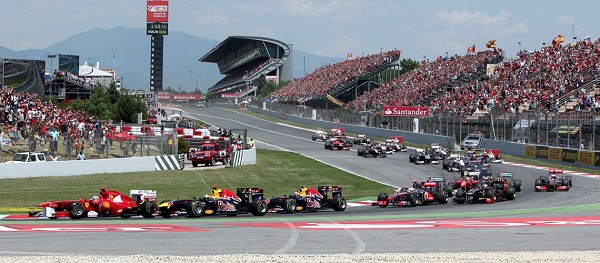 The Spanish Formula 1 Grand Prix kicks off this weekend and is the first Grand Prix for the 2018 European Formula 1 season.
Once again PlayON are offering a wide selection of fantasy F1 contests for the Spanish Grand Prix as the official Formula 1 DFS partner.
There are a range of contests for all budgets, highlighted by a $2,000 Guaranteed contest for Sunday's race, and multiple qualifiers for the end-of-season $20,000 Formula1 Super Contest for the event in Abu Dhabi.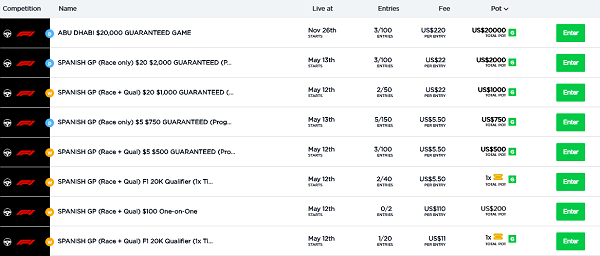 This weekend's race comes after an unpredictable and exciting Azerbaijan Grand Prix in which victory fell into the lap of Lewis Hamilton due to his teammate's shocking luck in sustaining a puncture just three laps from victory. Valtteri Bottas was the driver of the day having done absolutely nothing wrong all race, when every other driver in the leading teams had committed at least one mistake. It is worthwhile sticking with Bottas for your PlayON fantasy teams at a price of $24.4m. He has had a very good season and qualified second at this race last year.
Purely looking at the Azerbaijan results (which, given that is what you get fantasy points for, is a good thing to do!) Lewis Hamilton had a very good weekend - he qualified second, (beating his teammate), and finished first (thereby getting bonus points for improving his position from qualifying). After a slow start to the year (which we noted in the preview for Baku) this could be the turnaround for his season. Taking into account that last year he qualified on pole and was victorious on the Sunday, if your budget allows, then this could be the time to get onto Hamilton at $30.1m.
And if you are considering drafting in Hamilton, then you may consider it a good time to switch from Sebastian Vettel. However despite finishing fourth, after committing a mistake he perhaps should not have done just after the safety car re-start, Vettel is better priced on PlayON at $27.8m. He lost spots in the race from qualifying, and finished behind his teammate, but I still think he is the better choice of the top cost drivers. He qualified on pole, and was in the hunt for the race victory until his small error. It was only due to this that his teammate (and Hamilton) beat him. Last year he out qualified his teammate and finished runner up to Lewis (Kimi and Bottas both had a DNF). Stick with him.
Speaking of drivers to stick with, Fernando Alonso once again proved why he is perhaps the best driver in the field (albeit not in one of the best cars), and why he is one of the wisest low-cost picks at just $11.8m. Last year in Spain he qualified 7th in a much worse car than what he has at his hands this year. And in Baku, he once again finished in the points (7th). As with the rest of the year, he qualified down the grid (in 13th) but, once again, he beat his teammate in qualifying, and in the race, and vastly improved his position which is a great fantasy points earner. He should probably one of your first picks.
As for teams, Toro Rosso ($7.8m) had a much better race than the first part of the season (finishing in 10th and 12th) but as for qualifying they only managed a 17th and a "not classified". They have not done enough to be considered.
Disappointingly, Haas ($5.5m) has not moved on from the early promise they showed at the beginning of the season (Qualifying: 15th and DNF, Race: 13th and DNF). They are no longer are viable option.
As for deciding between Mercedes ($30m) and Ferrari ($28m) for a top team pick, the red team qualified 1st and 6th and finished 2nd and 4th in the race. The silver arrows managed 2nd and 3rd in qualification and 1st and DNF in the race. Taking into account the DNF was due to an unpredictable puncture, there remains nothing between the two teams.
Last year, Red Bull Racing ($19.0m) qualified 5th and 6th and Daniel Ricciardo put them in 3rd in the race. The Red Bulls qualified 4th and 5th in Azerbaijan, but took each other out in the race, so if you think they can stay out of trouble, they might be a nice point of difference for your PlayON fantasy team! Good luck!