daily fantasy sports articles
Fantasy MMA: UFC 251 Preview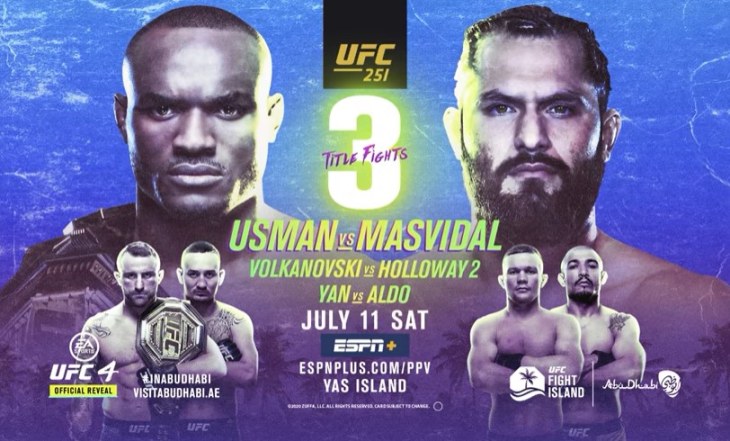 Yas Island in Abu Dhabi is the backdrop for UFC 251, which has been marketed as "Fight Island". A quarantined island where only Fighters and production staff are currently housed for a series of UFC events. UFC 251 will be an extraordinary event and of course, worldwide leader in Daily Fantasy MMA DraftKings have come to the party with mega fantasy contests.
DraftKings highlight is the $2.25M Island Millionaire with first prize being $1,000,000! Entry is only $25.

There are 13 fights on the card and we already had some drama with the main event between Kamaru Usman and Gilbert Burns being called off due to Burns testing positive to COVID-19. Jorge Masvidal off short notice will be the fighter to take on Usman.
Let's break down each match to see if we can find some fantasy plays
Grant $7,700 – Day $8,500 (Bantamweight)
Day hasn't fought since November 2018 which was a loss in his UFC debut to Liu who has since gone 0-2.
Grant, 12 of his 15 fights have ended in a submission, but hasn't made someone tap since 2013, nonetheless, he will be trying to take the fight to the ground, so potentially scores some takedowns/advances.
I think I would stay out of this fight, hard to picture either of them being in the top 6 scores for the night, although Day should be low owned, and did score 65 fantasy points in his 1 UFC fight that he lost.
Rosa $9,200 – Melo $7,000 (Women's Bantamweight)
Rosa is 1-0 in the UFC & naturally 10 pounds heavier & 2 inches taller. 7 of her last 8 fights have finished inside the distance, and the only fight that didn't saw her score 126 fantasy points in her first UFC fight, landing a whopping 171 significant strikes.
Melo generally goes the distance in her fights (14 out of 17) including her last 9 fights.
I'm expecting Rosa to be in a lot of cash lineups, but I would prefer to fade her, just because of her price. You're paying the same as what you would for the favourites in the 5 round fights on this card, but with a lot more unknown. Melo will perhaps try to take this to the ground, as Rosa has lost 2 of her 3 fights by submission, and Melo has only ever won inside the distance via submission.
Paiva $8,700 – Zhumagulov $7,500 (Flyweight)
Paiva is 4 inches taller, 13 of his 22 career fights have gone the distance. No one that he has beaten so far in the UFC has gone on to win a fight since.
Zhumagulov is new to the UFC. 8 of his 16 career fights have gone the distance and has beaten a UFC fighter before.
This fight probably goes the distance, but would expect both to be low owned, so if you're looking for a point of difference, this is the fight.
Tybura $7,900 – Grishin $8,100 (Heavyweight)
Grishin new opponent, never fought in UFC. Very light for a heavyweight, Tybura is 40 pounds heavier!
Probably don't play too much as both can go the distance and can wrestle, if this isn't a 1st round knockout, then I doubt either makes it into the top 6 scores for the night.
Both of these guys will be highly owned due to their prices being cheaper than the rest of the card. This has happened a few times recently with fighters pulling out and then DK putting the new opponent in at an underdog's price, so you're in some cases, getting both opponents at basement prices.
In theory, you would want either of these 2 in most of your lineups, as it allows you to stack some of the heavy favourites on the card. If any other fight on this card was priced the same as what this fight is, then I would say have almost 100% exposure to the fight.
I'm just concerned with 2 Heavyweight's both in their 30's, with not many knockout wins recently, that it will likely end up in a real boring grappling/wrestling much, and with Tybura's significant weight advantage it's hard to imagine him going for another tactic.

Santos $8,800 – Bogatov $7,400 (Lightweight)
Santos is 40 years old but hasn't lost a fight in 10 years. 9 of his 20 career fights have finished by submission.
Bogatov is 29 and undefeated. 5 of his 10 wins have come by submission, so expect this fight to go to the ground.
Very hard to pick a winner in this fight. Bogatov is new to UFC but has been the headline at smaller companies. Both have also had a fair few early round finishes recently. Of all the fights on the slate, I would say this would be the one most likely to have a bunch of takedowns/reversals/advances and be low on strikes Bogatov has only had one knockout win so doubt he will be looking to strike. Would fade this fight.
Amirkhani $8,600 – Henry $7,600 (Featherweight)
24/34 combined career fights have been finishes with 17 of those by submission, which is very high for this weight class.
Most of Amirkhani's wins have been by decision, so this will be another fight that will probably be spent on the ground. A 13 fight slate will definitely have 6 100's in the winning lineup and while Amirkhani doesn't really have the same scoring power as others on the card he does have a career high of 111 fantasy points, and in his 5 UFC wins he has an average of 92.6 fantasy points but....
Henry hasn't fought in 15 months, and his last fight was a submission loss, but at his price I think he does represent some value as his last 2 fights came against Hakeem Dawodu & Dan Ige, who have since gone 4-0 & 3-0 respectively in the UFC.
dos Santos $8,000 – Salikhov $8,200 (Welterweight)
36/46 combined career fights have been finishes.
Both will be pretty highly owned due to their price, expecting at least 50% of tourney lineups to have either of these 2 because if you are looking to take 3 of the >$9,000 priced fighters on this slate, it will be hard to avoid picking one of these guys in that same lineup. I would aim to underown dos Santos, who has only scored 1 ton in 10 UFC fights.
If anything, I would lean towards having a bit of Salikhov as he has a ton of 1st round finishes (13 of his 16 wins) which puts him right into the mix to be one of the top 6 scores of the night.
Ribas $9,500 – VanZant $6,700 (Women's Flyweight)
VanZant is naturally 10 pounds heavier but has lost 3 of her last 5 fights.
Ribas is rightfully the heaviest favourite on the card, but just not so sure she should be the highest priced fighter on the slate. She averages 91 across her 3 UFC wins, and these scores include some takedowns/advances. Given there is three 5 round fights on the card, it is hard to justify picking her at $9,500
While I initially thought VanZant being a bit heavier naturally would be an advantage if this goes to the ground, the fact that she has been submitted by someone smaller before (Waterson) has thrown me off.
I will sprinkle a tiny bit into lineups but way more Ribas than VanZant as she has only lost 1 fight and 6 of her 9 wins have been finishes. Just be mindful that it will be hard to build lineups around Ribas.
Oezdemir $8,400 – Prochazka $7,800 (Light Heavyweight)
Prochazka is 3 inches taller. At first glance it looks to be a fight that won't go the distance (44/50 of the fights in their careers combined have finished inside the distance), although Oezdimir has gone the distance in 4 of his last 9.
Prochazka is new to the UFC, coming from Rizin, where he knocked out his last 8 opponents (7 in the first round!).
While I was initially keen to play either of these in all of my lineups, the fact that Oezdemir's last matchup vs Rakic in December was similar (vs a taller guy with a high knockout % and on a 10+ fight win streak) has scared me off as that fight went the distance and Oezdemir scored 62 fantasy points which won't be enough on this slate. Will still play quite a bit of both of them given there is such a high chance of a finish.
Andrade $7,200 – Namajunas $9,000 (Women's Strawweight)
This is a rematch, Andrade knocked Namajunas out in their last fight (via a slam) but has since lost to Zhang who is the current champion. Namajunas is 3 inches taller.
Given Namajunas hasn't fought in over a year, think I will fade her entirely, hard to justify picking her at this price when you compare her to other fighters around the same price range on this card, especially considering Andrade has beaten her fair and square before and this is only a 3 round fight. Will sprinkle a bit of Andrade into lineups, one of the better roughies of the night.

Yan $9,300 – Aldo $6,900 (Bantamweight)
5 round title fight. Aldo coming down in weight.
Think Yan is my lock for the night, just such an impressive resume, 1 career loss by split decision to a guy who he then beat unanimously in a rematch. All of his decision wins have been unanimous. Has not looked like losing in any of his UFC fights to date.
Aldo, while I have to respect that he is a legend of the sport, I just struggle to see how he gets a finish here. He is 3-4 since the famous McGregor fight.
While he is coming down in weight, I just don't think he has the power to knockout a guy who is younger, quicker and has never been knocked out!
The ceiling for Petr Yan is huge here, we are yet to see him in a 5 round fight in the UFC, but the fact that he has had knockout wins in the third round before tells me stamina won't be an issue, he has also had multiple 5 round fights outside of the UFC. I'm expecting him to be owned >50% on this slate in tourneys and for good reason.
Volkanovski $9,100 – Holloway $7,100 (Featherweight)
5 round title fight. Rematch, Volkanovski won on points last time. Holloway 5 inches taller.
Holloway at $7,100 is very playable for a guy in a 5 round fight who has never been knocked out. Has gone the distance in each of his last 3 fights. Out of all the basement fighters on this slate, I feel the most comfortable taking Holloway.
I would have either of these 2 in over half of my lineups. Both guys have cracked over 100 significant strikes in recent 5 round fights.
One of the rare times where I would consider having both fighters from the same fight in the same lineup, especially if you are playing in double ups/head to heads. Holloway has scored 67 & 91 fantasy points in his last 2 losses which is as high as it gets in a loss.
But be mindful, both of these guys will be very highly owned, as is generally the case with the main event fights.
Usman $8,900 – Masvidal $7,300 (Welterweight)
5 round title fight. Masvidal coming in on only a weeks notice, which is not ideal for a 5 round fight.
I think the opponent change makes Usman slightly more playable.
Masvidal has only been knocked out once in 48 career fights, and his lowest fantasy score when winning a fight in the UFC is 102, so if you do think that Masvidal can win, then he is giving you a really nice floor and will definitely be in the top 6 scores for the night.
Trying to predict the ownership now is difficult, Masvidal is a big name in the UFC, and is coming off some hyped fights, so could very well be highly owned given his price, but I just don't really want to overexpose myself here.
I would say the most likely outcome of this fight would be Usman by decision, and him getting >100 strikes, but I think this is pretty obvious, so I will aim to underown both fighters.
Always remember to gamble responsibly. When the fun stops, stop. If gambling is having a negative impact on your life, seek support at Gambling Help Online. 18+ only.